It's been a few weeks for new comic book reviews so we are going to look at three new series and a returning champ to see if it still makes the cut.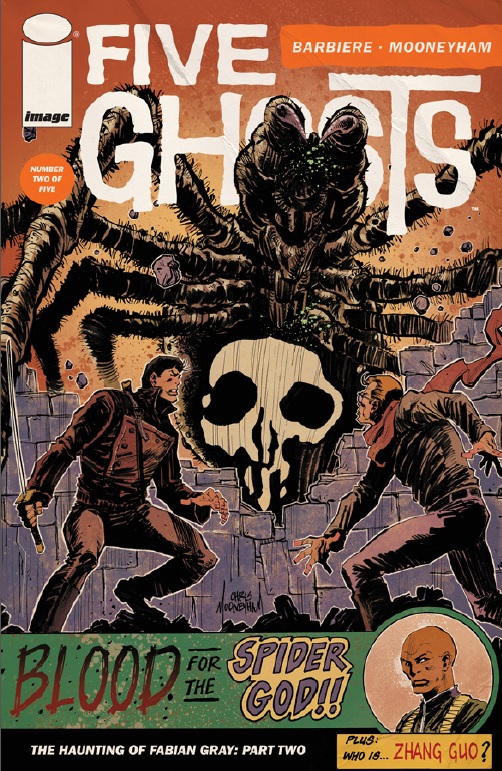 Five Ghost the Haunting of Fabian Gray #2 (Image Comics)
Our returning champ Five Ghost the Haunting of Fabian Gray returns in stride with a good second issue. Fabian and his assistant have been captured by the local spider worshiping natives and Fabian's abilities are on the fritz. Luckily at the last-minute his ability to call upon the five spirits that inhabit him kick back in. While looking for an item that will help cure his sister they discover that there are more giant spiders and back up natives. Seemingly trapped again a mysterious man comes to their rescue. The second issue is a flat-out action issue while still developing the underlying mystery of Fabian and those who are after him. While not as meaty as the fist issue I am still loving Frank J. Barbiere's pulpy writing and Chris Mooneyham's artwork.
Is this book worth your time and $3.00? So far so good and looking forward to issue #3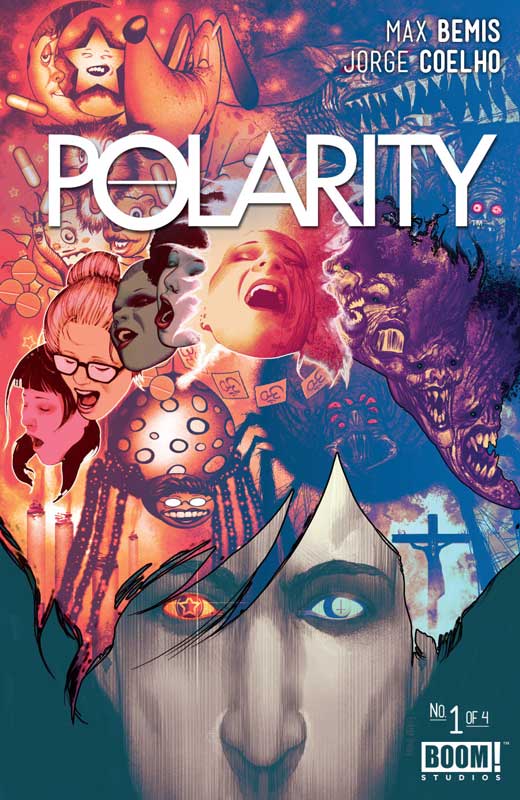 Polarity #1 (BOOM! Studios)
Lets face it Boom! Studios as of late has been really lacking in original creator owned books. While they put out super licensed books like Adventure Time and Peanuts (both are really great all ages books) they have had a hard time launching original properties. I am always on the lookout for new books especially creator owned ones and along comes Polarity. While flipping through it at the comic shop the art first caught my eye. So I gave it a swing and boy am I glad I did. This is a really good book. It's the story of Tim who sadly discovers that he is bipolar while wondering out into the street with no pants on and gets hit by a car. After a two-year hospital stay he has become an up and coming hot local artist. His girlfriend Alexis bluntly tells him that his current artwork is not as good as when he was no medicated. So Tim decides to fall off the happy pills wagon to regain his natural artwork. After 18 days he becomes obsessed that someone is watching him. His best friend Adam is none to happy about him smelling crazy again and tells him that no one is watching him and just being paranoid. That night Tim goes up to the top floor of his building to discover that someone is in fact watching him and what Tim does about it is a real what the fuck just happened moment in the book that I dare not spoil for you. Max Bemis story is very solid there is a ton of dialog in the first issue but all is well thought out story wise. He really lets you into Tim's world and you can relate to some of the everyday hurdles that we all run into like trying to talk to girls. A story is as only as good as the artwork that goes along with it. Jorge Coelho art is top-notch. His detail and facial expressions is not something you see in smaller press books sometimes. At first I was a little nervous with his layout choice for most of the first issues. Most of the art does not fill the entire page like you are used to. This is a very deliberate choice along with the lettering by Steven Wands and some really nice coloring by Felipe Sobreiro. I really like this book and can't wait for the second issue.
Is this book worth $4.00 and your time? Yes a great first issue and hope they keep the quality up.
Indestructible Hulk #6 (Marvel Comics)
I'm not the biggest fan of most Marvel Comics these days and it takes a lot for me to pick up and even look at it at the comic store. But this is a MAJOR exception to the rule. Two words put this on the must buy list, Walt Simonson. If you are not familiar with that name you should not be allowed to say that you read comics. This is the man who redefined Thor at Marvel in the 1980's and with Archie Goodwin's revived Manhunter at DC. Mark Waid has been really knocking out of the park every issue over on Daredevil and now seems to be doing the dame for Hulk. First off the art alone is worth the price of admission and Waid knows this so he has really brought his A game to the story. If you have Simonson drawing Hulk who better to guest star than Thor. It's like being a kid in candy store for all. He has Bruce Banner working with a sliver of uru metal from Thor's hammer to create a dimensional portal to find more of the metal. Bruce and a team of scientist travel to Jotunheim one of the nine worlds of the Norse Gods where they encounter a Thor who does not know Bruce and then are attacked by the Frost Giants. Thor is knocked out by one of the giants and Bruce transforms into the Hulk and at the end of the issue is able to pick up Thor's hammer because he is deemed worthy. Now that's the way you start off an epic story. I could keep on gushing about Simonson's art but there is artist and then there great artwork like this that put most artist to shame. The only thing for me missing is having the lettering done by John Workman who lettered Simonson's run on Thor. Chris Eliopoulos does a commendable job but it would have been great to have them reunited again with Thor.
Is this book worth $4.00 and your time? You bet ya!
Batman Li'l Gotham #1 (DC Comics)
I save the best for last. Now I have been a fan of Dustin Nguyen's artwork for quite a while. He started off at Wildstorm but really hit his stride when he and Paul Dini took over Detective Comics in 2008. His art style is very moody and worked well with Batman and more recently with his stunning art on American Vampire: Lord of Nightmares mini series. If you have been luck enough to meet Dustin at a convention over the years he has been doing sketches and print of the Batman cast as little versions for years. He tried to convince DC that there was a market for this type of book. He first got to tryout the concept in the last set of Batman annuals before the switchover to the new 52. It met with good response but DC seemingly still not convinced. DC was starting to do a program called digital first where they would publish a comic digitally then move to print. Li'l Gotham go the go ahead for a digital release. The response to the digital version was successful and now we are fortunate enough to see it finally see print. While I personally am not a fan of digital comics I did by the first few issues of Li'l Gotham to help it do well to see physical print. Li'l Gotham is a real breath of fresh air in the world of comics. I hate to call it an all ages book because if you do most people think it's a kids book. We I say this book gets to wear that badge proudly. Not only could you give this book to a kid (and you should!) you probably have to buy two copies. One for the kid and one for yourself because the odds of getting the copy back from the kid is slim to none. The first issue has a Halloween story and a Thanksgiving story. They are self-contained and just flat-out fun. The book is co written by Nguyen and Derek Fridolfs and is very snappily written. It's not written for kids and that is what makes it so great. You should never write for "kids" because the big mistake when that is done is the writers thinks that kids are stupid. Well they are not and they certainly don't want to have dumbed down stories. Nguyen's art is just perfect. It's not a watered down version of his regular art in fact because it has a watercolor style it really pops off the printed page and the coloring is just fantastic. Hopefully this book sells really well because the comic market really need great all ages books that everyone can enjoy.
Is this book worth $3.00 and your time. I say spend at least $6.00 and buy two copies and give one to a kid (either yours or a friends) Highly recommended!