[Editors Note: I have included some photos from the weekend judging but in the group photos, some of the book that are being held were not actual nominees but some of the submitted books were used by accident]
With San Diego Comic Con International this week I wanted to tell the story of what it's like to be an judge for the Eisner Awards. I have been going to SDCC for nearly 35 years with my first ever one in 1983 that for a kid from Ohio was like visiting geek heaven. I had been reading comic books for years but to go to a convention of this size was overwhelming to say the least. During the early years there were the Inkpot Awards, then the Kirby Awards then finally in 1988 became the Eisner Awards named after the great Will Eisner. Over the years the Eisner Awards have risen to be considered the "Academy Awards" for the comic book industry. I had attended the ceremony on and off during the convention but a few years ago, I was asked by Jackie Estrada if I wanted to become a staff member to help during the ceremony and of course I said yes and it's been a thrilling experience but the best was yet to come.
Last September I received an email from Jackie asking if I would consider being a judge for the 2019 awards. This is one of those watershed moments in your life where you know your going say yes but part of you isn't sure how to react. Fortunately for me I know a couple of previous Eisner judges and made a phone call to one of them and told him that I had been asked. His first question was "well did you say yes?" I told him that I hadn't responded yet because I wasn't sure if I was worthy of being a judge. He said that not only is my love of comics one reason that I was chosen, but also that I reviewed comics on my website. He was able to calm me down and gave me the confidence I needed to say yes.
The list of judges this year was very impressive with Chris Arrant (writer/columnist newsarama), Traci Glass (Information Services Administrator at the Central Library for the Multnomah County Library system in Portland), Jared Gardner (Professor of English at the Ohio State University, Author, and Editor), Jenn Haines (The Dragon, a Canadian comic and games store with three locations), and Jimmie Robinson (writer, artist, colorist, and letterer for his various creator-owned comic series, which includeBomb Queen, Power Lines, The Empty & many others)
A private facebook page was set up for us along with much email correspondence from Jackie. Our first task was selecting nominees for the Will Eisner Hall of Fame. We were sent a list of past recipients along with input from Jackie and Steve Bissette's class at the Center for Cartoon Studies on recommendations. The main criteria is that their first significant professional work must have appeared at least 35 years before this years awards so that gave us a cut off year of 1984. We had to come up with a list of 20 that was a very difficult task indeed because there are so many worthy people that should be included. The judges get to choose 2 deceased nominees to automatically go into the Hall of Fame and amazingly we were very in sync with our selections that we were able to get four (June Tarpé Mills, Morrie Turner, Dave Stevens, and Jim Aparo) as a special for the 50th Anniversary of the convention so that was a very special treat indeed. I really fought hard for both Stevens and Aparo and was thrilled that they were able to go directly into the Hall of Fame with Aparo being my Batman artist growing up and Stevens was a fixture of the convention for years and was not only a great storyteller but one of the nicest guys you could ever meet.
Next up was the rest of the Hall of Fame nominees to be voted on by the industry. Though the previous voting we already had five in the mix because of their high points so we were tasked to add 7-9 more onto the ballot. Another round of voting ensued and we came up with a final list of 14 nominees for the Hall of Fame. The most amazing thing about coming to a decision was the connection that all of the judges had with each other that would come into play as we got closer to meeting in San Diego in the beginning of April.
I was lucky on two fronts. First doing this website gave me a leg up on at least the new comics from 2018 and that was a huge help (so I thought). I was able to meet Jackie twice before our meeting in San Diego at the Batton Lash Memorial and Comic Fest in March where I was able to get some of the books that I needed to read. She also sent up more to me to pick up at WonderCon at the end of March. So I read as many as I can but trying to juggle work, reviews and life in general was taking a toll on me and was starting to feel the pressure of it all. The one thing that most people don't understand is that the process of being an Eisner Judge is about a 6 month commitment the amount of books that you attempt to read is basically impossible.
A few weeks before the judges were to meet in San Diego I ask the other judges if they were as overwhelmed as I was. To my relief I was not alone in that sentiment.
So living in L.A. I was able to drive down to San Diego and we were staying at the Westgate Hotel just across the street from the Comic Con offices. We all arrived Thursday and stayed through Monday. Once you step into the conference room that was set up for us you realize that there are so many more books that were submitted by the publishers than you could ever imagine. You just start grabbing books that you haven't read yet and start to dig in. As we started to get aquatinted to each other the judges and away we went. The weekend of judging was four day blur of reading as many comics possible and very little sleep but I loved every minute of it. All of the judged help point out books that we might have missed and each one brought their own set of skill and knowledge that helped immensely. The one thing that I was always in the back of my mind was that I felt that I maybe didn't deserve to be in the room with others that I felt they were maybe more qualified for this task than me and thankfully they all very much disagreed and put my mind at ease.
Friday morning Jackie had us all meet at the Westgate restaurant for breakfast and told us that this was a tradition that started when the awards were named after Will Eisner that he along with Jackie, Batton and the judges would have breakfast. It was a bittersweet moment to say the least because while Will Eisner has been gone for many years now, the weight of Batton not being there was very difficult for me and the other judges could feel it too. But as Batton would have said the show must go on.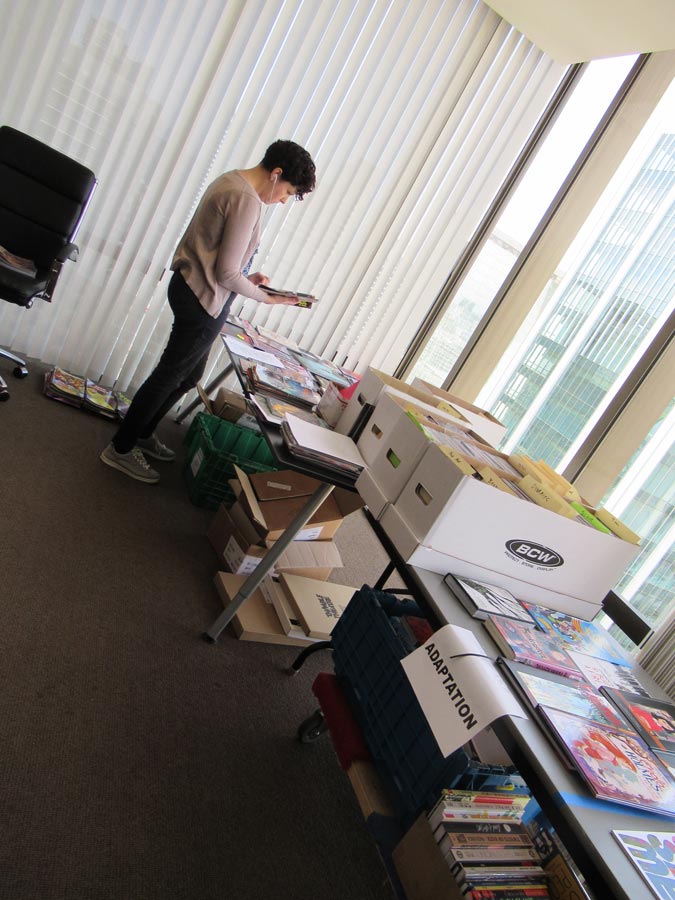 The thing that I found the most satisfying during the weekend is how we all had each others back. While each judge brought the both their expertise and taste they were always there to help you discover ones that you might have missed and steered you away from the ones that were just not good enough. There are always though decisions that had to be made and you both win and lose some of the fights over what will make the top five in each category. The support that we all had for each and the true love of comics that filled the room as we tried to narrow down the 31 categories is what I remember the most. We alway had each others back and there were never any huge disagreements and that was truly impressive and inspiring. The one thing that I remember the most is that every night I would take a huge pile of books back to the hotel to try and read but every night I would fall asleep in them because of the exhaustion of it all. Each judge was allowed to bow out of a category and I chose to skip the Manga category because I had only read a few and there were so many submitted books that there was no way that I was going to be able to tackle that along with the other categories that I was trying to keep up with.
I think the categories that most surprised me were the early reader books and young adult titles and also the foreign books were really strong this year. Thursday and Friday and were pretty much as much reading as we could possibly get in in this final push. On Saturday afternoon we started to get started on the voting and we actually got thought a good amount of them and was ahead of schedule according to Jackie. I believe that it's because the judges clicked so well together there were no long debates or huge disagreement. Now this is not to say that there were books or creators that each judge wanted to make the nomination list but the one thing that I can say without hesitation is that there are none of the nominations that I'm embarrassed or didn't deserve a nomination.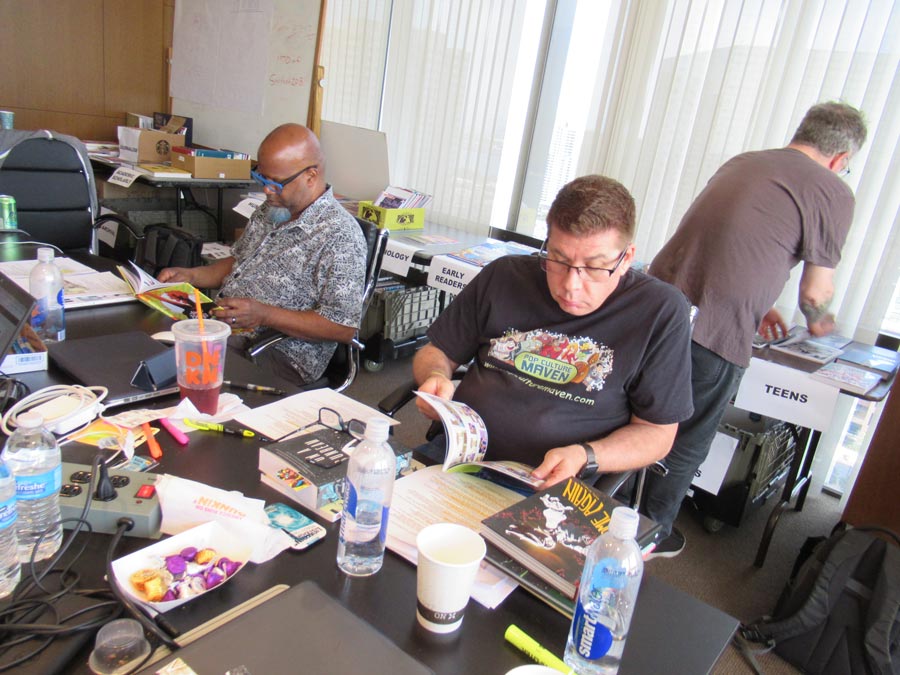 As Sunday rolled in we were down to the final hours and the final category. The only thing that we were running into was that the office building where Comic Con currently is located was having work done on the building and we had to get out by 10pm that night. We got nearly all of the categories down to all but four (coloring/lettering/web comics/digital comics) and so we had to come back Monday morning to finish off Coloring and Lettering. We were able to finish off those two in the morning and we were able to do the web comics and digital comics from home over the next week to give us more time to go over them.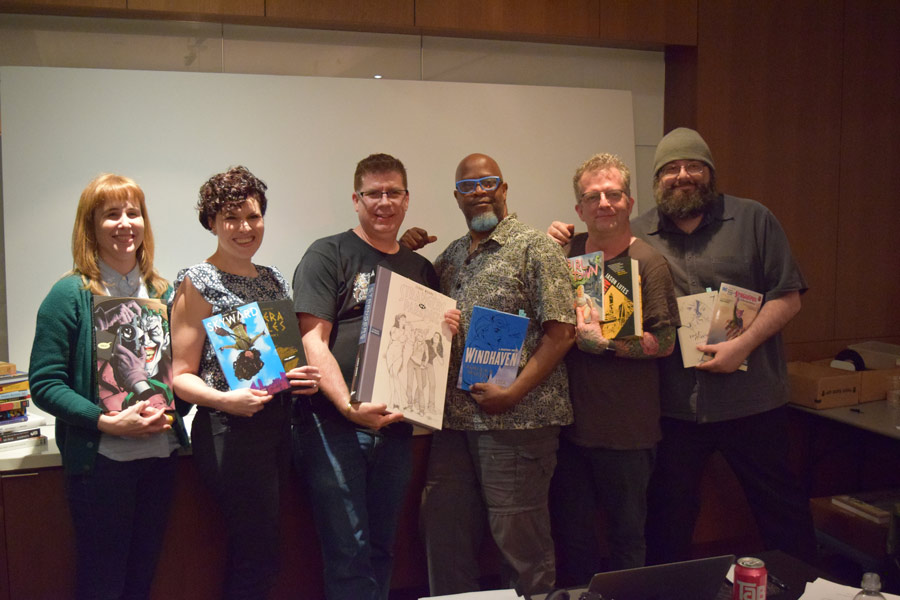 Once the Eisner Award Nominations were announce (Click Here for the complete list of nominees) our job as judges was finished and the reactions from the industry were very positive from nominees, publishers, the general public and that made all of the judges very proud. (Click Here for a recap of the reactions)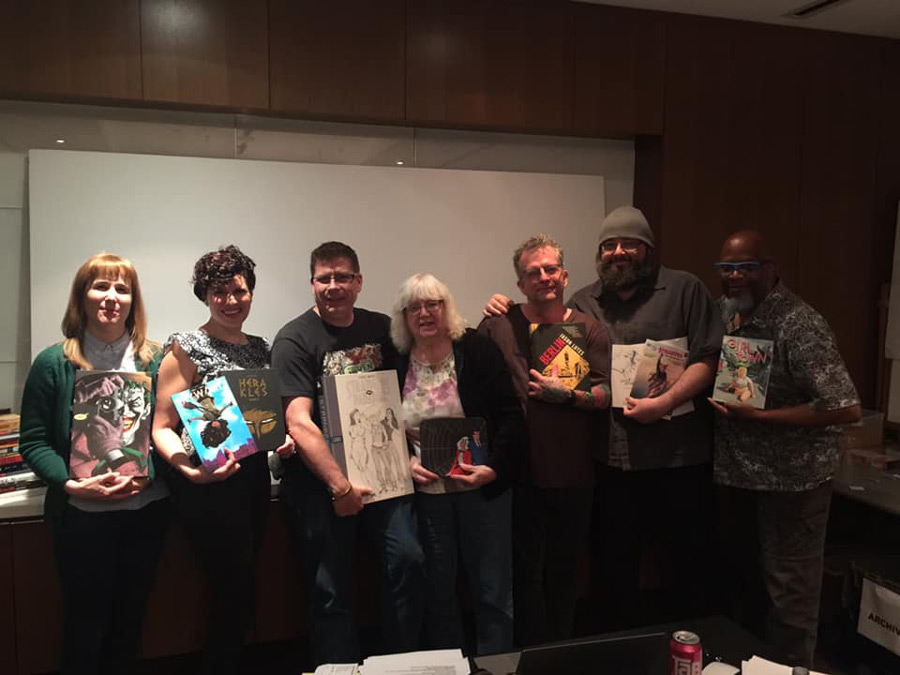 While all of the judges were a huge help to the group it was Jackie Estrada that not only choses the judges but kept it all on track over the course of the weekend and that is no easy task. This year was especially tough on her due to the passing of her husband Batton Lash in January of this year. I honestly don't know how she was able to handle that and keep the Eisner Awards and the judges on track but she never missed a beat and her strength was felt by all of the judges.
There are two final takeaways for me from this experience. First, I am proud of the books that we nominated and while there are always some personal favorites that didn't make it to the final ballot there were none of the nominations that didn't deserve to be on the ballot and we always let the work speak for itself and there was never any agenda beyond the quality of the submitted work. Second, I now have five great new friends that share our collective love of comics and helped me discover some of the best that the industry has to offer in 2018 and THAT is what I will cherish forever.
I want to first and foremost thank Jackie Estrada for not only asking me but persevering with all of the things that were going on in her personal life and was able to shepherd us though this truly thankless job. Also her two assistants Natalie and Ron who helped keep everything on track over the long weekend and all three took great care of us. And finally Jenn, Jimmie, Chris, Traci, and Jared for their knowledge and friendship and I couldn't have done it without you all. Finally I am truly grateful to have helped with the Eisner Awards for Comic Con Internationals 50th Anniversary and it was truly an honor.