Yet another great talent was taken away form us today George Gladir. He did tons of Archie comics and co-created Sabrina the Teenage Witch with Dan DeCarlo. I only met him once but was one of the sweetest person you would ever meet. My Friend Batton Lash whom George had been friends with for years wrote this moving tribute to him. Batton has graciously allowed me to reprint his Facebook post because his words about George are more than I could ever say.
It is with great regret and profound sadness I write that longtime comics writer George Gladir passed away Wednesday evening. George is known to fans around the world for the countless scripts he wrote for Archie Comics, Cracked, and recently, Bart Simpson for Bongo Comics andThe Three Stooges for Papercutz. George was the first American creator to be invited by a Japanese publisher to write for manga. With his feature for Comic Morning, "Is That True?" George wrote about misconceptions of Japan through a foreigner's eyes.
His prolific output notwithstanding, George secured his place in comics history (and pop culture, for that matter), for creating (with artist Dan De Carlo) Sabrina, the Teenage Witch. Since her first appearance in October 1962 (Archie's Madhouse #22), Sabrina, along with her Aunt Hilda, Aunt Zelda, and Salem the Cat, became part of Americana and entered the public consciousness through comics, animation, and a long running network television show. And there are plans for the eternal teen to appear on the silver screen. No small feat for a comic book character. It is a testament to George's creativity that Sabrina has endured for over fifty years.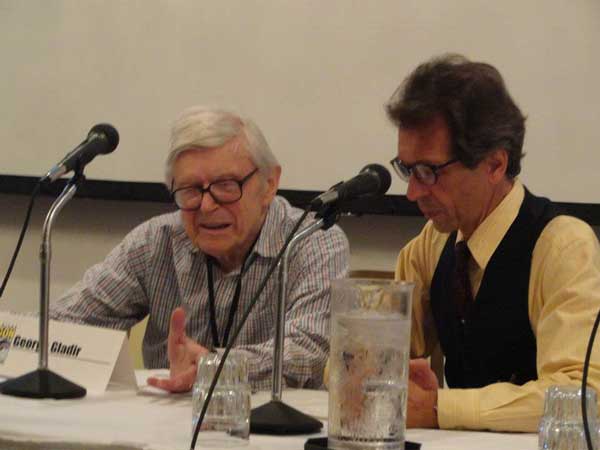 George had a fertile imagination and his humor ran from the gentle to the zany. Before I even knew his name, I would seek out the Archie's Madhouse comics when I was a kid, because the stories and characters were hilarious and pun-filled. Years later, I met George through our mutual association with Archie comics. I was thrilled to learn that he was that uncredited author of thoseMadhouse comics I loved! When I relocated from New York to San Diego I learned George was a resident, himself a transplanted New Yorker, and we became friends. George and I would go to many lunches downtown, in the Gaslamp District, where I had a studio. George was an avid movie buff and we'd spend hours discussing classic and independent films. And, of course, we engaged in plenty of comics shoptalk ranging from industry gossip to the art of creating comics. I once had an opportunity to watch him craft a script for a Betty & Veronica digest. It was a six pager. I saw him do the rough layouts for the artist to follow; George had the story structure in place when he proceeded to dialogue. He jotted down brief copy and then cut that to the bone. It was an education in comics writing to see how George used an economy of words; there wasn't an unnecessary line in the script. And to top it off, the story was funny as hell!
George began writing comics almost as an afterthought. He got an early start in the Eisner-Iger studio as a teen and his goal was to be a gag cartoonist. But even by the mid-50's, George can sense that the market for one-panel cartoons was drying up. An opportunity came to him from Archie comics to write cover gags. He eventually moved on to write full scripts featuring the Riverdale gang. In time, George was the go-to movie/TV parody guy for Cracked magazine where he wrote over 2000 pages, many drawn by his frequent Cracked collaborator John Severin. George was a huge rock 'n roll fan and beginning in the early 60's, would incorporate his love of rock music into his humor pieces, some being quite prescient. George predicted a rock 'n roll museum, and, in a sadly accurate piece written in 1965, John Lennon's assassination by the hand of a fan on the streets of New York.
There's so much to the life and career of George Gladir, I've barely scratched the surface. He was a WWII vet (at one point a P.O.W.), and a military intelligence agent. Even though George was in his eighties,he was as lively and active and forward thinking as someone half his age. At an age when many comics industry workhorses would either retire or be content to bask in earlier glory, George's creativity was on, 24/7. George was always interested in current events and the culture; just about anything that might spark a story idea or concept. He was constantly coming up with new characters and series with the intention of owning the copyright. One such feature was Cindy and Her Obasan, a delightful twist on the fairy godmother concept with a Japanese spin, illustrated by fellow Archie comics alumni, Stan Goldberg. I believe George was well aware and proud of his accomplishments, but he was also modest and unassuming, always more interested to learn about new markets and outlets for comics, and what was on the horizon.
I write this and I can't wrap my head around the idea that such a vibrant person is gone. George was a true stand-up guy. He was a gentleman, but would speak out when necessary. Most of all, George was a devoted family man. My condolences to his wonderful wife Mary, his beloved daughter Nina and her husband John. I was very privileged to have known George Gladir. Goodbye, my friend.