This is a pretty big week and a huge flood of Batman comics from DC. Waid and Samnee are back and this time bringing their magic to Captain America that sorely needed it after the Secret Empire train wreck. Lots to get to so let's get started.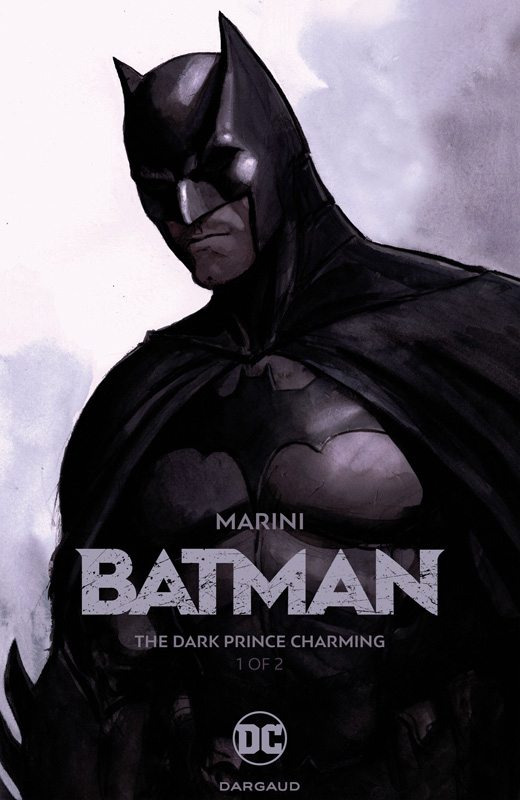 Batman: The Dark Prince Charming Part 1
DC Comics/Dargaud Writer and Artist Enrico Marini
Marini the highly acclaimed Italian artist makes his DC Comics debut with this first of two hardcover chapters in a wonderful hardcover book that is a steal for thirteen dollars. On the surface this Batman story is pretty straight forward at starting with a Batman/Joker chase that gets the book off to a nice start. But what really makes this story special is the more subtle elements of the story that are kind of day in the life type scenario that gives a great foundation for it to work so well. Marini states in the introduction that he wanted to be able to have the freedom to interpret the characters and the world of Gotham in his own way, and that is what makes this book work so well. While there are mostly cosmetic changes here and there but what I loved the most was that he was able to really get inside the characters and put them in situations that served the story perfectly. He peels back the layers of both Batman and Joker and that allows for a deeper and more satisfying story. One of the best scenes in this first book is the one with Joker and his henchmen getting the birthday party ready for Harley Quinn that run the emotional gambit. While the story is top-notch it his gorgeous artwork that pulls this book together. While there is a heavy European style to the art, it at the same time has a traditional "American" look that is very pleasing to look at. It's rare for a comic artist to not only be able to draw but to match it with his coloring and lettering on the book. His color work is superb with both the color and lighting that gives this book a visually stunning look that is the mark of a master.
Is this book worth your time and money? The only complaint that I have is that the second chapter is not coming out till the spring of next year and that is going to be a tough wait because this book is really that good. It's one of the rare occasions where you will want to go back and re-read the book to let it all soak in again and again. The key to it working so well is that Marini doesn't try to make the story bigger than it is but it's just simply a great read with amazing visuals to go with it. This is a must read book and very satisfying considering that its only the first part. HIGHEST RECOMMENDATION!

The Jetsons #1
DC Comics Writer Jimmy Palmiotti, Artist Pier Brito, Colorist Alex Sinclair, Letterer Dave Sharpe
DC's newest addition to the ever-growing line of Hanna-Barbera re-imagined series bring a new take on the Jetsons and it gets off to a pretty decent start. Picking up where the short story started in the Booster Gold/Flintstones annual that would have been nice if they had reprinted it here to give new readers a better understanding of some of the plot threads. Palmiotti is flying solo on the writing on this book after teaming up with Amanda Conner on the short story. He really expands out the story in this first issue that has some great set ups to the mini series that is intriguing. This first issue is pretty much exposition but Palmiotti keeps things moving along well so you never feel bogged down from it. He sets the family up pretty well here but was a bit disappointed that Judy didn't get hardly any set up at all but hopefully that will be remedied in the next few issues. The biggest surprise was how impressed I was at his take on Jane because in the original series she quite honestly didn't do that much and now she is a scientist. George is a bit less buffoonish here that was a wise choice and Elroy has is teenage that gives him more things to do. Palmiotti wisely doesn't try and reinvent the wheel here and all of the characters feel the same with minor changes on the surface but what he's mostly done is give the characters a lot more depth and that helps it work. Brito's artwork has improved greatly from the short story and handles the script very well here. While the story in this first issue is drama heavy he does a nice job with the characters facial expressions and yet he is able to capture the large epic moments in the story also. I will also give him props for putting in background when he could have easily not bothered and that really helps the visuals of the book immensely.
Is this book worth your time and money. This book won't necessarily blow you away at first but Palmiotti and Brito get the book off to a solid start with lots of good reasons to come back for more with a solid foundation in this first issue. It well worth picking up this week.
Captain America #695
Marvel Comics Writer Mark Waid, Artist Chris Samnee, Colorist Matthew Wilson, Letterer Joe Caramagna
The train wreck of Marvel's downward spiral of Captain America with the Secret Empire storyline thankfully is a distant memory after you read this great jumping on point by Waid and Samnee. While they have to deal with the story threads from the previous mess they get the ship righted quickly and hit the ground running on getting Rogers back to his glory days. What I love the most with what Waid does here is that he gets back to the core values that make him such a great character. This is not his first rodeo with Cap and he delivers a fun and fulfilling story right out of the gate and that keeps it simple and on point. He relies heavily on nostalgia here and that is what I loved about it. It's also a nice done in one story that will satisfy both old and new readers and that has been sorely missing from a lot of the Legacy books that Marvel is pumping out now. It's a chance to revisit an old friend that we have missed and reiterates the core values of Rogers and what it means to him to be a hero. It also hits home what we all need now is hope. With just a simple story here Waid and Samnee have delivered a story that gets you right in the heart. Where this book really shines is the short hand that Waid and Samnee have at this point. His beautiful line work hits all of the right beats with the artwork and captures the most subtle elements to hit things home. It's the little gestures and facial expressions that I really love in his work and what the character needs now. I want to also point out the great color work from Wilson that does a great job on complementing Samnee's line art to give it a nice warm and inviting looks that goes hand in hand with the art.
Is this book worth your time and money? There are few books that I'm reading from Marvel now and the Legacy initiative has sadly not changed that but in just one issue Waid and Samnee have restored not only my faith in Captain America but turn this back into a must read comic. This issue is one that just fires perfectly on all cylinders and instills a sense of hope and wonder that was lost for way too long. Welcome back Cap we really missed you! HIGHEST RECOMMENDATION!
Deadman #1
DC Comics Writer/Artist/Colorist Neal Adams, Letterer Clem Robins
Neal Adams is a true comics legend and while he still continues to produce solid art his storytelling lately has been up and down. While his Superman series recently was pretty solid his Batman Odyssey was an amazing train wreck. He's back with a character that he drew back in the 1970's Deadman with mixed results. I will give him credit that he takes the time to tell the back story of Deadman for both new and older readers because he hasn't been seen in a while. Well that is the good part of this issue because the new story is kind of all over the place and makes for a very frustrating read. I think the problem is that he is trying to set things up here but with the story jumping around and then throwing his origin on top of everything that the story becomes a jumbled mess. It's not to say that there are not some good ideas here and for readers that are familiar with the Deadman mythology will appreciate those story elements but I found reading this issue was a bit of a slog to get through. The only thing that did work was Adams artwork and while it's not his prime work from the 1970's its still very good considering how long he's been doing it. He is still able to visually tell an epic tale I just wish he would get a co-writer to help flesh out his ideas.
Is this book worth your time and money? I really wanted to like this book more than I did and while there are a few bright spots and the artwork is very nice, I really can't recommend the book unless you're a diehard Deadman or Adams fan. I think that the book is more disappointing than bad.
Batman: White Knight #2
DC Comics Writer and Artist Sean Murphy, Colorist Matt Hollingsworth, Letterer Todd Klein
Murphy blew me away with this White Knight story and this second issue proves that it was no fluke and it might even be better than the first issue. The layers that he is unfolding with the story catches you off guard but in a good way. I wont spoil anything but the twist that he did with Harley Quinn was simply brilliant and actually makes a lot of sense. But its the way that he is portraying the Joker is where the story is really shinning. In this issue Murphy is starting to pepper in the rogues gallery into the story and adding more layers to the tale that keeps you on the edge of you seat and guessing where is going to go. Rarely does a Batman story catch you this much off guard but Murphy has found a new sweet spot for the cast of Gotham that is one of the most impressive things in the story. One of the big surprises is his interpretation of Barbra Gordon that is a real treat and she is turning out to be a lot of fun. Murphy fills every nook and cranny with such detail in both the story and his artwork that makes it all that much more satisfying. Murphy artwork on this book is a marvel to look at and you have to take the time to savor every panel because there are so many little nods and winks that he throws in that puts a cherry on top of this gorgeous comic. A big shout out to Hollingsworth spot on color work that adds great depth and lushness to the line work that gives the art the necessary mood that the book need to draw you into the story.
Is this book worth your time and money? This book is a must read for not only Batman fans but for anyone looking for a book that shows how to do a great superhero story without stumbling over the pile of clichés that hamper most comics today. Murphy is simply telling a grand tale with great depth and emotions and that is what is simply making this book great. HIGHEST RECOMMENDATION!
No. 1 With a Bullet #1
Image Comics Writer Jacob Semahn, Artist Jorge Corona, Colorist Jen Hickman, Letterer Steve Wands
I almost didn't get this book this week but my local comic shop had it on sale and was recommended because of the Semahn's writing on another comic. While reading the first issue at first I liked it but wasn't quite working but as the issue went along the story started to suck me in and had quite a solid set up to the story. I won't say that I'm totally sold on the book yet but I will give Semahn credit for a good set up in this first issue and he gives you a good reason to come back for the second outing. The other aspect of the story is that its timely with the current social media age and how we have adapted for better or worse is still unclear. He raises a lot of good points with the story and allows the reader to make their own choices on how to take the story elements. It's interesting how the story runs down the grey area of the issues presented because that is a much more interesting story than simple yes or no answers. Corona's art at first wasn't my favorite but as I started to read the story his artwork perfectly captured the story with a great flare and had me won over by the end of the issue. The thing that helped was the color work by Hickman that really helped pull the artwork together nicely and gave it a good sense of mood that I liked.
Is this book worth your time and money? I liked what the team started here and will give the book a few issues to see where they take it. There are some good ideas here and hopefully Semahn and Corona keep giving the story some nice twists and turns that they did here. You should give the book a try if you're looking for something different.
Black Lightning: Cold Dead Hands #1
DC Comics Writer Tony Isabella, Artist Clayton Henry, Colorist Pete Pantazis, Letterer Josh Reed
It was nice to see Black Lighting back but of course it's mostly because of the new television series starting in the spring but nice none the less. I remember reading the first Black Lighting stories back in the day and while I miss the look of the original it was great to see the creator Isabella back behind the wheel and he hasn't seem to have lost his touch with the characters. He does a nice job of getting readers up to speed on all of the important story points and back story. While this is pretty standard superhero fair here, and it does the job well and hits all of the right beats. Isabella does a good job of bringing the characters into the 21st century and while the story didn't blow me away it was however a fun little ride that did the job it set out to do. It's one of those books that aims for the middle and hit that target meaning it doesn't try to be more than it is. One of the pluses on the book is the very nice artwork by Henry that has a nice clean style that fits the story perfectly here. He does a great job on the facial expressions of the characters that delivers the emotions that are needed and nails the little subtle moments.
Is this book worth your time and money? This is superhero comfort food meaning that it's not a book that is going to blow you away but on the other hand it fills you up nicely on a fun and solid superhero story of a good character that has been far under used over the years. Isabella and Henry are perfectly matched here and deliver a fun read that you could wait to pick up the trade or read it monthly.
Harley and Ivy Meet Betty and Veronica #2
DC Comics/Archie Comics Writers Marc Andreyko and Paul Dini, Artist Laura Braga, Colorist Arif Prianto with J. Nanjan, Letterer Deron Bennett
Crossover comics can be a bit tricky and while they are fun most are so-so stories that are pretty flimsy at best but I have to give Dini and Andreyko props for not only making these two worlds fit together but make them feel that they have always been this way. This issue was a lot of fun with the costume party that had quite a few nods and winks but the real surprise was having Zatanna drop into the story and teams up with Sabrina was simply genus from a story stand point and you never saw it coming and finally throw in Josie and the Pussycats and all of the Riverdale players are set. What works really well for the book is that Dini and Andreyko keep the story simple and focused that makes for a breezy read and keeps things fun along the way and that is the charm of the book. They also give you a good reason to come back each issue with a nice little hook at the end of the issue. Braga continues to do a bang up job on the artwork with her nice clean style that captures all of the story elements quite well and captures all of the fun in the script and a nice looking book to boot.
Is this book worth your time and money? This is a book that is as fun for the creative team as it is for the reader. Dini, Anderyko and Braga hit all of the right notes that the book needs to work and they pull it all together for a solid read that looks great. An easy recommendation to buy this week.

Dastardly & Muttley #3
DC Comics Writer Garth Ennis, Artist Mauricet, Colorist John Kalisz, Letterer Rob Steen
Leave it to Ennis to take basic Hanna-Barbera characters and turn the book into on of the wildest rides that you could ever imagine. If you thought the book was weird and wild so far, you've seen nothing yet until you have read this issue. This is one of those books that just keeps getting better and better each issue. What is impressive about this story is that there is so many things going on in the overall story that are setting the stage for Dastardly and Muttley to try to figure out whats going on. Ennis has many spinning plates here and yet he keeps things in focus and moving along at a nice pace. There is a lot to take in with the story but he makes sure that it never becomes too dense and overwhelming. The irony is that Dastardly and Muttley are more normal than a lot of the supporting cast that is giving the story a nice twist. I really have to hand it to Mauricet for being able to draw all of the insane elements that Ennis throws at him and does it with such ease that is very impressive. What he really does well is the emotions and reactions in the characters facial expressions that makes the book work so well. He is able to switch from "normal" to crazy off the hook visually with ease that is making this book such a great ride.
Is this book worth your time and money? I love that DC is letting creators do some great outside the box ideas with the Hanna-Barbera books and this book shows when you allow the creative team go wild and that is why it's not only working but adding great depth to two-dimensional animated characters. Sure it's not the classic interpretation of Dastardly and Muttley but that is a good thing because that would get boring really quick and this comic is definitely not boring. RECOMMENDED!
Batman #33 & 34
DC Comics Writer Tom King, Artist Joelle Jones, Colorist Jordie Bellaire, Letterer Clayton Cowles
I really wanted to review the first issue of this new story arc because I'm a big fan of Jones's artwork so I'm combining the first two chapters to catch up. King is telling some really offbeat Batman stories recently and with the twist of Bruce asking Selena to marry him gives this story some fresh ideas with them teaming up. King seems to be channeling a bit of Lawrence of Arabia here a bit with the grand desert motif that gives the book a much different feel than the usual run of the mill Gotham story. The other thing that works well in the stories favor is the subplot with the Robin's and how they fit into the story. While the story may seem to be a bit on the slower side for some, I actually like the methodical pacing of this story that is allowing it to wash over the reader and unfold quite well. I also like that it both stands on its own and yet continues the plot threads from the previous storyline that will satisfy both regular readers and new ones that are picking up this story arc. Of course the big draw for this story arc is Jones gorgeous artwork that is a perfect match to the story. She is an artist that is able to capture the most subtle moments so well and while the overall story is a large epic, it's the smaller dialog scenes that she brings perfectly to life and captures the emotions of them so well. Bellaire rounds out the team nicely here with her brilliant color work that blends perfectly with Jones line work that makes this story arc a great visual feast and a real winner.
Is this book worth your time and money? King has been on fire recently with both Batman and Mister Miracle and after reading these first two chapters in this story arc shows he is able to take the book in many directions and try new things that are outside the normal Batman story box. I also love that there is a new art team for each arc and that is really keeping the book fresh and exciting and allows for different visual approaches to the characters. This is great jumping on point for new readers and I can't wait to see where this story goes. RECOMMENDED!