With a skip week for DC Comic Rebirth we get a bit of a breather this week and get to catch up on some ongoing books this week and some new ones.
Hillbilly #1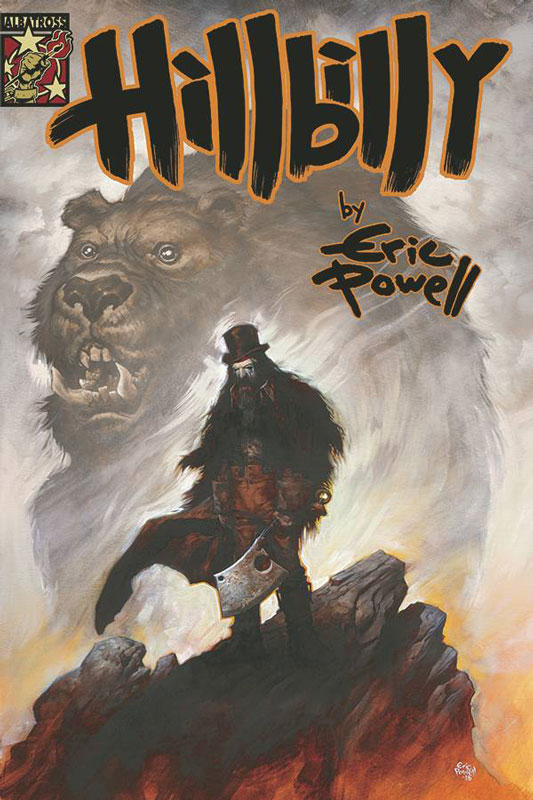 Albatross Funnybooks Writer & Artist Eric Powell
Powell's new comic from his own Albatross imprint is an interesting book. While it is in similar tone and feel of his more well-known book The Goon, Hillbilly does have a nice feel of freshness and intrigue to it. Using the folks story mythology trope as the set up for the series and this gives it a nice old fashion feel to the story that made it for an enjoyable read. This first issues story is all about setting up the story and the world and Powell keeps the story moving along nicely even with the exposition that is covered in the first issue. While the story doesn't break a lot of new ground here it is a nice well told story that does a good job of setting things up and gives you a reason to come back for the second issue. Powell's artwork is per usual top-notch with great use of shading and color (very sparingly) when needed that gives the book a great mood and feel that captures the tone that his story needs.
Is this book worth your time and money? If you're a fan of Powell's work then you have already bought this book. For those who might not be familiar with his work this book is a good starting point. He is a creator that has a great knack for blending story and art that harkens back to the EC Comic days with a great balance of horror and story that is nice to see in the market today. While the book is not going to blow you away it was a really fun read that delivers what it set out to do and is well worth picking up.
4 Kids Walk Into A Bank #2
Black Mask Studios Writer Matthew Rosenberg, Artist Tyler Boss, Letterer Thomas Mauer
I was quite taken by the first issue of this book and while its been two months from the release of the first issue that does slow down it's momentum a bit but does delivers a solid second outing for the series. Rosenberg continues to develop both the story and the characters and does a great job of balancing it all out. I do like his slow burn approach to the story and letting it unfold at a nice pace. The one thing that is impressing me is the way that he is developing the kids personalities so that the reader is able to get into the story better. So many times writers forget to make sure that the reader is able to connect with the characters to make the story click and Rosenberg is really delivering this. He is also wisely keeping the mystery close to the vest of Paige's dad and what he is doing with the shady men at the diner. Boss's art at first glance looks simple but it's actually has a nice subtle detail to it that fits Rosenberg's script quite nicely. While on the surface it may not appear to be flashy but that is why it works so well. His simple clean line work really delivers the dramatic moments quite well and he really impresses me with his layouts for the book.
Is this book worth your time and money? While I wish that the book was monthly it's still a solid read and the second issue really keeps the story interesting and intriguing Rosenberg and Ross are delivering a solid book here that is unfolding very nicely. There is a lot to uncover with this story and I'm sticking around to see how it all turns out. RECOMMENDED!
X-Men: Worst X-Man Ever #5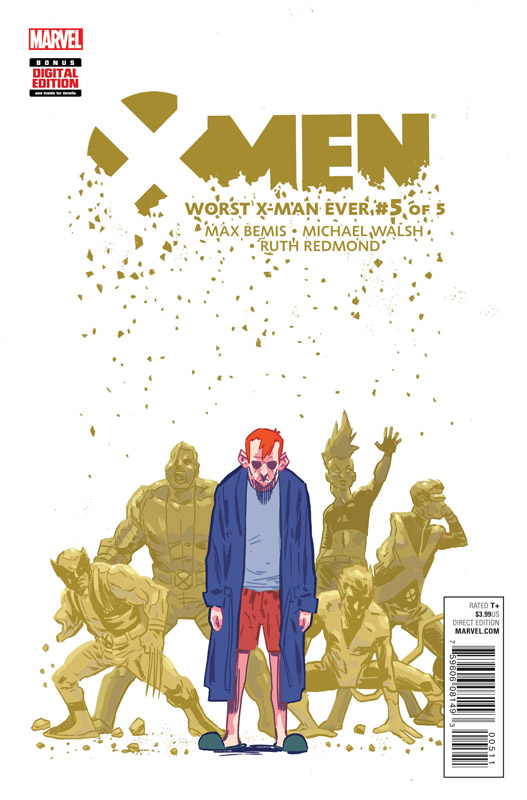 Marvel Comics Writer Max Bemis, Artist Michael Walsh, Colorist Ruth Redmond, Letterer Clayton Cowles
This has been the little X-Men book that could. I have to applaud Bemis for blending drama, humor and classic X-Men in to a very fun and compelling mini series that has made me love an X-Men comic again. This last issue is a nice fast forward from the events of the last issue that ties up the overall story perfectly. Bemis has delivered not only a compelling story but one that had a clear beginning, middle and ending that delivered on every level. His sly dark humor in the story is what has made this book so enjoyable. He mixed the new characters with the established X-Men that made the story fit so well into the mutant universe that simply made the entire book so charming and fresh. While the story was top-notch it was Walsh's artwork that really brought this book home. His art style gave the book the visual impact that it needed but was not flashy or showy that would have killed the intent of Bemis's story. His artwork was simple yet impactful in a very subtle way that made is a visual feast.
Is this book worth your time and money? I have been a huge fan of this book from day one and it is one of the few times recently that delivers exactly what it set out to do and hit the mark perfectly. A perfect marriage of story and art made this one of the best X-Men books that I have read in years. It was simply a fun book that was incredibly enjoyable. VERY RECOMMENDED!
Plutona #5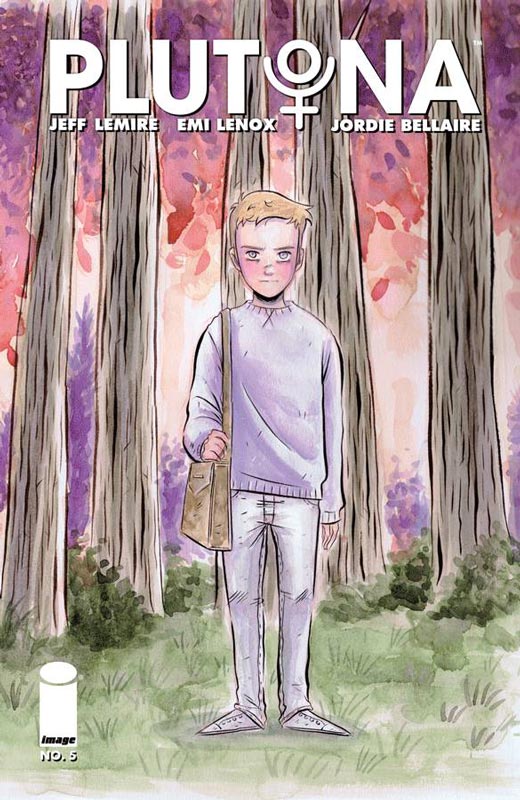 Image Comics Writer Jeff Lemire, Artist Emi Lenox, Colorist Jordie Bellaire, Letterer Steve Wands
Plutona has been quite the ride and the final issue really went to a really dark place that I never expected to see. Lemire has crafted a great series here with lots of great turns and twist to the story that both surprised and shocked to see the story go. Lemire was both haunting and beautiful ending to the story was simply perfect. The story does a great job of washing over you and leaves you with odd sense of non closure but in fact does give it just not in the ways that you expect it. A lot of readers will be very divided with the series and it's ending because it's not what you expect or want but some stories are not able to be wrapped up in a neat little bow and Plutona is one of those stories. Lenox really captures the drama in this final story and delivers some great emotional moments with the artwork. She really has done an amazing job with this book and given it a great look and feel.
Is this book worth your time and money? This book is going to be very decisive and while I really enjoyed it and was able to be satisfied with the ending a lot of people wont be. If you're looking for a book that spoon feeds you everything then move along but, but if you're looking for a comic to deliver a thought-provoking story that leaves you with questions and emotion then you should give Plutona a shot.
The Rocketeer At War #4
IDW Writer Marc Guggenheim, Artist J Bone, Colorist Ronda Pattison, Letterer Chris Mowry
After many delays and the loss of the original artist The Rocketeer at War finally comes to an end and while I love the Rocketeer this series has been fun but not wholly satisfying. While Guggenheim's story has some really good ideas it did tend to not be as focused as it should have been. It felt by the time we hit the fourth issue the story seemed to be just going through the motions of the action and there were no twist and turns to the story. You could pretty much see where the whole thing was going. There should have been more sense of surprise and wonderment that has been a staple of The Rocketeer in both the original Stevens books and the new adventures. The shame is that the book started off pretty strong put just sputtered out at the end. The saving grace of the book has been J. Bone that stepped into some pretty big shoes after Bullock could not finish the book. He really saved this book with his wonderful cartoony style that helped make the so-so script more than it was and really gave it a fun sense that really helped move it along.
Is this book worth your time and money? Of all of the post Stevens Rocketeer series this has sadly been one of the weakest entries but with that said it was still a fun little book that simply would have made a better 2 or 3 issue series instead of 4. The story seemed padded and unfocused at times and the change in artists and the delays didn't do the book any favors. Overall is was a nice but sadly forgettable Rocketeer story. Hopefully the next one will be a bit better. Not bad just disappointing.
The Legend Of Wonder Woman #7
DC Comics Writer & Penciller Renae De Liz, Inker/Colorist/Letterer Ray Dillon
Wonder Woman is having a great year with her 75th Anniversary with both the strong debut of the new Rebirth series the fun nostalgia of Wonder Woman '77 and this wonderful book have finally put her back in the icon status that she very much deserves. De Liz has done so many things right with this book in both terms of story and artwork. First she made sure that the book was not only dramatic but action packed but she also didn't forget to make the book fun. The story has been a pure joy to read and it captures all of the elements that make Wonder Woman so great. What I love about this series is keeps a light tone but still has dark moments. So many DC books have gone so dark that the characters are lost in it and here De Liz is able to do a great balance with all of the story elements. Not only does her script deliver but her artwork along with Dillon's inks and color work give this book a great visual punch that really delivers the book to a great and satisfying read each month.
Is this book worth your time and money. This has been a really solid series that has done a great job of not only telling a great story but adds a lot of new elements to her origin that does not try to changer her but compliment her history. This book does everything so well it's no wonder that DC has wisely asked De Liz and Dillon back for another series after this one. This book is a real pleasure and satisfying read. HIGHLY RECOMMENDED!
Cryptocracy #1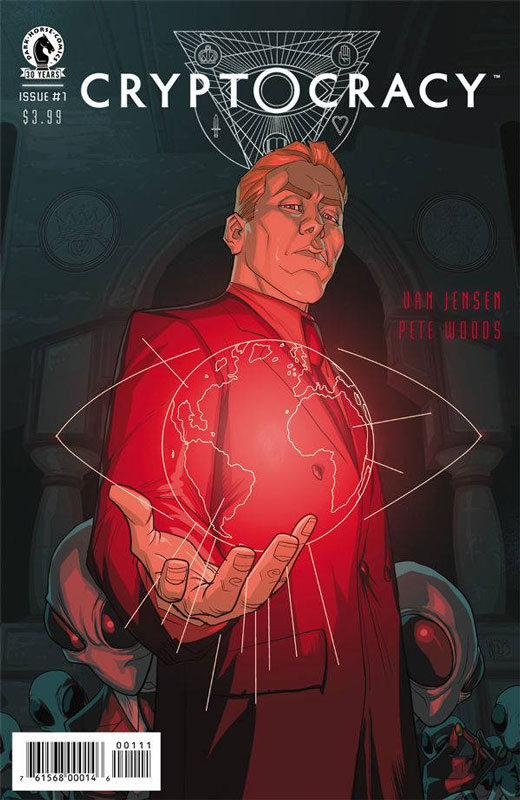 Dark Horse Comics Writer Van Jenson, Artist & Colorist Pete Woods, Letterer Nate Piekos
This is one of those books that has a really great idea but is so convoluted with it that it falls flat. Jenson script has some timely and interesting ideas that unfortunately is so confusing and disjointed that it was for me a real chore to read. The biggest flaw in the script is that there are no characters for the reader to care about. While there are a lot of good ideas thrown into the story but with it jumping around and the lack of any of the characters to care about it. I get what Jenson and Woods are trying to do here but they throw everything and the kitchen sink at this first issue and is bogged down by the exposition of it all doesn't make for a satisfying read. On the plus side Wood's artwork does it's best to help things along and it does help some of the story elements come across better but he can only do so much here.
Is this book worth your time and money? I have seen a lot of very positive reviews for this book but I guess that they are seeing something that I didn't. While the book is certainly not bad by any means I just found is over done and all over the place making it a real chore to read. The biggest problem with the book is I just didn't care about anyone or anything and that for me a huge flaw in the book. I can't recommend it myself but who knows you may like it. I say SKIP IT!