This was my seventh year volunteering for Free Comic Book Day and it was both a fun and yet bittersweet day. John Barry who has been working at comic book stores for 17 years and this was his last one because he is retiring from managing comic stores. Big Red Comics in Orange California is his most recent store that he has managed and the store has only been open for three years it was nominated for a SDCC Eisner Spirit Retailer Award in its first year in part due to the dedication of John and his lovely wife Debbie.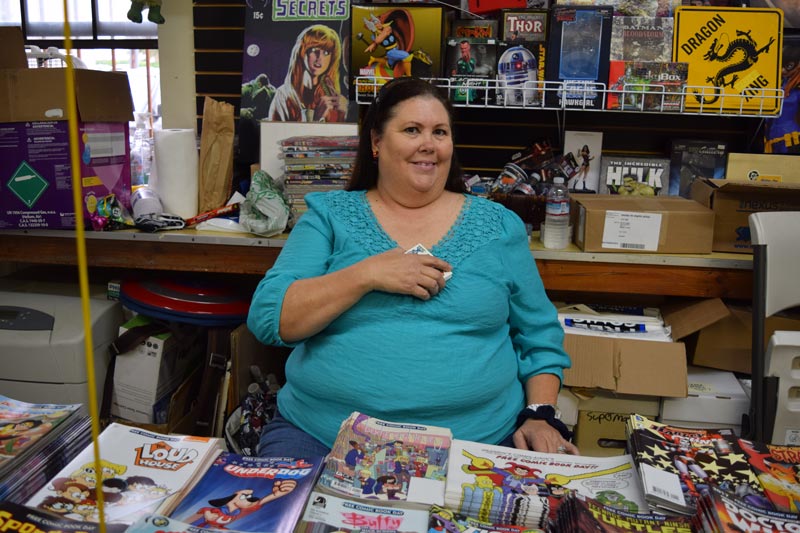 Debbie and myself handled the Free Comic Book Day table and have a great system to not only keep things moving along but also take the time to help new readers with suggestions on what they might like and always throw in some of our favorite ones to help them find great comics so they will come back to the store as regular customers.
There was a huge turnout before the store was even open and had a steady line of people who came to visit and pick up some free comics. There were plenty to choose from and was able to have a few left by the end of the day. There were a lot of great books this year including some of my favorites such as Wonder Woman, Spongebob Squarepants, Betty & Veronica, Bongo Free For All, Rick and Morty, DC Superhero Girls, The Tick and Underdog to name a few. There is still some struggle with female focused comics but there at least were some choices this year so that was a step in the right direction.
There were a lot of kids that came in that is always great to see and quite a few dressed up as their favorite superhero and my favorite one was this Wonder Woman. It's always great to see people getting into the spirit of Free Comic Book Day.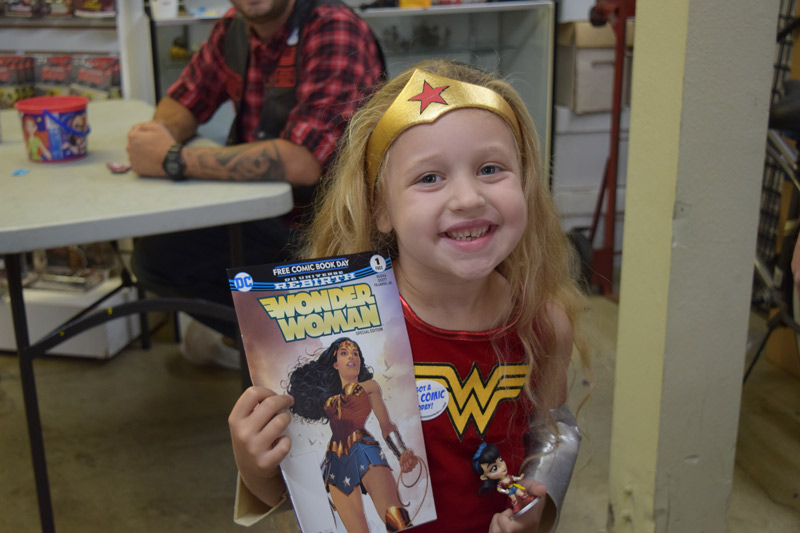 John also had a stellar line up of comic creators on hand to do sketches and sign book and get some of their latest projects.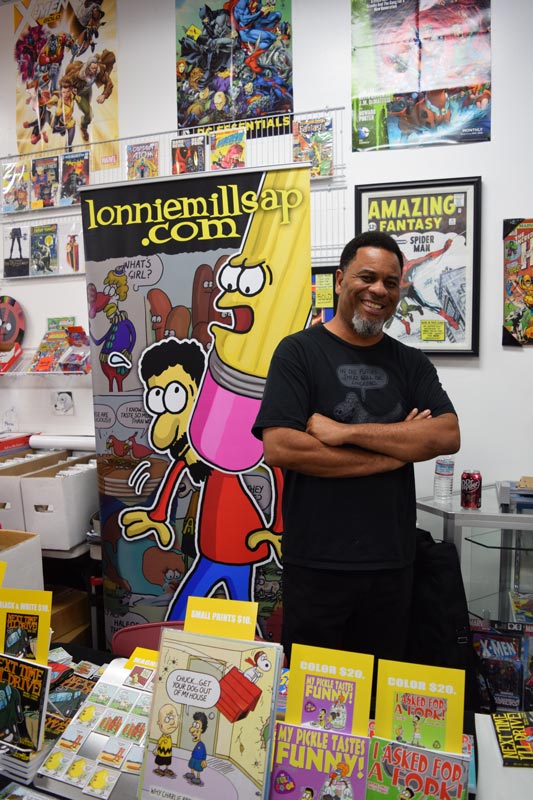 Bill Morrison
Tony Brescini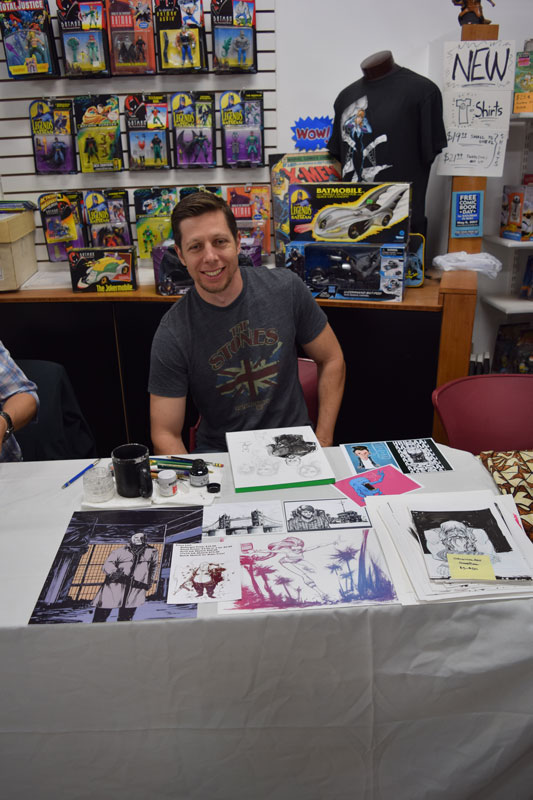 Alex Chung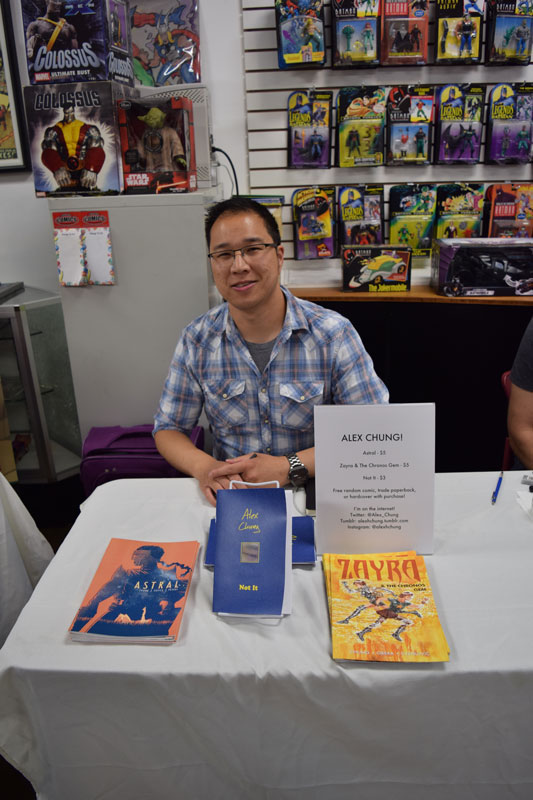 Samster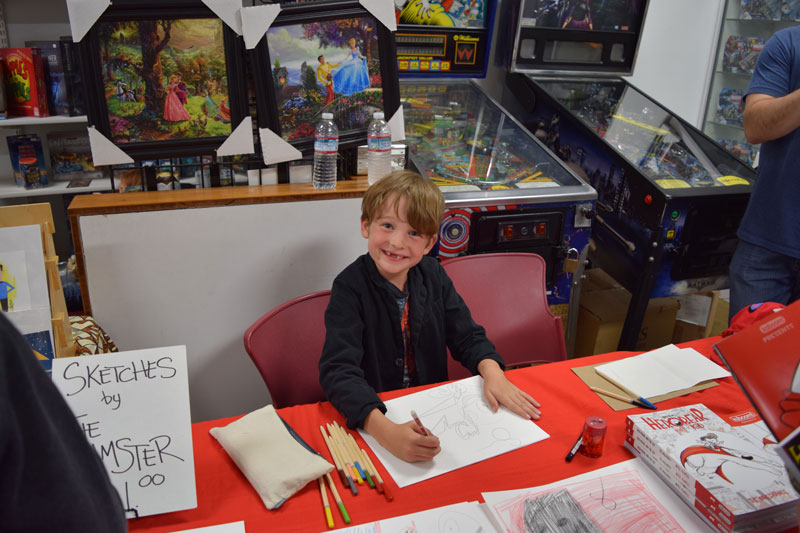 Sam is Mike Collins son and has been sketching at conventions with Mike for a couple of years. He will do any character you like and I was lucky enough to get one of his first collaboration sketches with him and Mike Kunkel. He does the best and they are only a buck!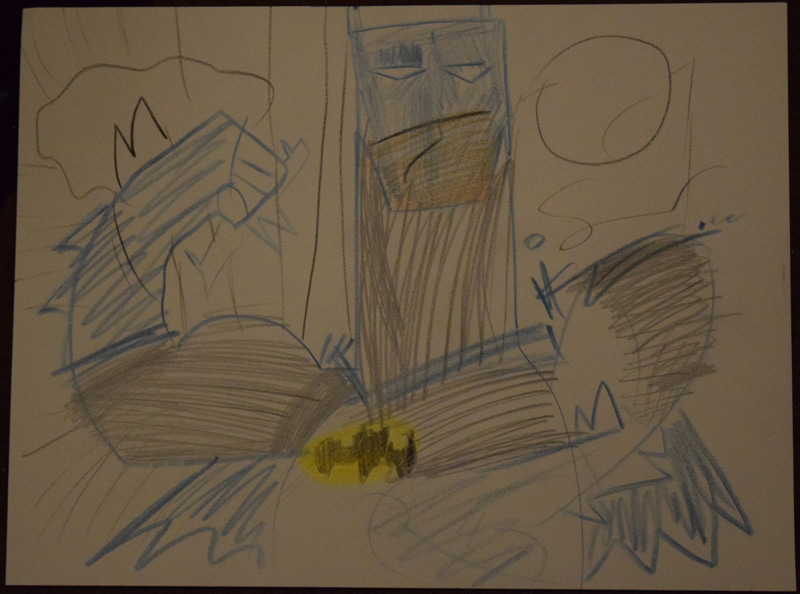 A fun day was had by all and after we went to dinner to celebrate the day and to celebrate John and Debbie's retirement. John has done every Free Comic Book Day that started in 2002 so it's really closing a part of my history with the events and have been privileged to be able to help and share my love of comics with new readers. I'm hoping that John's retirement is short-lived because the So Cal comic scene has lost a great comic promoter and huge comic book fan.
Here are some more photos of the event.