There are a lot of comic book projects on Kickstarter by both new and established talent but it's always hard to filter through them to find the gems. While Batton Lash may be new to current comic book readers I have know about his book Wolff and Byrd for a long time now. I discovered the book back when the original comic series started in 1994 and fell in love with the quirky book that told the story of two supernatural layers that defended monsters. It was a brilliant concept and Lash had a great knack for snappy dialog and great homages to classic monster movies. Because it was a self published comic the original comics are very difficult to find. Over the past couple of years Lash had been trying to find a publisher to reprint the book but no one was willing to rescue this wonderfully fun book from obscurity. Crowdfunding has brought this book back to life and Lash has published three collections and is now in the middle of the fourth one.
The newest campaign A Vampire in Hollywood has 11 days to go and is very close to its goal. Not only do you get a great book but there are lots of great other items like t-shirts and out of print collections that you can get along with the current new collection.
I asked Lash some question about the history of Wolff and Byrd and why he went the crowdfunding route and some of his influences for the book.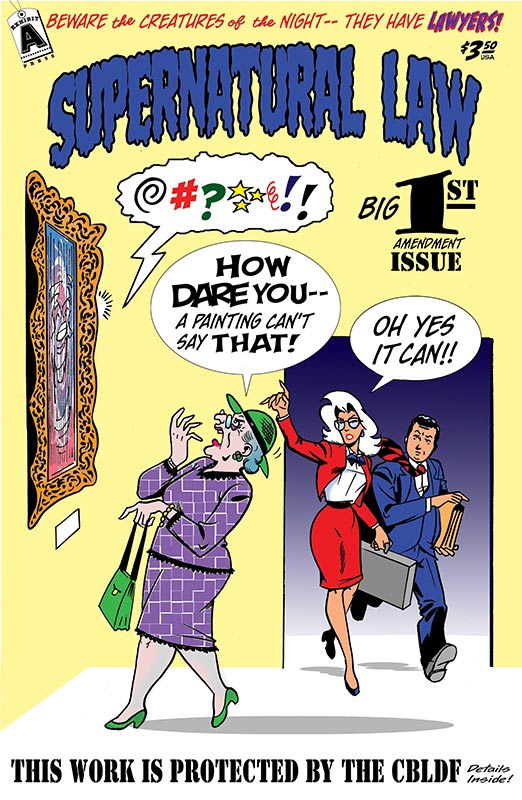 Pop Culture Maven: So how did you get in to doing comics?
Batton Lash: I loved comics as long as I could remember. As a child, I read the "funnies" in the New York Daily News and Journal American with my father and my mother bought me comic books. I was soon doodling my own version of those comics on any available stationery around our home! I'd say I caught the comics bug early on!
PCM: How did Supernatural Law come about?
BL: Back in 1979, I was doing freelance art for The Brooklyn Paper, a local publication that, at the time, was mainly distributed in downtown Brooklyn. That's where the municipality and courts of the borough were located. There were scores of attorneys, small law firms and legal services to be found up and down the main drag of Court Street. When I got the "green light" to do a comic strip for The Brooklyn Paper, I kept in mind the readership and created a strip about attorneys, hoping that all the lawyers who get the Paper would at least take a peek at a strip about their profession! I really had no interest in the law per se; I wanted to do something humorous and visually interesting. The characters, Alanna Wolff and Jeff Byrd, would work out of a small office on Court St. and their practice would be in the field of "supernatural law–" their clients being vampires, werewolves and things that go bump in the night. I called the strip "Wolff & Byrd, Counselors of the Macabre" and I figured I'd do the feature until my "big idea" comes along. Well, I had such a good time writing and drawing Wolff & Byrd, that after a year I realized Wolff & Byrd was my "big idea!" I've been with the characters ever since. Along the way, I changed the title of the strip to Supernatural Law because it's concise and sums up the concept quickly!
PCM: This is your fourth Kickstarter for the Supernatural Law collections– what attracted you to the crowd funding of the books?
BL: Crowd funding is a boon to independent creators. I like that everyone from newcomer Rachel Korsen to a living legend like Steve Ditko can turn to Kickstarter to raise funds to publish their projects! Instead of spinning their wheels and/or cooling their heels with publishers, creators can take their projects directly to their fans for support. Actually, Kickstarter is an old model for helping creators– patrons of the arts have been around since The Renaissance!
PCM: What are some of your favorite comics or graphic novels?
BL: Boy, so many! Just off the top of my head: I adore the comics of my childhood, specifically Lee & Kirby's Fantastic Four and Lee & Ditko's Spider-Man and Dr. Strange. I love Ditko's current work, published by Robin Snyder. Bill Griffith's "Invisible Ink" was one of the best autobiographical graphic novels I've ever read. Carol Tyler's "You'll Never Know" series is groundbreaking in its storytelling. I liked Jules Feiffer's "Kill Your Mother" and read and admired all of Will Eisner's graphic novels. I got a big kick out of Irwin Hasen's "Loverboy." At the moment, I'm especially enjoying Leonard Starr's Mary Perkins, On Stage, published by Classic Comics press.
PCM: Obviously classic monster and 1950's science fiction films are a huge influence on Supernatural Law. What are some of your favorite ones?
BL: Again, so many! I loved the Universal monsters, with The Bride of Frankenstein and Abbott & Costello Meet Frankenstein being my favorites. Also love cheesy (and non-cheesy) 50's SF movies like Invaders from Mars, Curse of the Demon, Rodan, I Married a Monster, Day the Earth Stood Still, Invisible Invaders, Robot Monster– I could go on and on. God bless New York's "Million Dollar Movie" and "Chiller Theatre!"
PCM: While the comic industry has changed drastically from when the original book was done, do you still find that there is a new audience for this type of material in today's comics?
BL: Oh, sure! I get new readers all the time. There's probably never been a time in the history of comics in America that such a wide spectrum of genres and subject matter has been offered to the general public than today. Of course, there are many comic book stores that only offer super-hero comics, but bookstores offer a diverse selection of graphic novels and, with a quick search on the web and social media one can find a cornucopia of interesting comics. Even public libraries- where it was once comics verboten- have seen the light and now offer a graphic novel section. Many Supernatural Law fans have told me they discovered the series in their local library. With the wide mainstream acceptance of comics as an entertainment medium as well as an art form, we're seeing a new audience of all ages and genders embrace it, whether the comics are in print or on the web, or both!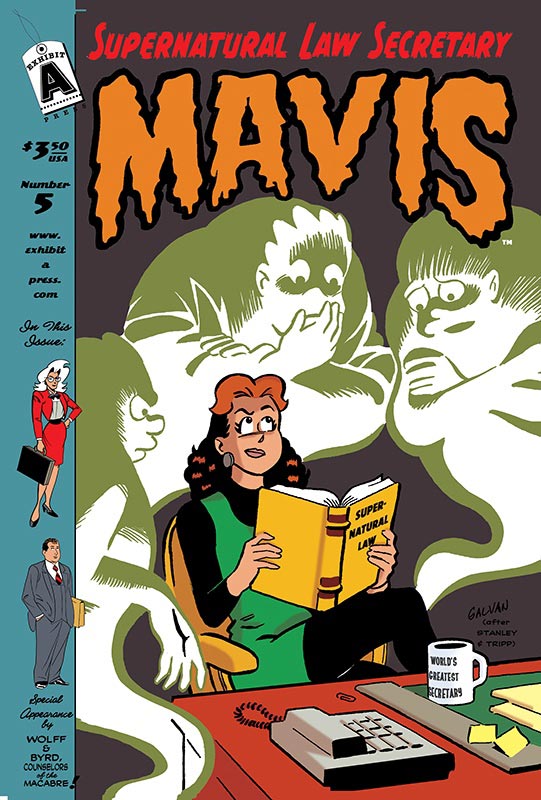 So head over to Lash's Kickstarter campaign for A Vampire in Hollywood and help get this wonderful book to print and pass it along to your friends. I want to thank Batton for taking the time to give our readers some insight to the project.