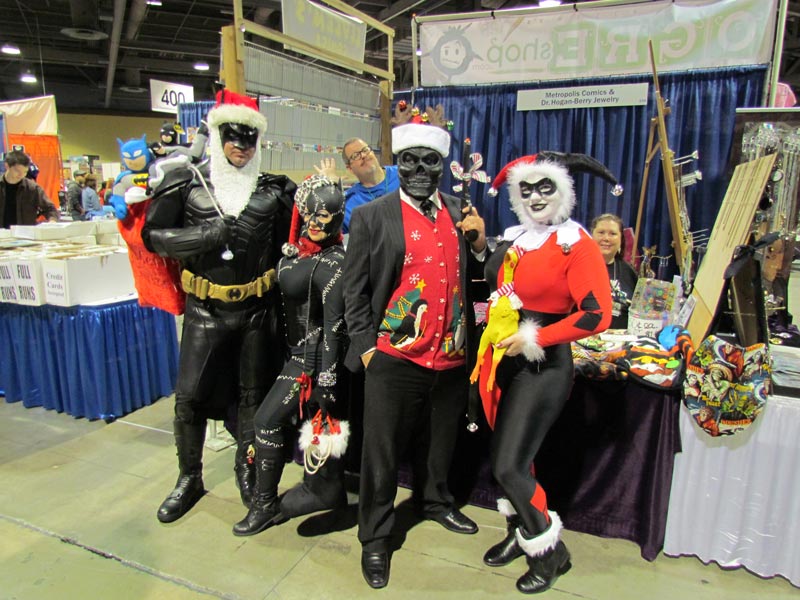 As Long Beach Comic Con celebrated its 5th year in Long Beach California there were lots of artist and writers on hand to show their books and art off. There were also some great panels to go to at the show also. The floor was very busy on Saturday. Of course Sunday was a lot more laid back it did pick up as the day went along. The only problem with the show was a lack of a big name headliner. While there were lots of great guest to be found there but some bigger name talent would have really raised the profile of the show. There were a number of technical issues during some of the panels that I attended on Saturday. The John Kricfalusi was plagued with computer issues and the "moderator" was terrible. If you are going to have a moderator he should be professional and have prepared questions. It turned into a bad fanboy asking questions. The audience asked better and more coherent questions than the moderator. While most thing ran smoothly there was problems when I went to purchase the Hero Initiative prints at the front on Sunday. They had a hard time finding a working credit card machine and getting help took a little while. The show is run by Mad Event Management and while this was a good show it really didn't seem to grow over last years show. In fact it was a little disappointing from previous years shows. The date change really hurt this years show. Taking place the weekend before Thanksgiving was a very bad idea. The vender mix wasn't as good as previous years and I spoke to a number of dealers that said that they did either OK or very poorly sales wise. While artist alley is one of the best around they really need to get more dealers on the floor. I hate to say it but they probably need to get some higher profile nerdlebrities to come to the show. They also should use Groupon, Amazon Local or LivingSocial to get more bodies in the door for the vendors. While the admission price is very reasonable selling a limited amount of tickets on these sites could drum up business especially on Sunday that is a slower day from the general public that might not otherwise go to this show.
Don't get me wrong. I had a good time at the show but I worry that the show is becoming stagnate and with Comikaze making a push for the same dates as the Long Beach Comic Con the organizers are going to have to step up their game. They need to get some better crowd drawing guest, more dealers and better outreach to the general public. While there is a much more laid back feeling that is what is great about the show, and that is one of it's best aspects. But you do need to push the show forward or you are going get less quality dealers and in turn not get the kind of growth that you need. They also need to get more of the publishers involved and get more guest and dealers from outside of the Los Angeles area that would bring some fresh blood to the mix. If they are also going to also call it the Long Beach Comic and Horror con you might want to actually have a horror element to it because there was very little horror at this show.
So here are my photos of some of the great artists and panels that went on last weekend.
Ben Templesmith was promoting his current Kickstarter book Squidder that you can still get in on it HERE.
Darick Robertson had copies of his creator owned new book Ballistic with the special Heroes Initiative cover.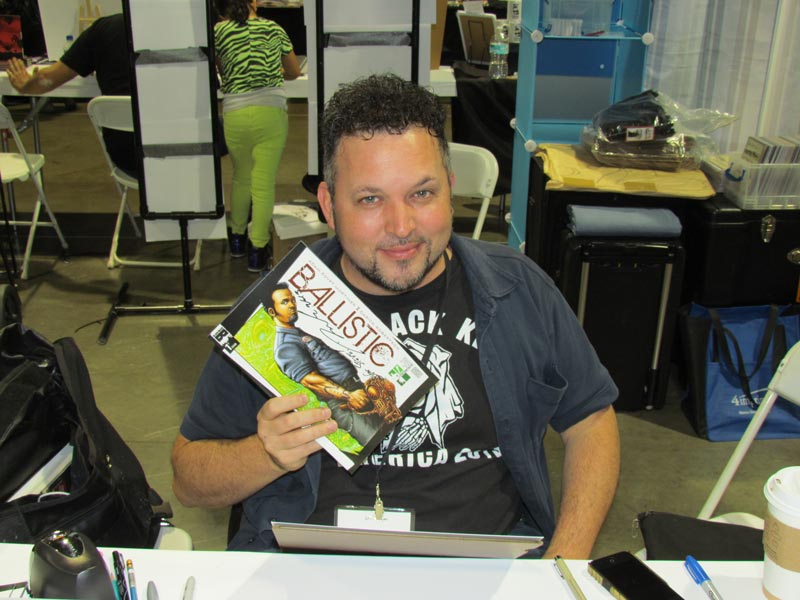 Special guest John Kricfalusi of Ren and Stimpy fame signed my copy of John K. Presents Comic Book recently released by IDW Comics under the Yoe Book banner. You can order the book HERE.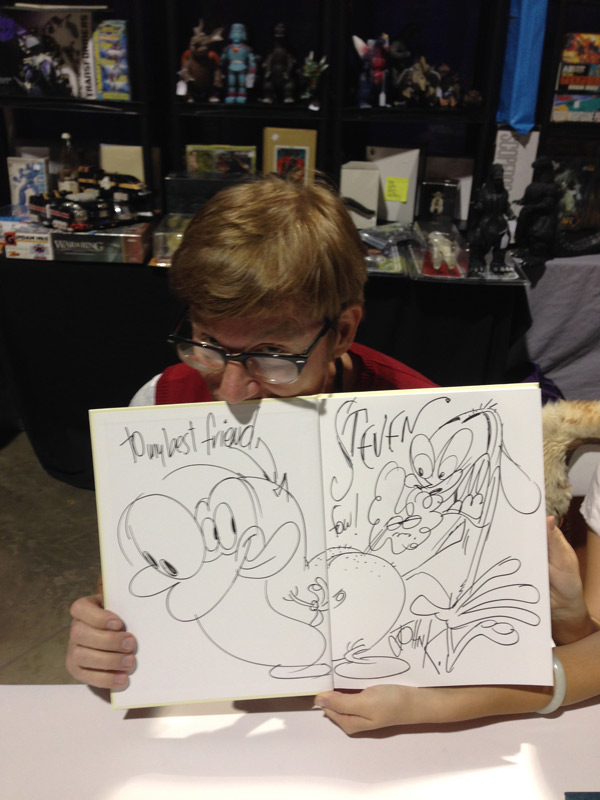 There was also a panel for John K. and he showed off rough animation for his new George Liquor cartoon.
One of the most talented and super nice guys around Tone Rodriguez does some of the absolute best art on the blank comic covers. If he is at a convention make sure you commission one from him. You will not be disappointed.
Yehudi Mercado of Pantalones, TX fame was doing mash-up art where you rolled the dice to see what characters he would mix together. You could also request your own choices as I did below with a Yogi Bear/Reed Gunther mash-up.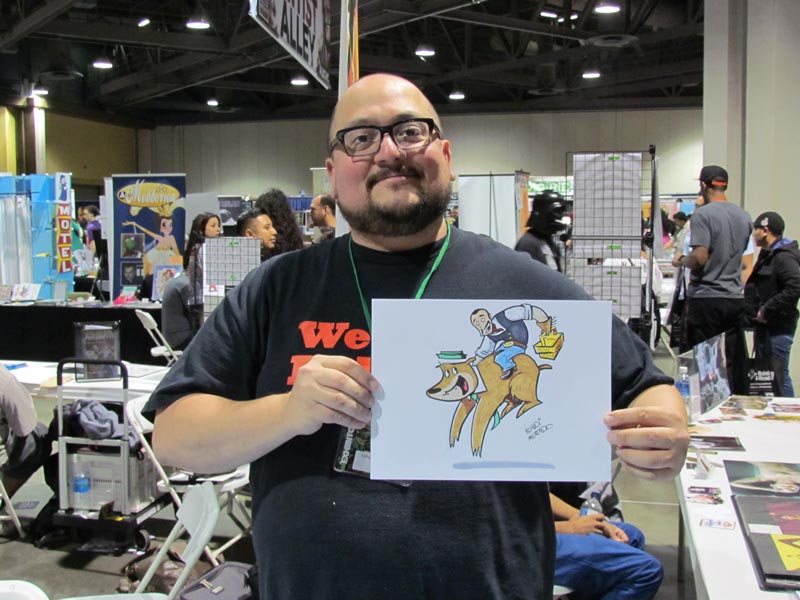 Shane Houghton writer of Reed Gunther approved of our idea. Now I just need to get Chris Houghton to draw a response to this.
Yehudi was also on the panel How to Make Comics, including authors Tom Pinchuk (Hybrid Bastards, Moonlake),  Chris Northrop(The Reason for Dragons ) and artist/writer  Yehudi Mercado (Pantalones, TX), that showed a step by step of how comics are created. It was a packed room and was very informative. I saw lots of people taking notes and many asked some really great questions.
Andrew C. Robinson was on hand with his fresh off the press new book The Fifth Beatle (and of Dusty Star fame) from Dark Horse Comics. He painted the artwork and it really looks amazing. You can buy it HERE.
Amanda Conner and Jimmy Palmiotti who are doing the new Harley Quinn book over at DC Comics. They are both the most incredibly nicest people you could meet and the most adorable couple. They are just the best!
Mike Kunkel's of Hero Bear and the Kid fame that is one of the best all ages books being published today was on hand. And as always had many stuffed Hero Bears that needed to be adopted. Head over to his store and pick one up along with all of his great books. If you are not reading Hero Bear and the Kid from kaboom! studios then you are really missing out on a truly special book.
The IDW panel was loose and fun. I did ask Scott Dunbier about the Peanuts Artist Edition and what period would the strips be form. He said that they would be from the 1950's and 1960's. He said that they would be reduced by about 25% because their printer was unable to do them at the 100% size of the original strip. They are bigger than the Spirit book and that is pretty much as big as the printer can do. HE also talked about the Watchmen Artifact Edition and there was going to be some really rare art that they have found to put in the book. There were two announcements at the panel. First Jonathan Maberry was going to adapt his V Wars novel into comics for IDW and the first issue is going to be for Free Comic Book Day next year. He emphasized that the vampires were not sparkly! He is very excited about bringing the stories to the comic book medium. Also on hand was Jason Enright from Darby Pop publishing that IDW will be distributing and their first book Indestructible hit the shelves in mid December. Dirk Wood VP of marketing moderated the panel and keep the mood loose and fun.
I late talked to Jonathan Maberry and Nancy Holder at the IDW about the V Wars book and it sounds like it could be the one to watch next year. He is really excited and so is IDW. Expect to see a really big push with this book.
Dan Goodsell who does the awesome Mr. Toast had a new print based on the classic General Mills Monster Cereals. He has the best and super fun stuff at his booth. Mr. Toast even has his own mobile phone game!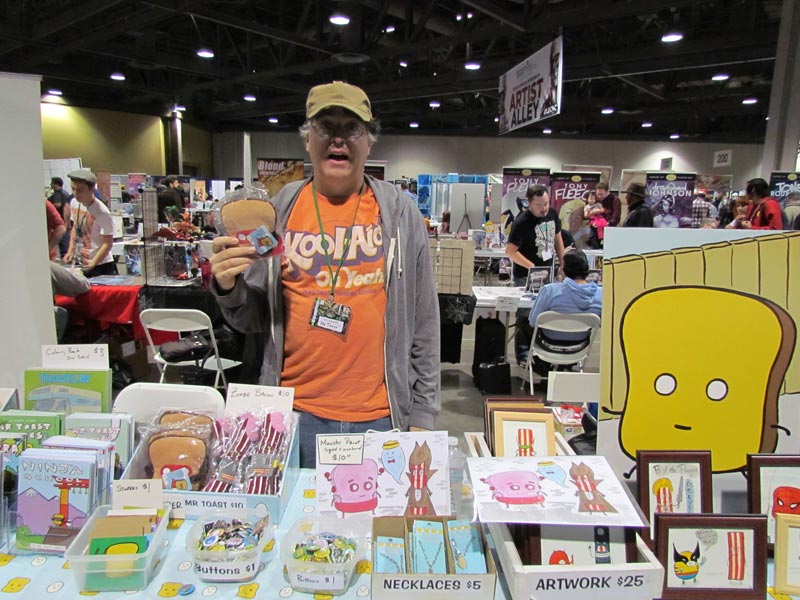 There were many great booths at the show from IDW, Boom! Studios, Prism Comics, Skybound and many others.