This is the next to last week for new comics released in 2013 and there are some new mixed in with some returning books. How do they stack up? Let's find out.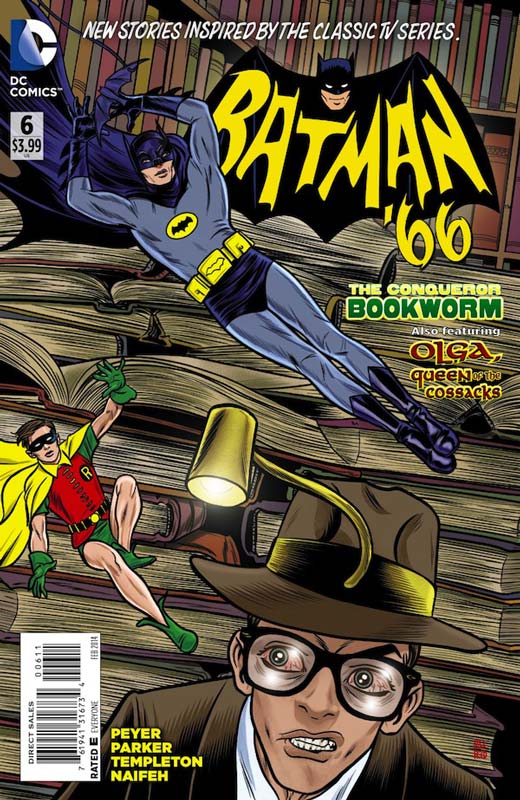 Batman '66 #6
DC Comics Writer Tom Peyer and Jeff Parker, Artists Ty Templeton and Ted Naifeh, Colorist Tony Avina, Letterer Wes Abbott
One of our returning champs Batman '66 has been quite a fun book from day one. The plot synopsis from DC Comics is, Guest writer Tom Peyer unleashes the Bookworm on the Dynamic Duo! At first, it appears that he's only made a public display of stealing a giant, worthless check. But it's actually a front for a more nefarious plot to uncover all of Batman's secrets! And then get ready for Olga, Queen of the Cossacks. First up Peyer and Templeton bring us "The Conqueror Bookworm" and thankfully Peyer hits all of the classic notes that have made this book so perfect and gets the feel of the original television show. Templeton once again nails the faces of the original actors and does such a wonderful job at the angles and the action. Returning writing champ Parker does the back up story with Olga who was Eggheads girlfriend in the television show. It's a nice quick story that is very well illustrated by Naifeh whose style fits the story quite nicely. His art is really good and brings a nice mood to the story. Both stories are top-notch and it seems as if this book can do no wrong at this point.
Is this book worth your time and money? If you are a fan of the television show (and who isn't) then it's like seeing new episodes of the show that take you back to a simple time. The thing I love about the book is that it doesn't try to be more than it is. It tells faithful stories that are just simply fun. No more and no less. For $3.99 it's a steal for such a fun time. Highly Recommended!
The Wonderful World of Lisa Simpson #1
Bongo Comics Written and Illustrated by Various
Bongo comics has been doing one shot comics of characters from the Simpson universe. The newest one highlights stories from the smartest one in the family Lisa Simpson. The first story is written by Heather Nuhfer and penciled by Nina Matsumoto and inked by Andrew Pepoy and is the story of Lisa dreaming if she was a Egyptian ruler. She tries to be a good leader but that does not go over very well with the gods. The art is great especially during the flashback to Egypt where the art is done in a "realistic" style. Next up writer Gail Simone and artist Pia Guerra team up for "Honey Pooch Pooch" that has Lisa entering Santa's Little Helper in a dog pageant to cheer him up. It's a really sweet story and art that is just perfect. The final story is for me is my favorite. "Lisa's Lending Library" written by Sherri L Smith and beautifully illustrated by Kassandra Heller and has Lisa building a little house filled with books so that people can borrow them and read and enjoy the books as much as she has. The only problem is that everyone uses the books for other purposes. In the end its Ralph that saves the day in a very cute ending that I dare not spoil. The reason that I love this story so much is that it reminds me of a little golden book type story. It just hits all of the right beats. Overall this is a really fun book and while it may not be like the other one shot books it's really nice that the stories are true to the Lisa Simpson character.
Is this book worth your time and money? While it's not as flashy as some of the other one shots, it's a really good read for both young and old. It's well worth the $3.99 cover price for the Smith and Heller story alone. If you are a Simpson fan then this is a nice little read and really nice art.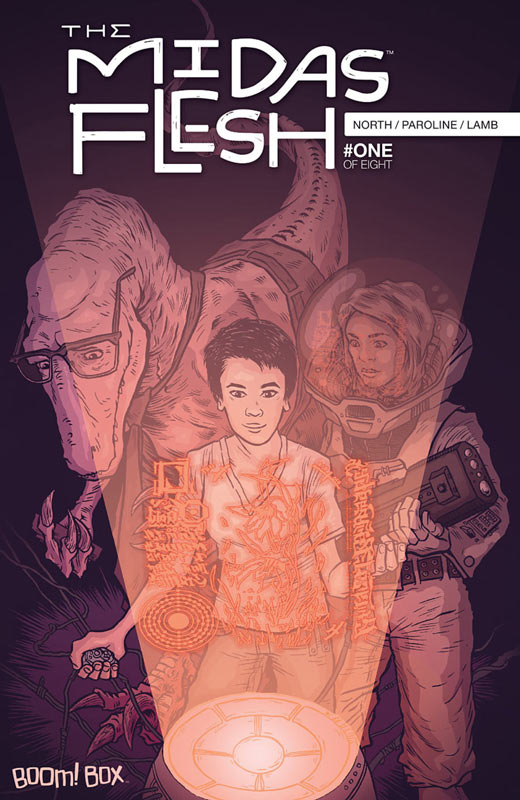 The Midas Flesh #1
Boom! Box Writer Ryan North, Illustrated by Shelli Paroline & Braden Lamb, Letterer Steve Wands
This is the first book from Boom! Box a new imprint of Boom! Entertainment and it gets off to a promising start. The synopsis from Boom is, The space crew of Joey, Fatima and Cooper have decided to return to Earth—a planet completely sectioned off, abandoned, and covered in gold—to find out exactly what happened to this once thriving planet and see if they can use that knowledge against the evil empire that's tracking them down. As luck would have it, they just landed the most powerful weapon in the universe: some ancient dead guy's body. It's a new spin of an old tale. North is most famous for his writing for the Adventure Time comics. He definitely like to mix genres and this book is no exception. The first issue is definitely setting up a lot for the next seven issues. While you are not quite sure what is going on with the mixing of the time frames I never felt as if I was lost that sometimes plagues these type of stories. I did really like the different take on the Midas Touch story here. The art while on the surface seems a little cartoony really fits the tone of the story. It's has a simplistic but still very detailed style that is so right for the needs of the script. While there is a bit of left field and not sure where you are going after reading the first issue, I did really enjoy it.
Is it worth your time and money? I would say yes. I am very intrigued to see where this is going. While you are a little off guard after the first issue I think that is a good thing. I do like the mystery that is happening and am looking forward to the next issue. Hopefully it delivers.
Harley Quinn #1
DC Comics Writers Amanda Conner & Jimmy Palmiotti, Artist Chad Hardin, Colorist Alex Sinclair, Letterer John J. Hill
After issue #0 All Star jam issue this is where the story line starts off. The plot synopsis from DC Comics is, Harley is set to begin her new life, but she needs a job first! Enter the Coney Island Roller Derby! It's game time as Harley sets out to destroy her competition—literally! While I still can't stand the hooker outfit that she is suffering with in this New 52 version at least Conner and Palmiotti have given us back the Harley that we fell in love with. Gone is the hideous mean for no reason Harley and back is the fun Harley that we all missed. They set up the story arc in the first issue quite nicely. We are introduced to her new place, tenants and new job of roller derby girl in a nicely paced story. Hardin's art is nice but there are few times that his style seems to stray in different directions. This is not a knock because his art is quite nice but, I just think that he is still developing his style. Overall a solid fun read and one of the New 52 books that might be worth reading for a change.
Is this book worth your time and money? A New 52 book that is fun and not super dark and gritty for the sake of it. Yes I couldn't believe it either. While this is by no means groundbreaking stuff, it's a fun read and if they would just get rid of the hooker outfit it would make me one happy puddin.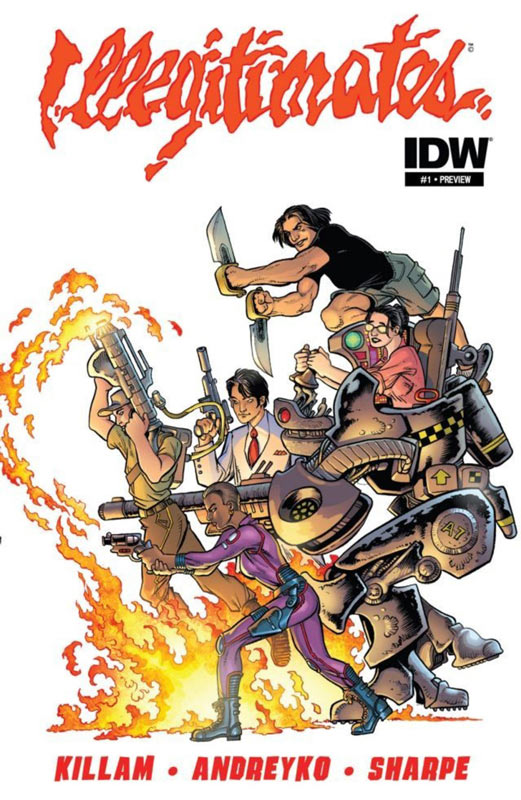 Illegitimates #1
IDW Writer Marc Andreyko and Taran Killam, Pencils Kevin Sharpe, Inks Diana Greenhalgh Colors Peter Pantazis, Letterer Thom Zahler
From the mind of SNL star Killam comes a new series from IDW. The plot synopsis from IDW is, When the world loses its greatest (and most promiscuous) super-spy, Jack Steele, a secret international espionage organization has no choice but to call in a new team to save the world, The Illegitimates! With no knowledge of the bond that ties the team together, The Illegitimates are thrust into a seedy world filled with crime, lust, and double-crosses. Each member of The Illegitimates is forced to use their unique skills to overcome their personality clashes and come together as a team. While the idea behind the books is not too bad the first issue does plod along a bit too slowly. It starts off pretty good but when they start introducing the offspring the one-off splash pages get very annoying. I'm sure that Andreyko is doing most of the heavy lifting as far as the script goes. I just wish that this would have been more of a first issue. It really feels more like a #0 issue that is setting up the real first issue. The art from Sharpe and Greenhalgh really varies. There are times where it's really stiff and times where it's really quite nice. Overall it's a mixed bag the layouts are OK but again it's kind of all over the place. Hopefully the artist will get a handle on it.
Is this book worth your time and money. It's a 50/50 at this point. The concept is good but the first issue is a bit of a mess in both the story and the art. I'm willing to give the second issue a try but they will really have to get the focus of the book going. Not bad but it just needs some work.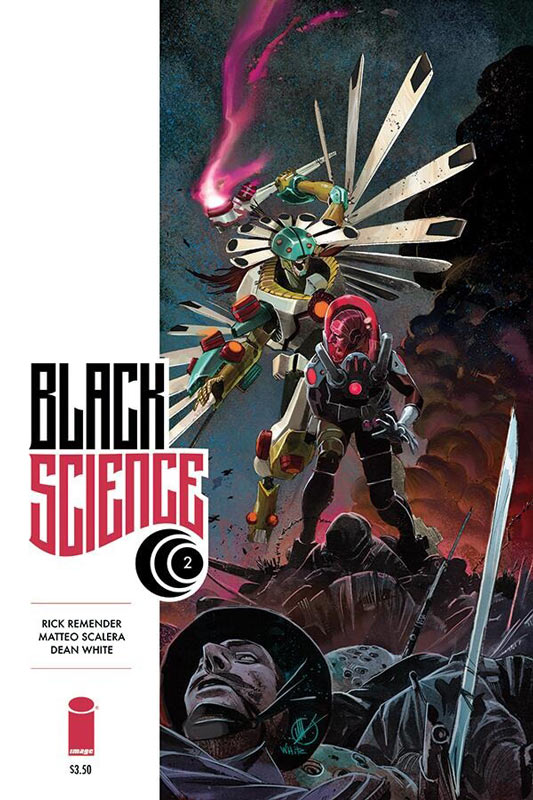 Black Science #2
Image Comics Writer Rick Remender, Artist Matteo Scalera, Painted Art Dean White, Letterer Rus Wooton
While I liked the first issue I was unsure of where it was taking me. The second issue gives a bit more but it still seems to be a bit of a slow burn. The plot synopsis from Image Comics is, Run-amok reality! Grant and his crew escape the madness of the lightning sea-swamp only to be flung into a futurepast trenchworld, where the Sons of the Wakan Tech-Tanka wage never-ending war on the savages of Europe!  How did the Anarchist League of Scientists end up this deep in the onion? Who among them sabotaged the Pillar? Remender's concept of the book is solid but the time jumping could be good and bad for the book at the same time. We do start to learn of how the experiment was started in this issue. We do start to also learn the characters backgrounds. I just don't know how long he can keep the slow burn on the story going. While I like it after reading the second issue I found myself not as invested as I had hoped I would be at this point. While the mystery of the sabotage is good, it's not going to be enough if I don't care about the characters. The art of Scalera and White is not as painted as it was in the first issue but still very nice. It's definitely more standard line art than the lush painted look of the first issue. While I hope that this is a stylistic choice it's a bit of a let down from the first issue.
Is this books worth your time and money? I will give it a few more issues but unless I start to care about the story beyond the mystery aspect remains to be seen. It just seems to be maybe a bit to slow burning. It's still a good read I just hope that we start to get some payoff soon. So it's a wait and see where it's going for now.