With DC Comic Convergence first moth coming to a close I'm back to regular reviews. While I will still review some of the Convergence titles but just the ones that I thought were the better ones of the bunch.
Wonder Woman '77 Special #1
DC Comics Writer Marc Andreyko, Artists Drew Johnson, Matt Haley, Jason Badower, Richard Ortiz, Colorist Romulo Fajardo Jr., Letterer Wes Abbott
Much like the Batman '66 comic this is a comic inspired by the Wonder Woman television series starring Lynda Carter and Lyle Waggoner that ran 3 seasons from 1977 to 1979. There are two stories in the book "Disco Inferno" and "Who is Wonder Woman". Johnson, Haley and Ortiz handle the art for the first story and Badower, and Haley do the second story. Andreyko is an obvious fan of the show and does a nice job of fitting the stories into the television mythos. The stories are fun and if you are a fan of the show you will get a real kick out of them. Unlike the Batman '66 that more people are familiar with and of course Batman being much more well-known is a bit more accessible than this book. That certainly is no knock on Wonder Woman '77 but it caters to fans of the show and I'm not sure if new readers will get a lot of the inside jokes. I did like that Andreyko made the two stories very different. "Disco Inferno" feels more like an episode of the show and "Who is Wonder Woman" is a bit more like a classic comic story. This was a wise move to give each story a different spin and tone that actually complements each other. DC has lined up a stellar team of artists on the book and they all do a fantastic job of capturing both Carter and Waggoner. This is a really great looking book where all of the artists really bring their A+ game and do both the story and the original actors proud. I loved how they snuck in the Cathy Lee Crosby ill-fated re-imagined outfit design from the 1974 telefilm pilot into the "Who is Wonder Woman story.
Is this book worth your time and money? I had a fun time reading it and being a fan of the original show both Andreyko and all of the artist do a great job of capturing the spirit of the show. The only reservation that I have is that people who have never seen the original show might be a little lost but if you are a Wonder Woman television fan then this book is going to make you very happy. RECOMMENDED! 
The Unbeatable Squirrel Girl #5
Marvel Comics Writer Ryan North, Artist Erica Henderson, Colorist Rico Renzi & Erica Henderson, Letterer Clayton Cowles
You know my love for this book and if you haven't tried it this is a great done in one story that is a great introduction to new readers. North has a lot of fun with this issue and has people trapped in the top of the Statue of Liberty and they are all telling their version of who Squirrel Girl is and to say that its priceless is and understatement. Each tale is told in a different art style such as Kirby, Sprang, Miller, Zeck and bravo to Henderson that masterfully pulls the whole book off if the different styles. I love that North is willing to really go outside the already wild stories that they have already told and having people tell stories of a superhero that they really have no idea who she is truly priceless.
Is this book worth your time and money. I can't praise this book enough and if you are looking for the funnest book that Marvel is putting out now then you really need to buy this book. It's smartly written by North and Henderson's artwork is right on the mark brining the scripts to life. HIGHLY RECOMMENDED!
Minimum Wage #1 (So Many Bad Decisions, Part 1)
Image Comics Writer/Artists/Colorist/Letterer Bob Fingerman
While this is labeled as a number one it is really a new arc in the series. While you can pick up this issue and pretty much know what is going on with the story you want to make sure that you read the recap on the inside cover to get you up to speed. The thing that I love about Fingerman's Minimum Wage is that the characters are so normal and how they are a great slice of life and very relatable. Rob is just an average guy like the rest of us just trying to figure it all out and stumbling around like the rest of us in life. Fingerman doesn't sugar coat anything but it not all about depressing crap either that a lot of personal stories get stuck in sometimes. His art style is a great throwback to the underground/indie era of comic but I love that he captures the rare feat of realistic cartooning that is very difficult to pull off.
Is this book worth your time and money? I am a recent convert to Minimum Wage and have really fallen in love with this book. The characters are very well fleshed out and when you read it you are immediately drawn into they story and everything is so relatable. While my office doesn't have and S&M room and is a bit weird but it just fits into the story and make sense. If you are looking for a great alternative story driven slice of life then you have come to the right place. HIGHLY RECOMMENDED! 
Convergence: Harley Quinn #2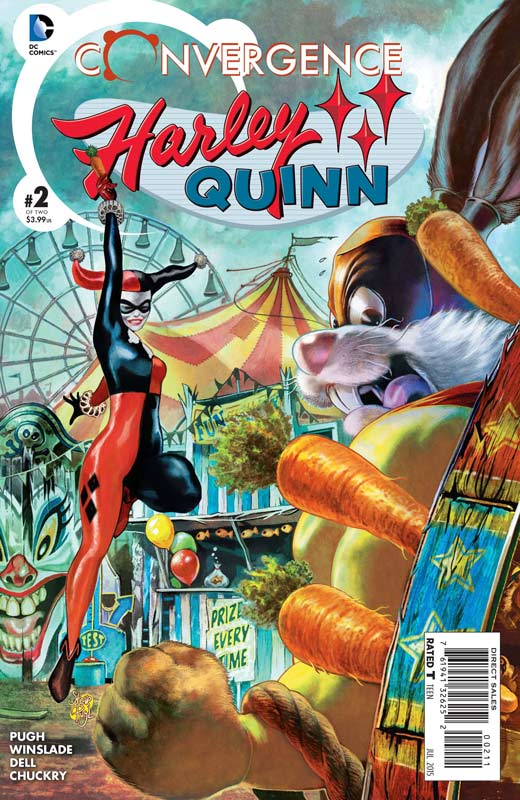 DC Comics Writer Steve Pugh, Penciller Phil Winslade, Inker John Dell, Colorist Chris Chuckry, Letterer John J. Hill
Section Eight back up story Writer Garth Ennis, Artist John McCrea, Colorist John Kalisz, Letterer Pat Brosseau
While the first issue of the book got off to a decent start the second issue finally lets loose with Harley battling Captain Carrot. Pugh has a lot of fun with two goofy characters and while I wish that there was more of Captain Carrot and the Zoo Crew in the book it was fun and one of the better Convergence books. Pugh gets out of the dome and I really thought that if the book had been more like the second issue it would have been a lot better. In the end having them have a goofy battle royal is simple and perfect. Winslade does a great job on Captain Carrot and still keeping his cartoon roots while fitting him into the "real" comics world. This is one of the better looking Convergence books. There is an 8 page back up story for the new Section Eight series starting in June and the Hitman! team of Ennis and McCrea are back at it again and it's going to be a great ride if you have read the original series and this story is just a taste of the insanity. This is a very nice bonus.
Is this book worth your time and money? While not the most stunning Convergence book (and there were only really 2 that were great) this second issue was a lot of fun and it was nice to see the classic Harley Quinn back again. I wish that DC would give Captain Carrot his own book and maybe with this and Multiversity there is hope. Along with the Section Eight preview it's worth the price of admission.
The Big Con Job #3
Boom! Studios Writers Jimmy Palmiotti and Matt Brady, Artist Dominike Stanton, Colorist Paul Little, Letterer Jim Campbell
The second issue got a little off track and was worried that the book might not work considering how great the first issue was. Thankfully the book get back on track with this issue and get the story going into the home stretch. The focus of the job is starting to come together and we are starting to see that things may not be as good as they sound. One of the things that I am really enjoying about this book is all of the nods and winks of fandom that Palmiotti and Brady have peppered into the story. They have also done a nice balance with the characters so that as the story is progressing we are with them on this journey. Stanton continues to do a nice job with the artwork and is a better than average looking book from Boom!
Is this book worth your time and money? I am still enjoying this book but do worry that the last act could be something that I might have already figured out. Hopefully Palmiotti and Brady have some twist up there sleeves and prove me wrong. This is a fun little book that has had some bumps along the way but getting this issue back on track was a big plus.
Convergence: The Question #2
DC Comics Writer Greg Rucka, Artist Cully Hamner, Colorist Dave McCaig, Letterer Corey Breen
Starfire Back-Up Writers Jimmy Palmiotti & Amanda Conner, Penciller Emanuela Lupacchino, Inker Ray McCarthy, Colorist Hi-Fi, Letterer Tom Napolitano
The Question was certainly one of the stronger Convergence books thanks to original writer Rucka and Hamner went the route of pure character study for this book and it really paid off. Rucka does a great job with the story instead of who will win and who will lose instead take the story in a much more personal toll of that life is just grey instead of black and white. Rucka has a great talent for writing female characters and this book once again shows how he does it so well. Hamner is the perfect artist to bring this emotional story to life visually. He is able to capture both the action and dramatic scenes very well. The Starfire back-up is a nice set up to the upcoming series where Kori asks different heroes where she should live and it sets a nice tone for what the book seems to want to accomplish. Looks pretty good from this 8 page preview.
Is this book worth your time and money? This is one of the stronger Convergence titles and does and does it with an all female cast. Solid story with great art make this one of the few Convergence titles that was worth reading. RECOMMENDED!
Scooby-Doo! Team Up #10
DC Comics Writer Sholly Fisch, Artist Dario Brizuela, Colorist Franco Riesco, Letterer Saida Temfonte
I thought I would never see this team-up ever. The Scooby gang meeting up with Jonny Quest pretty much blew my mind when it was announced and while it may not be perfect it certainly was a lot of fun for fans of both shows. I will give Fisch that mixing these two shows is a bit like oil and water but he finds a way to make it work sort of. The problem is trying to fit in two huge casts into a 20 page story leaves very little room to do much. This is where Fisch does the smartest move in that he keeps the story super simple and makes it more of a Scooby-Doo type mystery instead of a more sophisticated Jonny Quest story. In the end it works but I would love to see DC do a Jonny Quest book with major talents doing it. Brizuela keeps all of the characters on model and that is a huge plus considering the different styles that each show have.
Is it worth your time and money? While it was not the most sophisticated story it was a lot of fun to see two of my childhood favorites together for the first time. I would have preferred a two-part story but with the book being bimonthly that wasn't going to happen. With that said I really enjoyed the story and art and if you are a fan of theses classic Hanna-Barbara shows then you're in for a treat. It's well worth the $2.99 cover price. RECOMMENDED!
The Fox #2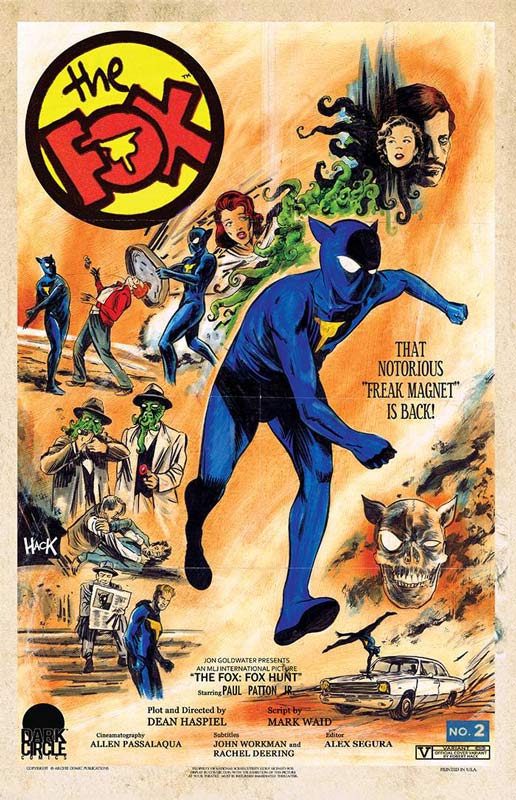 Dark Circle Comics Writers Dean Haspiel and Mark Waid, Artist Dean Haspiel, Colorist Allen Passalaqua, Letterers John Workman & Rachel Deering
The first issue did a nice job of setting up the story for both new and old readers with a nice cliffhanger ending of every criminal in town looking to put The Fox's head on a stick for the one million dollar payday from Mr. Smile and the insanity ensues this issue. Haspiel and Waid take a classic comic book good versus bad and has a lot of fun with it. Not only with the snappy quips but the villains are super outrageous and a real hoot. I love the fact that the book takes a lot of risks with a standard superhero and letting it go in directions that you normally don't see and make it all work so well. As weird as the story can get they never lose sight of the characters and their motivations that keep the book grounded with the mayhem that is going on. Haspiel's cartoony style really fits the mood and fun that the book story needs to work. If you had a more traditional comic book artists doing the book it just wouldn't work as well. Haspiel's art just leaps off the pages and makes the book a visual feast.
Is this book worth your time and money? I am a big fan of this book and this second issue really hit the ground running and loved the story and there are quite a few laughs in the book as well. It's going to be really interesting how Haspiel and Waid pull the whole thing off but I can tell you one thing it's going to be a hell of a ride! VERY RECOMMENDED!
Secret Wars #1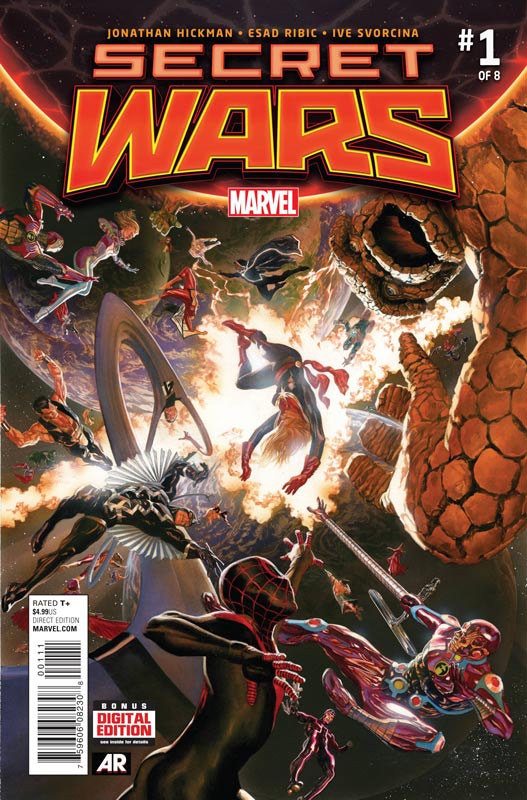 Marvel Comics Writer Jonathan Hickman, Artist Esad Ribic, Colorist Ive Svorcina, Letterer Chris Eliopoulos
It's now Marvel's turn for their blowout event and while it's better than DC's Convergence main book (not a big bar to hop over on that one) but sadly has the same problems as nearly all of the big two event books have, it's simply not that good. Hickman is a competent writer and has done some good books. The problem with this story is that there is a lot going on but at the same time not much is happening and there doesn't seem to be much of a point to it. Marvel has 2 universes (The Marvel Universe and The Ultimate Universe) compared to the 52 universes that DC Comics has, so it seems a little odd that Marvel felt the need to destroy them. The other problem with the book is that for new or lapsed readers this book will not make a lot of sense to them. There is a lot of exposition from recent titles that if have not read them you will be scratching your head and wondering what the hell is going on. On the plus side there is a hell of a lot of action going on in the first issue but ultimately there are no clues to what the whole reason for the conflict is. There is no real compelling reason to want to read the next issue because the first issue ends with the destruction of the Marvel Universe and left me with a lot of who cares. The only saving grace to the book is Ribic's artwork that is quite the standout on the book. He does a fantastic job on the scope of the story and yet is able to handle the emotional dramatic scenes with a subtle touch. At the very least it's a great looking book.
Is this book worth your time and money? The big issue here is that fact that there is no clue to what the point of this event is. So it took 38 pages to blow the universes up and there was no real point to it. It's hard to lay total blame Hickman because as with most of these event books they are devised by committee and whenever you have too many cooks in the kitchen the meal is usually burnt. This book is a real mess but at least it readable compared to Convergence. In the end unless you are a Marvel Zombie there really isn't much point to this event because next year they will change it with next years event all over again. SKIP IT! 
Pisces #1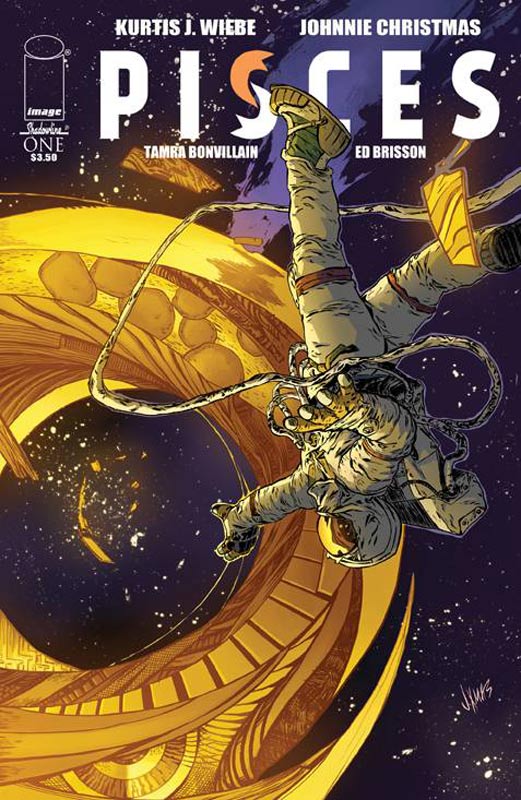 Image/Shadowline Writer Kurtis J. Wiebe, Artist Johnnie Christmas, Colorist Tamra Bonvillain, Letterer Ed Brisson
This is one of those books that has some interesting thing happen in the first issue but you're not quite sure what to make of the whole thing. Wiebe throws a lot around story wise but the structure and execution of the story is very flawed. One of the problems is that the story time jumps around and you as the reader are not sure when or where the story is actually taking place. Wiebe never introduces the character of Dillon very well so there is a real lack of emotional connection to him. The artwork by Christmas is about the only thing that the book has going for it. He visually tries his best to help the story, but there is only so much he can do with it.
Is this book worth your time and money? There are some fair ideas in the book but it's so disjointed that you have no idea what is going on and by the end you really don't care. SKIP IT!
Arcadia #1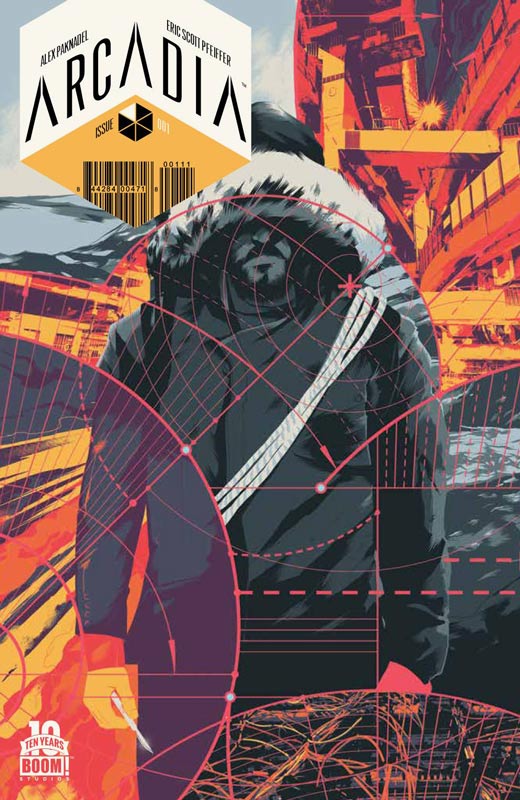 Boom! Studios Writer Alex Paknadel, Artist Eric Scott Pfeiffer, Letterer Colin Bell
It seems that Science Fiction comics are quite the rage now and Arcadia is the newest from Boom. I will give Paknadel that they premiss of the book is very intriguing but I felt that the first issue got off to a really rough start. I felt the biggest flaw with the story was its focus. There is a lot going on but your never quite sure where everything fits together at. He maybe should have just told one story well instead of two disjointed ones. Then he throws in a epilogue that make the whole thing even more confusing. There are some great ideas in the book just poorly executed. The artwork by Pfeiffer is decent and gets the job done but nothing spectacular.
Is this book worth your time and money? A great concept will only get you so far. If you don't flesh out the story into a coherent script then you have got a big problem. And that is what sunk this book for me. SKIP IT!