The Dollhouse Family #1
DC Black Label/Hill House Comics Writer M.R. Carey, Layouts Peter Gross, Finishes Vince Locke, Colorist Cris Peter, Letterer Todd Klein, Back-Up Story Writer Joe Hill, Artist Dan McDaid, Colorist John Kalisz, Letterer Wes Abbott
The second of the Hill House Comics reunites the Unwritten team of Carey and Gross and they fit nicely into this mix with this first issue. While I wasn't as blown away as I was with Basketful of Heads, The Dollhouse Family take a different approach that works well for the story that Carey is telling here. One thing that I did like is how he slowly unfolds the story and the natural way that the Dollhouse comes to life. There is a lot to take in this first issue but Carey does a nice job of balancing the time periods so you never feel lost in the two stories. Gross and Locke deliver really nice artwork here and while I would have love to see Gross do the full artwork Locke add a great feel that works well here. There is also the second part of the Sea Dogs story but it only gets two pages and that was a bit disappointing but still a nice bonus.
Is this comic worth you're time and money? This story is more of a slow burn but there is a lot to like here in the first issue. There is no denying that this book is heavily influence by House of Secrets and House of Mystery but Carey wisely takes the more creepy tone of those book and fashions it into a unnerving story that has a nice cliffhanger to get you to come back to see what is going to happen. This is another win for the Hill House Comic line and it will be interesting to see where they take it and is well worth checking out.
Folklords #1
Boom! Studios Writer Matt Kindt, Artist Matt Smith, Colorist Chris O'Halloran, Letterer Jim Campbell
This is a nest little book that take the typical real world to fairy tale and reverses the story and you get a very intriguing concept that gets off to a good start here. Kindt plays it a bit safe here in this first issue but that ends up working well because he takes the time to get to know Ansel and you are able to connect with him by the end of this first chapter. He also gives us a nice foundation to this world to discover that while it seems familiar it's not what you are totally expecting. Sure there are tropes and cliches here but Kindt actually plays up on this with the story and that is one of the reasons it works. Smith's artwork really brings a lot to this book. His art style has a nice storybook quality and his line work is clean and that give this story a great rich quality that adds greatly to the story.
Is this comic worth you're time and money? I really enjoyed this first issue and while it doesn't blow you away, its not trying to either. Kindt does a great job of building this story and developing the characters in this first issue and gives you a good reason to come back for more. Smith's artwork is a perfect fit and really completes it. This is one to check out this week for sure. RECOMMENDED!
Family Tree #1
Image Comics Writer Jeff Lemire, Penciller Phil Hester, Inker Eric Gapstur, Colorist Ryan Cody, Letterer Steve Wands
As a big fan of Lemire's writing, I tend to be pretty critical when a new comic of his comes out and thankfully this one is a winner. There have many stories about the end of the world and trying to come up with a new spin is nearly impossible. But Lemire wisely doesn't try to re-invent the wheel here but use those tropes and build characters around it. The story is the same no matter what the cause of it but he makes sure that you care about the characters of the story then you are sucked into the story and that is why this was such a good read. He builds the story very nicely here for a first issue that really focuses on family and that really helps this book immensely. Hester and Gapstur artwork is great here and I loved that there were many times where they kept it simple with minimal backgrounds that gave it a stark look and feel. Hester's layouts give the story a strong sense of direction and is a big plus.
Is this comic worth you're time and money? While the story has been told to death Lemire somehow manages to make it feel fresh and new and with his strong characters that is the reason it works. Hester's artwork is really great here and can't wait to see how he draws the plague after we see it in this first outing. I'm intrigued with this book and can't wait to see where they take it. RECOMMENDED!
Un/Sacred #1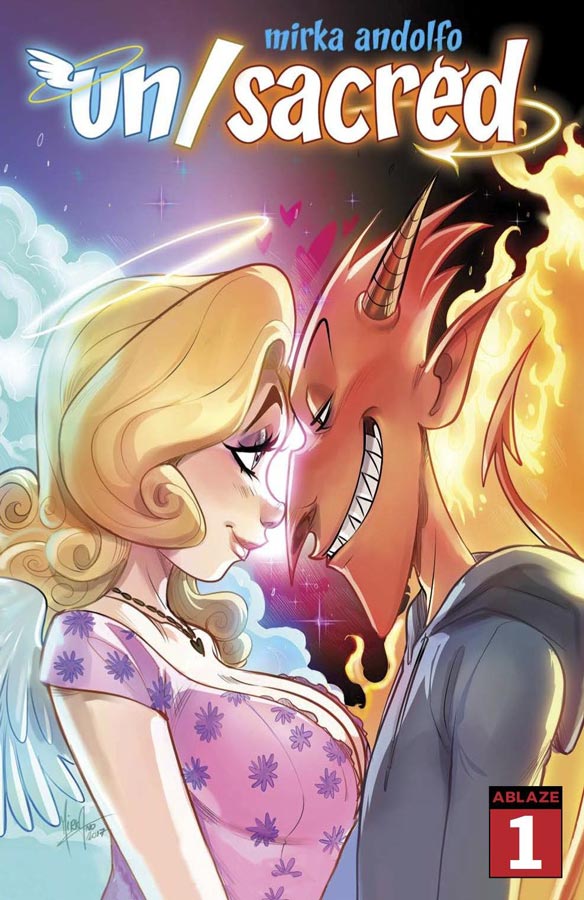 Ablaze Publishing Writer/Artist/Colorist Mirka Andolfo, Localization Marguerite Bennett, Letterer Fabio Amelia
I'm a fan of Andolfo's artwork and really enjoyed her Unnatural series over at Image. Her take on mixing good and evil with relationships and a little sexual frustration makes this a charming little comic. It's one of those books that is just simple and fun and doesn't try and be more than that. The one thing that she is known for is her cheeky artwork and on the surface that may put some readers off but don't let deter you from this book. Sure there is a lot of winks and nods of sex but she plays it all for fun here and that is why it works so well. The story is pretty simple and a lot of the story reminded me of it being like a comic strip with little stories that add up to a whole one. Her cartoony art is well placed here and gives it a lot of visual fun and really helps to deliver the comedy of the story.
Is this comic worth you're time and money? This is a simple and fun comic and while it definitely is not for kids it's not an adults only comic either. There is a lot of sexual innuendo but its played for fun here. I enjoyed it for what Andolfo was doing here and if your looking for something fun then this one is well worth checking out.
Black Stars Above #1
Vault Comics Writer Lonnie Nadler, Artist Jenna Cha, Colorist Brad Simpson, Letterer Hassan Ostmane-Elhaou
I'll be really honest that the vast majority of Vault comics has not been that good but there was something about this one that caught my eye and I have to admit that it was pretty darn good for a first issue. It was Cha's artwork that caught my eye first and that was enough for me to give this book a shot but once I read Nadler's story I was pretty impressed with it. There were a number of different things that Nadler touches on with this story but what I liked the most was Eulaie's need to be free of her family and start her journey in life. The story is one of those be careful what you wish for that I wasn't expecting. Nadler takes the time to the story unfold at a nice pace and really does a great job of developing the characters. While the dialogue is thick at times it never becomes slow but in fact it adds a great richness to the story. Cha's artwork it very impressive here and she helps deliver the emotions of the characters perfectly with their facial expressions. She also gives each panel such great detail with both the characters and the backgrounds that adds such a richness to the story.
Is this comic worth you're time and money? This is way above average for Vault comics and Nadler and Cha deliver a gripping story with fantastic artwork. There is a lot to take in with this first issue and they give good reasons to come back for more. I was very impressed with this comic and is definitely worth checking out. RECOMMENDED!
Far Sector #1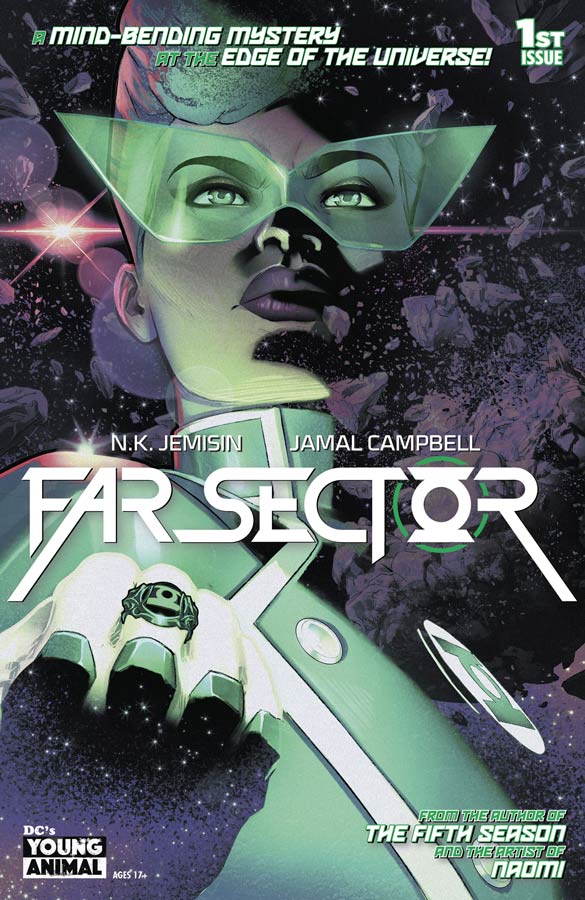 DC's Young Animal Writer N.K. Jemisin, Artists & Colorist Jamal Campbell, Letterer Deron Bennett
I've been a fan of the Young Animal imprint and while not all of the books have been winners, I love the fact that they all try something different. While this may seem like just another Green Lantern story, its certainly not once you have read this first issue. Jemisin know more as a science fiction novel writer has done what other novel writers miss and that is write a comic book not a first chapter of a novel. She get the structure of a comic that fails many novel writers to comics. While she starts off the story as a simple murder mystery you can see little story elements that are there that there is so much more to come. What really works well here is that Jo has great depth as a character and you get to know her quite well in this first outing. Framing it as a murder mystery was wise because it allows the reader to be drawn into the story and yet you can see that Jemisin is leading to much bigger things here. The book couldn't have gotten a better artist than Campbell fresh off of his hot run on Naomi brings great scope and warmth to this story and adds greatly to it working. This maybe a Green Lantern story but Campbell gives it a fresh look and feel that was a wise choice with both the characters and settings. He is able to capture the scope of this huge world but never loses focus of the characters and the smaller elements of the script.
Is this comic worth you're time and money? This first issue gets off to a great start and I am intrigued to see where they go from here. It follows the basic super-hero path but Jemisin gives it a fresh approach that was really nice to see and throw in Campbell's gorgeous artwork and you have a real winner here. VERY RECOMMENDED!
Ginseng Roots #2
Uncivilized Books Writer and Artist Craig Thompson
I thought the first issue of this book was great but Thompson shows here that there is a lot more to come. This autobiographical story is such a wonderful read and that is always what Thompson delivers. There is such a richness to both the story and the characters that is relatable to and yet it's his personal story. What has always made his work so fascinating is that there are alway things that remind you of your childhood in this story and how your family is crazy too. It a personal story that will really resonate with you and the fascinating story of Ginseng being grown in the United States. His artwork is a wonderful mix of cartoony and realism that really charms you and make reading this book that much more special. There is a lot here in the story in this second issue and its hard to believe that there is a lot more to come and that is what makes this comic so great.
Is this comic worth you're time and money? This is a comic that show how great the medium can really be. While its Thompson's personal story that is amazing but incredibly normal at the same time. This is a must read book and is just getting better and better. HIGHEST RECOMMENDATION!
The Unbeatable Squirrel Girl #50
Marvel Comics Writer Ryan North, Artist Derek Charm, Song Artist Erica Henderson, Colorist Rico Renzi, Letterer Travis Lanham
Sadly all good things must come to an end and I'm really going to miss this comic. Month in and month out North has delivered one of the best and longest running comic from Marvel and its very bittersweet. This last issue goes out on an incredibly high note that wraps up the current storyline and gives a great sendoff to the characters. Who knew all of those years ago that Squirrel Girl would be this great and was a great gateway for new readers young and old to comics. While this last story is sad North never forgets to have fun with it and that helped lessen the sadness that its over. And better yet he brings Galactus back to give Dorren a charming send off and there is some great life lessons that are stitched into the story that made this story really special. Charm has really helped this book continue to reach great heights after original artist Henderson left the book. He really has captured the charm and fun that has made this comic so great over the years and I can't imagine any other artist that could have pulled it off. Speaking of Henderson she comes back to draw a few pages for this final story that was perfect and was great to see her back even though it was just a few pages.
Is this book worth you're time and money? I have been with this book from day one through two #1 issues in one year to the final two #50 issues in this year ( and yes they were not going to let that joke be missed on the cover) North, Henderson, Charm, Renzi and Lanham have consistently delivered one of the best comics month in and month out that has charmed both young and old and brought so many new readers to comics. This has always been one of my go to comics to get non comic book readers into comics. It was not only a great all ages comic but a smart as a whip adult one too. This final issue is hopefully not the end of Squirrel Girl but I cant imagine a version that will live up to what this creative team delivered. It's a sad day but there is always the chance to go back and re-read this great comic from the start and let it fill your heart with joy all over again. Comics don't get much better than this and I'm going to miss it very much! HIGHEST RECOMMENDATION!