Undiscovered Country #1
Image Comics Writers Scott Snyder & Charles Soule, Artists Giuseppe Camuncoli & Daniele Orlandini, Colorist Matt Wilson, Letterer Crank!
There was a lot of hype with this book coming in and so was it worth all of that hype? Maybe but it does get off to a really great start in this first issue. This oversized first issue does a great job of balancing exposition and moving the story forward. A lot of the plot tropes are familiar but Snyder and Soule do a really great job here of giving it a fresh spin with it. One of the big reasons that it starts off so well is that they take the time to let the reader get to know the characters so that have a vested interest in them and in turn care about what happens to them in the story and that really helps set things up for the overall story. The artwork by Camuncoli and Orlandini is quite impressive here and even more so when you consider that most of the issue is dramatic dialogue they capture the emotions of the characters and that makes the story work so much better. They capture the nuances of the story that keeps things moving along nicely in this first outing.
Is this comic worth your time and money? You certainly get a lot of bang for you're buck with this double sized first issue so that is a big plus but its the story and the great artwork that will impress you more when you read it. There is a nice set up here for the series and now that the story has been set up they give you some great reasons to come back for more and I cant wait to see where they take it from here. VERY RECOMMENDED!
Green Lantern: Blackstars #1
DC Comics Writer Grant Morrison, Artist Xermanico, Colorist Steve Oliff, Letterer Steve Wands
This three issue mini series is a bridge story from the first season of Morrison and Sharp's to the next season that is coming out next year. If you have not been following the series then you're going to be totally lost if you start here. If you have been wisely reading Morrison's great take on the book then you know that there is going to be a lot to digest here and he really packs in a ton of story in just 22 pages. Morrison really ramps up the Blackstar force taking control of running the universe the bigger question is what are Hal Jordan's true motives here and this story might just reveal that. As with most of Morrison's stories there are more questions than answers but he does keep things moving along here nicely. I'm a huge fan of Sharp's work on the title so far I have to give Xermanico credit in that he keeps the look and feel of Sharp's artwork but its very much his own. The big thing that he keeps is both the large scope and the small subtle drama of the script that helps keep the momentum of the series intact but brings his own style to the book at the same time.
Is this book worth your time and money? Morrison has really given new life to Green Lantern and this bridge story between the two years is a great idea that keeps the momentum of the story going and yet bring a side story that complements it at the same time. The artwork by Xermanico is perfect and he really brings his A game to this one.
Spider-Man & Venom: Double Trouble #1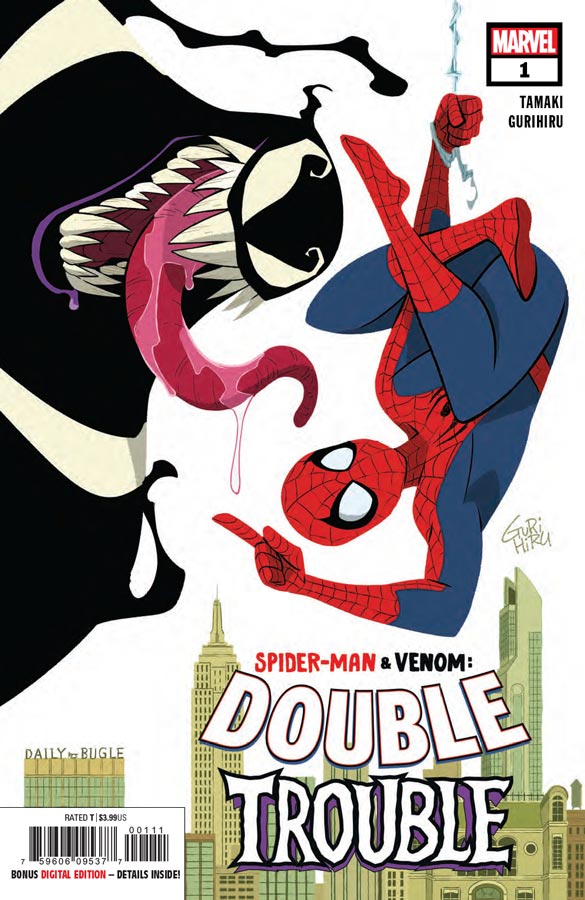 Marvel Comics Writer Mariko Tamaki, Artist Gurihiru, Letterer Travis Lanham
This is an adorable all ages comic that won't take long to read but has a great charm and warmth to it. While the story may skew to the younger crowd, Tamaki adds a lot of great humor to the story that will keep you interested in the simple story and that is what makes is work. While the story is simple she gives the story a nice cliffhanger that was a lot better than I thought that the story was heading. The artwork by Gurihiru is wonderful here and he really capture the simple charm of the story and adds great little touches to the humor to Tamaki's script. The exaggerated looks that he gives the characters is a big reason why this comic is so much fun.
Is this comic worth you're time and money? The only issue that I had with this comic was that I really think that it would have work a lot better as a graphic novel instead of single issues. Most younger readers prefer complete stories and for most adult readers they are not going to buy single issues of a comic like this. With that being said this is a really fun comic that works on a lot of levels and is well worth checking out.
b.b. free #1
Boom! Box Writer Gabby Rivera, Artist Royal Dunlap, Letterer Jim Campbell
While I may not like all of the comics that Boom Box releases, I'm glad that they are trying to get more non comic readers to get comics that are outside the mainstream superhero genre and their newest is b.b. free. There are some good ideas here that Rivera does with the script but I wasn't quite sold on the story with this first issue. It's not to say that it was bad, but in fact it has a lot of good ideas and b.b. is quite charming. While you get to know her I wasn't totally sold on the story set up that did introduce the characters well but the concept wasn't as flesh out as I would have liked but it does show promise. Dunlap's artwork is a big win for this comic with not only his line work but I really liked the color pallet that he used for the comic that gives it a vibrant and unique look and feel that really fit the story perfectly.
Is this comic worth your time and money? While I may have not been overwhelmed by this first issue the book does show a lot of promise. The story does have a nice cliffhanger at the end of the issue and that was enough to give the book another issue or two. The visuals on this comic are wonderful and is more than enough reason to give it a shot.
Legion of Super-Heroes #1
DC Comics Writer Brian Michale Bendis, Penciller Ryan Sook, Inkers Ryan Sook and Wade Von Grawbadger, Colorist Jordie Bellaire, Letterer Dave Sharpe
This revival has certainly been a long time coming and while the prequel two shots were a real train wreck, thankfully Bendis gets it together here and starts off the book nicely here. As with any book that has been missing in action for as long as the Legion has there is going to be a lot of exposition to get through in both the set up and the insanely large cast of characters. Luckily Bendis doesn't try and overload the reader with it and at a few points even makes fun of it. This new series offers both nostalgia and new fresh approach to the mythology but doesn't change what has made the characters endearing over the years. Bendis does a nice job with the scope of reintroducing them to a new audience but long time readers won't be board either because there is something for everyone here on that front. This first issue is pretty exposition heavy but not to the point where I felt it was a slog to get through. There is also some nice set up moments that shows that there is a lot more to come with this first story arc. Sook's artwork is some of his best work to date and that is saying a lot because he is such a great artist and this book really shows off what he can do with both the big and small elements of the story. He does a great job with the emotions and the facial expressions of the characters and shows that he is up to the task of such a large cast of characters.
Is this comic worth your time and money? I enjoyed this first issue and while it didn't blow me aways that was not the point that Bendis is trying to do here. He is building a new Legion that is different from the previous versions but doesn't change the things that readers loved about the book. It's a bit too early to call this one with just this first chapter but it looks to be the right direction and with the gorgeous artwork of Sook this is off to a very good start. RECOMMENDED!
Grendel: Devil's Odyssey #2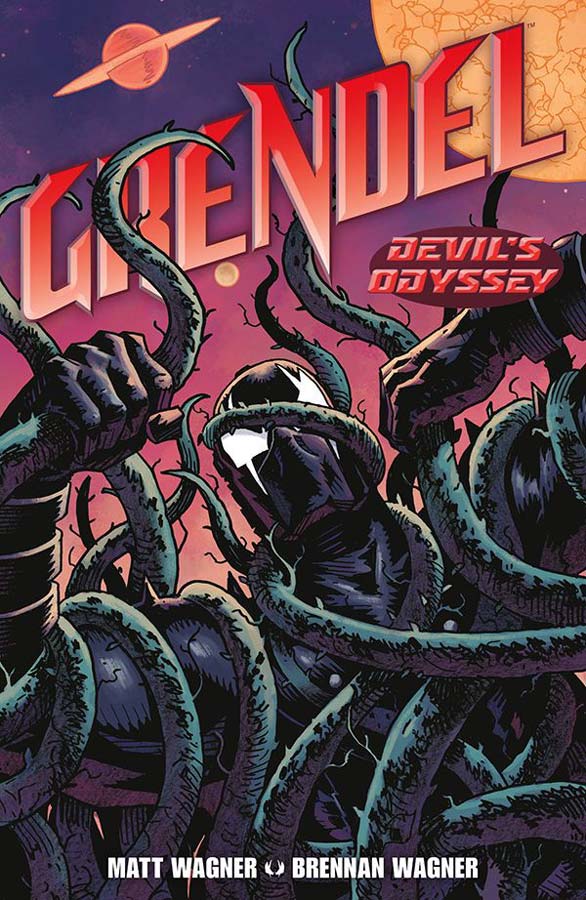 Dark Horse Comics Writer and Artist Matt Wagner, Colorist Brennan Wagner, Letterer David Lanphear
I was quite impressed with the first issue of the return of Grendel but this second issue not only builds greatly upon that but delivers a great impact that shows what this story is going to be about in both adventure and emotions that quite honestly blew me away. It's been quite a while from the last Grendel adventure and even longer when Wagner was doing the artwork and it seems as if the time away really built up this great story. What is interesting about Grendel Prime is that while he is a cyborg Wagner gives him emotions but while he is both strong and smart he has an underlying compassion that was the heart of this planets story. Wagner's script does a great job of showing the grey area of this mission and that it's not just a simple finding an inhabitable planet for humanity. As good as the script is here, it's Wagner's gorgeous artwork that brings it all together. I found it fascinating that he is able to infuse emotions into both Grendel Prime and his robot head assistant with the lack of facial expressions and that is a true sign of a great artist. He also has created a visually beautiful planet that is as dangerous as it is pretty.
Is this comic worth you're time and money? If this story is this good with just two issues under it's belt I can only imagine what Wagner has in store for the next ten. This is a truly impressive comic and is now at the top of the reading list each month. HIGHLY RECOMMENDED!