It's a small week for new comic books and with WonderCon starting today I had to cut the reviews a bit short. I will be at WonderCon all three days so follow the updates on my Twitter and Instagram feeds for photos and updates on what's happening at the show. I will have a full report of the show next week.
Lucy Dreaming #1
Boom! Studios Writer Max Bemis, Artist Michael Dialynas, Letterer Colin Bell
Lucy Dreaming is one of those comics that at first doesn't blow you away but by the end of the issue your totally hooked. The best way to describe this comic is that its charming and that is one of the reasons why it works so well Bemis script does have some familiar story tropes but he found a smart and fresh way to deliver it that gives it a great new spin. Telling the story of teen angst is pretty hard without it being super cliché but Bemis does a very nice job of avoiding the typical potholes that could have made the story struggle. One of the reasons that the story works so well is that he gives Lucy room to breath as a character and it allows the reader to get to know her so when all of the strange story elements come into play you just go with it and it just works. I really liked the humor that he peppers into the script and gives it a slight subversive undertone that makes it a lot of fun. Dialynas's artwork is spot on here and has really grown as an artist from his work on The Woods and that art was very nice. I like how he gives reality and the dream world a more subtle difference instead of them being visually too different. That is a huge benefit to the flow of the book and makes it come together so much better. He also has a great knack for characters facial expressions especially with 13-year-old Lucy that captures the teenage look perfectly.
Is this book worth your time and money? This first issue gets the book off to a solid start and with the set up at the end of this first issue Bemis and Dialynas give you a very good reason to come back for more. While some might write this book off as a young readers comic, I think that really undersell it. Bemis makes the story relatable and that is why it simply works so well. He also keeps the mystery of the dream world hidden but gives some clues to what is in store for the future. This comic was a lot of fun and I can't wait to see where they take it over the next few issues. Well worth buying this week.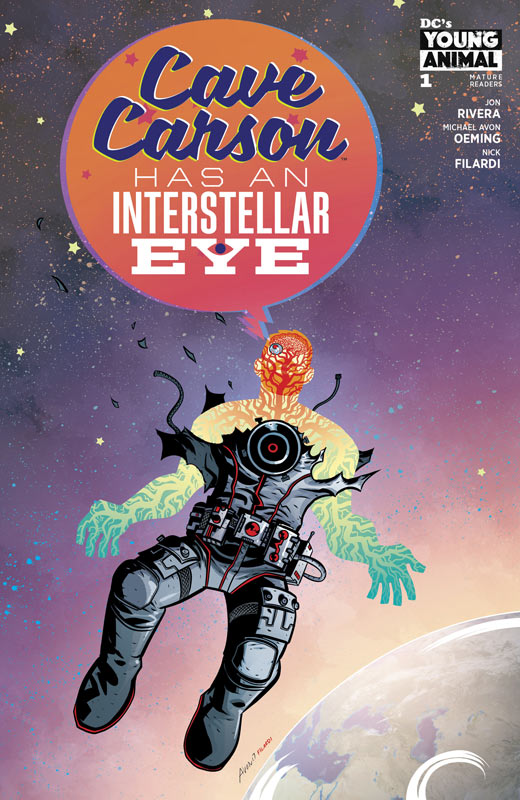 Cave Carson Has An Interstellar Eye #1
DC's Young Animal Writer Jon Rivera, Artist Michael Avon Oeming, Colorist Nick Filardi, Letterer Clem Robins Back-Up story artist Paul Maybury
One of my favorite Young Animal titles is back and really hits the ground running with this new chapter in the Cave Carson story. For new readers this is a fairly good starting point to jump into the book. Rivera eases new readers into the wild and weird world of Carson with a straight forward story but then throws in all of the fun elements that give this book both adventure and charm. The one thing that I have always loved about this book is how Rivera crafts the stories to mirror the 1960's DC adventure comics but firmly plants it into todays sensibility and never loses any of the classic charm of the original era. He keeps things simple and fun here and that is what I continue to love about this book. I cant imagine any other artist other than Oeming on this book because his style is both classic and bold and gives the book a huge visual impact that really draws you into the story. He is always going outside the box with his layouts that allows the book to zig an zag when necessary but also a wonderful flowing feeling while you're reading it. This is a comic where there is the perfect marriage with both the writer and the artist. As an added bonus there is a fun little podcast that delivers both humor and history to Cave Carson that Maybury does the artwork for that is a nice bonus and is a great addition to the book.
Is this book worth your time and money? I have been a fan of this book from day one and loved this first issue of the new story arc. Rivera and Oeming deliver the goods for both new and returning readers and take the book in a new direction but keep all of the elements that has made this book so rewarding. It's a grand adventure comic that I always look forward to and is VERY RECOMMENDED!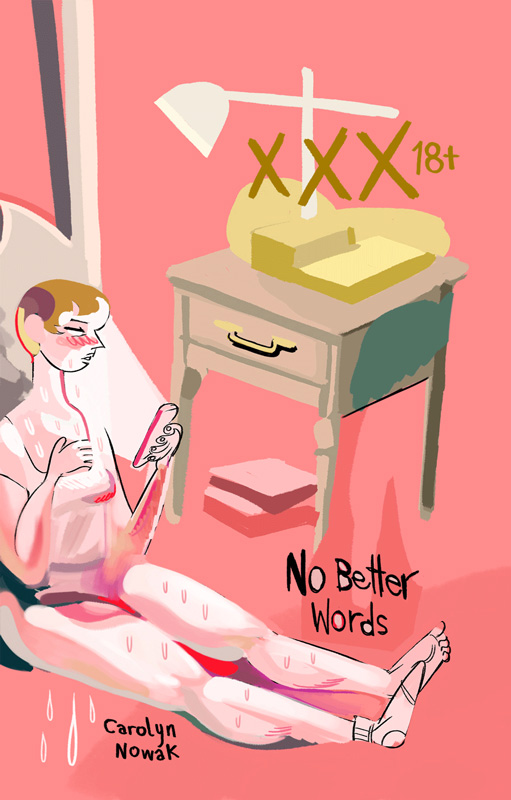 No Better Words
Silver Sprocket Writer and Artist Carolyn Nowak
This Indy mini comic has been out for a few months but was new to my local comic shop. It's sort of an underground/independent book that captures the feelings of love and desire. Nowak's way that she captures a feeling and is able to not only put it into words but also capture it visually is most impressive. You rarely see this type of story told from a woman's point of view and that is what makes it so good and fresh. I love that she captures what we all feel with lust, love and desire someone. Sharing yourself with another person is such a thin line between pain and pleasure and Nowak story hits it perfectly on the head. I loved how she lead up to it with the awkwardness and raw emotions of wanting someone. It literally makes you crazy and when you read this story you will for sure have flashbacks to the same emotions that you have gone though in the same situations. I really fell in love with her artwork on this book that has a simple yet the subtle details that she delivers in the line work captures all of the drama and emotions with a very beautiful touch. She also uses color to her advantage quite well here and it really benefits the book during the dream sequence. Make no mistake this book deals and shows sex and pulls no punches but is one of the most loving sex scenes I have ever encountered in comics.
Is this book worth your time and money? This book is what I love about comics and how they can have great impact. This is what I want to see when people say that there needs to be more diversity in comics. We need more voices like Nowak to bring more stories and art that break out of the mold that comics can get stuck in. The story is told in a frank and loving way and is a great reminder of the special emotions that come with sexual connections with people. Nowak shows that sex is awkward, raw, addictive, and painful but all great things are not easy but we should not worry about hang ups or stigmas of sex. It's natural and beautiful and we should share it as much as possible. This is a great comic and look forward to finding more work from Nowak! HIGHLY RECOMMENDED!
The Brave and the Bold #2
DC Comics Writer and Artist Liam Sharp, Colorist Romulo Fajardo Jr., Letterer Troy Peteri
I was a little on the fence with the first issue of this book and while this second issue is still laying the grown work with the set up of the story, I can see where Sharp is taking the story and while I know for some readers that they might have issues with the methodical pacing and rich and deep dialog that Sharp is doing here but I am starting to see that the story is coming into focus. While I will admit that I'm not totally sold yet, I do love that Sharp is really going outside the box with the story here. He could have just went with the typical superhero slugfest or stale and cliché story, but he wisely chose to go with a story that has some heft and weight that you don't see very often from mainstream superhero comics. The one thing that is a little tough is that he goes deep with the dialog in some of the scenes but if you go back and re read the first issue and then read this issue, you can see that he is going for the depth with it. He is going for the overall story and it does make for a challenging read as a monthly book. That is certainly not to say that it's a bad read as a monthly, it just takes a bit more patience in not reading it as a whole. He did deliver some great surprises in this second outing and I can't wait till Batman joins the investigation. As always Sharp delivers some truly stunning artwork on this book and that alone is worth buying the book but I love the way that he weaves the art and the dialog that gives the book a very nice visual flow. I must also praise Fajardo Jr. color work on the book that complements both Sharp's line art and the mood of the story. I have to say that this is some of Sharp's best artwork to date and that is saying a lot because he always delivers outstanding artwork.
Is this book worth your time and money? This is not your average superhero team up comic and that is what I'm digging about it. Sure the story is very dense and the dialog is sometimes requires some deep reading but, I like the direction that Sharp is taking with the book and the way that he is unfolding the story. The second issue does a very nice job of building from the first issue and I'm intrigued to see where the third chapter will take it.