There was a lot riding on these DC/Hanna-Barbera specials this week because I'm a huge fan of the original Hanna-Barbera animated series. I've also been pleased and surprised by the reimagined comic series that DC has done over the past year. So combining these with the DC Universe had me very excited, so how do they stack up?
Adam Strange/Future Quest #1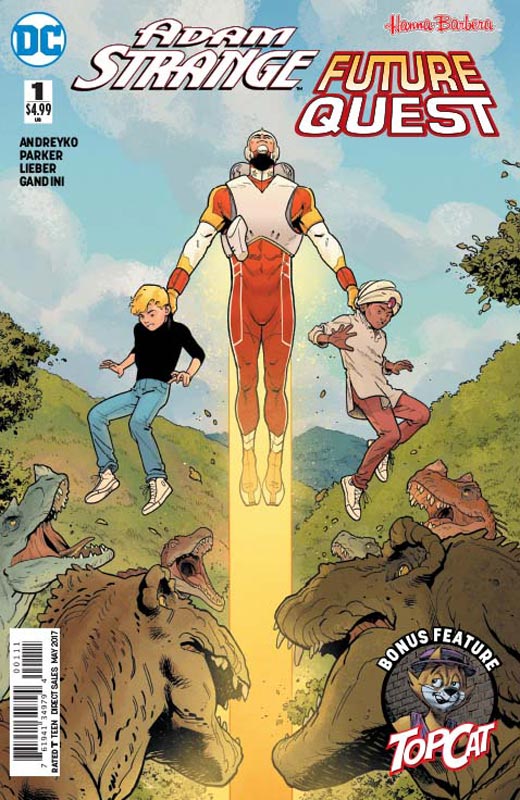 DC Comics Writers Marc Andreyko & Jeff Parker, Artist Steve Lieber, Colorist Veronica Gandini, Letterer Dave Lampher Top Cat Writer Dan Didio, Artist Phil Winslade, Colorist Chris Chuckry, Letterer Nick J. Nap
First up is the big superhero team up with Adam Strange and the Future Quest cast with regular writers Andreyko and Parker. While the book was not the greatest book ever written but they made a very wise choice to make the story very accessible to both new and regular readers. What they have delivered is a fun little story that blends the two universes together very seamlessly. Building the story based on the Future Quest storyline was very smart and it made adding Adam Strange into the story very easily. One thing that really impressed me was that Andreko and Parkers writing styles fit together seamlessly that is a testament to their writing skills. The story is pretty simple here and that is what makes it such a fun read. The script is snappy and fun that makes it work so well. Lieber's artwork is very impressive because he captures the animation style perfectly of the Hanna-Barbera universe and make sure that Adam Strange fits the same style. He is able to nail both the big action scenes but also the dramatic smaller dialog scene perfectly. This is a great looking book and hit all of the right beats. The Top Cat back-up story by Didio is an homage to Steve Gerber's Howard the Duck (there is even a nod to it in a theater marquee) and makes perfect sense here with combining Animalmorphic character with "realistic" superhero. With only eight pages to work with here he wisely keep the story short and sweet but creates an origin for the reimagined version of the character. He keeps most of the original Hanna-Barbera concepts but adds some twist that make it interesting here. Winslade was a perfect choice for the artwork on the story. He captures both the animation style of Top Cat but also keeps the superhero comic style in the real world parts. He delivers a blend to the story that very few artist could ever pull off and he does it with perfection.
Is this book worth your time and money? If you're a fan of the reimagined Hanna-Barbera DC books then your already going to buy this book. If your new to them or like the concept of the combined universes then is this for you. The book is simple and fun and very accessable to new readers and if you like this you should check out the regular Future Quest book. With the Top Cat back-up seals the deal. Well worth picking up.
Green Lantern/Space Ghost #1
DC Comics James Tynion IV & Christopher Sebela, Artist & Colorist Ariel Olivetti, Letterer A Larger World Studio, Ruff 'n' Reddy! Writer & Artist Howard Chaykin, Colorist Will Quintana, Letterer Pat Brosseau
This is the one crossover that was pretty easy to fit together because the are very similar concepts and they blend perfectly. Tynion script is pretty simple and as with the other specials makes it work well for new and regular readers. One thing that impressed me about Tynion script is that he really plays on the stubbornness and egos of Space Ghost and Green Lantern that he uses very well in the story. While the story may be basic that certainly doesn't mean it's not fun and that is where Tynion's script really works well is that it's not deep but with the good pacing and very nice touches to the story it makes for a good read. Where this book really shines is Olivetti's artwork that is gorgeous. Olivetti is no stranger to Space Ghost drawing the series back in 2004 so he certainly knows the character quite well and it really shows. His lush painted art really make this book look amazing and give the scope of the story a huge boost. The Ruff 'n' Reddy! back up by Chaykin is a very unique take on the Tom & Jerry clone that the original animated show was. Setting it in the 1950's and them being lounge comedians was quite genus and in just eight pages sets a great tone for them and hopefully there will be more stories in the future because this was a great set up.
Is this book worth your time and money? This book is pure space opera and with lots of action makes this a fun romp and adventure. With gorgeous art really makes this book pop and the Ruff 'n' Reddy back up was a big winner for me. This is another on that is well worth buying.
Booster Gold/The Flintstones #1
DC Comics Writer Mark Russell, Penciller Rick Leonardi, Inker Scott Hanna, Colorist Steve Buccellato, Letterer Dave Sharpe, The Jetsons Writers Jimmy Palmiotti and Amanda Conner, Artist Pier Brito, Colorist Alex Sinclair, Letterer Michael Heisler
This is the one that had a lot riding on it because the regular Flintstones book by Russell is one of the smartest and great reads each month so I went into this one with very high expectations. I will admit at first I was a little disappointed that there wasn't as much biting satire as the regular Flintstones comics, but then I realized that Russell had to make sure that the story was accessible to readers who have never read the regular book. After I realized that then I really appreciated the fine line that he had to take with the story. While there is still the social commentary and some satire peppered throughout the story that gives the basic story a boost. While I would have wished that it would have been more in line with the regular Flintstones book with the limited amount of story that your telling here and the crossover aspect, it works well for what it is. Leonardi and Hanna were perfect choices for the artwork on the book considering that they did a fill in on the regular Flintstones book and do a nice job on Booster Gold. With the time travel aspect of the story they add some really fun visual elements to the story and overall solid artwork. The Jetsons was the one backup that I was most looking forward to because later this year they will be getting their own series so I wanted to see the direction that Palmiotti and Conner were going to go with the characters. While there was a visual change to the cast the underlying tone of the original animated series is still there. With only eight pages to work with they came up with a simple introduction to the cast and a unique take on the origin of Rosie the Robot. Brito's artwork is nice but there were a few times where the artwork was a little stiff but overall for a newcomer it has a nice style to it. Hopefully if he is the artist on the regular series that he will put a little more into the backgrounds. Considering the scope of the premiss there needs to be more effort on that end but overall he did a nice job.
Is this book worth your time and money? Regular readers of The Flintstones might be disappointed in this crossover but considering that it's meant to be a fun romp on that level it works quite well. The Jetsons backup was a good start and shows a lot of potential for the regular series when it starts. This one is worth buying too.
Suicide Squad/The Banana Splits #1
DC Comics Writer Tony Bedard, Penciller Ben Caldwell, Inker Mark Morales, Colorist Jeremy Lawson, Letterer A Larger World Studio, The Snagglepuss Chronicles Writer Mark Russell, Artist Howard Porter, Colorist Steve Buccellato, Letterer Dave Sharpe
The final DC/Hanna-Barbera crossover book is quite possibly the strangest of them all but was for me the most satisfying. I will be honest that I grew up watching the Banana Splits so I knew who they were and was most intrigued when the books were announced with Caldwell's cover art and the wild re-imagining of the characters. I have to give huge props to Bedard who captures the original Hanna-Barbera live action characters and throws them into this wild and over the top story that is quite possible the most fun that I have had with a book in a while. Where the story really excels at it the grand humor that Bedard infuses into the story. As with the other specials he keeps the script on the simple side but gives a great reason to have the two universes meet. He really embraced the insanity of both the Suicide Squad and the Banana Splits and really runs with it and that is what makes the book such a joy to read. With a grand and unique story like this you need an artist that can bring it all together and Caldwell and Morales not only deliver but they simply bring this book to life. I have been a fan of Caldwell's ever since Prez that was sadly never finished and his brilliant Wonder Woman story in the oversized Wednesday Comics. Here along with wonderful inks by Morales give it there all and it really pays off with their art that captures every thing that Bedard's script throws at them and not only bring it to life but make this book a real stand out. The real icing on the cake for this book is The Snagglepuss Chronicles by Russell and Porter that re-imagines him as a southern gentleman and Russell brings his biting satire and social commentary to this story in spades and even throw in Augie Dog for good measure. After reading this short but amazing eight page short story I certainly hope that DC gives at the very least a mini series for this one. Porter has been doing an outstanding artwork on the Scooby Apocalypse book and simply nails this one too. He has a real knack for drawing animal characters and blending them into the real world and certainly does not disappoint here.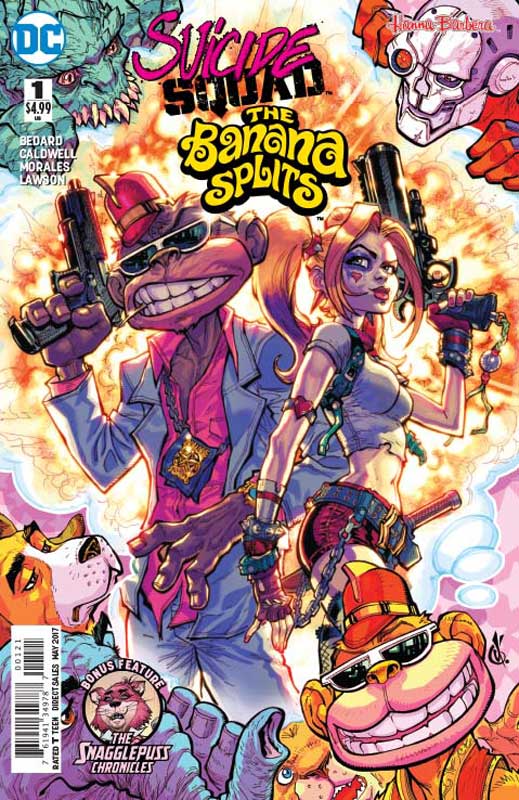 Is this book worth your time and money? While I enjoyed all of these DC/Hanna-Barbera crossover books I was blown away by this one in particular. While I will be the first to admit that this might not be a book for everyone but if you give the book a chance and embrace the charm and fun that the book delivers then I think that you will fall in love with it too. I have to hand it to Bedard, Caldwell and Morales for delivering one of the most uniquely satisfying comic in a while. While it's a simple story it was such a pleasure to read that I actually went back and read it a second time immediately. Add in Russell and Porters Snagglepuss back up and this is a great book. HIGHLY RECOMMENDED!
Jughead: The Hunger One-Shot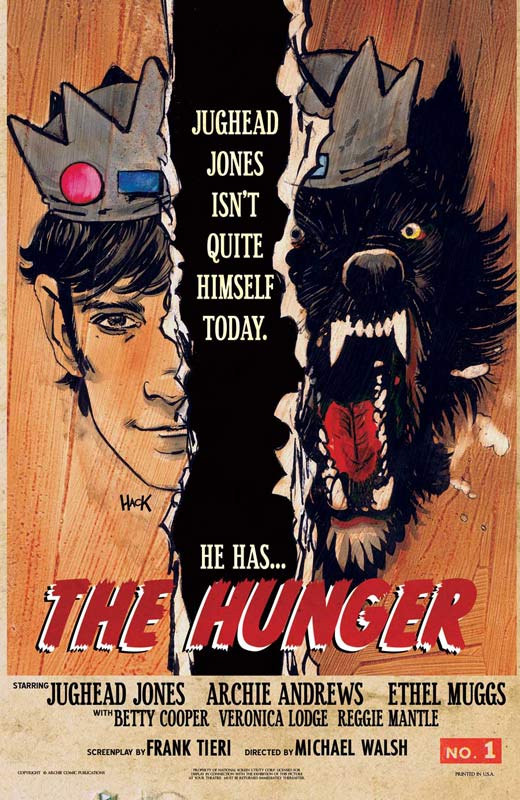 Archie Comics Writer Frank Tieri, Artist Michael Walsh, Colorist Michael Walsh and Dee Cunniffe, Letterer Jack Morelli
At this point we may never see another issue of Afterlife with Archie in our lifetime so this Jughead one shot was a much-needed trip back to that wonderful universe. Tieri does a really smart thing with his script here. He mixes Afterlife with Archie with the regular Archie series and with great results. While its first and foremost a horror story he wisely injects some great humor into the story and it greatly benefits from it. What I liked about the story was that Tieri didn't try to make it more than it is. Some writers would try to over think it but he keeps it on point for the entire story. Walsh's artwork delivers the mood that the story needs and gives some really great chills while your reading it. I liked that his style was simple and clean and captures all of the subtle elements and the big ones in the story.
Is this book worth your time and money? I really enjoyed this book and makes me miss Afterlife with Archie that much more. Tieri and Walsh deliver a fun and creepy horror story that delivers a solid reading experience. For fans of Afterlife with Archie this book is a very welcomed addition.
Harley's Little Black Book #6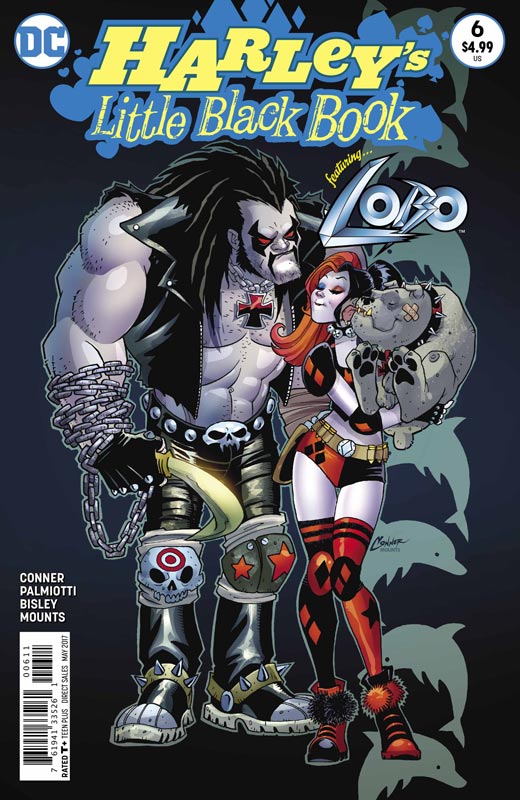 DC Comics Writers Amanda Conner & Jimmy Palmiotti, Artist Simon Bisley, Colorist Paul Mounts, Letterer Dave Sharpe
Um Simon Bisley doing Lobo again, SHUT UP AND TAKE MY MONEY!!! After the painful Twilight Emo Lobo from the New 52, the main man gets his mojo back and Conner and Palmiotti deliver a story that transports you back to the Lobo from the 1990's that we loved and dearly missed. As with the other Little Black Book stories Conner and Palmiotti tailor make the script to take full advantage of Bisley's Lobo and it's one of the wildest ones yet. Lets see there is swearing, nudity, blood-letting, monsters and of course sick and twisted humor and full on tasteless all rolled into a fun and excessive romp. This version of Lobo is not going to be for everyone and that's OK but if it's not your cup of tea then move along there is nothing here for you. As for Bisley's return his artwork is as good if not better than in the past. He has a lot of fun with Lobo and Harley and my absolute favorite thing it the little red flag that is covering all of the naughty bits that is pure genius. It's great to see him back drawing the main man.
Is this book worth your time and money? Lets be really honest here, this book is pure fan service. It's Conner and Palmiotti doing their best Grant and Giffen Lobo story with Harley thrown in. It's simple nostalgia that they are peddling here and having Bisley do the artwork is the only reason this book exists. With that being said I loved it for a great trip back to where we all fell in love with Lobo and throwing Harley into the mix just adds to the fun. For me it was worth the five bucks.
X-Men Prime #1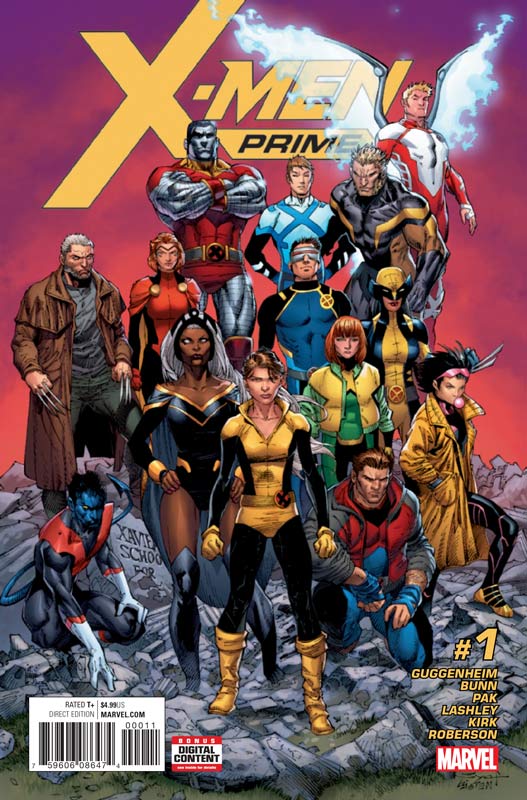 Marvel Comics Writers Marc Guggenheim, Greg Pak & Cullen Bunn, Artist Ken Lashely, Ibraim Roberson & Leonard Kirk, Colorists Morry Hollowell, Frank D'Armata & Michael Garland, Letterer Joe Caramagna
I really want to like Marvel but they keep trying to fling books at the wall to see if anything will stick and unfortunately X-Men Prime doesn't stick. While it wasn't a terrible read but the biggest issue is that it just ends up being OK. As with most of the Marvel number one issues it's pretty confusing to new readers who would expect a good jumping on point but there are so many plot threads from recent event series that really put a damper on the reading experience. One of the biggest problems with this book is that there are three writers and three artist that make the book not flow well at all. The story is disjointed and really doesn't go much of anywhere. It pretty much just jumps from plot point to plot point without connecting well. The artwork struggles with a lot of the same issues. I don't understand how it takes three artist to draw a single issue. The shift in art styles is a bit jarring and definitely interrupts the flow while your reading. It's not to say that the art is bad but with it not being consistent took me out of the story. If they had just one artist on the book I think that would have solved some of these issues.
Is this book worth your time and money? I didn't find the book to be awful to read but the thing that sinks it is that it's simply average and by the time you at then end of the issue you really don't care or have a compelling reason to come back for a second issue. The clashing art styles didn't help this book at all and while each artist works well on their part it just doesn't flow well as a whole. For new readers looking to jump onto an X-Men book I can't really recommend this one.
Kamandi Challenge #3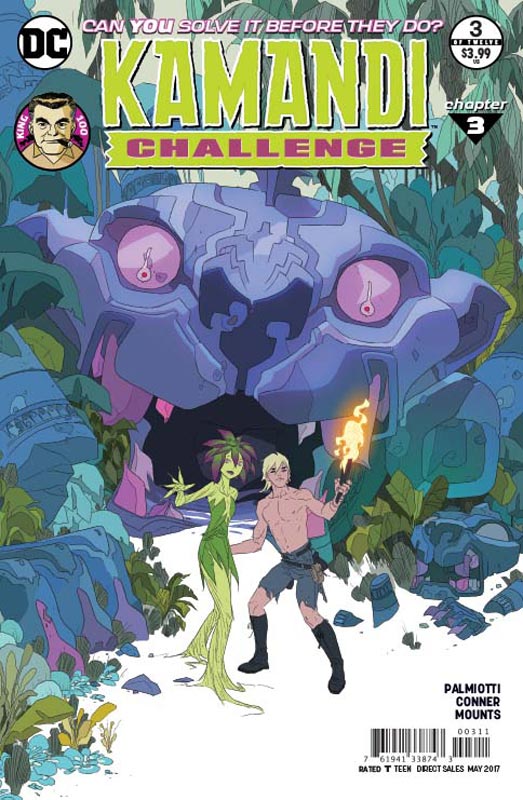 DC Comics Writer Jimmy Palmiotti, Artist Amanda Conner, Colorist Paul Mounts, Letterer Clem Robins
It seems like Conner and Palmiotti week with a total of three books (two full and one back up) from them but the real story here is that Conner is back drawing a full issue of a book. This was a very welcomed sight for her wonderful artwork. DC insists that the writers and artist were chosen at random and it seems like a very weird coincident but it worked out just fine. Palmiotti picks up from last issue and his chapter has a more humorous tone that works well for this issue and is keeping the book fresh. While Kirby was more of an epic adventure storyteller, I love that Palmiotti brings his own voice to the Kirby universe but still retains the feel and overall tone that Kirby brought to Kamandi. Seeing Conners artwork again make you wish that she would do more interior artwork. Palmiotti knowing that his wife is drawing the book definitely tailored the script to do what she does best and she really brings her A game to this story. Conner captures the whimsical tone of the story perfectly and captures all of the subtle nuances along with the large scope of the world. Her work here is simply gorgeous to look at.
Is this book worth your time and money? I love this book and it's great to see not only top talent play in the Kirby Kamandi sandbox but also make it all their own and this issue is no exception. I love how each creative team has not only come up with their take on the cliffhanger from the previous issue but it's always great to see what they leave for the next creative team. I really enjoyed the lighter tone that Palmiotti and Conner bring this issue and they really deliver a delightful read this issue. VERY RECOMMENDED!
Inhumans Prime #1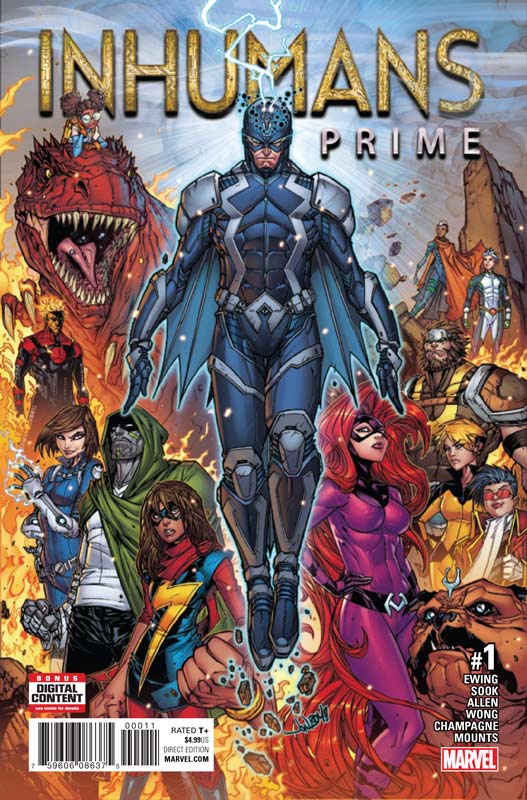 Marvel Comics Writer Al Ewing, Pencilers Ryan Sook & Chris Allen, Inkers Ryan Sook, Walden Wong, & Keith Champagne, Colorist Paul Mounts, Letterer Clayton Cowles
After the disappointment of X-Men Prime, the new Inhumans Prime was at least a little better and it is but not by much. The big plus for this book is that there is only one writer on the book and while the story is still nothing to jump up and down about, at least it has a consistent tone to it. Ewing script at least does a decent job of introducing the cast and starting the book with at battle with a villain at least kept the book moving along. It as with most of the Marvel relaunched comics suffers from the baggage from the recent event crossovers. While I will give Ewing points for trying to help new readers with this excess baggage, it still keeps new readers from enjoying the book overall. While this book only has two artists, it does suffer from the same issue as the X-Men book in that the different art styles don't mesh together  well and it tends to take you out of the story. The art is nice but this was simply not a great idea again.
Is this book worth your time and money? While I did like this book better than the X-Men Prime, overall it was pretty forgettable and doesn't give you a huge reason to come back for more. On top of that there are four book spinning out of this and I can't imagine if they can't come up with a good story here that four books are going to be any better. Not a train wreck but not anything to get excited or care about here.