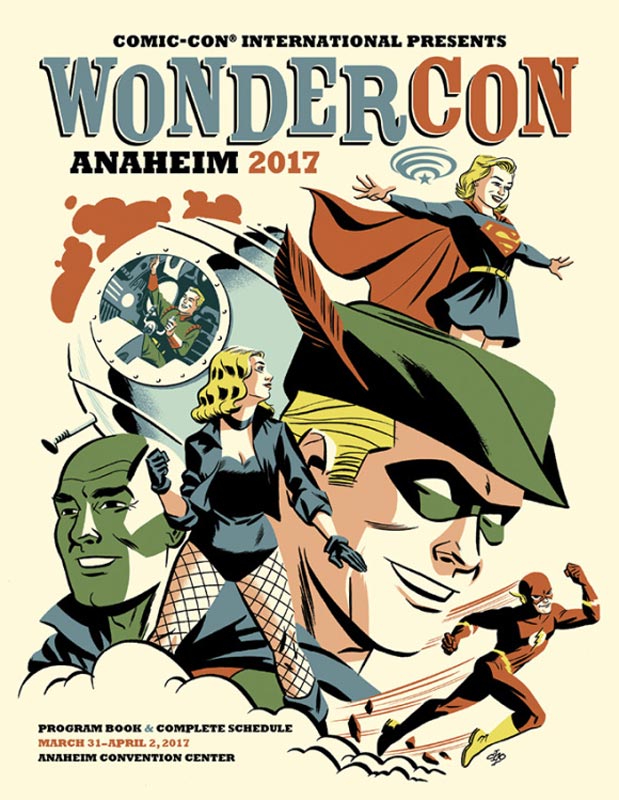 It's that time of the year where WonderCon comes back to SoCal and after last years punishment of the Los Angeles Convention Center, the show is back to it's original location at the Anaheim Convention Center. While there is still some ongoing expansion construction the most of the major building has been completed.
Anaheim is a much easier location to get to than the LA Convention Center and while there are going to be some parking issue due to the construction there is going to be overflow parking at Angels Stadium with shuttles to the convention.
There are a lot of great panels this year and here are some of the highlights that I'm looking forward to and you might want to check out.
FRIDAY MARCH 31
The Mark, Sergio, Stan, and Sometimes Tom Show!
Always one of the funnest panels to go to the whole Groo team will be there and if you want to laugh and get some of the best stories ever told about comics and the industry then make sure that you check this out. Probably the best way to kick off WonderCon.
Friday March 31, 2017 12:30pm – 1:30pm
Room 208
DC's Young Animal
Gerard Way (Doom Patrol, Cave Carson Has a Cybernetic Eye) new DC Comics imprint has been a real great line of comics. Also joing him are many of his talented collaborators including Jon Rivera (Cave Carson Has a Cybernetic Eye), Jody Houser (Mother Panic), Cecil Castellucci (Shade, the Changing Girl) and others. This will be a very packed panel so make sure that you get there early. And there might just be a special give away if previous convention panels are any indication.
Friday March 31, 2017 1:00pm – 2:00pm
Room 300DE
Oddball Comics Live!
Ever see a comic book cover that makes you wonder, "How the hell did THAT ever get published?" Cartoonist Scott Shaw! (Sonic the Hedgehog, Captain Carrot and His Amazing Zoo Crew!, Simpsons Comics, The Flintstones) returns to provide the answer to that question with his popular digital slideshow of "the craziest comic books ever published!" This is a truly must see panel if you have never been to one. You will truly laugh your ass off at this one. HIGHLY RECOMMENDED!
Friday March 31, 2017 4:30pm – 5:30pm
Room 208
Riverdale
Unlock the mystery of Riverdale and leave your innocence behind. Join stars KJ Apa, Lili Reinhart, Camila Mendes, Cole Sprouse, Ashleigh Murray, Luke Perry,Mädchen Amick, and Marisol Nichols, along with executive producers Roberto Aguirre-Sacasa, Sarah Schechter, and Jon Goldwater as they dive into the secrets that continue to loom over what may look like a quiet, sleepy town.  Riverdale airs Thursdays at 9/8c on The CW. Probably one of my favorite new shows that has been thankfully renewed for a second season. This was a good panel at last years SDCC where they showed the pilot. This panel will be more interesting because the screening of the newest episode will be on Saturday so more time with the cast at this one.
Friday March 31, 2017 4:45pm – 5:45pm
Arena
The Story of Q*bert
Warren Davis, the designer and programmer of the original Q*bert arcade game, tells the story of the adorable noser's creation, evolution, and impact on popular culture. The early 1980s was like the Wild West of video game design. You'll go behind the scenes of the coin-op industry and learn what it was like to make video games during that golden age. This sound really good and most panels that I have been to over the years with retrogaming designers give you a great glimpse into the golden age of videogames.
Friday March 31, 2017 6:00pm – 7:00pm
Room 211

SATURDAY APRIL 1
Quick Draw
It's another cartooning battle royale, a duel with sketch pads and Sharpies as three super swift scribblers attempt to make the Flash look lethargic. Competing will be (of course) Sergio Aragonés of MAD and Groo the Wanderer; The Simpsons and The Flintstones artist Scott Shaw! and the new kid on the dais, popular Internet cartoonist Lonnie Millsap. Putting them through their paces will be Mark Evanier, aided by suggestions from the audience. As always, no wagering, and may the best cartoonist win! Folks it doesn't get any better than this one. This is the MUST SEE PANEL of the entire convention. Not only will you have a great time but you will laugh yourself silly with this one. HIGHEST RECOMMENDATION!
Saturday April 1, 2017 10:30am – 11:30am
Room 300DE
WildStorm 25th Anniversary
It's hard to believe that it has been 25 years since Jim Lee's WildStorm first made its mark on the comics landscape with such memorable and innovative titles like WildC.A.T.S., Gen13, Stormwatch, and Deathblow, to name a few. Join Jim Lee and former WildStorm staffers and talented contributors including Ryan Benjamin, Carlos D'Anda, Richard Friend, Mark Irwin, Dustin Nguyen, Alex Sinclair, Scott Williams and others for a fun trip down memory lane! This should be a fun one with lots of great stories of the little studio that was so successful that DC Comics bought them.
Saturday April 1, 2017 11:30am – 12:30pm
Room 300DE
Midnight, Texas Series Premier
Based on the bestselling book series by Charlaine Harris (author of the novels that inspired True Blood), comes a journey into a remote Texas town where nothing is what it seems. Join your fellow "Midnighters" for an exclusive premiere of the pilot episode and a Q&A session with cast members François Arnaud (The Borgias), Dylan Bruce (Orphan Black), Parisa Fitz-Henley (Luke Cage), Arielle Kebbel (The Vampire Diaries), Jason Lewis (Sex and the City), and Sarah Ramos (Parenthood) and executive producers Monica Owusu-Breen (Marvel's Agents of S.H.I.E.L.D.) and David Janollari (Six Feet Under). I wasn't interested in this one until I discovered that Harris is the writer of the books that the show is based on. Could be good.
Saturday April 1, 2017 11:45am – 1:00pm
Room 300AB
Spotlight on Gerard Way
Now, as the mastermind behind DC's Young Animal, he is extending his vision to a line of books starring some of DC Comics's most off-the-wall characters. Find out what makes the new imprint-and the man responsible-tick in this special one-on-one with Vertigo Group editor Jamie S. Rich. I saw him at the Stan Lee Los Angeles Comic Con and he was very interesting to listen to. This should be a very good discussion with Way and Rich.
Saturday April 1, 2017 1:30pm – 2:30pm
Room 300DE
First Forays into Comics
Everyone remembers their first time, and now these WonderCon Anaheim special guests are sharing their first comics experience. Moderator Mark Waid (Archie) discusses what it takes to get into comics with Michael Cho (Shoplifter), Lissa Treiman (Giant Days), Genevieve Valentine (Catwoman), Gerard Way (Umbrella Academy), and Judd Winick (Hilo). This sounds like a great and unique panel. With the lineup there is sure to be some great stories.
Saturday April 1, 2017 2:30pm – 3:30pm
Room 213
End Bullying: Be a Superhero in Real Life
Been bullied? Brandon Routh (Superman Returns, Legends of Tomorrow) invites you to turn kryptonite into your own personal strength with Pop Culture Hero Coalition's powerful panel, back by popular demand! Featuring activists Anne Wheaton, Dr. Janina Scarlet (author, Superhero Therapy), Dr. Andrea Letamendi (Under the Mask Online, The Arkham Sessions), Matt Langdon (Hero Round Table), a rep from Amnesty International, and welcoming back NOH8 Founders Adam Bouska and Jeff Parshley. Moderated by Chase Masterson (Star Trek, Doctor Who: Big Finish). Topics include geek, cyber, sexist, and LGBTQ bullying; racism; misogyny-and heroism IRL. This is probably the most important panel at the show. Sadly we need to address this issue now more than ever!
Saturday April 1, 2017 3:00pm – 4:00pm
Room 207
Riverdale Exclusive Screening of a New Episode
A chance to see an upcoming episode. Probably will be the one for next Thursday.
Saturday April 1, 2017 3:15pm – 4:15pm
Arena
DC Universe Rebirth
DC Universe: Rebirth has taken the industry by storm. This should be an interesting panel after last years announcement of Rebirth at WonderCon. It's been a year and how things have changed and it will be interesting to see what new books are coming out.
Saturday April 1, 2017 3:30pm – 4:30pm
Room 300DE
Warner Bros. Pictures
While we don't know what exactly they are going to show but the Wonder Woman billboard near the convention center was a bit of a tip-off to at least one conformation of whats in store. My guess is that they will also try to do some damage control from the mixed reviews that the Justice League trailer had. Will probably show off a few other things as well.
Saturday April 1, 2017 4:30pm – 6:00pm
Arena
IDW's Archival Art Books Panel
IDW has been blazing the way in archival collections, from Artist's Editions to the Marvel Artist's Select books and beyond. Greg Goldstein, Chris Ryall, Scott Dunbier, and special guests discuss what's come out so far and, most important, what's coming next! After the flood of Artist Editions there is not much huge new as there was in the past but I'm sure that Scott has something up his sleeve to announce at the panel that is sure to surprise.
Saturday April 1, 2017 5:30pm – 6:30pm
Room 208
The Brave and the Toonstock: Warner Archive's Music Meister Sing-Along
You sing, we sing, everyone sings at Warner Archive's annual celebration of cartoon music. This time, composer Kristopher Carter of Dynamic Music Partners will join Warner Archive Collection podcast hosts Matt Patterson and DW Ferranti and moderator Gary Miereanu will focus most of the fun on the tune-laden third season of Batman: The Brave and the Bold, building to the immensely popular "Mayhem of the Music Meister" sing-along. Join the festivities for a melodious salute surrounded by surprise guests, interactive performances, and cool Warner Archive prizes. This is a really fun panel to go to with lots of fun and singing with some great prizes!
Saturday April 1, 2017 6:30pm – 7:30pm
Room 300DE
Comic Book Legal Defense Fund Live Art Jam
Celebrate creative freedom by seeing art made right before your eyes! The CBLDF Live Art Jam brings together a group of comics artists including Teenage Mutant Ninja Turtles co-creator Kevin Eastman, award-winning Shoplifter creator and cover artist Michael Cho, and other special guests, who will make art on the spot and share their perspectives on censorship and the creative process. Watch live art being created, learn about censorship, and bid to win the pieces made during the jam! All proceeds benefit the free speech work of CBLDF. Not only do you get to see some great artist do artwork live but to donate money to this great cause is well worth it. Bring your wallet because the art goes for big bucks here.
Saturday April 1, 2017 7:00pm – 8:30pm
Room 209
SUNDAY APRIL 2
CBLDF: She Changed Comics
Meet the women who changed free expression in comics! From the turn of the 20th century to today, women have overcome censorship and more to make comics, inspiring today's landscape of increasingly diverse and empowering comics storytelling. Cecil Castellucci (Shade, the Changing Girl; Odd Duck; The Plain Janes), Amy Chu (Poison Ivy, Red Sonja), Hope Larson (Batgirl, Chiggers, Compass South), Wendy Pini (Elfquest), and CBLDF editorial director Betsy Gomez (She Changed Comics) discuss the women who changed the format. This should be a great panel with some of the greatest female comic creators. I'm very excited about this panel.
Sunday April 2, 2017 12:00pm – 1:00pm
Room 211
Lucifer Video and Q&A
Get a sizzling sneak peek at the second half of season 2, followed by a Q&A with series stars Tom Ellis, Lauren German, DB Woodside, and executive producers Joe Henderson (White Collar) and Ildy Modrovich (CSI: Miami). From Jerry Bruckheimer Television in association with Warner Bros. Television and based on characters created by Neil Gaiman, Sam Kieth, and Mike Dringenberg for Vertigo from DC Entertainment, Lucifer returns with all-new episodes in May airing Mondays at 9/8c on FOX. A fun little show that has been renewed for a third season. Should be interesting to see where they are going to take the show.
Sunday April 2, 2017 12:30pm – 1:30pm
Arena
Gotham Video and Q&A
As Gotham City descends into anarchy, join the hit show as it returns to WonderCon Anaheim to give fans the scoop on all the shocking moments in store for the remainder of Season 3. With Penguin out of the picture, and a power grab taking place, who will become the new leader of the Gotham underworld? How will Nygma's embrace of his Riddler persona alter the balance of power, and will any of it matter when the Court of Owls reveals its plans for the city? All will be judged! Join us for a special video presentation followed by a Q&A with series stars and executive producers. From Warner Bros. For a show that really struggled in the beginning has really turned around and became a must watch show
Sunday April 2, 2017 1:45pm – 2:45pm
Arena
Warner Archives: KidsWB Flashback
Celebrate the phenomenon of Kids' WB with some of the creators and voice actors from Static Shock, The Zeta Project, Xiaolin Showdown, Histeria!, and many more in a fun look back at the beloved cartoon block. Join The Zeta Project creator/producer Bob Goodman (Elementary, Warehouse 13) and acting stars Diedrich Bader (American Housewife, Office Space) and Julie Nathanson (Skylanders video game franchise), and Static Shock's lead actor Phil LaMarr (MadTV, Futurama, Pulp Fiction), alongside Warner Archive podcasters Matthew Patterson and DW Ferranti and moderator Gary Miereanu for a fun-filled hour of cartoon clips for all—and cool prizes for lucky audience members. KidsWB was the king of Saturday morning and some truly amazing shows came out of them. Hopefully there will be some news on more upcoming releases from them.
Sunday April 2, 2017 2:00pm – 3:00pm
Room 300AB
Film Threat Mega Movie War 2017
Join Anthony Ray Bench (Film Threat), Charles de Lauzirika (Blade Runner: The Final Cut), Cliff Stephenson (Hannibal), and Matt Keil (X-Play), among others for a raucous discussion moderated by Film Threat editor Chris Gore (Attack of the Show!). They'll choose the winners and losers of 2017's biggest movies. Plus, a special edition of DVDuesday on the 5th anniversary of Attack of the Show! going off the air. (Yes, it's been five years.) This is alway a fun panel of pure geekyness on steroids. Lots of fun just hanging and talking movies and Blu-Ray.
Sunday April 2, 2017 2:30pm – 3:30pm
Room 300DE
Jack Kirby Tribute
2017 marks an entire century since the birth of the man many call the most important creative talent ever in comics. This year more than ever, comic fans celebrate the legacy of Jack Kirby. On hand will be former Kirby assistant Steve Sherman, Scott Dunbier from IDW Publishing, Rand Hoppe from the Jack Kirby Museum & Research Center, and Paul S. Levine, attorney for the Rosalind Kirby Trust. Your moderator is another former Kirby assistant, Mark Evanier. With the 100th Kirby Birthday celebrations this year this will be an especially good panel. It's alway great to hear stories of the King.
Sunday April 2, 2017 3:00pm – 4:00pm
Room 211
Well that is just a few of the great panels at WonderCon this year. There is a little something for everyone. Make sure that try some of the smaller panels because you will discover new and exciting things that you might otherwise miss. Expand your horizons and take chances on them. Make sure that you check the schedule and the app to mark the panels that you want to see down. For the full schedule head over to the WonderCon page HERE.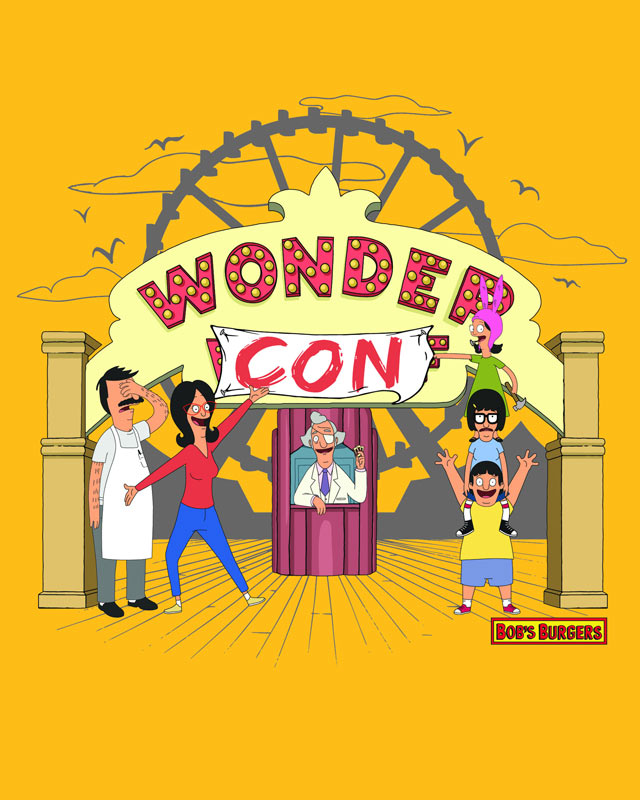 Now there is one thing that is not a panel but Toddland who debuted some really awesome Bob's Burger merchandise at SDCC last year is coming to WonderCon with some great Exclusives. They will be at booth 2042 so make sure you get there ASAP because they will sell out of some of the stuff.