Lots of new titles to get to this week so off we go!
Goldie Vance #1
Boom! Box Writer Hope Larson, Artist Brittney Williams, Colorist Sarah Stern, Letterer Jim Campbell
All ages book are a real tough thing to get right and Goldie Vance is that rare case. The one thing that popped in my head after reading it was, charming. Larson does a great job with the script on this first issue. She does a great job of balancing both the set up to the characters and the story but pulls off the rare feat of making it so damn entertaining. We not only get to know Goldie but we discover that she is smart, funny and even a skilled race car driver. The script hits all of the right beats of getting to know each of the cast of characters and still manages to deliver a fun and smart story that has a nice cliffhanger that will want you to come back for the next issue. Sure there is a certain relationship to Nancy Drew in tone but Larson give the teen detective story a really fresh twist that makes this book really stand out. I was very impressed with Williams artwork on the book. Her work on Patsy Walker A.K.A. Hellcat did not bowl me over but here it really knocked my socks off. She give the story a great visual style that is a mix of animation and storybook art that perfectly captures the look and tone of the script. It's such a bright and fresh visual look that really makes this book stand out. Is this book worth your time and money? There have been many attempts to do the detective genre in an all ages comic with varying degrees of success, but Larson and Williams have delivered a home run with Goldie Vance. This book works so well on many levels that it will be enjoyed by both young and old and girls and boys too. Simply put this comic was a pure pleasure to read and will come back for all four issues. A must buy this week. HIGHEST RECOMMENDATION!
Jackpot! #1
Aftershock Comics Writer Ray Fawkes, Artist Marco Failla, Colorist Stefani Rennee, Letterer Jimmy Betancourt
Jackpot is one of those titles that has a really decent idea but stumbles a bit out of the gate with the first issue. Crime caper books are tough to pull of in comics and tend to either work really well or fail miserably. This book seems to fall somewhere in the middle. The problem that I had with Fawkes script was that while he did a good job of introducing each of the cast members the story didn't really take off because of it being bogged down with the exposition. This make it difficult to care for any of the characters because they are introduced  and then its on to the next one while the caper story frames it all. I never cared about the characters and while I do think that there are some good story elements here the overall story just didn't grab me. Failla's artwork is good and gets the job done. It's nothing flashy but he does capture the tone of the story along with the characters facial expressions. Is this book worth your time and money? While the book is only $1.99 it's just didn't quite cut it. While I do think that there is some hope for the book and I am willing to try the second issue now that the exposition is out-of-the-way but, I can't either recommend or skip it. Not bad just not overwhelming either.
The Legend of Wonder Woman #4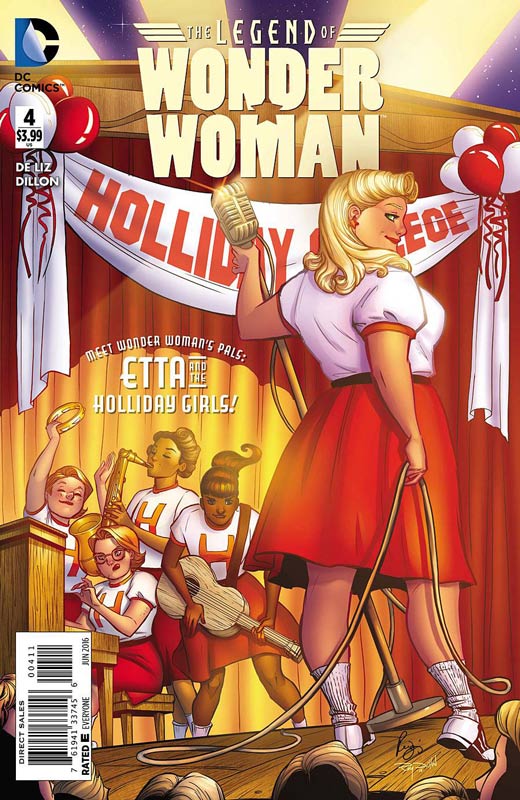 DC Comics Writer/Penciller Renae De Liz, Inker/Colorist/Letterer Ray Dillon
While the DC Rebirth is getting all of the attention lately this version of Wonder Woman is simply fantastic and each issue continues to impress. With Diana now away from Themyscira De Liz now is starting the fish out of water part of the story and is a nice turning point in the overall story arc. The big treat in this issue is the introduction of Etta Candy and has been returned to her spunky roots. I was impressed that De Liz was able to craft Etta as not only a friend to Diana but she is a strong, funny, smart and charming with a great addition to the storyline. This issues story was a nice change of pace to the book with Diana living in the outside world and discovering things for the first time with a nice light tone. De Liz and Dillon really deliver wonderful artwork this issue and captures the various tones in the story. The design of Etta was very impressive and might simply be the best version I have ever seen. Is this book worth your time and money? I have been a big fan of this book from day one and I must say that this issue really was impressive. De Liz and Dillon really give this issue a great forward momentum to the story and artwork that take the story in a perfect direction. The way that they introduce and handle Etta was brilliant and perfect, just like this book has been. VERY RECOMMENDED!
Moon Knight #1
Marvel Comics Writer Jeff Lemire, Artist Greg Smallwood, Colorist Jordie Bellaire, Letterer Cory Petit
It hasn't been that long from the last incarnation of Moon Knight by Warren Ellis made a big splash but he only wrote 6 issues and ran for 17 issues. So it begs the question will this one last longer? Well the first story arc is going to be 5 issues so the big question is can Lemire pull off the book on a long-term or will Moon Knight be destined for another reboot again. Lemire is going the same route in some ways as Ellis did in not making Mark Spector a straight up superhero book and while that is a great approach will Marvel reader be willing to go that route again. I have to give Lemire props for a solid first issue script that has him in the nut house and not sure if Moon Knight is real or not. He never reveals which of the worlds is real or not and that is what makes the story very fascinating. Lemire keeps the readers on their toes with the dual personalities and is making sure that things are not what they seem or are they? I was very impressed with Smallwood's art on the book and how he created two art styles for the book. The Moon Knight sequences are a gritty visual style and the "real world" is very house style type or art. It really adds a great impact to reading the issue and both flow together very well even with their opposite end of the spectrum. Is this book worth your time and money? The first issue is quite good and Lemire sets up some really good ideas for the first story arc. The biggest question is where is the book going to land after that. If it stays too out there most Marvel readers are not going to stick around and if it turns into standard superhero fare then it will lose the great edge that it currently has. I will definitely stay for the first storyline and then see where he is going to take it. It was a solid read and a fresh take on the character. RECOMMENDED!
House of Penance #1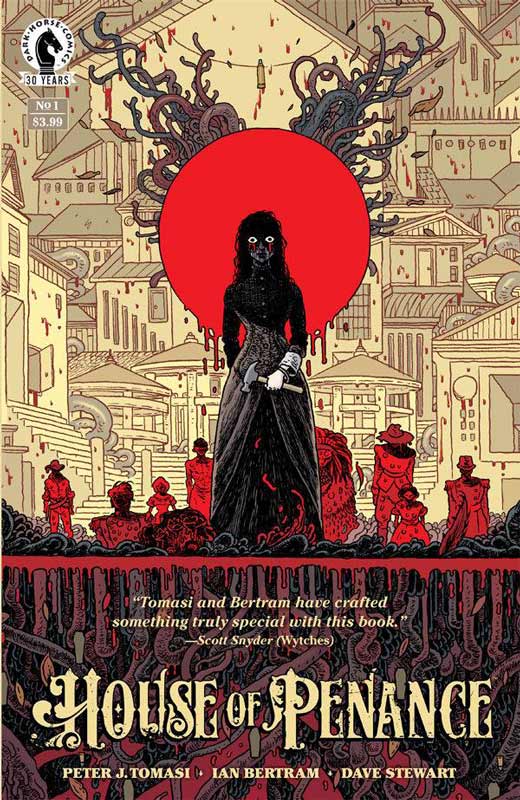 Dark Horse Comics Writer Peter J. Tomasi, Artist Ian Bertram, Colorist Dave Stewart, Letterer Nate Piekos
The one thing you need when you have a really out there story is at least one character to grab onto to lead you through the story. Unfortunately Tomasi does not supply that in this book. I will say that there are some very interesting ideas that he presents but the script is so disjointed that it's was a real chore to get through. He presents a lot of things with the story but it ends up being ideas that just seem strung together and never quite leads anywhere. I get that Mrs. Winchester is crazy and that she has lost her husband and daughter but the story really leads nowhere and he just keeps throwing things the mix and just makes it more convoluted. I really have to give props to Bertram who's artwork is really great here but as good as the art is, it's seems to be not enough to save this mess of a script. He really does his best to get the story across and does help it along to an extent. Is this book worth your time and money? I wanted to like this book but it just really had no point and I could have cared less about what is going on, or if any of the characters lived or dies. SKIP IT!
Hot Damn #1
IDW, Writer Ryan Ferrier, Artist Valentin Ramon
The team that created D4vE last years comes one of the wildest comics that I have read is a while. Ferrier story is a new and fantastic take on the whole going to Hell concept. His script has a lot of great ideas that are introduced in the story and while there is a lot going on here there is a bit of drifting that the first issue slightly suffers from. The concept is solid but there are a few times that they story doesn't quite gel and the next issue will need to be a little more focused. The good news is that thankfully it's not fatal and can also be attributed to the mysteries behind the story. Ramon delivers some really knock out work here. His visual take on Hell is very impressive and helps get the book off to a good start. The detail that he puts into both the details of hell and the characters is quite dramatic and certainly helps smooth over the minor bumps in the story. Is this book worth your time and money? This book is not going to be for everyone but if you're looking for a fresh take on the whole heaven and hell story that doesn't deal with the whole religious rigmarole that could have really sunk this book. Ferrier and Ramon have crafted a very interesting and bold concept here that takes our perceptions of Hell and Heaven and gives it a new spin that has a lot of potential to be a great book but just misses it by a hair on this first issue. Still very much worth reading and I am looking forward to the next issue.
Black Road #1
Image Comics Writer Brain Wood, Artist Garry Brown, Colorist Dave McCaig, Letterer Steve Wands
This is one of those books that will really challenge readers to look past the rough exterior of the bleak tone of the story and see the subtle introduction to this world that Wood has created. The key to the book working is that the reader is able to go with Magnus's journey because there is something that draws you into his character. While we don't necessarily learn a lot in this first issue story wise, Wood's does a great job of setting the tone for the series while shrouding most of it in mystery for now. The script is a nice slow burn and is a book that you need to let wash over you. Not everything is explained but that is OK for a first issue if done correctly and Wood certainly has the talent to pull it off here. Brown's artwork is a wonderful gritty feel that brings this harsh world to life. What really impressed me is how in the last couple of pages he slightly changes the visual tone to be a bit brighter to match the new direction to the story and a testament to his art skills. Is this book worth your time and money? There is both a little and a lot going on here and Wood's sets a lot up here in the first issue and yet there is a lot more question than answers at the same time. Once you add in Brown's wonderful artwork into the mix you get a bold comic that has a great amount of promise to it. RECOMMENDED!
Star Wars Special C-3PO #1
Marvel Comics Writer James Robinson, Artist Tony Harris, Letterer Joe Caramagna
There have been a lot of solo Star Wars comics that Marvel has pumped out lately but I have to say that this might be the single best story that will be very difficult to top. This book reunites the Starman team that brings that books magic to this wonderful story. Robinson crafts the story of how C-3PO got his red arm and by the end of the story you are taken on such a great emotional ride that tells a story so well in comic form that I doubt that you could convey it any better in another medium. Robinson paces the story so you never quite know what is going to happen and it just unfolds so well and shows what a great writer that he is. This is simply not only one of the best Star Wars stories in years but just a very well told story period. Harris brings such a great visual tone to the story that gives the book a look that seems odd at first but by the end of the story you see why he choose the style and fits the story like a glove. Not only is the artwork beautiful but his color work on the book is very impressive and shows how important a color palate is to bring a comic to life. Is this book worth your time and money? What makes this story work so well is the emotional core to the story and having two creators like Robinson and Harris at the top of their game on a simple and yet extremely satisfying story that has a lot of heart and soul in a robot. HIGHEST RECOMMENDATION!