I am still trying to catch up with new comic reviews and then another week hits and there is another stack of book to read. So this will be short and sweet with four newer books to choose from.
Savage Wolverine #9
Marvel Comics Writer & Artist Jock, Colorist Lee Loughridge,  Letterer VC'S Cory Petit
Lately for me there has not been a lot of excitement on monthly books over at Marvel Comics these days. But that changed with Jock doing a story in Savage Wolverine #9 this month. The plot synopsis from Marvel is, A new arc begins here as New York Times Best-Selling artist JOCK spins a tale of science fiction intrigue in a far-flung future! When Wolverine crash-lands on an alien planet, he'll need more than just his healing factor to survive!But even if he adapts to this strange environment and its stranger denizens, will Logan be able to handle the secrets the planet hides? Extraterrestrial excitement hits close to home in a Wolverine tale like none you've seen before! For the first few pages of the story you're not sure what the heck is going on but that is the point. You are supposed to be caught off guard at the beginning but it comes into focus and you are left with a nice little cliffhanger at the end of this issue. Jock has been one of my favorite artists lately and he really does a nice job with both the art and the writing on this. While the story is minimalistic that is part of the scope of the piece.
Is this book worth your time and money? I really enjoyed the issue and can't wait to see what Jock is going to do with the story. I always love different takes on familiar characters and this is a neat twist on Wolverine. It's well worth the $3.99 cover price. Recommended.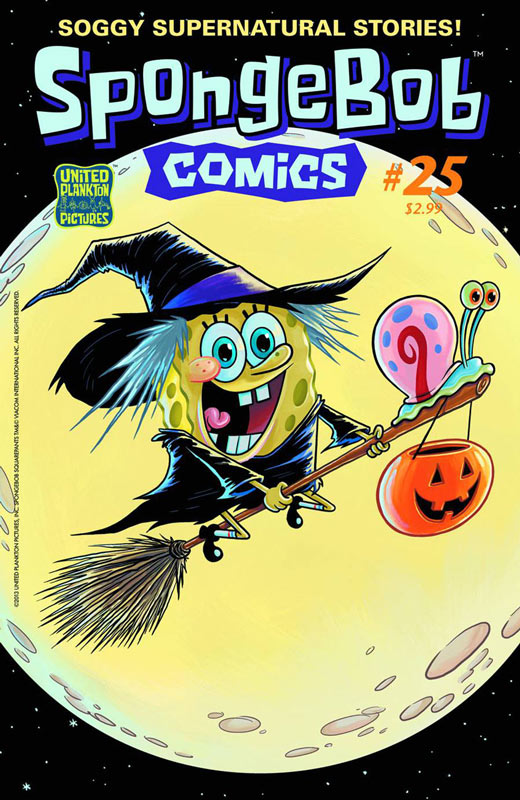 Spongebob Comics #25
United Plankton Pictures Written and Drawn by Various
Halloween takes over Spongebob Comics this month and it's a great treat for your bag. There are five stories and three one page shorts. The issue starts off with a one page story by writer and art by Nate Neal called "The Curse o' Comics Cave" that starts the issue off with a bang. "Gourd of Horror" by writer David Lewman and art by Jacob Chabot tells the story of Spongebob's pumpkin being brought to life and Patrick saving the day. Next up is "Things That Go Bump in the Night" by David DeGrand where Spongebob has to work the night shift and he encounters zombies, monsters and serial killers. "Squilliam's Hard Times" by Jacob Lambert and art by one of my all time favorites Stephen Destefano that has Squidward running into Squilliam who has fallen on hard times and Squidward gets on his high horse to rub his nose in it. "Patrick's Walk" by Andy Rementer is a psychedelic story of Patrick walking home after watching monster movies at Spongebob's. "The Duchman's Challenge" from writer Derek Drymon and from Mister Monster fame Michael T. Gilbert on the art, tells the story of the crew of the Flying Dutchman taking a challenge to win the ship if they can scare anyone in Bikini Bottom on Halloween night. The issue is rounded out with one page shorts from James Kochalka and Travis Nichols. I have been a fan of this book from day one and it's great to see creators take on Halloween with the characters. Each story is fun and is stacked with talent all around. The best thing about the book is that everyone does the story in their style. While it still feels like the TV show the interpretations are all individual.
Is this book worth your time and money? If you are a fan of Spongebob and Halloween then this is a match made in horror heaven. The stories are fun and light but overall a really good read. It's a book that you and your kids can read together. Having Stephen Destefano and Michael T. Gilbert back doing art again makes me tickled pink. Very recommended.
HinterKind #1
Vertigo Comics Writer Ian Edginton, Artist Francesco Trifogli, Colorist Chis Peter, Letterer Dezi Sienty
The book starts off as another end of the world saga. While that is not necessarily a bad idea, it's just one that has been told a lot lately. The plot synopsis from Vertigo Comics is, "Men go and come, but Earth abides."— Ecclesiastes 1:4 Decades after "The Blight" all but wiped out the human race, Mother Nature is taking back what's hers, and she's not alone…The Hinterkind have returned. From the last, lost corners of the world they come, a myriad menagerie of myth and magic…but these aren't childhood fairytale creatures. They are flesh, blood and passion, and they have a long-simmering hatred for those who drove them into the shadows: The human race! After her grandfather disappears, Prosper Monday must leave the security and seclusion of their Central Park village to venture into the wilds to find him, unaware of how much the world has changed. Or how hungry it has become. While the story starts off fairly standard the last act of the first issue drops a twist in that really impressed me. While I will admit that it's a little Fables inspired and I hope that it doesn't tread to far in that direction. Edginton's story is standard but solid for a first issue. It will be interesting to see where he is going to go with this. The art by Trifogli is a little stiff at times he does a really nice job with the layouts and the visuals of the environments and backgrounds.
Is this book worth your time and money? I have been really impressed with the new Vertigo books lately and Hinterkind looks to be one to watch. Solid story with nice art and a nice twist at the end of the issue leaves me craving the second issue. Very recommended.
Batman Black and White #2
DC Comics
Forget the New 52 Batman because this book put any of that stuff to shame. While you really can't compare the two I will say that this book has more creative juices flowing through it than all of the other Batman monthlies combined all year. There are five short stories with an outstanding cover by the legendary Jim Steranko. First up "Manbat Out of Hell" by writer Dan DiDio and artist J.G. Jones that tells the story of Batman mistaking the wrong villain attacking kids. "Into the Circle" by Rafael Granpa is has the Joker telling local criminals to break into Wayne Manor as easy pickings but forgets to mention that Batman is waiting for them. Rafael Albuquerque writes and draws "A Place In Between" with Batman on the River Styx with Deadman reliving his life. "Winter's End" by writer Jeff Lemire and artist Alex Nino where Batman must track down villains in sub-zero temperatures in a prototype gear. And finally Silent Night . . . Unholy Knight by writer Michael Uslan and artist Dave Bullock that is done in the style of Max Fleischer as a silent film story. As with the first issue there is not a disappointing story or art in the bunch. While some of the todays readers may not appreciate some of the art  because they are not used to truly talented draftsmen, hopefully they will discover a new way of looking at art. Each creator brings such a wealth of energy and skill to these short stories it's really hard to believe that there is more story in these 8 page stories than most creators do in a regular monthly book.
Is this book worth your time and money? It really doesn't get any better than this. Both old school and new talent are just stunning. Combining stellar talent with classic superhero is just perfect. From the story to the art this is just breathtaking. This book gets my highest recommendation and you really need to be buying this book. It's the best on the shelves right now.
There are four really good books to choose from. If you have not picked up these books then when you head to your local comics shop this week check them out. I don't think you will be disappointed with any of them.