Back again with this weeks new comic book reviews. I am still trying to catch up but its a slow process that things are not going as well as I had hoped. But I will keep plugging along as best as I can. I just want to give a shout out to my local comic shop Pulp Fiction Comics Long Beach that always has me covered with both comics and graphic novels. They also can be found on Facebook where they have videos for new release comics and Sunday's FOC that I help host at the store. But no matter where you get you're comics from make sure that you are helping support them right now as best you can.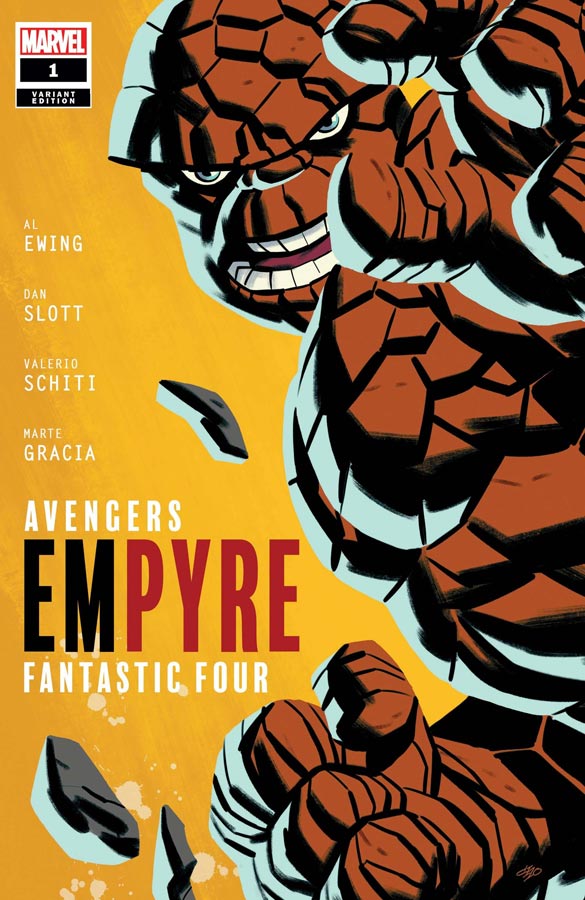 Empyre #1
Marvel Comics Story Al Ewing & Dan Slott, Script Al Ewing, Artist & Colorist Valerio Schiti, Letterer Joe Caramagna
Marvel's big event comic has finally landed and while I usually am not a fan of event comics I was willing to give this a chance so that I could give you an honest review of it. On a side note I have not read any of the lead up stories to this and simply judge this on the main story alone. With that being said this first issue was better than I thought it would be but pretty underwhelming in the end. I am a big fan of Ewing's current Immortal Hulk series so I know that he can deliver a good story but when you work on a crossover book it's more of a committee as to what you are told to write and the problem with the story is that it doesn't really bring anything new to the table here. I will give Ewing that he does his best here to try and make it interesting but the issue is that story goes exactly as you expect it to in that the hero's fight a battle but the real threat is from the ones that they are trying to protect and if you cant see that one coming then you haven't read any "event" comics before. The other problem is that there is very little character development and everyone just kind of shows up and is there as window dressing for the big overblown battle. The artwork on the book is good and Schiti does his best to visually make the story appealing as best he can with the little that he has to work with. One of the problems is that there is so much going at times that it can be visually overwhelming with the dense overly dialogue that sometimes the art is a little on the flat side but nothing fatal overall.
Is this comic worth you're time and money? While the book is not a total train wreck, its far form being worth six bucks. The problem is that the overall story is lacking any real substance and doesn't bring anything new to the table. The bigger issue is that an event comic should actually be an event that is worth having all of these superhero's together but this one ends up being for hardcore Marvel fans only and is not going to impress any new readers at all. SKIP IT!
Dark Nights: Death Metal #2
DC Comics Writer Scott Snyder, Penciller Greg Capullo, Inker Jonathan Glapion, Colorist FCO Plascencia, Letterer Tom Napolitano
I was surprised by the first issue of this sequel series Dark Nights that I didn't think was very good at all and while this second issue is not quite as good as the first issue, it does however do a good job of continuing the story and adding some nice twist to it. What has made this story interesting is both old and new heroes are thrown into the mix of things that is adding some very interesting twist and turns to the story. Snyder does a good job of keeping the story moving along even with the vast amount of exposition in this issue does slow things down a little but not enough to make it lose the momentum of the first issue. He is planting lots of seeds here in this second issue that will keep you interested in finding out where he is going to go from here. As always Capullo's artwork is really impressive here and the amount of detail that he infuses each panel with is impressive to say the least. I alway admire the emotions that he puts into the characters that gives the story a nice emotional punch that helps with the dialogue scenes to help them move along better. To say that his artwork on this comic is impressive is an understatement.
Is this comic worth you're time and money? Sure this second issue is not as full throttle as the first but Snyder is laying the ground work for the overall story here. As with most series you cant judge the story by just one chapter and there is a good amount of exposition here that is moving the story along just not as obvious as it will hopefully be as the story moves along. There is still a lot to like here and when you add in Capullo's gorgeous artwork it still worth checking out and I'm still going to keep going with it.
Faithless II #1 & #2
Boom! Studios Writer Brian Azzarello, Artist/Colorist/Letterer Maria Llovet
This sequel to the hit erotic first series picks up from the first one so if you haven't read that then you might be a bit lost here. While Boom touts this as a good jumping on point, I wouldn't say that it is because Azzarello doesn't give much background here to the first story because he just jumps right into the continuing story of Faith. The one thing to remember as with the first series is that plot wise the book is not robust here but pretty basic but the main focus of the story is about Faith and her artwork and basically a deal with the devil that has made her a superstar artist and then throws in sex to add to the story. While the story is pretty thin its the dialogue that Azzarello brings to this book and that is what I have found interesting about these stories and a lot of it is the underlying themes and emotions that make this very bold and fresh. The one thing that really sets this book apart from being just about erotica is Llovet's artwork that brings this book to life. She is very delicate with the sex scenes and they always feel natural and respectful and that helps keep things on track. She is a really an amazing artist and really captures the emotions of the characters with her artwork and that is what I love about this comic.
Is this comic worth you're time and money? This is a very adult comic but certainly done with taste and respect. While the story is pretty simple its the journey that makes it an intriguing read and when you have the lovely art of Llovet makes this a beautifully executed comic that is worth checking out if your not shy about sex and demons.
Strange Adventures #3
DC Black Label Writer Tom King, Artists Mitch Gerads and Evan "Doc" Shaner, Letterer Clayton Cowles
The first two issues of this series were phenomenal and it just keeps getting better with this issue. What I love that King has done here with the story is on the surface it's a basic mystery story but what he has done by have the two concurrent storylines of the present on earth and the past on Rann is giving the story a great twist on both the superhero and mystery genre that is making this a very impressive story. This is one of those rare comics that washes over you with its story in that on the surface it seems pretty straight forward but there is lots of little story elements that are just under the surface that adds so many great layers to the story and that is what King does so well. He also is playing the long game here with the story that is allowing the story to breath and unfold at a very natural pace that really sits well with you after you have read it. Having Gerads and Shaner tag team the artwork on the book is a real stroke of genus and benefits the book greatly. I love how the story is not split up perfectly that allows some pages to have the artwork done by both artists that adds greatly to the flow of the story and adds a unique balance that you never see with different artists on a story. While their styles are different there is a subtle comment thread that brings them both together in this book that you sometimes have to do a double take and examine it closer because when you are reading it your are deeply involved with the story that you don't notice it right away that surprises me sometimes and both are delivering top notch artwork.
Is this comic worth you're time and money? I knew with read King and Gerads Mister Miracle that this book was going to be a treat but in just these first three issue it has truly surpassed my expectation and simply leaves me patiently craving the next issue. King, Gerads and Shaner are crafting a grand story here and its one of the truly must read comic books of the year. HIGHEST RECOMMENDATION!
Superman's Pal Jimmy Olsen #12
DC Comics Writer Matt Fraction, Artist Steve Lieber, Colorist Nathan Fairbairn, Letterer Clayton Cowles
While I may not have been reviewing each issue of this wonderful series I certainly have been reading each one and saying that its been extremely satisfying is an understatement. I have to admit that trying to come up with a story for Jimmy Olsen for twelve issues was something that I never thought was possible but Fraction not only did it but blew my mind on what he ended up doing with the story when the whole thing was said and done. What made this so great was that he traveled through history made fun of the silly stuff from the 1960's Jimmy Olsen comics and yet he always grounded Jimmy and made him a strong character even during the stupid stuff. He infused Jimmy with heart and made you really fall in love with him and his goofiness no matter how crazy things got. Fraction also captured his relationship with Superman that captured what great friends that they are. As wild as the stories got it was Lieber that was able to capture that lighting in the bottle visuals of it all and truly impressed me of his artistic talents. He was able to draw some really crazy stuff but when all was said and done it was the visual emotional core that he captured with Jimmy and all of the cast. The last panel of the story really summed up his artwork for the series and included below.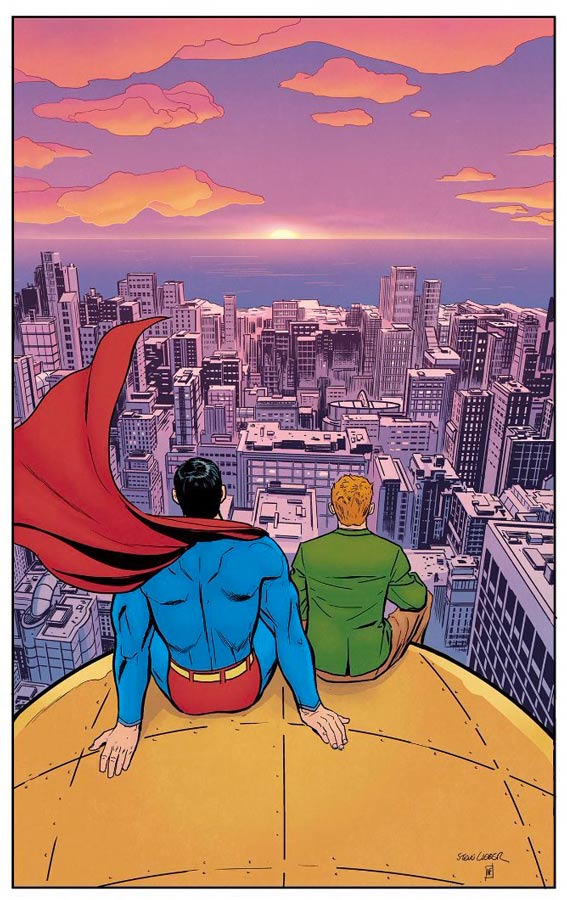 Is this comic worth you're time and money? This has been one of the best series that you have never read. Along with the Lois Lane series has been one of the best books that I have read. Fraction and Lieber have crafted a comic that hopefully people will discover once it collected and see what I have been saying about this comic from the start of how great and fun this series was. HIGEST RECOMMENDATION!