Sorry about missing the reviews from last week but with five days at San Diego Comic Con it just wasn't going to happen. There are going to be some videos and pictures from the show and hopefully I will get them up next week. It's been a real whirlwind trying to recover from the convention and super busy at the old 9 to 5 gig but, there are some really exciting things that are brewing on the horizon here at Pop Culture Maven and get ready for a Level Up for the website. So let's get on with the comic book reviews. 
Action Comics #1001
DC Comics Writer Brian Michael Bendis, Artist Patrick Gleason, Colorist Alejandro Sanchez, Letterer Josh Reed
I have been enjoying what Bendis has been doing so far with Superman but this story in Action has really impressed me and one of his best scripts so far. What makes this story so good is that its more of a Clark Kent story that is a bit more "day in the life" type story that is not meant to blow you away but show the more human side of Superman and is a story that complements the regular Superman title but also works well on its own. Both titles are telling a broad story but for at least this first issue you could read each book alone or together. They do have continuity together but are somewhat on opposite ends of the story spectrum and I really admire Bendis for taking this route with the books. Most books like this make you buy multiple titles to get the entire story and that is a bit of the case here but they don't directly lead in and out of each other. Action Comics looks to be more grounded in Metropolis stories and that is what I loved about it. It didn't try and be bigger than it was just felt right and that's why it worked so well in this first issue. Gleason is no stranger to drawing Superman but he is simply the perfect artist for this book because he is able to capture the down to earth emotions of the stories drama and brings a great sense of heart and soul to the story. This is a really great looking superhero comic and is a great marriage of story and artwork.
Is this book worth your time and money? The one thing that Bendis has done with Action Comics and Superman is that he has made both book fun and exciting to read again. He is not trying to re-invent the wheel here but simply put back the Super in Superman and while it's still very early in his run this first issue of Action Comics puts the book on very solid footing. I really enjoyed this first issue and hope that he has a lot more up his sleeves. VERY RECOMMENDED!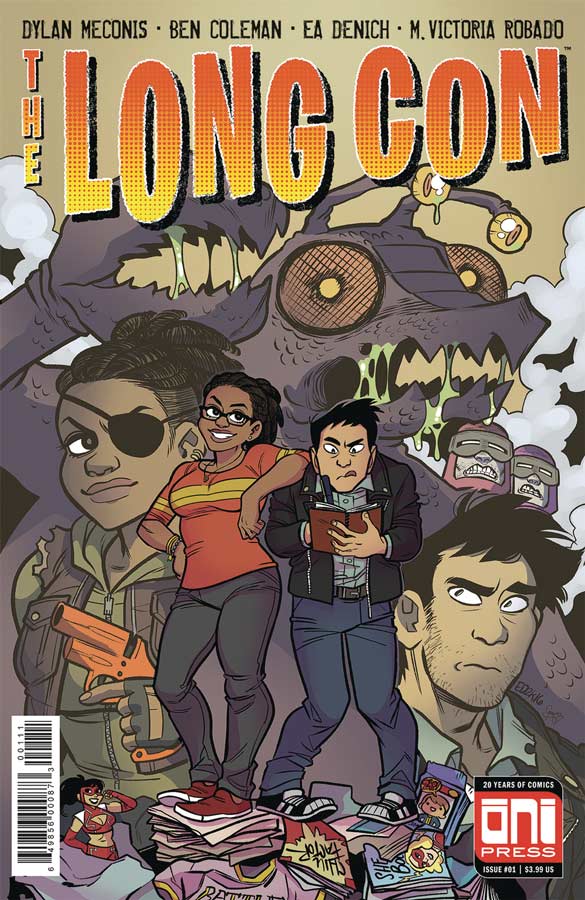 The Long Con #1
Oni Press Writers Dylan Meconis & Ben Coleman, Artist Ea Denich, Colorist M.Victoria Robado, Letterer Aditya Bidikar
There have been many attempts to craft a comic that tries to capture the spirit of San Diego Comic Con and for the most part have been more miss than hit but The Long Con gives it a shot and shows some promise. I will give Meconis and Coleman that they get a lot of the references right here and instead of trying just mimic the con itself they are using the backdrop of it to tell a different story and that gave the book a solid start out of the gate. While I like the set up to the story, there was not enough in this first outing to totally sell me on the book and that was a bit of a struggle. There is mostly exposition here and they do set up the character of Victor well but beyond that it was a bit on the flat side but the saving grace was the cliffhanger at the end of the issue that gave it a lot of promise to come back for at least a second outing. I did enjoy Denich's artwork on the book that had a nice cartoony style that complemented the script nicely here. He did a nice job of capturing the goofy humor of the story and that helped the book greatly. 
Is this book worth your time and money? I wasn't blown away by this book but it does however have a nice charm to it and they give a good reason to at least come back for the second issue of the book. If you have ever been to a big comic con then you will appreciate a lot of the nods and winks that they throw into the book. It's worth checking out. 
X-Men Grand Design: Second Genesis #1
Marvel Comics Writer/Artist/Letterer Ed Piskor
If you had read Piskor's first half of the re-telling of the X-Men stories (and if you haven't run out and get the oversized trade now) then you know you're in for a great treat this round because he is now in the classic Uncanny X-Men run of Claremont/Cockrum/Bryne era of the book and it most popular one at that. On the surface it would seem that this is just a simple retelling of those stories but the way that Piskor interprets them shows them in a different light that has a unique charm and intimacy that is far from the mainstream and that make this comic so special. I love the spin that he put on these stories in both the dialog and the art that gives is such a fun and different spin on these classic stories. There was only one misstep in this second outing which was when he told the Dazzler story he got her outfit wrong by using the later blue one piece outfit instead of the original disco outfit that should have been caught by the editor at the very least. It's not fatal by any means but considering the detail that he has put into this book it was a little disappoint and I would have loved to see his interpretation of her disco outfit. The one thing that Piskor never skimps on is the amount of detail that he fills every panel with in both story and artwork that make for a very dense but extremely satisfying read. I really enjoyed the first series that he did but this is my X-Men era for sure and it made for a great nostalgia trip back in time.
Is this book worth your time and money? If you a fan of the X-Men and specifically this period then this is a must buy book. If you a mainstream reader and not an outside the box person then sadly your going to miss out on one of this great comic. Piskor has built greatly from the first chapters and he hits another home run here with this one again. HIGHLY RECOMMENDED!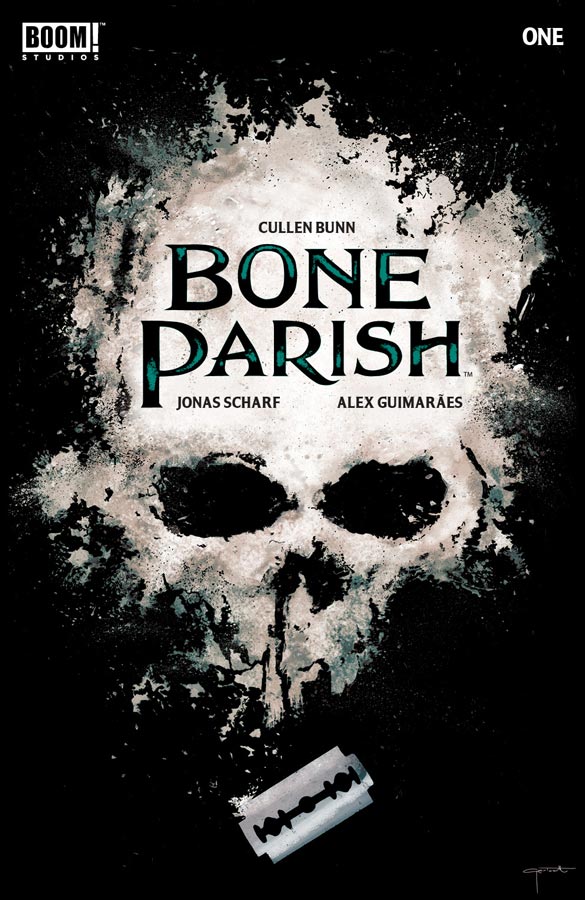 Bone Parish #1
Boom! Studios Writer Cullen Bunn, Artist Jonas Scharf, Colorist Alex Guimaraes, Letterer Ed Dukeshire
I find it amazing that I'm not a huge fan of Bunn's mainstream writing but when he dose his own books they are far superior and the Bone Parish gets off to a hell of a start. It's one of those books that starts off pretty simply and you go well this is nice but then Bunn throws the twist of the story in and it kind of blows your mind. What Bunn has done here is take a pretty basic story concept and gave it a new spin and simply just told a good story with a great twist. I've always said that you don't always have to try and tell a big story just tell a good one well and that is what he and Scharf have done quite well here. The other thing that Bunn has done so well here is that the big reveal to the twist in the story isn't a big reveal but more of a that a neat idea when your reading it. It's one thing to have a good story but with any good comic book you need a good artist to bring it all to life and Scharf is perfect for this book. What he delivers it great mood that the book needs to work and he also keeps it on the low key side until the punch to the reader is needed and he really helps deliver that perfectly in his artwork. The other impressive thing with his art is that he is able to capture the drama of the story and that is not the easiest task for an artist but Scharf does that very well here.
Is this book worth your time and money? This book really caught me off guard but in a really good way. Bunn script gets this book off to a great start and delivers a moody story that gives you a solid first outing but a great reason to come back for more. Throw in Scharf's wonderful artwork and you have a real winner here. HIGHLY RECOMMENDED! 
Justice League Dark #1
DC Comics Writer James Tynion IV, Penciller Alvaro Martinez Bueno, Inker Raul Fernandez, Colorist Brad Anderson, Letterer Rob Leigh
I'll be very honest here the new Justice League book by Scott Snyder has seriously underwhelmed me and held little faith out for these spinoff books but as a huge fan of the Justice League Dark from the New 52 run and have always had a fondness for the more obscure DC characters, I hoped that Tynion would be able to pull it out of the nose dive of the other Justice League book and thankfully he gets this series off to a hell of a lot better start. I liked the story here but I will say that there is a lot of dialog that Tynion throws in this first issue and while it gets a bit overwhelming at times it does flow well. I hope that he is able to streamline some of the dialog as the series progresses. It's as if he tries to cram more story per page than there is but thankfully it doesn't drag the book down too terribly. The one thing that he does well here is the pacing of the story and it does have a nice unfolding of the story that gives the story a great mystery feel that captures the tone and feel of the magic side of the DC Universe and that it has Detective Chimp is a huge win in my book. Where this book really soars is with Bueno and Fernandez's artwork that will simply blow you away. The level of detail that Bueno puts into each panel is stunning and the tone and mood of the artwork really draws you into the story. There is also some pretty messed up visuals for a mainstream superhero comic that was impressive. 
Is this book worth your time and money? I was hoping that this book would be good and it actually exceeded my expectations. While the dialog was pretty thick at times Tynion did keep the story on track and was able to capture the darker side of the DC Universe. The big win for this book is the artwork by Bueno and really seals the deal on this one. VERY RECOMMENDED!
The Mall #1
Scout Comics Writers Don Handfield and James Haick III, Artist Rafael Loureiro, Colorist Dijjo Lima, Letterer DC Hopkins
On the surface (and that I mean the cover) gives you the impression that this is sort of Riverdale or slice of life comic but once you actually get going to the story it turned out to be a heck of a surprise. Handfield and Haick wisely let the reader fall into the trap of making the story seem like just another teen high school drama piece and I'll admit that I fell for it but when they get to the real point of the story you are not necessarily shocked by it but go well that wasn't what I expected and I like where they are going with it. There is a lot to take in on this first issue and they actually touch on some very tough issues with the female lead that I wont give away here but it was handled very well. Another fun thing was setting the story in a mall in the 1980's that gives you all sorts of nostalgia to throw here and there and while there wasn't that much in this first issue, it allows them to have fun with it. I will say that Loureiro's artwork was pretty impressive considering that this is a very small publisher and usually that leads to pretty weak artwork but he really does a bang up job here. There were a couple of very minor inconsistencies overall he does a great job and especially with the facial expressions that  for a lot of newer artist struggle with but not Loureiro. 
Is this book worth your time and money? I was quite impressed with this comic and am really looking forward to see where they are going to take the story. This book is a big win for Scout Comics and honestly a lot better than a lot of comics from much bigger publishers. Handfield and Haick are not afraid to go to some uncomfortable places with the story but they handle it with care and it will be interesting where it goes from here. It's nice to see a much smaller publisher have a big win with a comic book like this one. RECOMMENDED!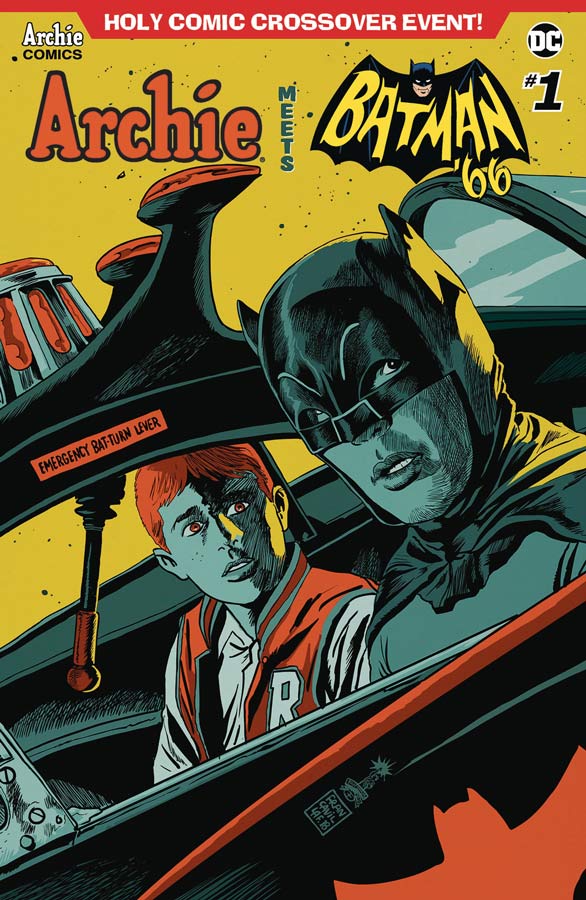 Archie Meets Batman '66 #1
Archie Comics/DC Comics Writers Jeff Parker and Michael Moreci, Penciller Dan Parent, Inker J. Bone, Colorist Kelly Fitzpatrick, Letterer Jack Morelli
There are two things that never seem to go away. Batman '66 and Archie crossovers and that can be a good or bad thing depending on how you look at it. In this case it ends up being a good thing as far as it keeps it simple, fun and sweet. This story is firmly based in the Archie Universe with the Batman '66 folks coming to Riverdale and wisely Parker and Moreci make sure that they each blend together well and stay true to their universes. They don't try and go very deep with the story and for some that is going to be too simple of a story but if you're looking for light fun then you have come to the right place. They use lots of the Batman '66 villains and of course the main ones Catwoman, Penguin, Riddler, and Joker (with Cesar Romero mustache in-tacked) and throw in some other like Poison Ivy and Bookworm and for sure more to come. The big win for this crossover is Parent and Bone's artwork that is the classic Archie style that gives the Batman '66 cast a neat look that works very well both visually and story wise. 
Is this book worth your time and money? If you're looking for a deep and meaningful comic book you have stepped into the wrong crossover here but if you enjoy a simple and fun comic that you can enjoy and give to a younger reader at the same time then its a total win on that front. I liked it and is worth checking out.
The New World #1
Image Comics Writer Ales Kot, Artist Tradd Moore, Colorist Heather Moore, Letterer Clayton Cowles, Back-Up story Writer Aaron Stewart-Ahn, Artist Sunando C
This is another book this week that takes a tried and true story (post apocalyptic, oppressive government utopia) and gives it a fresh new spin that made for quite a good read this week. What Kot has done here is has injected some nice humor into this story that gives it a fresher feel and while there is a fair amount of clichés and familiar tropes but even with those in this first issue it only had a few issues. I would have like a little more focus on the story because it seemed like Kot threw a lot of ideas at the wall and there were a few disjointed moments but overall it ends up working well and now with the exposition out-of-the-way, it will be interesting to see where he takes it from here. Moore's artwork has a nice clean animation style that fits the story nicely. The style does a very nice job of bringing this world to life and a good example is the rave scene that both work immensely with both the line work and Moore's spot on color work. Another plus is the back up story that is not related to the main story in any way but Kot gives space in the book for the new talents of Stewart-Ahn and Sunando C that was a very good story and artwork that made for a nice Twilight Zone type story that was very good. Kudos for them for getting new talent out there for readers to see.
Is this book worth your time and money? There are a few bumps in this first issue but overall there is a lot to like here in both the story and the artwork. The books best asset is it's sly humor and good characters. The story shows promise and gives you a good reason to come back for the second issue. This book is well worth checking out and I am intrigued to see where they take it.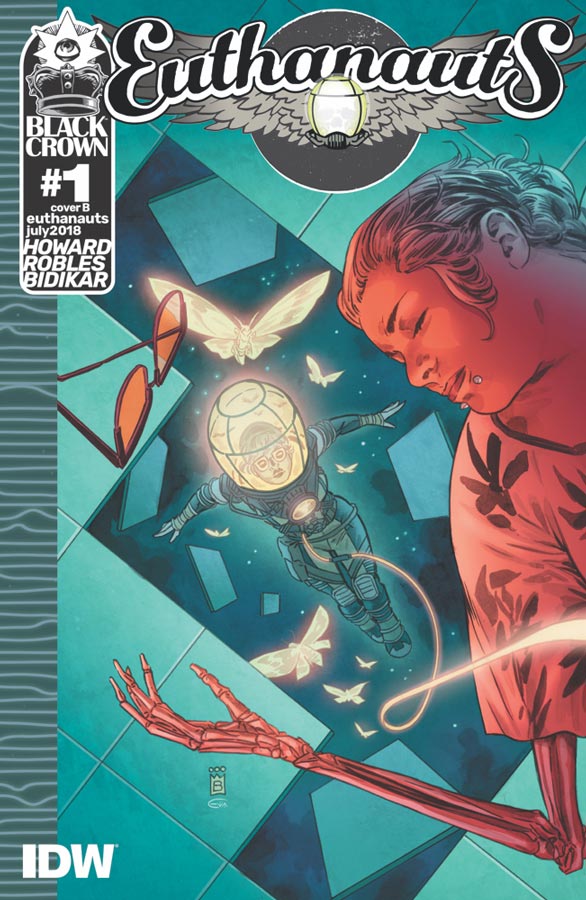 Euthanauts #1
Black Crown/IDW Writer Tini Howard, Artist Nick Robles, Letterer Aditya Bidikar 
I really like the ideas of a lot of the Black Crown books from Shelly Bond but I haven't found any so far that I've been able to stick with. Howard did pretty well on here first Black Crown outing with Assassinistas but with artwork by the great Gilbert Hernandez was a big selling point for some readers. With her new title Euthanauts shows promise but this first issue is one that you're not quite sure what to make of it. There are some quite interesting ideas that she presents and you can see that there are more questions than answers here in this first issue. This type of storytelling is tough to review because the first issue is primary set up and it makes for a tough read for a lot of readers. The question with this is do you buy the single issue and see if you like it or wait till the trade comes out and see what the reviews are like then. I will say that I like her take on life, death and the in-between that has a lot of possibilities as the story moves forward and that is very intriguing. The one thing that is not questionable is Robles artwork on the book that is wonderful and gives the book a huge boost and he really helps the reader move the story along visually. One of the things that I loved was how he played with the layouts of the art that gives the book lots of room to breath and surprise the reader. 
Is this book worth your time and money? This one is a really tough call because there is a lot of good ideas here in this first issue but you simply not sure what path it's going to take and if you want to hop aboard this train. If you're looking for something that deals with life and death and the theories around it then give the book a chance.