A very big week for new comics this week. The start of the new DC's Young Animal line of books kicks off and lots of independent books hitting the shelves too. So let's get started.
Doom Patrol #1
DC Comics Writer Gerard Way, Artist Nick Derington, Colorist Tamra Bonvillain, Letterer Todd Klein
The first book in the new DC's Young Animal line written by Way who is overseeing the line with editor Shelly Bond. There is no grey area that Way was highly influenced by Grant Morrison's run on the book at Vertigo and this first issue really shows that. He lets the story simply unfold with lots of questions and set up for the series. There is a lot to take in here but while you won't be sure what to make of all of it quite yet there was a sense of excitement and wonder to the book. On the flip side of it there is really no structure to the story and it just becomes bits and pieces thrown together. I found the book to be a love/hate type of relationship. While I certainly didn't find myself hating the book I found that every time that Way would introduce a character or storyline it would not take hold like I would have hoped. On the plus side the main character of Marie was very likable and was a good grounding for the chaos of the script. The thing that really saves the book in this first issue is Derington's artwork that has a simple yet detailed and inviting art style that really make this book stand out. He does a great job of visually moving the story along for the reader with making some sense of it all.
Is this book worth your time and money? While the structure of the book is all over the place, I have to applaud Way for doing an outside the box DC comic. While it remains to be seen if over the next few issues the story starts to gel together. I think that there are some good ideas here and Way is able to pull it all together. The art alone is worth picking up the book and overall there are more positives than negatives because of the wild ideas that the book presents. Worth picking up for the first few issues to see where they take it.
Hadrian's Wall #1
Image Comics Writers Kyle Higgins & Alec Siegel, Artist Troy Reis, Letterer Troy Peteri
I was not a big fan of Higgins last series C.O.W.L. but I was willing to give his new book a shot. The script by Higgins and Siegel is decent I never felt that it really introduced anything new to the basic story tropes that you have seen before. It felt a lot like say the movie Outland but they didn't really add much to the basic structure. This is one of those books that while it's a pleasant reading experience it's not very memorable after your done. It's a pretty straight forward murder mystery story that you have read a million times before and that is where the biggest problem lies in the book. Reis's artwork is nice but it's that painted semi-realistic style that people seem to love or hate. I thought it was pretty good but there were a lot of times where there were simply no backgrounds and it felt flat.
Is this book worth your time and money? This book is simply average and while it was mildly entertaining while I was reading it, Higgins and Siegel didn't give me a compelling reason to come back for the second issue, so for me it's a SKIP IT!
All-Star Batman #2
DC Comics Writer Scott Snyder, Penciller John Romita Jr., Inker Danny Miki, Colorist Dean White, Letterer Steve Wands, Back-up Artist Declan Shalvey, Colorist Jordie Bellaire
This second issue picks up right where the first issue left off and is quite the action issue. With a bounty on Batman's head every rogue in the Batman villain cast is showing up in this book. Snyder script keeps things moving along quite nicely here and while this is a book that will read a lot better in one sitting when the story arc is over than as a monthly comic for sure. I still found it enjoyable and fun to see Batman outside his normal Gotham comfort zone. Snyder is throwing everything and the kitchen sink into this story and it's paying off quite nicely so far. I'm not a huge fan of Romita Jr. artwork but he is doing a pretty good job on this book. While not his best work I would have like to have seen a stronger inker on him than Miki who needs to be a bit stronger on his inks. The back-up story with Shalvey artwork is just too short in 8 pages and not as satisfying as I would like but reading it as a whole could change that.
Is this book worth your time and money? The only complaint that I could say that the book has is that the $4.99 cover price is pricy for a 21 page main story (and a 8 page back-up) considering that the main DC line of 20 page comics are $2.99. This is one of those books that will probably work a lot better in a trade than as single issues. Snyder's scope to the story is tough as a monthly read and while I do think that it's worth buying just not as a monthly. The story is solid and the artwork is a little above average for Romita Jr. I would just wait for the trade of this book.
Briggs Land #2
Dark Horse Comics Writer Brian Woods, Artist Mack Chater, Colorist Lee Loughridge, Letter Nate Piekos
This book got off to a great start with its first issue and Woods really starts to dive deeper into the story with this second issue. Woods second issue is a great continuation of the story that may not be a flashy as the first issue but is even more satisfying because there is a lot of subtle detail that Wood is giving this story some really great drama and mystery that is keeping you not only on the edge of your seat but having you want more. Wood takes a basic story premiss here and adds such a great fresh feel to it that so many writers try to do but rarely succeed at. One thing that he really excels at is the character dialog that is giving the book so much depth and emotions. Chater artwork adds such a great visual layer to the book that is very impressive considering that he has to deliver such subtle emotions to the dialog that is very impressive. He gives the story a nice grittiness that brings a realistic feel that makes the story work so well.
Is this book worth your time and money? This second issue really seals the deal on this book. While the story is a ripped from the headline type of story, Woods delivers so much more than that with it. The key to the book working so well is the characters in the story that give the drama a great reason to work. He could have made this a very timely and flashy book but he is delivering so much more with this that makes it all the more impressive. Throw in Chater's wonderful artwork and it makes this a real must read book. VERY RECOMMENDED!
Gotham Academy: Second Semester #1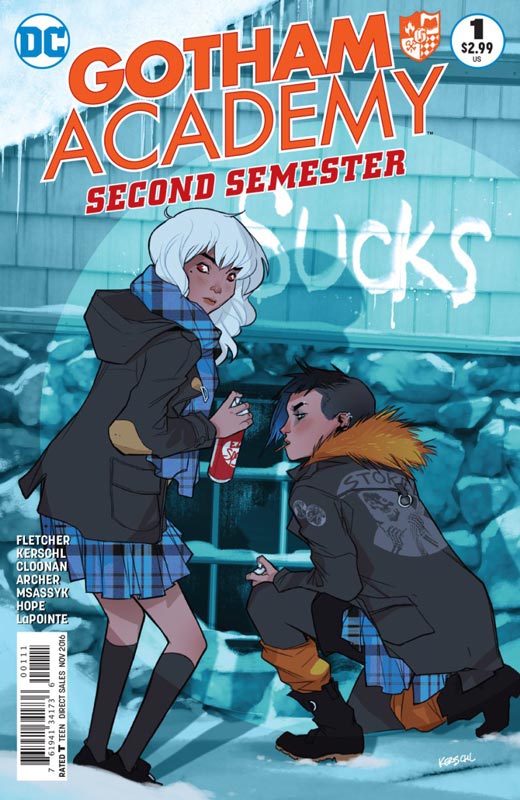 DC Comics Writers Brenden Fletcher, Becky Cloonan, & Karl Kerschl, Penciller Adam Archer, Inker Sandra Hope, Colorists Chris Sotomayor & Serge Lapointe
I was a big fan of this book when it first came out and while I skipped it as a monthly and waited for the collections of the stories, the book started to drift a bit towards the final stories in the first semester. I was excited to see if a few months hiatus would recharge the creative batteries of Fletcher, Cloonan and Kerschl and this first issue is a bit of a mixed bag. The biggest thing that disappoints is that this first issue didn't really give new readers a good jumping on point to the book. Most of the rebirth titles have had either the #0 or the first issue be a more history of the characters and the book but sadly they didn't quite do that here as well as I would have liked. The story is fairly self-contained and gives a bit of an overview to the school but ends up kind of flat for both new and regular readers. Archer and Hope are a nice addition to the book as the artist but it's always going to be a challenge to follow Kerschl's artwork from the first issues of the book. They do a very nice job of capturing the feel and tone of the school and put a lot of detail into the artwork.
Is this book worth your time and money? While I wasn't overwhelmed with this first outing I am still a fan of the book and it really does fill a market for readers than the typical male superhero readers. It brings in both a younger and female audience that is really needed in comics now. For me I will probably skip the monthly and just pick up the trades on this book but if you're a fan of the book your going to enjoy it but if you're a new reader I would pick up the first series trades before diving into this second semester.
Animosity #2
Aftershock Comics Writer Marguerite Bennett, Artist Rafael De Latorre, Colorist Rob Schwager, Letterer Marshall Dillon,
This little gem of a book came out of nowhere with a great first issue and thankfully this second issue proves that it was no fluke. Bennett keeps the story moving along nicely here and builds and expands the concept into directions that you don't see coming. While on the surface she is using the basic end of the world apocalypse story trope here but what sets this apart is the freshness that she is bringing to a  tired genre. The key to these types of stories is the characters and here she not only has great human ones but the animals and their role in the story is very fascinating as it is impressive. There are some great twist and turns in the story that really are keeping the readers on their toes. While the story is great for the book to really work you need and artist that can not only capture human emotions but needs to do the same with the animal cast and here is where De Latorre's artwork really shines. Delivering human emotions with facial expressions is one thing but he is able to do it with animals limited facial range of emotions that is all that more impressive. While there are a few times where the backgrounds are a little sparse but overall this is a great looking book.
Is this book worth your time and money? The only minor gripe that I have with the book is that it simply ends too quickly. Just as with the first issue you are let wanting to read more at the end of the issue that rarely happens in comics today. Bennett and De Latorre are delivering a very satisfying comic that is making the apocalypse quite enjoyable. HIGHLY RECOMMENDED!
Jeff Steinberg #2
Oni Press Writers Joshua Hale Fialkov & Tony Fleecs, Artist Tony Fleece, Colorist Luigi Anderson, Letterer Simon Bowland
While I liked the idea of this book the first issue was underwhelming for me but thankfully the second issue gets it more on track and I found it to be worth seeing where the story is going from here. Fialkov and Fleecs script is more on point and the humor is more focused this issue. I found the ironic humor much more on point this issue and the story had better focus. It also breathed a bit better with Jeff coming back to earth only to find that things are not going to go back to normal for him. They also get a lot of the exposition elements out-of-the-way this issue so that the story can move forward from here better. Fleecs artwork is a great style for the story and he really has a lot of fun with the absurd situations that Jeff gets himself into.
Is this book worth your time and money? While I may not be totally sold on this book this second issue was a huge improvement with the story and I am willing to stick with it for a while longer. Both the story and the humor are more focused and was a more enjoyable read.
The Forevers #1
Black Mask Studios Writer Curt Pires, Artist Eric Scott Pfeiffer, Letterer Colin Bell
Black Mask has been both hit and miss with their books and while The Forevers is a decent read I couldn't shake the feeling of been there and done that with the story. The problem with the book is that Pires doesn't give the story a new or fresh spin and there is little character development to the story. Another problem is that there was none of the cast that was particularly likable that didn't help with the story. The plot was a bit on the convoluted side and seemed a bit haphazardly put together. Pfeiffer's artwork is a bit of a mixed bag here. While the "realistic" type of art does work for the script it takes the book in a direction that semi fails in the comics medium. The problem is that it feels manufactured and not organic like comic artwork should feel and it too hyperrealistic. While it's not bad it just doesn't make the book work as well as it might of with more traditional artwork.
Is this book worth your time and money? The biggest problem with this book is that it doesn't bring anything new to the concept. It ends up being a very by the numbers affair that by then end of the issue there is no compelling reason to come back for a second issue. SKIP IT!
Scooby Apocalypse #5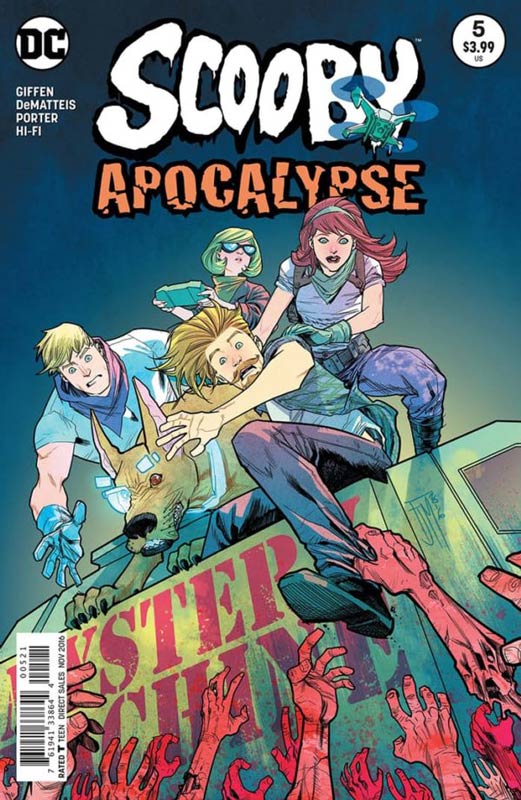 DC Comics Writers Keith Giffen & J.M. DeMatteis, Artist Howard Porter, Colorist Hi-Fi, Letterer Nick Napolitano
While I am still enjoying the book I would have hoped by this issue that we would have better story direction at this point. While I like the book it seems to be treading water in the sense that the overall story is not moving forward much. While I will give Giffen and DeMatteis that they are dong a good job at the characters developments but how long are they just going to meander around and not solve the mystery. There is a point where every Scooby-Doo episode would tie up the stories at the end of the show. This book seems to not want to solve much of the mystery at all. On the plus side Porter continues to make this book a winner at least from an artwork standpoint. This is a great looking book that while the story is struggling the art continues to shine.
Is this book worth your time and money? While I am starting to run out of patience with the story the lush Porter artwork is still keeping me going on the book. I just wish that the book would find a direction and go their.
Jughead #9
Archie Comics Writer Ryan North, Artist Derek Charm, Letterer Jack Morelli
Chip Zdarsky final stories in Jughead were a rare miss for the book but thankfully North is here to rescue the book and he brings it back to its former glory. North knows humor and he really brings it here with a great kick off story that introduces Sabrina in such a brilliant way to the book that I forgot that she was going to be in it. He actually doesn't have her show up until the end of the issue but the story is so satisfying that you are surprised by it even though you knew she was going to be in it based on the cover. Plane and simple North is a great choice for writing the book and if this issue is any indication of what he has planed for the book then I'm all in with it. Charm delivers solid artwork this issue and should be applauded for the Jughead food self sculpture at the begging of the story.
Is this book worth your time and money? North has brought the magic back to this book that nearly went off the tracks and delivers one of the best issues to date. VERY RECOMMENDED!