This was another brutal week with a flood of new books this week. DC is pumping out Futures End #1 and there are some that I review this week. So let's get started.
Adventurers of Superman #17
DC Comics Writers Jerry Ordway/Steve Niles/Kelly Sue DeConnick, Artists Steve Rude/Matthew Dow Smith/Valentine De Landro, Colorists Glenn Whitmore/Jordie Bellaire/Matthew Wilson, Letterers Steve Rude/Wes Abbott
Sadly this is the last issue of Adventures of Superman a digital first experiment of stand alone stories of pre New 52 Superman. This last issue of the book goes out on a truly high note. The plot from DC is, Superstar creators unite for the final issue of the series! First, "Seed Of Destruction" a Superman/O.M.A.C. team-up as only Jerry Ordway and Steve Rude can deliver! Then, Superman is confronted by a ghost in "Ghosts of Krypton"! FInally, when Lois Lane gets Superman a mystery gift for Valentine's Day, Superman speculates with his friends about what it could be – and what he should get her in return in "Mystery Box"! This is a rare feat of having all three stories be of the highest quality and are so good that it's probably some of the best Superman stories in very recent memory. Ordway and Rude go old school Kirby for "Seed Of Destruction" and tell a great team up story that is simple fun team up story that while basic keeps things paced perfectly. Ordway keeps the script tight and simple but very satisfying in the end. Having Rude draw this story is a dream come true. He is a huge fan of both Superman and Kirby and does a perfect job of bringing this fun story to visual life. It's really nice that they used the underrated Kirby creation O.M.A.C. in the story that made it that more fun to read. Niles is a great horror writer so whom better than to write a Superman ghost story. Niles story is one that I have rarely seen done this well. Most "horror" Superman stories are usually silly but Niles pulls of the rare fear of actually writing a creepy Superman story. The thing that I really like was the psychological aspect of the story. Smith's art is really wonderful and rally captures the mood needed in Niles story. It has a great feel of classic old horror films with the artwork. I really must point out Bellaire's wonderful color work on this story that really pulls everything together. And last but no means least DeConnick story of what do you get the Man of Steel for his Birthday? The story is so good with the way that she slowly reveals what is in the box that it really leaves a big smile on your face. Not only did she write a fantastic story, she was able to throw in Batman, Aquaman and Wonder Woman perfectly in such a short page count that really blew me away. De Landro's artwork has a nice european style that perfectly captures the wonderful script.
Is this book worth your time and money? This is easily one of the best books that I read this week and probably will be the best Superman stories that you will read this year. These story capture what really makes Superman as a hero great. Each story tells a really fascinating look of how to do a great Superman story. All three stories are so good that there is no way I can choose a favorite one. Each storyteller has crafted really big stories in such a small amount of space that is really impressive. This book proves that a great story can be short and sweet. Each story will stay with you long after you are done reading it. Throw in fantastic artwork for each story and you have a book that is the winner of the week. HIGHEST RECOMMENDATION! 
Roche Limit #1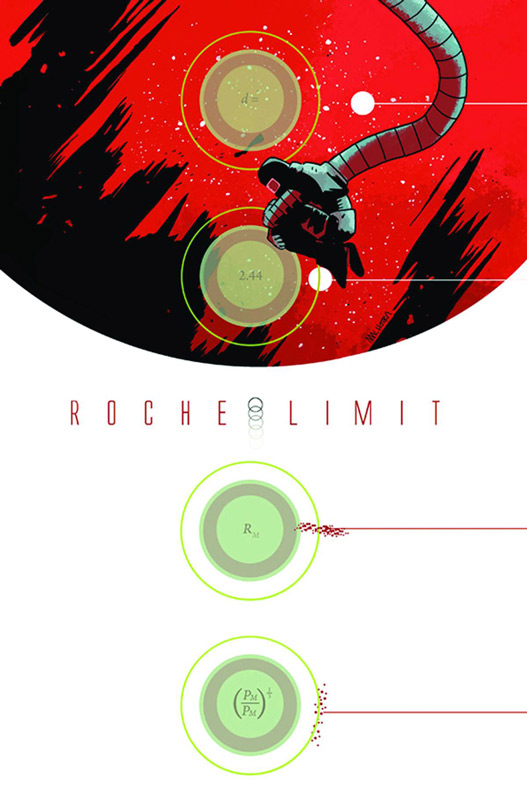 Image Comics Writer Michael Moreci, Artist Vic Malhotra, Colorist Jordan Boyd, Letterer Ryan Ferrier
There have been a lot of science fiction books lately and the field is getting pretty crowded. The plot from Image is, Twenty years after this promise, billionaire Langford Skaargard's dream of cosmic exploration is no more. Roche Limit, a colony situated on the cusp of a mysterious energy anomaly, is a melting pot of crime and terrible secrets. When Bekkah Hudson goes missing, the search to find her will plunge her sister and a cadre of the colony's underworld figures into an odyssey that reveals a grim future for mankind. Blending 2001: A Space Odyssey with Blade Runner, ROCHE LIMIT is the first part of a bold sci-fi/noir trilogy. Where do I start on this mess? The story by Moreci is a blender full of so many clichés that you can nearly point out every scene in the book is lifted from something else. The bigger problem with the story was that I was really board while reading it and the characters are poorly fleshed out. I could have cared less about anybody or anything that was happening in the story. Malhotra's artwork was OK but was a bit inconsistent throughout the issue. Overall the artwork was serviceable but nothing spectacular.
Is this book worth your time and money? Nope! A rehash of so many science fiction clichés with underdeveloped characters and a meandering story that by the end of the issue everyone could have died and I could have cared less. Average artwork didn't help things along. While not the worst book I've read lately it really added up to a lot of who cares.
Butterfly #1
Archaia Story Arash Amel, Writer Marguerite Bennett, Artist Antonio Fuso, Colorist Adam Guzowski, Letterer Steve Wands
Spy stories are tough to pull off well because you have to believe in the characters for the story to work and Archaia tries with their new book Butterfly. The plot from Archaia is, Butterfly is one of Project Delta's deep cover agents, no birth certificate, no social security number, a complete ghost. When her cover is blown and she is set up for a murder she did not commit, she is unknowingly led to her father's doorstep, a man she thought died 20 years ago. Codenamed Nightingale, her father was once a member of the very same Project Delta, a spy in the violent aftermath of the Cold War, and believes they are behind her setup. Trained to trust nothing and no one, Butterfly must decide whether to seek answers with the Project, or believe the man who betrayed her years ago. Bennett does a decent job on the story in the first issue and while it does travel in very familiar territory it does squeak by for at least a look at the second issue. I did like the tension that Bennett sets up the story with but it did struggle a bit with the reveal when Rebecca gets to France for the last act of the first issue. Fuso gives a nice feel to the story in his artwork. It's a nice clean but sketchy look that the story needs.
Is this book worth your time and money? It's didn't knock my socks off but there was enough there to give the second issue a chance. The only thing that bothered me was that it fell into too familiar territory and the story struggled at the end. Fuso's art did help the story along and was a bright spot. While not a strong recommendation it could end up going somewhere. The second issue will be a make or break for this book.
Harley Quinn: Futures End #1
DC Comics Writers Jimmy Palmiotti & Amanda Conner, Artist Chad Hardin, Colorist Alex Sinclair, Letterer John J. Hill
Most of the Futures End #1 issues have been a real mess with confusing readers with a story that most people are probably not following. The plot from DC is, Harley and The Joker make it legal at last! Follow the happy couple to their secret honeymoon spot, where it's literally till death do they part! Leave it to Palmiotti and Conner to finally break the curse. They continue there "done in one" story and have fun with the five years later story that these #1 are based on. Leave it to Harley to land on an island where the Joker has taken over. The story is cleaver and lots of fun nods and winks to Cast Away and even classic Battlestar Galactica. Palmiotti and Conner continue to keep the book on the fun track and thankfully didn't drag the book into the Futures End gutter that has plagued most of these DC books this month. Hardin does a really nice job on the art and has a lot of fun drawing all the strange twists that the story throws at him.
Is this book worth your time and money? Reading this book is really being lost on an island. DC gimmick this year has really been pretty bad and makes last years Villains month book look genius compared to the Futures End fiasco. Thankfully Palmiotti and Conner have avoided the tie in aspect of Futures End and just set this fun story five years in the future. Maybe all the creative teams should have read this book to see how you should do a good done in one story that is good for both new and current readers of a book.
Wayward #2
Image Comics Writer Jim Zub, Artist Steve Cummings, Colorists John Rauch and Jim Zub, Letterer Marchall Dillon
I had some mixed feelings about the first issue of this book and hoped that the second issue was a bit more even. The plot from Image is, Rori's uncanny senses lead her to a classmate with a dark secret…one he's willing to kill to keep hidden. Thankfully the second issue had better balance of character development and the supernatural elements to the story. Zub does a nice job of developing Rori and that is the thing that I am liking about this book so far. I feel that the book works better when the "fantastical" elements are a bit more subdued and not like the battle at the end of the first issue that seemed a little tacked on. The way that he introduced Shirai felt more natural and fit better with the development of the story. I also like the pacing of the story and Zub is not rushing things along. Cummings artwork is one of the key things that is really driving the book. It's hard for a lot of artist to handle character exposition and capture emotions that go with it and Cummings handles it with ease.
Is this book worth your time and money? The second issue left me with a better feeling than the first issue. It felt more even and had a better balanced story overall. It's still a little early in the curve to call this one yet but with the improvement of this issue I will give it a few more issues to see where Zub and Cummings are going to take the story.
Booster Gold: Futures End #1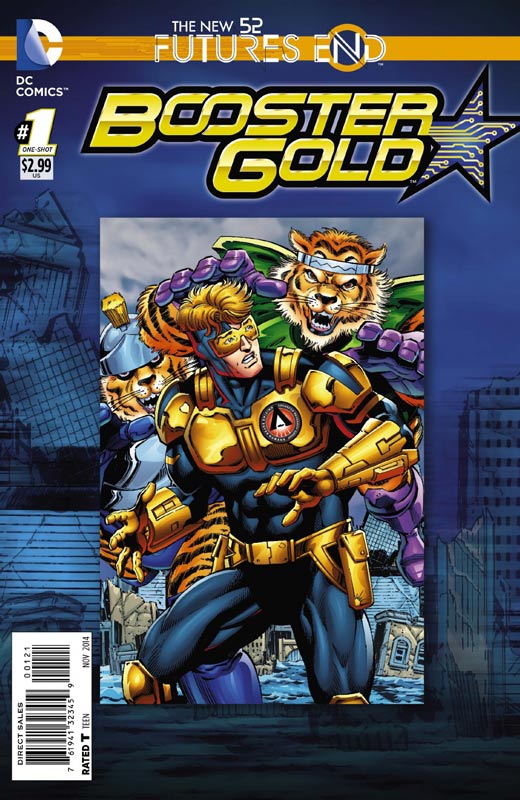 DC Comics Writer Dan Jurgens, Artists Morat, Dan Jurgens & Norm Rapmund, Will Conrad, Steve Lightle, Stephen Thompson & Mark Irwin, Ron Frenz & Scott Hanna, Brett Booth & Norm Rapmund, Colorist John Kalisz, Letterer Taylor Esposito
Here is the flip side of the way to do a Futures End #1 issue. The plot from DC is, Trapped out of time on a world that defies reason, Booster Gold struggles to escape the fate that has held him and so many forgotten heroes captive! Jurgens is a decent writer but this book is a real mess. It feels that you were plopped down in the middle of a huge story that you have no idea what is going on beyond that Booster is being bounced around different time periods in the DC Universe. Other than that idea I had no clue of what the point of this book was and of course to learn more the story continues in Futures End that you are not reading. While it was really nice to have Booster back it's a real shame that this book is probably not entice new readers to care who Booster Gold is. The artists do a nice job on their parts of the story. They were picked to do the parts that fit their style or a period that they are associated with. The art was the only saving grace for me while I attempted to read this mess.
Is this book worth your time and money. While I applaud DC for bringing back Booster Gold I doubt that reader that are familiar with him like me will make heads or tails of the story. New readers will really be lost as to what is going on. So overall I don't know what DC was thinking about this month of Futures End books that seems to be catering to nobody beyond the readers who are reading Futures End.  I had really high hopes for this book and was really let down by it.
Bob's Burgers #2
Dynamite Writers Justin Hook/Jeff Drake/Chad Brewster/Mike Olsen/Rachel Hastings, Artists Frank Forte (colorist and letterer)/Tony Gennaro (colorist and letterer)/Robin Brigstocke (letterer)/Hector Reynoso/Tyler Garrison, Colorist Derek Schroeder
The second issue brings more single stories from the three kids Tina, Louise and Gene and two one page stories. The plot from Dynamite is,Tina's Erotic Friend Fiction goes galactic; Bob jots down burgers to live by; Louise investigates a case of textbook tomfoolery; Linda looks out for her furry friends; and Gene presents a musical re-imagine-actment of the story of Mozart and Salieri called "Genemadeus" While I do like the idea of the creators telling smaller single stories I do hope that they will tell a full story in future issues. Each story are pretty much short ideas that the writers came up with and didn't fit into the show at some point. The only problem that I see with this second issue is that the three stories are the same basic idea that the first issue did. Tina's is a Erotic Friend Fiction story. Louise is another mystery story and Gene's is another "musical" story. While they are all fun and short and sweet, I can really see this book falling into a rut very quickly with this format.
Is this book worth your time and money? Both the story and the art is a pitch perfect feel of the regular Bob's Burger show. The stories are funny and well told the Gene story worked a lot better this time out. If you are a fan of the show then you are definitely the target for this book. If you have never seen the show they you are not going to have a clue about what is going on. And there in lies the catch-22 of this book.
Star Spangled War Stories Featuring G.I. Zombie: Futures End #1
DC Comics Writers Justin Gray and Jimmy Palmiotti, Artist and Colorist Scott Hampton, Letterer Rob Leigh
Jimmy Palmiotti wins the Futures End #1 books done right this week. The plot from DC is, G.I. Zombie stands alone against a zombie army of thousands as the U.S. military's experiment reaches its horrifying fruition! While the story by Gray and Palmiotti might be a little tough for new readers it's a nice self-contained story that does a nice job for both new and regular readers. The story is a simple zombie apocalypse story but Gray and Palmiotti put a nice spin on it. Thankfully this story does not disrupt this new book with this five years later idea. I have been really enjoying this book and this story was a fun time but I can's wait to get back to the regular storyline. Hampton couldn't have been a better choice for this book. He is a really moody artist that fits the tone of this book like a glove.
Is this book worth your time and money. I am really enjoying this book the timing on the Futures End event is not the greatest but Gray and Palmiotti have written a nice story that will hopefully entice new reader to check out the book. The story is pretty straight forward and while not earth shattering it was still a fun read. Hampton's art really seals the deal on this book. I am looking forward to getting back to the regular storyline in the book. It's definitely one of the better Futures End #1 books this month.