Well it was a light week in comics but there are still some great books coming out but finding them can be tough. So I'm here to help. I've got two new ones and a holdover from last week.
Adventure Time 2013 Summer Special (kaboom!)
Lets face it you're not going to pick up an Adventure Time comic unless you are a fan of the show. But if you love the show then you probably are picking up the comic. The good news is that if you have never read one then this book is a great jumping on point to the comics. It's basically set up like a classic annual in the old days of DC and Marvel where there are a collection of short stories. There are four separate short stories done by individual writers and artists and they are all really fun stories. I am a big fan of short stories because I feel that it's harder to tell a great story in 6 to 8 pages. You have to nail it because there is no room for padding. The stories are Desert Treasure by Noelle Stevenson, The Sucker Seeker by Ryan Pequin, Heart by Emily Partridge and A Penny Burned written and illustrated by Frank Gibson & Becky Dreistadt. They are all great little stories but I really loved Heart because it's a silent story and is just really sweet. The art on all four stories is really great and the thing I really love about the Adventure Time comics is the indy sensibility that the book has. It's stuff you would see in real independent comics but sold to the masses via the popularity of Adventure Time.
Is it worth your time and money? If you love Adventure Time then yes. If you are looking for great story and artwork that you can share with your kids this special is a no brainer.
Sidekick #1 (Image Comics)
Sidekick is the latest comic from J. Michael Straczynski and Tom Mandrake. WITNESS A MODERN HERO'S FALL FROM GRACE! The Cowl and Flyboy: renowned superhero and sidekick despite dopey names. They were famous, popular, and happy until the Cowl's assassination. Now, no one takes Flyboy seriously. Follow his trajectory from barely tolerated hero to figure of ridicule, and witness his slow descent into madness, darkness and crime. Story wise I liked the first issue but by the time I got to the "surprise" ending I was not surprised at all. I won't spoil it but you probably wont be surprised either but I did find the lead up fairly interesting. The first issue was a little standard fare but it did have enough going on that I want to read the next issue. I'm a big fan of Tom Mandrake's work and was not disappointed. His artwork really captured the moodiness the story has. The only thing that I worry about is Straczynski has a really bad track record of delivering through on books. I hope that the book has a solid plan.
Is it worth your time and money? Kind of yes and no. While not a breakout first issue by any means it has some interesting ideas that could go somewhere or turn into a standard affair. We shall see if the next issue is able to get going a bit better.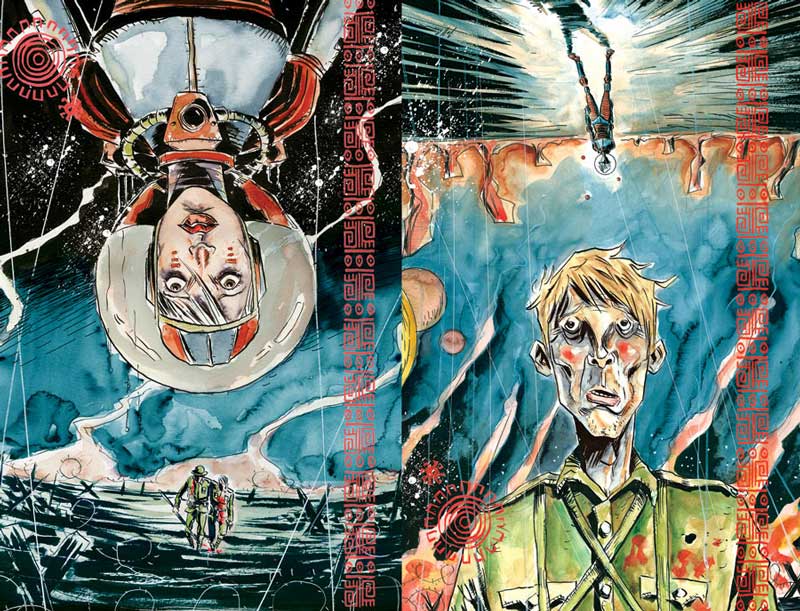 Trillium #1 (Vertigo)
It seems like Vertigo is on a roll. First The Wake, then last weeks Collider #1 that I really liked and now this weeks debut of Jeff Lemire's Trillium. The first great thing is that it's a flip book with two stories. Now it does not make any difference which story you read first but when you get to the end I guarantee you will be in a big hurry to flip it over read the other half of the book. It's the year 3797, and botanist Nika Temsmith is researching a strange species on a remote science station near the outermost rim of colonized space. It's the year 1921, and renowned English explorer William Pike leads an expedition into the dense jungles of Peru in search of the fabled "Lost Temple of the Incas," an elusive sanctuary said to have strange healing properties. This book really knocked my socks off. The story(ies) are great on their own but combined it's really mind-blowing. Lemire's art is just perfect for the story and his detail really pulls you into the two worlds. I don't want to give any thing away because you just need to read this book.
Is it worth your time and money? Shut up and take my money. it's going to be a great ride for the eight issues and I can't wait to see where this story is going. I'm hooked!