Thanks for being patient with the site issues. We are in the process of upgrading the site from a shared server to a private server just for Pop Culture Maven. So I'm going to try and catch up with some recent comic book releases. So without further ado.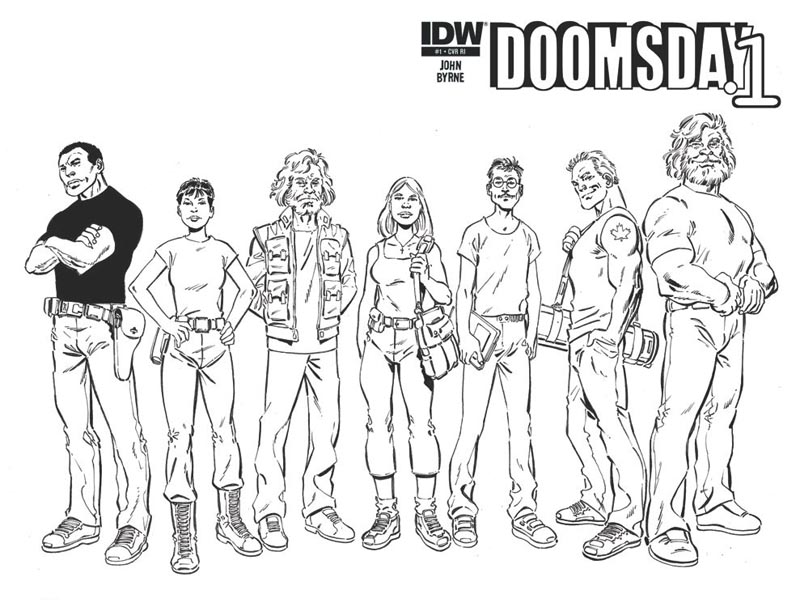 Doomsday.1 #1 & 2 (IDW)
John Byrne is going back to the beginning of his career with the re-imagining his first artwork for a regular series from Charlton Comics from the 1970's Doomsday +1 that he a co-created with Joe Gill. Doomsday.1 tells the thrilling tale of seven adventurous astronauts, who watch in horror, aloft in the International Space Station, as most of Earth is annihilated by a titanic solar flare. When all communication is lost and their home appears destroyed, what are the intrepid astronauts to do? Prepare to cling to a new life in zero gravity, waiting for the space stations supplies to dwindle to nothing? That doesn't sound very adventurous, now does it? No, the true thrills of Doomsday.1 come when the seven stranded heroes descend back to their decimated home world to confront the dangers left behind by the universe's cruel ravaging!
After reading the first issue I felt it was good but seemed more like a Prolog to the story than a first issue. The second issue is a bit better but considering that this is only a four issue mini-series the pacing in the book is really slow. While I'm enjoying it I am very worried that it could be the first part of an ongoing series disguised as a mini-series. It is better than some of Byrne's more recent output has been. The story and art are on par with Bryne's current efforts so if you're a fan of Byrne you will enjoy this too.
Is it worth your time and money? Maybe, while I like it I'm not sure that I am really loving it. Byrne is trying to tell a big story I just don't know if four issues is enough.
Battlestar Galactica #1 & 2 (Dynamite)
This new comic series is based upon the original 1978 television series. 2013 marks the 35th anniversary of the original Battlestar Galactica TV series and to celebrate Dynamite is launching a brand new series, written by cosmic supremos, Dan Abnett & Andy Lanning (Legion, Nova, Guardians of the Galaxy)! Set in classic BSG continuity, this series celebrates 35 years of epic space opera when, following a surprise Cylon attack, Adama and the crew of the Galactica are forced to deploy Dr Zee's experimental temporal weapons with unexpected results that leave Apollo and Starbuck lost in time and space in an alternate reality with no Galactica and no way of returning home!
I will flat out say that the first issue was pretty awful. The big mistake was that the writers decided to mix in plot and characters from the AWFUL Galactica 1980 series into this story. They bring in Doctor Zee a teenage prodigy who is Adama's counsellor and has him build special vipers with temperal warper weapons ?!?!?! Yea it's pretty stupid. So basically they are doing the lazy science fiction approach to story telling, using time travel you can explain any stupid idea that you come up with because it's time travel. The Lanning's have written much better than this. The artwork by Cezar Razek varies from OK to competent to down right bad. The characters for the most part look like there live action counterparts but the overall artwork is stiff and lacking backgrounds most of the time. While the second issue is somewhat better with the bar being set  so low in the first issue it had nowhere else to go but up. That's not saying much.
Is it worth your time and money. Sadly no. I was really looking forward to this series because I grew up with the original show and was hoping to have new stories that I would enjoy. Sadly it feels like Galactica 1980 all over again.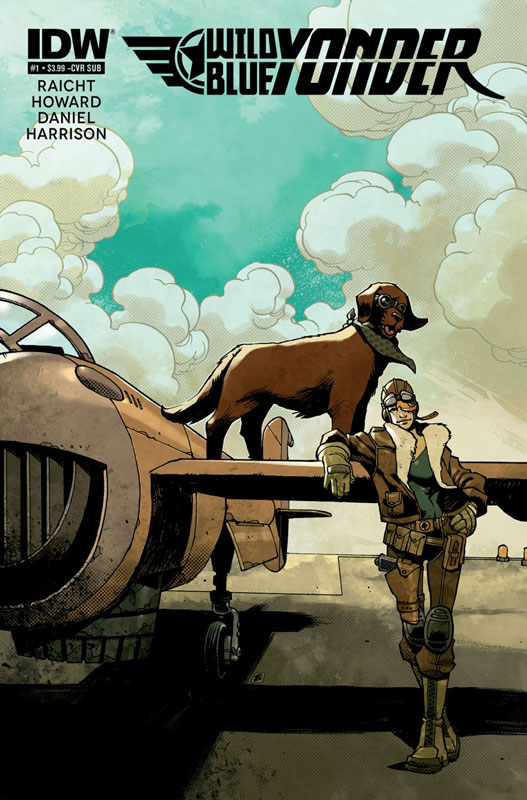 Wild Blue Yonder #1 (IDW)
Creator owned comics from the mini major comic companies can be a real crap shoot. The problem is that most companies like IDW don't pay that great so usually while the story might be good sometimes the artwork suffers from new talent that may not have the necessary skills or experience thankfully Wild Blue Yonder is not one of those books. In a wildly imaginative take on the post-apocalyptic thriller, Mike Raicht, Zach Howard  and Austin Harrison have created an eye-popping world of flying machines, massive, makeshift fortresses and a desperate war among the dwindling population left to the scarce resources on land. As mankind has become accustomed to the reality of a prosperous life only existing in sky bound territory, a desperate war has broken out for control and survival on the ground and high above it.
The story is credited to all three with script by Raicht and the art by Howard. The story centers around Cola a fighter pilot who is trying to find new recruits to help in the war efforts and finds Tug to bring back to the fold. I really loved the story that while feeling familiar does bring a fresh take to the idea. I was really impressed with Howard's artwork that is vibrant and has really nice detail. I want to point out Nelson Daniel's color work on the book because it's really dark and gritty but never overwhelms the art and using a muted color panel is difficult and he really nails it.
Is it worth your time and money. Very much so. The story and art are top-notch and after the first issue I am very intrigued with where the series is going and very much looking forward to the next issue.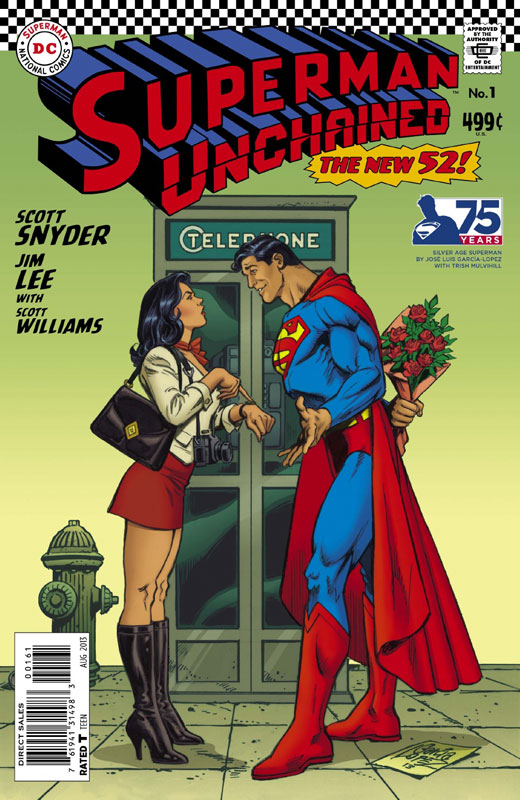 Superman Unchained #1 (DC Comics)
Well with all of the hoopla surrounding the release of Man of Steel DC decided to bring out there big guns Scott Snyder and Jim Lee to launch Superman Unchained. When thirteen satellites fall from the sky in one day, the logical suspect is Lex Luthor—even though he's still locked up in prison! But a stranger question remains: If Superman didn't stop the last satellite from falling, who did? There's a mystery hidden where even Superman can't see it—Can The Man of Steel drag a decades-old secret into the light?
While this story is definitely more Superman that we all know and love than Man of Steel I was a bit underwhelmed by the book. First the 4.99 price tag was a bit on the high side due to the "special" fold out poster page that was really unnecessary except to have Lee do a giant Superman splash page and add dialog to it. Snyder's script while nice felt like a very by the number story. Superman has always been a tough character to write and more often than not falls flat most of the time. While it does feel a lot more like Superman pre New 52 it just sat there for me. Lee's art is Jim Lee art. Meaning if you like Lee then you will like this, if you don't like Lee's art this will not change your mind. There is also a two page backup story with art by Dustin Nguyen that I liked but with only two pages I'm not sure how it's going to play out.
Is it worth your time and money. Not sure because the price tag is pretty high because of the pointless poster page that would have made it $3.99 instead. While not knocked out by the first issue it was no means terrible. I will give it maybe two more issues to see if it's goes anywhere.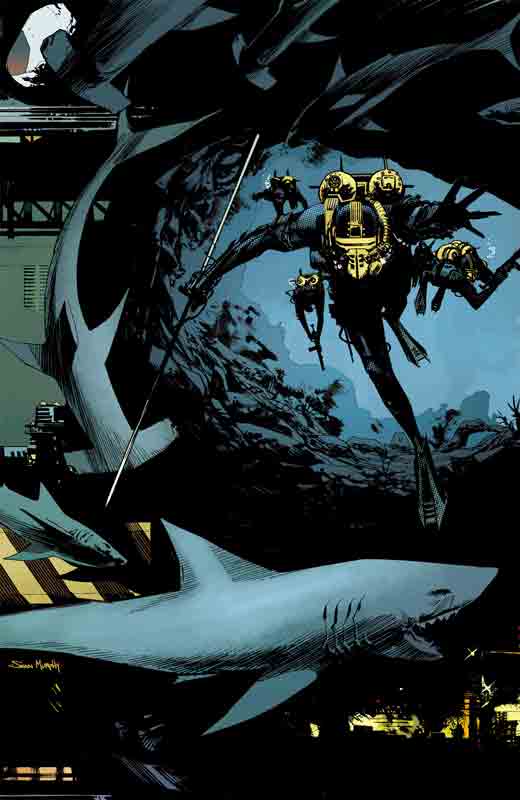 The Wake #2 (Vertigo Comics)
Now on the flip side Scott Snyder and Sean Murphy's The Wake runs circles around Snyder's Superman Unchained. I really loved the first issue of the book (See my review here), the second issue really dives deeper into the mythology that was set up in the first issue. While learning more about the creature that was captured the more other mysteries unfold. Murphy's artwork is just great and again do not buy this book digitally because there is no way that the artwork will translate to that medium well at all.
Is it still worth your time and money. Hell yes! This book should be on your pull list every month. Nuff said!
Lazarus #1 (Image)
Greg Rucka is back in fine style. "FAMILY," Part One. In a dystopian near-future, government is a quaint concept, resources are coveted, and possession is 100% of the law. A handful of Families rule, jealously guarding what they have and exploiting the Waste who struggle to survive in their domains. Forever Carlyle defends her family's holdings through deception and force as their protector, their Lazarus. Shot dead defending the family home, Forever's day goes downhill from there. Rucka is best known for his creator owned book Whiteout  and Queen and Country, and his work on DC Comics Gotham Central. He again has a story starring a strong female lead and Eve is no exception. While you are dropped into the ongoing story you never once feel lost or that you are missing a thing. Rucka writing is always on the mark and this new book is no exception. The artwork by Michael Lark goes toe to toe with Rucka's story. He captures both the big fight scenes and the subtle moments so equally well that it just fires on all cylinders. And as an added bonus Rucka has a letters page in the first issue that he tells the story of how the book came about that is a very fascinating story itself.
Is this book worth your time and money. At $2.99 it's one of the best bang for your buck that I have read in a while. This is what great comics are all about. Great story and art and you can't wait for the next issue. You can't go wrong here!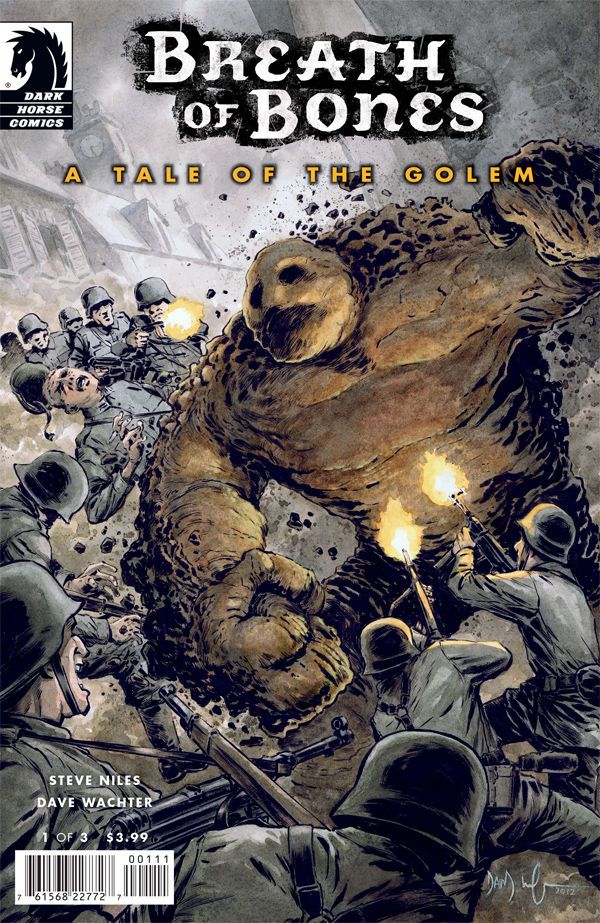 Breath of Bones #1 (Dark Horse Comics)
Steven Niles is single handily saving horror comics right now. So I was not really surprised that one of the other things that he writes so well is monster stories. The story is a giant clay monster from Jewish legend goes on a Nazi-killing rampage in order to protect the inhabitants of a small Jewish stronghold and an injured British pilot. Niles and co writer Matt Santoro had originally conceived the story as a film pitch. But while Hollywood loss is comics great gain. The story of the Golem has been around for years. Niles says of the character "The golem is a great creature, made by human hand for vengeance and protection. Like a Frankenstein monster from clay without all the emotional baggage. I also really like the idea of a monster powered by faith — that's a fully loaded concept there and a great set-up for a sympathetic monster."
The first issue is really wonderful because the story is paced so well for a set up that I hope that three issues is enough to contain the whole story. The characters are so well-rounded and rich that I felt transported to the period. It's also a nice choice to tell the story from Noah's child point of view you are able to feel the sadness and the pain that he feels more so than if it was an adults story. Story is one thing but with comic books you need to have great art bring the story to life. Thankfully Niles has brought Dave Wachter on board the party. First off doing the art in black and white is a great choice. While I enjoy good color work in comics nothing beats a book that needs to be in black and white. This book would not work nearly as well as it does if it were in color. Wachter captures the feel of the period with his line work and the grey tones and just brings it to life on the page. It's not often that we get comics like this because they are a hard sell on a good day. Fortunately for us Niles has such a great track record of good work that Dark Horse has taken a chance on this old school type of book.
Is it worth you money and time. Well there is not may horror or monster books out there but thanks to Steve Niles I am very happy to say that it's well worth your time and hard-earned money.