It's that time of the year again when classic gamers come out of hibernation to gather at Arcade 2084 to collect and play classic video games. The spring event that has been at Arcade 2084 for the past few years continues to grow and expand with both new and old members. The one thing that has changed is the amount of people who are trading and selling games that has become both a good and bad thing. Let me start by saying that the guys who organize the show do a hell of a great job with putting this all together and kudos for Arcade 2084 for hosting the event too. There is a lot of behind the scenes elements to put these events together and they do a fantastic job.
There was a lot to see and buy at the show. One thing that was great was the food set up for the event because if you didn't eat before coming to the event you tended to get hungry before the end of the night and the big plus was having drinks because it was a pretty hot day and that was a huge help for all. There was some unique items at the show. There was a Vectrex, Panasonic 3DO, NES with R.O.B. the Robot, tons of games, toys and even some arcade game boards were seen. There were some bargains to be found and I saw people finding items that they were looking for.
SOAPBOX ALERT!
Over the past few years the classic video game market has exploded and that has been both good and bad. It seems that just not long ago you were able to find all sorts of great treasures in the wild and while there are still some out there, the influx of popularity has changed the feel of SC3 a bit. Before it was more of collectors who would sell and trade at the event but now there are more semi professionals and stores that are selling at the event and in my opinion has taken away from the community feel of the show a little bit. Now before everyone dog piles on me let me make a few observations. The past few shows myself and a friend have gotten tables at the SC3 events. The problem is that the event starts at 4pm and there were sellers showing up as early as 1;30 even before the rental tables arrived. There is also a feeding frenzy with the tables that is supposed to be 1 per person with some that take more than that. At the last event we only took 1 table but brought 2 extra of our own tables as to be fair to others who wanted space. This is pushing out individuals who just want to bring extras of their own collection to sell and it's becoming harder to find bargains. Part of the problem is the growing bubble of classic gaming that has inflated prices of videogames that it's becoming harder for new and smaller collectors to enjoy classic gaming. If I wanted to go to a store and pay eBay prices for stuff that's one thing but when you have professional venders coming to this event, it kind of takes away from the collectors who just want to collect and play videogames. For me while I love to collect classic games and systems I was lucky to start before the boom and feel bad for people just getting into the game. While a lot of the current boom and price inflation is beyond SC3, but unfortunately it does affect the event to an extent. Ok I'll get off my soapbox now.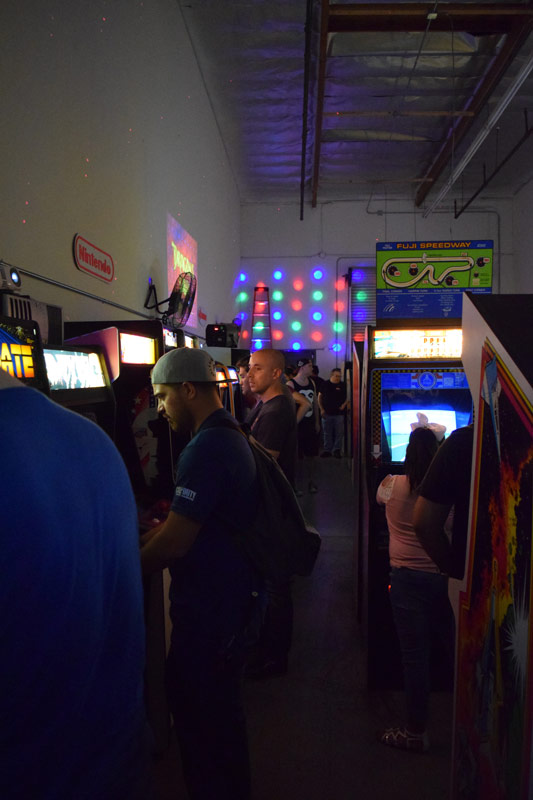 One of the best things about the spring event is Arcade 2084 itself. As always a great collection of games with a few new gems in their collection. They have a very rare Atari Fast Freddie that was an Irish developed game that very few units were brought into the US. It's a very unique game that is the only arcade video game that scrolls right to left and is very challenging to play.
Another rarely seen game is SEGA's Congo Bongo that is a lot of fun but is really difficult. With the gam not being a huge success you simply don't see them very often today and it's great to see one.
They have a great collection of vector monitor games along with a few pinball machines and laserdisc games. Considering how hot it was the temperature inside the building was not too bad considering the weather. The upstairs area was filled to the brim with home video game systems that are alway a great addition to the event. While not as big as the fall event there was a little something for everyone. One of the big surprises upstairs was the very rare Moppet Video Tugboat. These systems had original games that were made for kids in kid size cabinets. You rarely see them and this one was in immaculate condition. The Moppet Video games are pretty mediocre but worth playing for the novelty.
The raffle was a little smaller than usual but there were some fun items to be had. One of the neat things was an original Teddy Ruxpin and a Tandy portable computer. I was unable to stay for the auction this time but reports say that it was a great success.
I always look forward to the SC3 events. The spring one is alway fun because of the location Arcade 2084 and the amount of venders and the larger parking area. The spring event brings a more diverse mix of families and women and it's great to see a lot of new faces that come to the event. The best thing about these events are talking with other collectors about the passion that we all have for classic videogames. That is what I love about SC3 and applaud and thank them for another great show. I look forward to the fall event at Steve's house.
Here are a few photos from the event.