I was finally able to get to the movies this weekend and got to see a film that I had really been looking forward too every sense I first saw the trailer for it. The Nice Guys is the new film from Shane Black who has written some of the most memorable buddy films such as Lethal Weapon 1 & 2, Long Kiss Goodnight, The Last Boy Scout, and of course his directorial debut in the very underrated Kiss Kiss Bang Bang. After flirting with the studio tent pole film Iron Man 3 Black heads back into familiar territory with The Nice Guys.
The plot of the film from IMDB, Set against the backdrop of 1977 Los Angeles, The Nice Guys opens when single father and licensed PI Holland March (Ryan Gosling) is hired to investigate the apparent suicide of famous porn star Misty Mountains. As the trail leads him to track down a girl named Amelia (Margaret Qualley), he encounters less licensed and less hands-off private eye Jackson Healey (Russell Crowe) and his brass knuckles, both hired by the young hippie. However, the situation takes a turn for the worse when Amelia vanishes and it becomes apparent that March wasn't the only party interested. As both men are forced to team up, they'll have to take on a world filled with eccentric goons, strippers dressed as mermaids and even a possible government conspiracy.
While on the surface the film has all of the trademarks of Black's trademark buddy picture tone, that in itself is not a bad thing. It has of course the snappy dialog and the mismatched buddy team up but it's also really charming. Beyond Black's wonderful script there is a lot going for the film. First one of the best things is that the film is set in 1977 that really adds to the mood of the film. Because the film is set during that period there is a lot that Black mines from the era with jokes, fashion and social issues that give the film a solid foundation for the characters and avoids a lot of clutter and keeps the film on track.  Black brought together a solid cast in both the main actors (Crowe & Gosling) but also with the very strong supporting roles. The big standout is new comer Angourie Rice who plays Goslings daughter Holly March who really stands toe to toe with the two seasoned actors and holds her own with them both. There is also great casting with Matt Bomer, Keith David and Kim Basinger. Each role is very well cast and are able to deliver Black's scripts and bring it to life.
Where the film really shines is not only the action of Gosling and Crowe but the chemistry that the two have. In a film like this you need two actors that have not only charm but friction at the same time. They really go to that fine line area where they blend together perfectly. Gosling performance is very good here with playing the lovable schmuck that as much and he screws things up he is still able to stumble into things working out for him. He really nails the performance with a subtle and yet pin points that gives the character a nice overall story arc. He deftly delivers the comedy of the film that is really where his performance shines. Crowe is very impressive as the heavy of the film. He is like a Tootsie Pop where he is hard on the outside but soft on the inside. What is most impressive is that the role could have really gone the wrong way but Crowe understands that while his character is pretty much a complete ass he needs to be charming at the same time. As much as you should hate his character you actually fall in love with him because he really isn't the jerk he just does his job.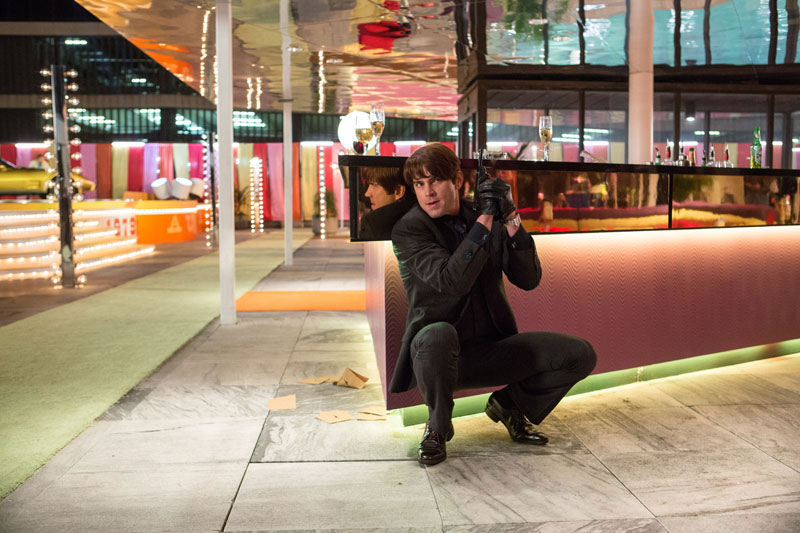 Black has really refined his directing skill here and he obviously learned a lot from the huge scope and demands of a big budget film like Iron Man 3. While I am a huge fan of Kiss Kiss Bang Bang is still a great film that if you have not seen then you really must go and watch it. Considering that this is only his third directorial effort it is all that more impressive. You can really see the improvement of his skills on display here. He wisely surrounded himself with a really strong crew on the film. Philippe Rousselot cinematography really captures the look and feel of the 1970's and gives it a nice gritty but at the same time light touch to match the comedy of the film. Production designer Richard Bridgland and costumer Kym Barrett really bring the films period to life to give the film the feel of the period that makes it work so well.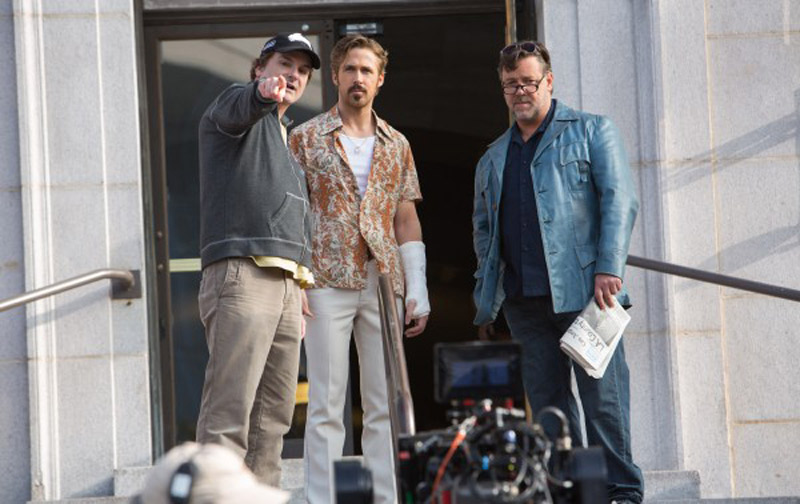 The script has all of the things that make a Shane Black movie so enjoyable. Along with co-writer Anthony Bagarozzi they deliver a script that blends humor, action and heart that makes the film work so well. It never has to rely on visual effects or cheap tricks to make the film work. It's the dialog and the story that drive the film and make it such a fun experience.
If there is only one thing that I have a gripe with the film. Black chose to shot the film digitally and that is a real shame. While they do their best to try to make it look like film, digital will never capture that look. With the film taking place in the 1970's it never visually quite recreates that. A good example is the recent film Hail, Caesar! that was shot on film to recreate the 1950's period of the story and looks gorgeous and correct because it was shot on film. While not fatal and it never diminishes the enjoyment of the film it was just a shame that they chose to shot it that way.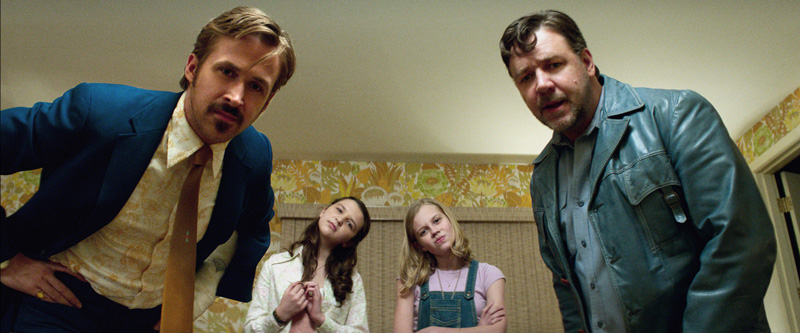 The screening that I went to there was a group of younger 20 something kids sitting in front of us and I honestly don't think that they laughed or liked the film very much. In fact I think that they were a little annoyed that me and my friend were laughing our asses off during the film. You could say that it might be the age gap of it considering that we are familiar with the period that they film takes place in but, I think that it because Hollywood rarely make films like this anymore. I love the fact that they film is snappy and fun and doesn't blow crap up for an hour and a half and seems like every scene is a visual effect. This is a film where the script is the key to the film working and with big studio releases you just don't see that much anymore.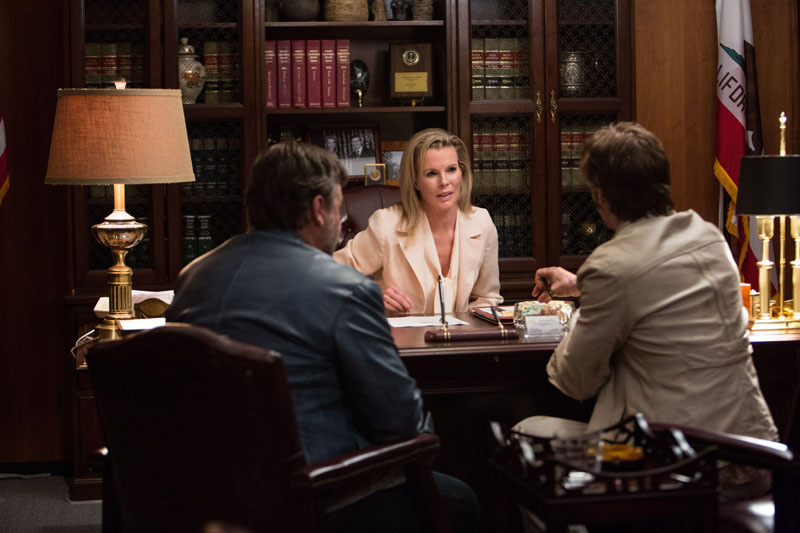 While you could say that there are the typical clichés of a Shane Black story, is that really a bad thing. Sure it's a buddy cop picture and has similarities to his other films but I thing that it's not that the story necessarily needs to be super original, it just needs to be told well. In this case The Nice Guy really shines because it was simply an entertaining, smart, funny and charming film that is just the thing that a summer film used to have and desperately needs. It's a shame that the film appears to be on track as a modest summer hit that because of it budget (reported $50 million dollars) is low enough for Warner Bros to make a small profit in the end. In a sea of summer tent pole blow outs I seriously doubt that you find a more enjoyable film to watch this summer. So take a chance and go see this film and find out why I found it to be a reason to enjoy going to the theater for a change this summer.