I have lived in Southern California for over 30 years and I have enjoyed visiting and working at Disneyland. There is something about going to a Disney Park that is truly magical. We I was younger I went to Walt Disney World when there was only the Magic Kingdom. It has always been a dream of mine to go back to the Walt Disney World Resort again and now that there are four parks it would be a very different visit.
In February I was fortunate enough to go with my adopted family the Burn's (Shawn, Emily, Erin, Adrian, Bonnie, Laura and Pam) and we were lucky enough to spend nine days at the resort and visit all four parks and can safely say that we saw about 95% of the parks. There were lots of rides that are the same or similar to the ones at Disneyland. I thought I would be great to compare them to each other and then cover the ones in both coasts that are unique to a specific park.
This will be (hopefully) the first of many post to come that will cover both ride comparisons and unique attractions in the Florida parks that people who live in Southern California are lucky enough to go might want to visit when they go there.
Dole Pineapple Whips
One of the best things that you can eat at either Disneyland or Walt Disney World is the Dole Pineapple Whip. Of course Florida being the orange state also has an Orange Whip. They also have vanilla that is basically vanilla soft serve tha seems pointless but I guess some people want it.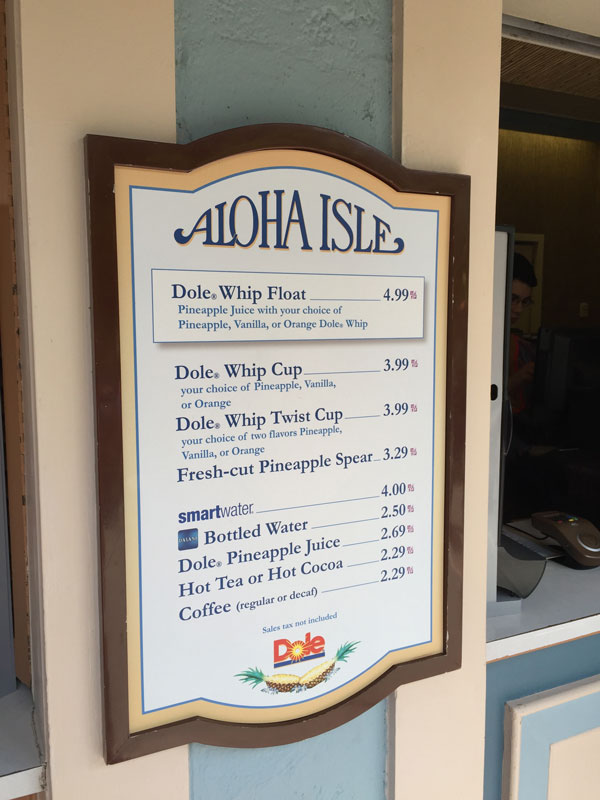 Being a connoisseur of the Dole Whip at Disneyland I have sampled many in my lifetime and here are my observations of the differences at the two parks. The good news is that there is little differences between the two delicious frozen treats at both parks. I did find that Walt Disney Worlds was a more firm whip but did taste the same. When in Rome as they say I had to sample the orange whip and while it was good it honestly tasted like soft serve orange sherbet.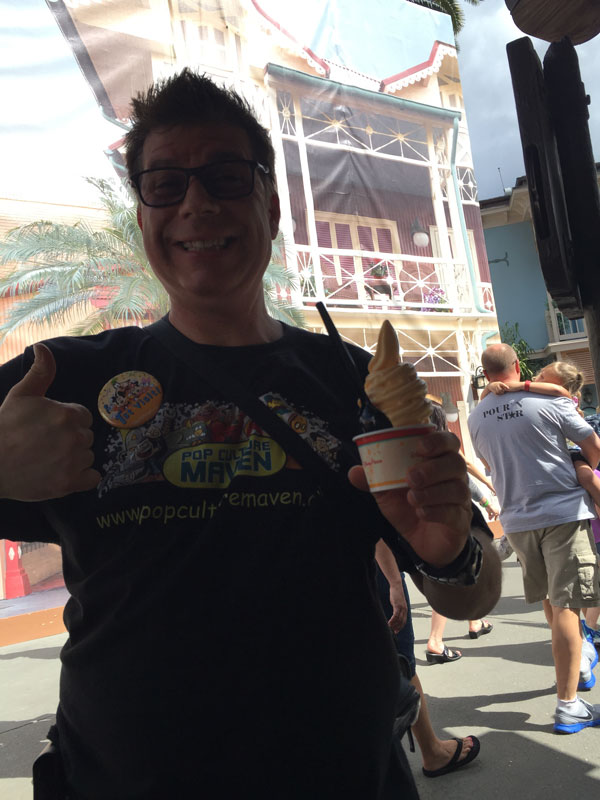 It was good but nowhere near as good as the pineapple ones. The one thing that Disneyland has over Walt Disney World is that you are able to take your whip into the Enchanted Tiki Room and eat it during the show. At Walt Disney World the stand is separate from the attraction.
Winner: Disneyland Dole Whip.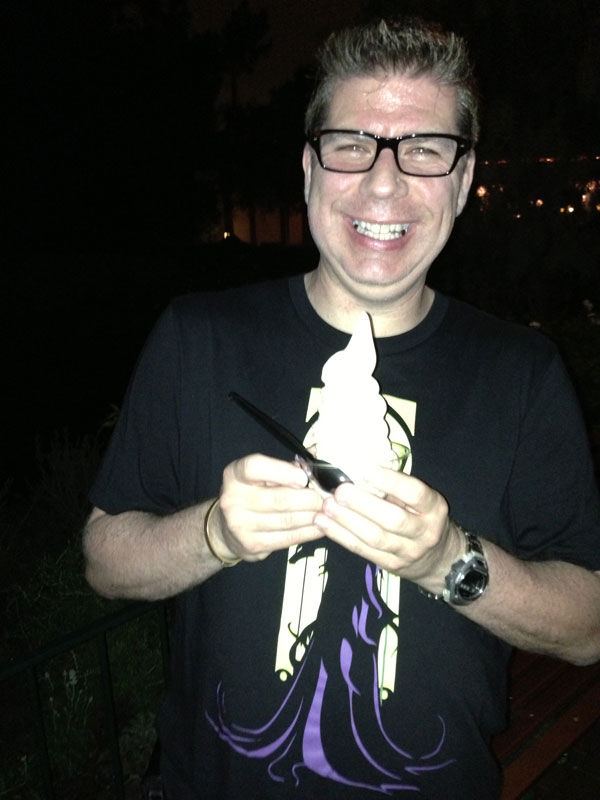 Both parks Dole Whip are winners and are a must have at anytime of the year. If you go to Florida give the orange whip a try to say that you did. The win for Disneyland is that you get to take your whip in the Enchanted Tiki Room and enjoy it while watching the show.
Space Mountain (Disneyland)

V.S.
Rockin' Roller Coaster (Disney's Hollywood Studios)
Some might find it strange that I would compare these two rides considering that Walt Disney World has a Space Mountain. Well their Space Mountain is closer to Disneyland's Matterhorn ride and I will cover that later. Disneyland's Space Mountain was the first high-speed ride at the Disneyland park. The Matterhorn max speed is 27 MPH while Space Mountain hits 35 MPH. Rockin' Roller Coaster goes from 0-57 MPH from the start much like DCA Screamin' Roller Coaster. While the speeds are different they have a lot of things in common. While they take off differently they both are fully inclosed roller coasters that have lots of twist and turns. While Rockin' Roller Coaster has a loop and multiple inversions the ride do have a certain shared experience.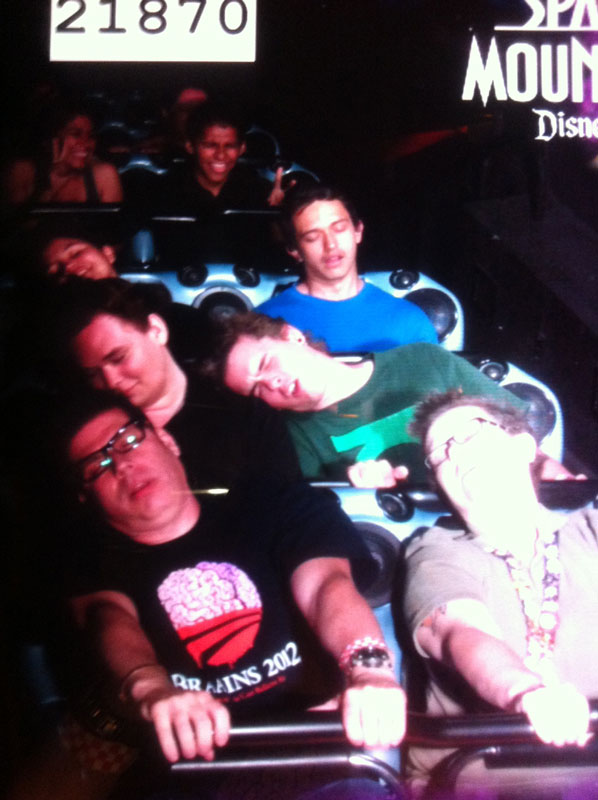 They both have classic roller coaster elements and both play on visual perceptions. Space Mountain is entirely set in the dark with space themes and stars. Rockin' Roller Coaster is a bit more lit but still pretty dark. The one thing that Rockin' Roller Coaster does better is the pre-show with Aerosmith that rent the super fast limo to get you to their concert. On the other hand Space Mountain at Disneyland changes the theme of the ride at Halloween to Space Mountain: Ghost Galaxy that has a very different feel with only adding a few changes with the projection and sound of the ride. In some ways I thing Ghost Galaxy is better but glad that they only have it a Halloween time so it makes it more special.
Winner: Rockin' Roller Coaster by just a hair.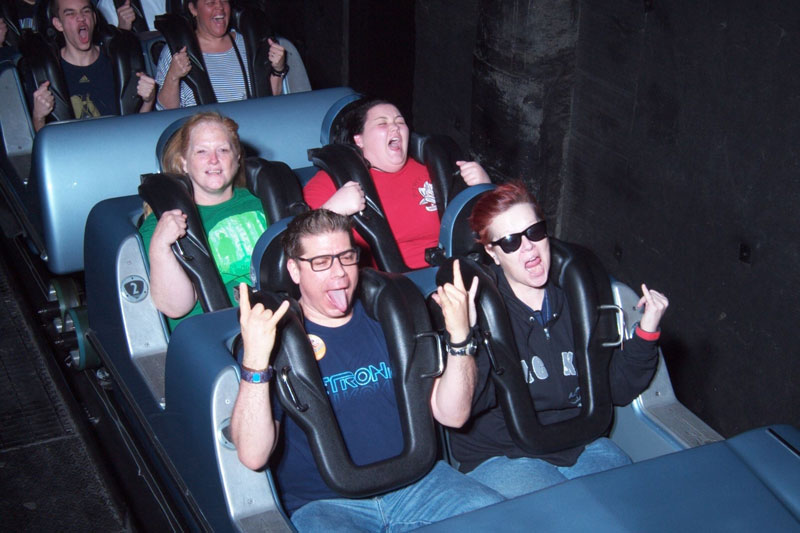 They are both great rides and honestly they are so close it was really hard to pick a winner. I would give the slight edge to Rockin' Roller Coaster for a few reasons. The Pre-Show is really good and the ride itself has some really great features. The 0-57 MPH launch, the loop and the great atmosphere of the ride. It really has fun with the story of the ride that you are flying down the freeway to the concert and there are lots of signs that you would see off of an L.A. freeway. And of course the awesome Aerosmith music during the ride. Space Mountain Disneyland is no slouch and nearly edged out Rockin' Roller Coaster with the Ghost Galaxy change over during Halloween.
There is a lot more attractions that I will be covering over time and comparing Disneyland Resort to Walt Disney World Resort in upcoming post on the blog. Make sure that you subscribe for email updates and follow us or Twitter and Facebook.