Well the fall TV season has started and a number of new shows are dropped on viewers. While I have not had a chance to sample every new show yet I am going to go over some of the ones that I have seen and share my thoughts on if they are worth keeping or a waste of space on your DVR.
Sleepy Hollow (Mondays 9pm FOX)
Sleepy Hallow was the first new show out of the gate and is from the same team that brought us Fringe. We are now in week 3 of the show and how is it faring? The pilot was an a bit above average and got the series off to a nice start. It was directed by Len Wiseman of the Underworld films. Here is the plot synopsis from FOX, Welcome to SLEEPY HOLLOW, the thrilling new mystery-adventure drama from co-creators/executive producers Alex Kurtzman and Roberto Orci (the "Star Trek" and "Transformers" franchises, "Fringe"). In this modern-day twist on Washington Irving's classic, ICHABOD CRANE (Tom Mison, "Salmon Fishing in the Yemen") is resurrected and pulled two and a half centuries through time to unravel a mystery that dates all the way back to the founding fathers. Revived alongside Ichabod is the infamous Headless Horseman who is on a murderous rampage in present-day Sleepy Hollow. Ichabod quickly realizes that stopping Headless is just the beginning, as the resurrected rider is but the first of the Four Horsemen of the Apocalypse and only one of the many formidable foes that Ichabod must face to protect not only Sleepy Hollow, but the world.
As Ichabod finds himself in 2013's Sleepy Hollow, he discovers a town he no longer recognizes and grapples to understand. Teaming up with Lt. ABBIE MILLS (Nicole Beharie, "42," "The Good Wife," "Shame"), a young cop who has her own supernatural experiences, the two embark on a mission to stop the evil that has awoken along with Ichabod and that now is seeping into this once-sleepy town.
The second episode was really so-so but the third episode got the show back on track. There is a lot of Fringe here for obvious reasons but so far it's not firing on all its cylinders quite yet. I'm not quite feeling too much of the mythology that should start to be there yet. The cast is good but I don't think that they have a rhythm or a chemistry yet.
Is it worth watching? So far yes. The third episode showed some promise but I hope that the mythology kicks in soon. I am willing to see where it will take me but still cautious. I'll give it to midseason to see where we stand.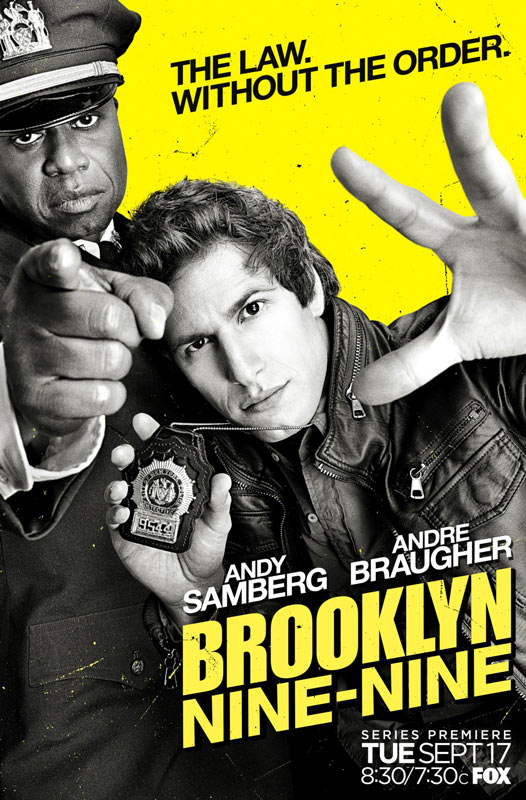 Brooklyn Nine-Nine (Tuesdays 8:30pm)
May critics were saying that this was the comedy of the fall season. Apparently they saw a different pilot than I did. The synopsis from FOX, From Emmy Award-winning writer/producers Dan Goor and Michael Schur ("Parks and Recreation"), and starring Emmy Award winners Andy Samberg ("Saturday Night Live") and Andre Braugher ("Men of a Certain Age," "Homicide: Life on the Street"), BROOKLYN NINE-NINE is a new single-camera ensemble comedy about what happens when a talented, but carefree, detective and his diverse group of colleagues get a new captain with a lot to prove. Detective JAKE PERALTA (Samberg) is gifted enough that he's never had to work too hard or follow the rules too closely. Perhaps because he has the best arrest record among his colleagues, he's been enabled – if not indulged – throughout his entire career. That is, until the precinct gets a new commanding officer, Captain RAY HOLT (Braugher).
Captain Holt believes in rules and regulations, two concepts that have long been overlooked by the detectives in the 99th precinct. Jake's colleagues are a brilliant and capable bunch, but lack a certain level of discipline and leadership. They compete with each other, annoy each other, gossip and flirt, but at the end of the day, they have each other's backs.
I did not laugh once during the entire pilot. It was like watching a bad SNL sketch that went on for 25 minutes. I get what they are trying to do with show like Barney Miller but that show was well written and acted. Brooklyn Nine-Nine is not even in the same universe. I was going to try the second episode but after talking with my brother who does not watch much television said he had the same reaction. Not Funny.
Is is worth watching? I admit that comedy is very hard to do, but you should start with being funny. This show is not funny. A waste of DVR space.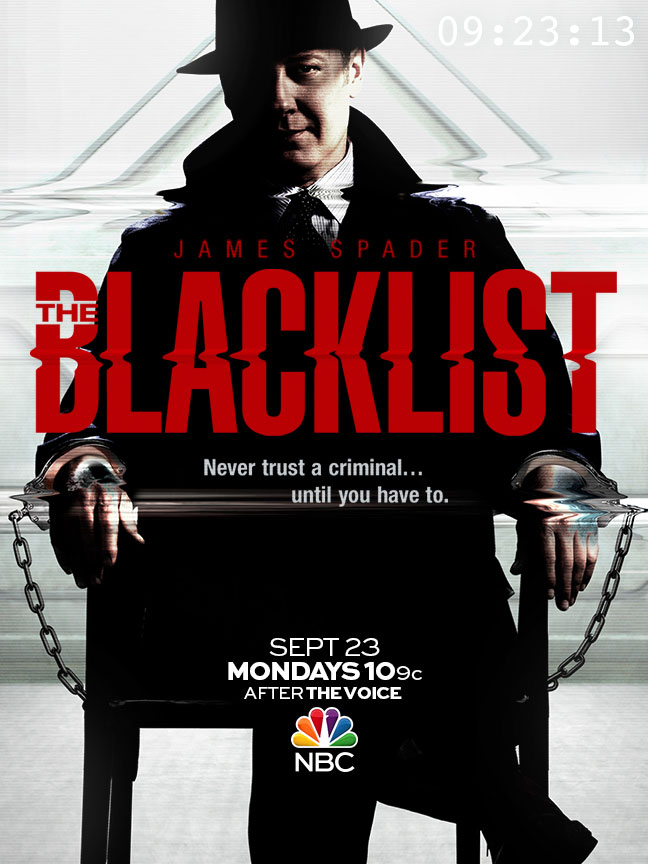 Blacklist (Mondays 10pm NBC)
This drama was the talk of the town with the critics and after seeing the pilot I understand why. The plot from NBC, For decades, ex-government agent Raymond "Red" Reddington (James Spader, "The Office," "Boston Legal") has been one of the FBI's most wanted fugitives. Brokering shadowy deals for criminals across the globe, Red was known by many as "The Concierge of Crime." Now, he's mysteriously surrendered to the FBI with an explosive offer: He will help catch a long-thought-dead terrorist, Ranko Zamani, under the condition that he speaks only to Elizabeth "Liz" Keen (Megan Boone, "Law & Order: Los Angeles"), a FBI profiler fresh out of Quantico. For Liz, it's going to be one hell of a first day on the job. What follows is a twisting series of events as the race to stop a terrorist begins. What are Red's true intentions? Why has he chosen Liz, a woman with whom he seemingly has no connection? Does Liz have secrets of her own? Zamani is only the first of many on a list that Red has compiled over the years: a "blacklist" of politicians, mobsters, spies and international terrorists. He will help catch them all… with the caveat that Liz continues to work as his partner. Red will teach Liz to think like a criminal to "see the bigger picture" – whether she wants to or not.
I was all over this pilot for one reason James Spader. He has been great for a long time, it has just taken awhile for most people to catch on to it. If you have not see Boston Legal then do yourself a favor go watch it and then you will see what I am talking about. The pilot while on the surface is a bit procedural the hook is the bigger picture that the show sets up in the pilot. There is a much bigger picture that is going on and there are bread crumbs in the pilot and the second episode that really intrigue me.
Is this show worth watching? Very much so. This pilot was very good and the second episode was really solid. Great cast and good writing make this show a real winner. This could be my favorite new show this year.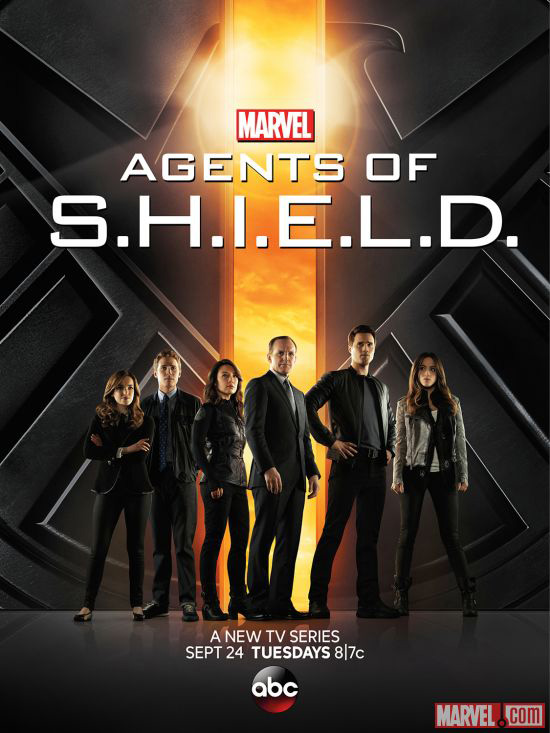 Marvel's Agents of S.H.I.E.L.D. (Tuesdays 8pm ABC)
Disney has a lot riding on this show. After paying 4 billion dollars for Marvel it is trying to get the payoff of that investment. While Marvel films have been big hits at the box office Disney need to start milking the golden cow in other areas. The plot synopsis from ABC, Clark Gregg reprises his role of Agent Phil Coulson from Marvel's feature films, as he assembles a small, highly select group of Agents from the worldwide law-enforcement organization known as S.H.I.E.L.D. Together they investigate the new, the strange, and the unknown across the globe, protecting the ordinary from the extraordinary. Coulson's team consists of Agent Grant Ward (Brett Dalton), highly trained in combat and espionage; Agent Melinda May (Ming-Na Wen), expert pilot and martial artist; Agent Leo Fritz (Iain De Caestecker), brilliant engineer; and Agent Jemma Simmons (Elizabeth Henstridge), genius bio-chemist. Joining them on their journey into mystery is new recruit and computer hacker, Skye (Chloe Bennet).
The show takes place after the events in the Avengers film. While there was a lot of buzz on the pilot I was really underwhelmed by it. It was just a so-so pilot. Everything that happened in the pilot was very by the numbers and exceptionally predictable. I had no expectations going into the pilot but with Joss Whedon directing the pilot and creatively at the helm I was hoping. It really fell flat. While it by no means was terrible it was very disappointing. I will give that the second episode was a bit better but, it really hasn't taken off for me. The two strongest things it's got going for it right now are Gregg and Ming-Na Wen. The dialog is very forced at times. While it's trying to balance the action and humor I don't think it's quite there yet. In the second episode there was one of the stupidest things I have seen in a long time. They blow a hole in the side of the plane and then they cover it with an inflatable rubber raft and it amazingly holds. OK I'm no physics major but that is flat-out ridiculous.
Is the show worth watching? Well the Marvel Zombies have shown up in droves and will continue to do so. Joss Whedon has done much better pilots than this. While not a bad show with the talent and money behind this show it needs to get better real soon. On the fence so far and hopefully it will land on its feet very soon. I just feel that its treading water right now.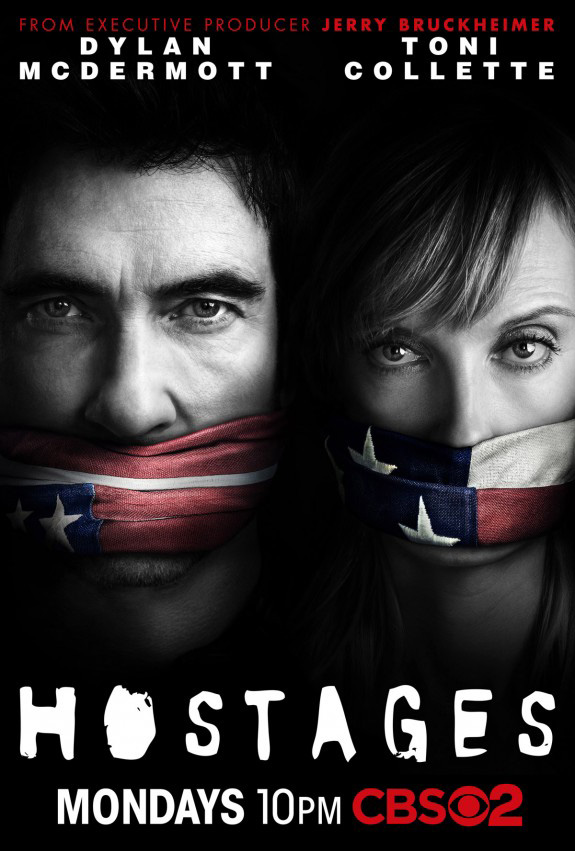 The Hostages (Mondays 10pm CBS)
Another high concept drama that got a decent amount of buzz in pilot season. The plot synopsis from CBS, HOSTAGES, from executive producer Jerry Bruckheimer, stars Emmy Award winner Toni Collette and Golden Globe Award winner Dylan McDermott in a high-octane suspense drama about Dr. Ellen Sanders, a premiere surgeon thrust into a chilling political conspiracy when her family is taken hostage by rogue FBI Agent Duncan Carlisle. Ellen and her family are held captive in their home by Carlisle, a desperate man doing the wrong thing for the right reasons, who orders her to assassinate the President when she operates on him. His highly skilled accomplices include his brother-in-law Kramer, whose loyalty to Carlisle will be tested; quick-tempered and intimidating Archer, an ex-military man with a razor-sharp tongue; and the only woman involved, Sandrine, a mysterious last-minute replacement to the team. With her family's life in peril, Ellen faces an incomprehensible moral dilemma in order to save her overbearing husband Brian, her secretive daughter Morgan and her not-so-innocent son Jake. In this high-stakes standoff between Ellen and Carlisle, fraught with tremendous national and personal consequences, the choices between right and wrong become even more blurred.
OK I will give that the pilot was above average. It has a really good cast with Toni Collett, Dylan McDermott, and Tate Donovan. The story was really great until the last 5 minutes of the show. Collett give the president a blood thinner and the surgery is postponed for two weeks. For me that is where the show really lost me. I understand that the show is only 15 episodes but do they really expect me to believe that no one will notice that this family is being held hostage for two weeks? No I'm not buying it.
Is this show worth watching. If it was a movie I would say yes but, the show lost me at the end. I just can't dispel disbelief for 14 more episodes. Sorry but I'm not going there.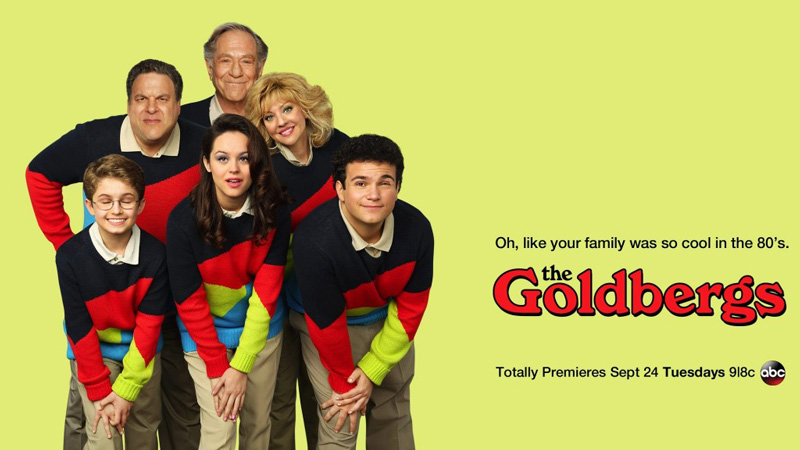 The Goldbergs (Tuesdays 9pm ABC)
At the last-minute I decided to record The Goldbergs and boy I am glad I did. The plot synopsis from ABC, Before there were parenting blogs, trophies for showing up, and peanut allergies, there was a simpler time called the '80s. For geeky 11-year old Adam (Sean Giambrone) these were his wonder years and he faced them armed with a video camera to capture all the crazy. The Goldbergs are a loving family like any other, just with a lot more yelling. Mom Beverly (Wendi McLendon-Covey) is a classic "smother;" an overbearing, overprotective matriarch who rules this brood with 100% authority and zero sense of boundaries. Dad Murray (Jeff Garlin) is gruff, hot-tempered and trying to parent without screaming. Sister Erica (Hayley Orrantia) is 17, hot, terrifying and not one to mess with. Barry (Troy Gentile) is 16, an overly emotional teen with severe middle child syndrome. Adam (Sam Giambrone) is the youngest, a camera-wielding future director who's crushing on an older woman. Rounding out the family is beloved grandfather Al "Pops" Solomon (George Segal), the wild man of the clan, a shameless Don Juan who's schooling Adam in the ways of love. When Pops buys a new sports car and offers his Caddy to middle child Barry, it's enough to drive this already high-strung family to the brink of chaos.
I know you are saying that the whole 80's flashback thing is all that this show is about. Well I almost didn't watch it for the same reason. The good news is that while yes there are many 80's references in the show that is far from what it's about. The great thing about the show is the characters. They are just a dysfunctional as almost all families are but that is the great thing about the show. You can relate to them. I guarantee that you know someone in your own family that is at lest like on of the characters on the show. The pilot was very good and truly funny. The second episode was very good also. I am very tough on comedy shows so I have to admit that this show so far seems to be a winner. Make sure that you watch the end credits that shows home video of creator Adam F. Goldberg's family. It's really funny and you see where the inspiration for the show came from.
Is this show worth watching? Yes. Solid pilot with a great premiss and solid cast. While on the surface it may seem like That 70's Show, the only thing in common with that is it's a period show. I was caught off guard by this one and glad I checked it out. Very recommended.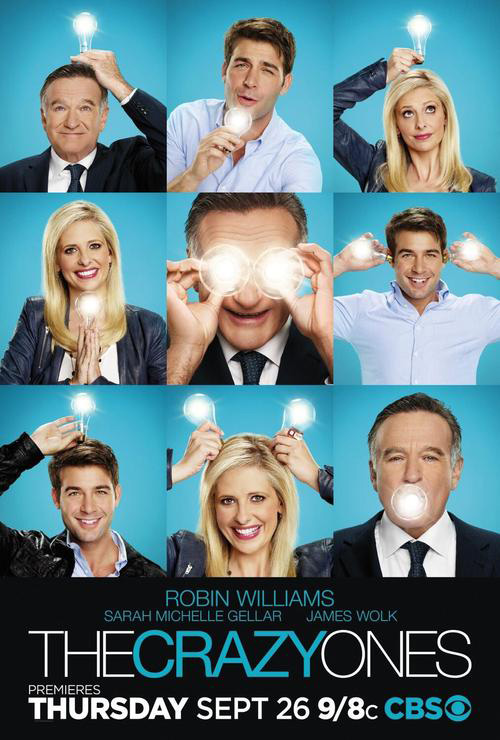 The Crazy Ones (Thursdays 9pm CBS)
Truth be told I'm not sure what to make of this pilot. The Plot synopsis from CBS,  Academy Award winner Robin Williams returns to series television in THE CRAZY ONES, a single-camera workplace comedy about a larger-than-life advertising genius whose unorthodox methods and unpredictable behavior would get him fired… if he weren't the boss. Simon Roberts is the head of a powerful agency, with the biggest clients and brands in the world, but even more important to him is having his daughter Sydney by his side. As his partner, Sydney is Simon's exact opposite – focused, organized and eager to make a name for herself, but also too busy parenting her father, which she'd resent if he wasn't so brilliant at what he does. Joining them in the firm are the dashing and talented Zach; art director Andrew, who's as hard-working as he is neurotic; and the beautiful and deceptively smart assistant Lauren. With his team and his daughter behind him, Simon continues to set the advertising world on fire, and it looks like they are definitely buying what these crazy ones are selling.
I am a big fan of David E. Kelley and he has created some really great shows (Boston Legal, The Practice, Harry's Law, LA Law, Alley McBeal) I am a bit lost on this pilot. The main draw is Robin Williams being Robin Williams but that will only take you so far. The first 5 minutes of the show was great with  Sarah Michelle Geller and Hamish Linklater getting kid to audition for a cookie commercial. Then it kind of falls off the rails after that. I was never quite sure of what to make of the show. Kelley has done Dramedy before with great success with Boston Legal. The problem with this one is it does neither very well. I will give it that it has a great cast.
Is it worth watching? I might give it a second try to hope that the pilot was pulled in too many directions and it will find it's tone and pacing very soon. The pilot was a bit of a mess. The only reason to give it a second chance is David E. Kelley otherwise it would have been a gone. It's on thin ice for sure.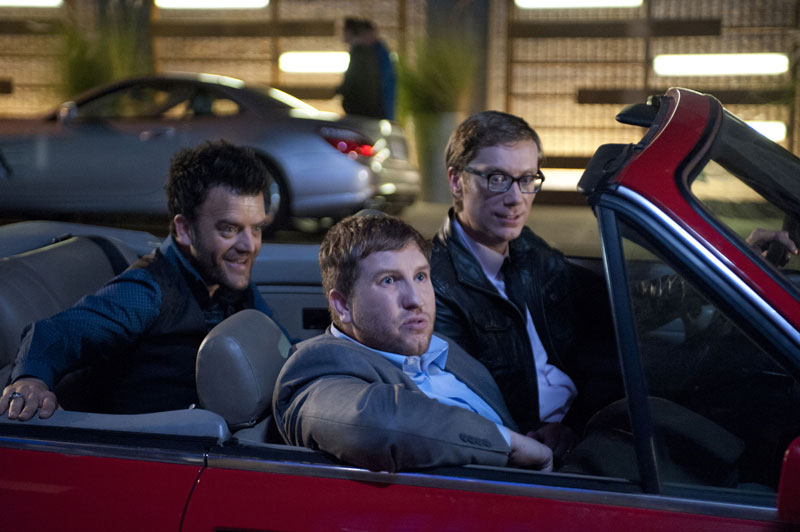 Hello Ladies Sundays 10:30pm HBO)
Stephen Merchant is one of the creators behind the great UK shows The Office and Extras. Now he co-created this new sitcom for HBO. The plot synopsis from HBO, In his first starring series role, Stephen Merchant portrays Stuart, a web designer who recently relocated to LA from England in hopes of finding excitement, romance, and maybe even a soul mate. Working out of his LA home, Stuart has an easy rapport with an attractive roommate named Jessica (Christine Woods), though it is clear she's not romantically interested in him. Half as charming as he thinks he is – and twice as desperate – Stuart is obsessed with infiltrating the glamorous world of beautiful people, and doggedly hits the LA social scene in the company of pals Wade (Nate Torrence), who's in the throes of a separation from his wife, and Kives (Kevin Weisman), a charismatic paraplegic who fares far better with the ladies than Stuart or Wade.
This is another home run for Merchant. There is a lot of funny stuff here and is super cringe worthy stuff that reminds me of Extras. The thing I loved about the show is that Merchant's character is so relatable that I guarantee that you have been in similar situations before. That is why it works so well because you have been there. Solid writing and a great cast make this another winner from HBO. While HBO has had more hits with dramas with comedies like this and Veep they are really striking comedy gold.
Is it worth watching. If you don't have HBO here is another great reason to get it. A really funny and hits very close to home that you will for sure cringe at a lot of the show. But that is what makes it so good. I just hope that they are able to keep the quality up but if Extras is any indication I think that it will be just fine.
There are a number of new show that I have missed along the way. I hope that this will help you find some shows that you might have missed and some that just missed the mark. There are some really good shows on television right now and it seems that they are outshining a lot of films from the studios right now. We might just be in a Golden Age of Television again. You always have good and bad but time will tell if any of this fall shows will survive.