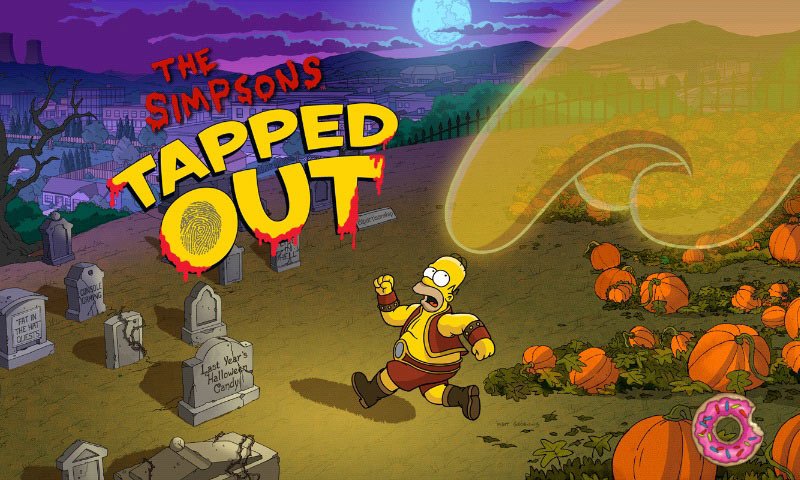 The Simpsons Tapped Out has been out for iPad and iPhone for sometime now and this is the second year that the game has celebrated Halloween. The game is a freemium type game in that yes it's free but if you want all the cool stuff you have to pay for it with in-game purchase of donuts that is used as premium currency. It's basically a sims type game where you give your characters task to do and build building etc. This years update adds a lot of new things to do compared to last years. EA has taken the theory that the whacking day update did a few months back but changed it so it's not as much of a pain in the butt.
The big change is to get as much goo as you possibly can then you really need to go to your friends town and tap their buildings and tap ghost to collect extra goo beyond the goo you find in your town. You can also place gremlins in friends towns and they will collect goo for you also. The more goo you collect the more special prizes that you can unlock. They have also added daily prizes with the Simpsons house attic so you want to make sure that you visit every day. There is also a community prize pool. If all of the players collect the target amount of goo all of the participating will collect the prizes.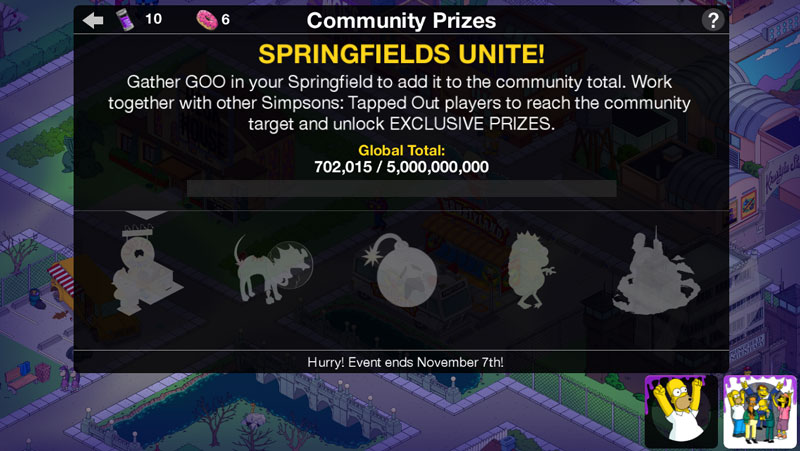 Of course some of the really cool items that help you get more goo and premium characters will cost you donuts and this is how EA makes money off the whole thing.
While the game is fun it seems that when these special events occur they are sometime very time-consuming. Usually you can get away with playing the game once or twice a day by having your characters  do 12 or 24 hours tasks. While you can visit your neighbors Simpsons cities only once a day that can really add up when you have the maximum amount of 99 friends. The game really shines on the retina display enabled iPad. While I have bought donuts I try to purchase them when EA has a sale that either cuts the price or you get an extra percentage more in quantity. If you are a fan of the Simpsons and are willing to put the time in on the game there are many great rewards to it. The most important thing to remember is that the donuts are real money and you should look at them that way and spend them wisely. I have gotten a lot enjoyment out of the game and while the special timed events do require you to put some extra effort into the game the payoff can be rewarding especially if you are trying to collect all of the bonus prizes.