Jackie Estrada
On Saturday afternoon at Meltdown comic was a celebration of Jackie Estrada's new book Comic Book People Volume 2. The first volume covers the 1970's and 1980's and the new book covers the 1990's. Jackie has been attending comic conventions for over 40 years and most of those at San Diego Comic Con. Over the years she has taken thousands of photos capturing some of the most legendary comic book talent in the comic industry.
There were a lot of special guest that appear in the book including Batton Lash, Wendy All, Randy Reynaldo, Bill Morrison, William O'Neill, Scott McCloud, Ivy Ratafia, Brinke Stevens, Wendy Pini, Mimi Pond, Carl Taylor, and many more came together to celebrate the book and celebrate the thing that  we all love so much comic books.
There were about 50 to 60 people of the course of the four-hour get together but it was a very nice intimate gathering that allowed everyone to spend time discussing and reminiscing about the good old days of Comic Con.
One of my favorite discussions was with Pini, All, and Stevens who talked about the convention back in the El Cortez Hotel days of San Diego Comic Con then known as Golden State Comic Con. They talked about how everyone discovered that they loved the same things and had a lot of good times. remembering about Pini dressing up as Red Sonja with full metal outfit. One of the things that I loved was that they love meeting fans just as much as we love meeting them. They told me great stories that really brought back memories of my first comic con in 1983.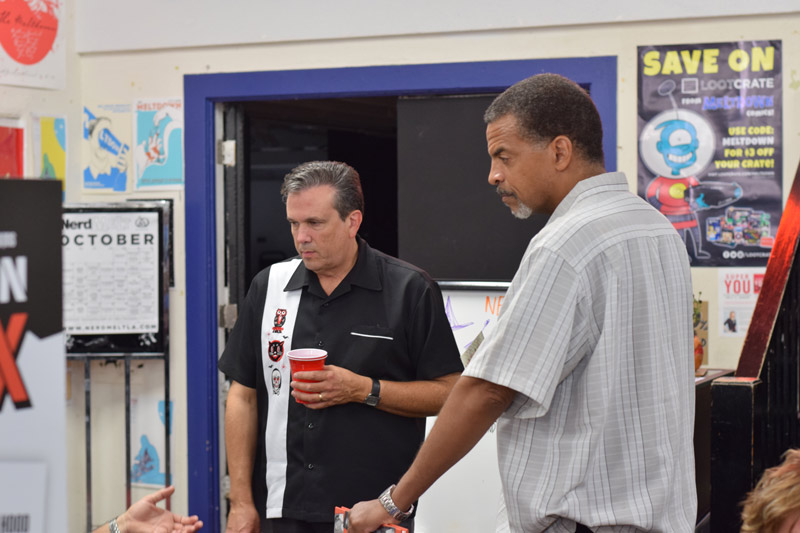 Bill Morrison (left)
Had a lot of fun talking to Bill Morrison about both his new book Dead Vengeance and the trails and tribulations on getting the book out, and also his work with Bongo on the Simpsons comics and one of my favorites his Roswell comic that he said might be coming back soon if everything works out with the rights on the book.
I got to meet some great new to me people like Randy Reynaldo who does Rob Hanes Adventures and we talked shop for quite a while and I picked up the book that looks like a lot of fun.
What can I say about Scott and his lovely wife Ivy. Ivy had a wonderful story about her daughters birth because she was due on the dates of that years SDCC and her daughter waited until after the convention to arrive at dinner with Neil Gaiman and Kurt Busiek. As always getting a chance to talk to Scott who nearly reinvented the comic medium with his ground breaking series Zot! and then Understanding Comics that is a must read for any serious comic collector. To be able to talk about comics with him is always a pleasure.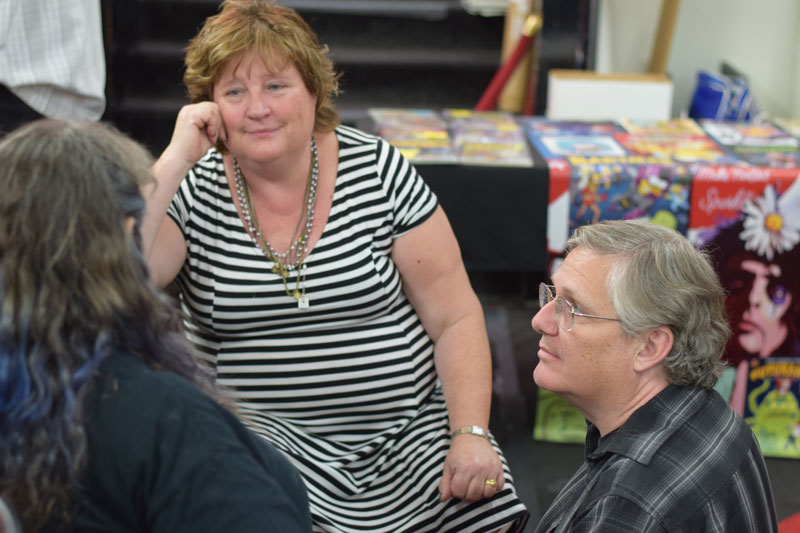 Scott McCloud (right), Ivy Ratafia (left) 
Of course getting to see both Jackie and Batton is always a welcome treat. Beyond that her two books are fantastic and Batton's Wolff and Byrd is a must read for both comic and classic monster fans, they are the two nicest people who you will ever meet. They also have great stories about both comics and tons of other interesting things.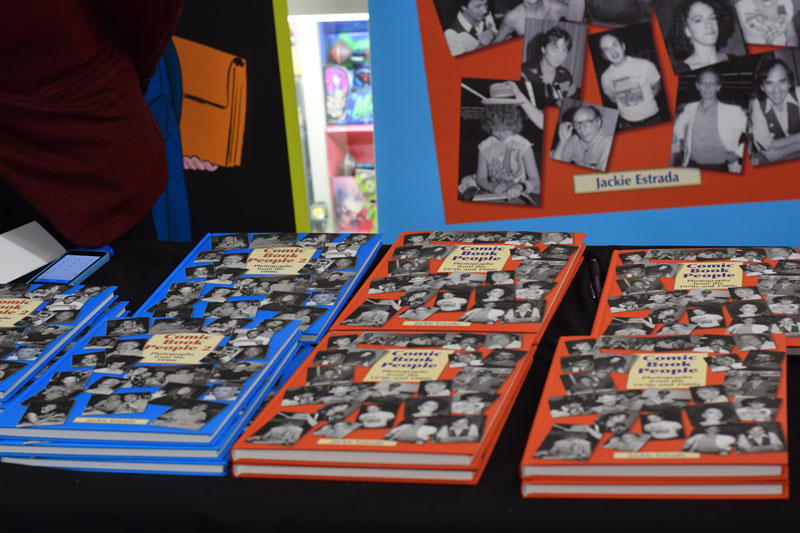 I have been to a lot of store signings but I must say that this was one of the best ones that I have ever been to. While a lot are just going through a long line to talk to people for a few seconds then be herded out. This a very loose and comfortable atmosphere. It really felt like hanging out in a friends living room and just talking about the things that we all love. Everyone was very gracious and loved signing the books and talking to us fans. It was not only a great event but gave me a chance to go down memory lane with others professionals and fans that I will not soon forget.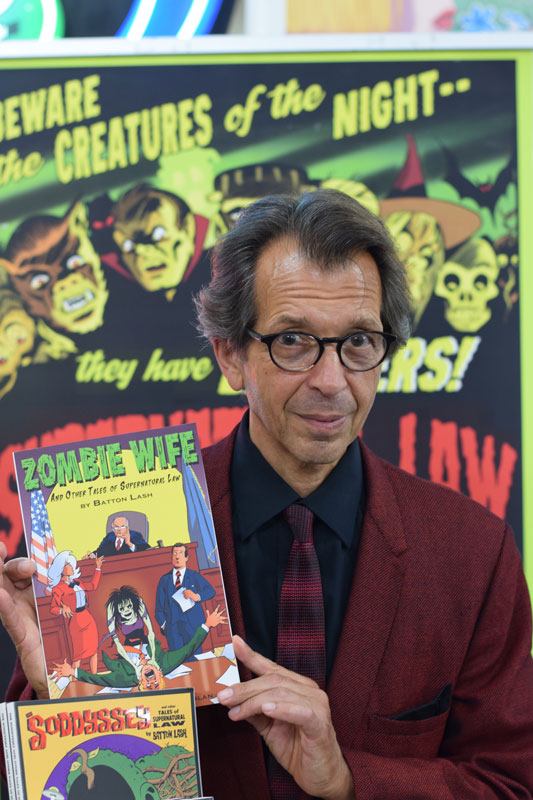 Batton Lash with his newest Wolff & Byrd collection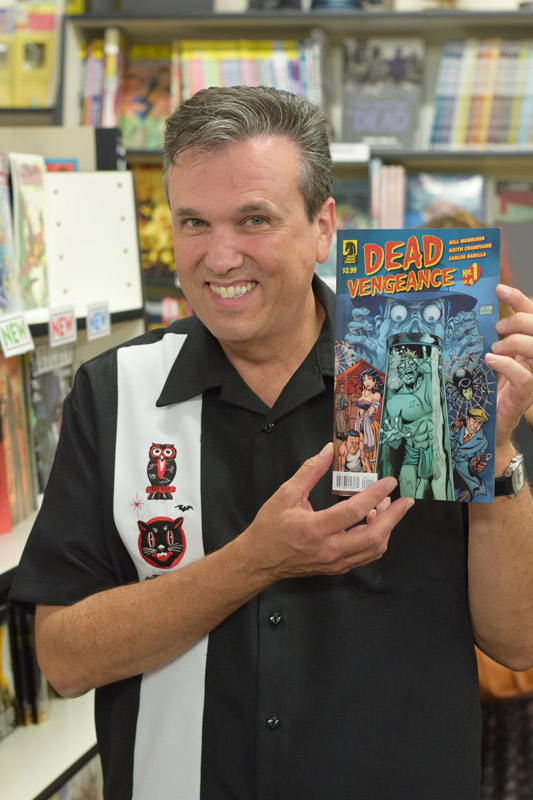 Bill Morrison with his hot new book Dead Vengeance from Dark Horse Comics
One of the best inkers in the business Joe Rubinstein 
Scott McCloud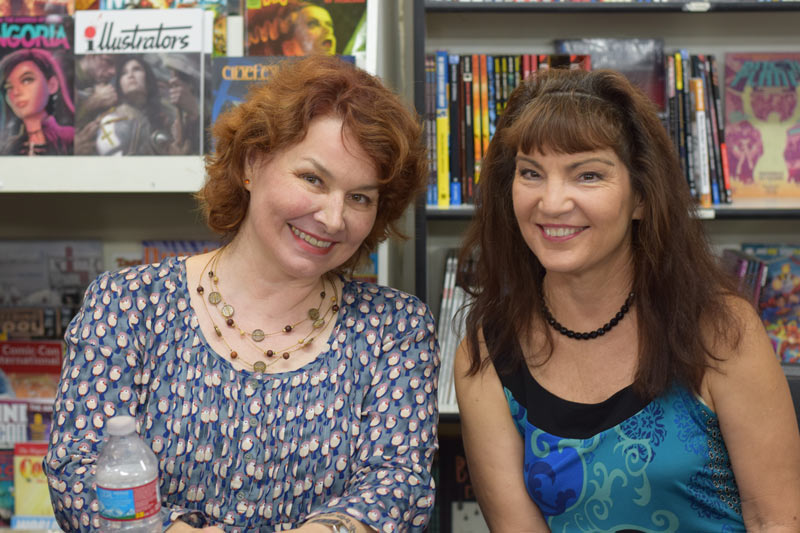 Wendy All (left) and Brinke Stevens (right)
Wendy Pini with her beautiful new book The Art of Elfquest
Randy Reynaldo
Scott McCloud
Batton Lash
Mimi Pond (left) and Scott McCloud (right)
Randy Reynaldo