A small week as always with a fifth week comic book schedule. DC wraps up their month long Jack Kirby Specials and a few others.
Darkseid Special #1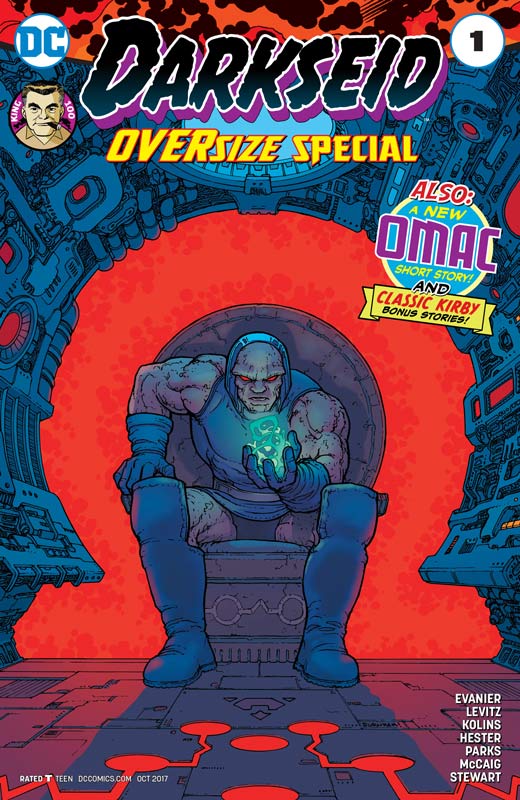 DC Comics Writer Mark Evanier, Artist Scott Kolins, Colorist Dave McCaig, Letterer Troy Peteri, Omac back-up Writers Paul Levitz & Phil Hester, Penciller Phil Hester, Inker Ande Parks, Colorist Dave Stewart, Letterer Todd Klein
The last two Kirby 100 specials from DC land this week to finish the month-long tribute to the King's 100 Birthday and ends on a great high note. Kirby created one of the greatest comic book villains of all time with Darkseid and whom better to tell this story than his assistant Evanier who worked with him and knows his Fourth World characters intimately. We all know that Darkseid is nearly unstoppable so Evanier has crafted a story where one of the only ways to beat him is to play a different game with him. He can't be beat with brute force so making him underestimate you is the way to fight him. Evanier unfolds the story very nicely here and does a great job of filling in new readers with both Darkseid and his lackeys. As with most self-contained stories you must have a strong beginning, middle and end that ties everything up in a nice bow at the end and he does it very well indeed. Kolins does a nice job on the art and captures all of the power of Kirby but makes it very much his own. The one thing that he does well here is capture both the scope of Apokolips and at the same time the desolation of both the cities and the survivors. But it's his capturing of the emotions in the story that are most impressive. The Omac back up story by Parks and Levitz does it's best to try to tell the basics of the character in six pages and they do a darn good job of squeezing story and action into a tiny and yet very satisfying package here. I have always been a big fan of Kirby Omac and they definitely show the power of him bing a one man army. This story is all too short but gives a great glimpse of the character and the world. Hester brings a great look to the story with his distinctive style that captures the great action that Kirby was so good at but very much keeps it in his own style that is wonderful for the story with his bold line work. As with the other specials there are some great Kirby short stories to round out the book.
Is this book worth your time and money? This is another win for DC and a nice tribute to Jack Kirby. The only complaint that I have with this one is that I wish that the Omac story was longer because it is such a tease of what Omac is and Levitz and Hester could have really expanded the story. Evanier and Kolins Darkseid story is pretty genus and not what you would expect and that is why it works so well. This book is a great primer for new readers and a nice little treat for longtime Kirby fans alike. A very easy RECOMMENDATION.
The Black Racer Special #1
DC Comics Writer Reginald Hudlin, Pencilers Denys Cowan & Ryan Benjamin, Inkers Bill Sienkiewicz & Richard Friend, Colorist Jeromy Cox, Letterer Janice Chiang
The final Kirby 100 Special from DC gives us the only full length story with a full 28 pages to tell its tail and Hudlin packs it to the brim with an amazing tale of both the Black Racer and Shilo Norman Mister Miracle. Hudlin really nails the story here with a compelling and touching tale that gives a great soul to a god. What makes this story so great is that he makes The Black Racer question his role in the universe as the angel of death and asks the simple question of why? While the story never quite answers the question, it does however lead you to believe that there is someone or something that is overseeing things. What Hudlin does here is presents story elements to give the reader things to think about on a deeper level and that is where he really taps into the spirit of Kirby. He also shows that Death may be inevitable but should not be necessarily considered a final event in life. The other nice touch to the story is how he weaves Omac into the story that adds great charms to the story and just as Kirby did make it feel very natural. The artwork by Cowan, Benjamin, Sienkiewicz, and Friend is truly spectacular and is a perfect blend of action, drama and heart that the story needs to work so well. There is so much in Hudlin's script that needed to be conveyed in the artwork and few artist could have delivered like this team did. With every line there is a sense of wonder and heart that is put into ever single panel that shows how comics can be great and powerful but also touching. This comic book is the perfect blend that you simply don't see that often.
Is this book worth your time and money. I simply can't think of a better book to end this loving tribute that DC has done for Jack Kirby's 100th Birthday. I do not want to say that this book is necessarily greater than the other five specials because they have all delivered great glimpses into the wonderful characters that Kirby created but this one is very powerful and for me really hit home what made Kirby such a great comic creator. It's filled with passion and that is what make Kirby's work so legendary. This continues his legacy and hopefully will continue to entertain and inspire other just as it did the creators of this wonderful book. HIGHEST RECOMMENDATION!
Generations: Hawkeye & Hawkeye #1
Marvel Comics Writer Kelly Thompson, Artist Stefano Raffaele, Colorist Digikore, Letterer JOe Sabino
Simply put Marvel Comics has been in a sad state for many years now and while there have been some bright spots they have been very few and far between. The new Hawkeye series by Thompson has been a real breath of fresh air and has been a very solid read so far. While most of the Generations books have not interested me so far, I hoped that she would pull off this book. While I did enjoy the book it was more like an annual type story instead of a good jumping on point for new readers. That is not to say that if you haven't been reading Thompson's Hawkeye run that you can't enjoy this book but, it's a pretty simple story that doesn't give a good taste of the stories that she is delivering very well in the regular book. This is basically a What If type story that is pleasant to read and delivers a fun little story but doesn't leave you with a hugely lasting impression but nor do I think that she is aiming for that either. What I do love about Thompson's writing is that she has a lot of fun with the characters and doesn't try to be over dramatic with the story and that is what make the book charming and fun. What she does here is keep it simple and that is what makes it work well as a single self standing story. It's all about the balance of story elements that she does so well in both the regular series and here. Raffaele delivers some nice artwork on the book and captures the fast and loose story that would keep any artist on their toes. He is able to balance all of the elements of the story quite well and it may not be overly flashy it works perfectly for the story here. The scene with Kate trying on Clint's mask was priceless and he really nailed it on that one.
Is this book worth your time and money? I don't want to sound like this is not a good book because it's a lot of fun and that is what Marvel needs now is good books like Thompson's Hawkeye run. She has really delivered a solid monthly Hawkeye book and this is a simply fun story that shows her skills off as a writer. I just don't know if it is compelling enough for new readers. I would hope that if they like this they would check out the regular series because it does give a good flavor of what the series is like. But are non regular comic readers going to pick up a Hawkeye comic that doesn't have the familiar movie character? There in lies the dilemma that Marvel struggles with now. I would hope that they would give a book like this a chance because it far superior to the majority of monthly Marvel Comics. If you're looking for a simple and fun story that is self-contained then give this book a try to if you like it, I highly recommend picking up the first trade of Thompson's first six issues.
Crosswind #3
Image Comics Writer Gail Simone, Artist Cat Staggs, Letterer Simon Bowland
Crosswind continues to impress with a nice unfolding of the story by Simone and Staggs. What I'm liking about the book is that Simone is unfolding the story at a nice pace that is letting the story breath at a nice natural pace. While the Juniper in Cason story has a deeper story elements unfolding its the Carson in Juniper that is where the fun is at. This issue I love the way that Cason is taking charge with Juniper and simply not taking anyone's crap and setting things right for her. While the Cason storyline is a pretty straight forward gangster drama, the flip side of Juniper is the real wildcard of the book. You never quite know what is going to happen with her/him and that is where the book really excites me is that who knew that being a housewife isn't all soap operas and bon bon's. On the flip side with her/him story I love that Juniper is using her natural skills to skip the shoot and ask questions later but actually try to figure things out. Sure on the surface it's a Freaky Friday premises but Simone and Staggs are really digging so much deeper with that concept than I would have thought you could do. Staggs artwork is where this book really shines. The level of detail that she puts into both the story and the characters is amazing and the levels of emotions that her artwork has is simply beautiful.
Is this book worth your time and money? Simone and Staggs have taken a pretty basic premise and given it a deeper story than I would have ever though possible. They are also not rushing things and that's not to say that the book is slow, far from it. It has a great and natural pace that is keeping me glued to this book and continue to look forward to the next issue. RECOMMENDED!