Well the final week of new comic books comes to a quite ending with the in-between Christmas and New Years super-duper light week with only a handful of comics to hit the stands this week and there are only two book to review this week.
Due to technical issues last weeks reviews were up on the site later than I would have liked. Here is a link to them. (Reviews 12/19/18)
Make sure that you check them out because there were some really strong comics last week and well worth checking out too.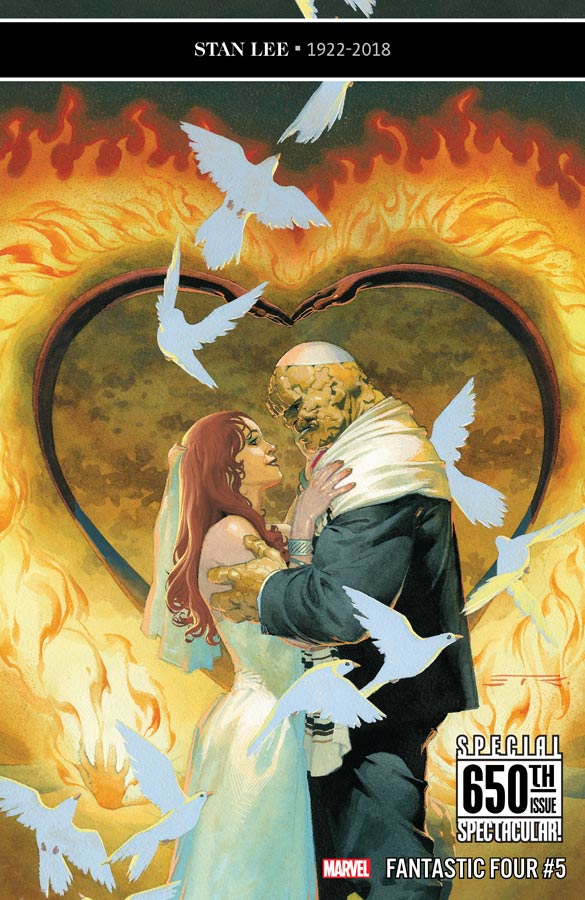 Fantastic Four #5 (#650)
Marvel Comics Writer Dan Slott, Artists Aaron Kuder/Michael Allred/Adam Hughes, Colorists Marte Gracia & Erick Arciniega/Laura Allred, Letterer Joe Caramagna
I love the Fantastic Four but was not very happy with the relaunch of the overpriced over stuffed but only half of the story in the first issue and never came back to read it after that. Honestly I was hesitant to even buy this issue even with only one other title that I bought this week but I have to say that Slott stepped up and delivered a special issue that was worth the eight buck cover price. Of course having Michael Allred and Adam Hughes draw two stories did push me to try it. The good news is that this story does stand on it's own pretty well and while there are story elements that hang from Reed, Sue, Franklin and Valeria lost in space it's not a big deal within this issue. The book is framed by Kuder's artwork that handles the setup for the wedding of Ben and Alicia then rolls into the first story with artwork from Allred and its' a sweet nostalgia fill ride that takes us back the to the beginning and the relationship between Sue and Ben in a story that mixes both original and new elements that flow together nicely. Allred was a perfect choice for this story considering his work on Silver Surfer with Slott they recapture the magic that they had on that book and squeezed it into a great story with heart and warmth. Then we the story take a complete 180º turn and Hughes joins the fun in the bachelor party by Johnny that is the classic all heel breaks loose when a bunch of heroes get together and while it doesn't break any new ground here, it sure was a hoot to read. The big win for this story was Adams gorgeous artwork. Slott puts Hughes cheeky art style to good use here with both female and male cheesecake that has its tongue firmly planted in its cheek the whole time. In the final story Kuder does a very nice job on the artwork and considering that he has to follow Allred and Hughes he really steps up pull off a nice job at the end. While the last chapter does a nice job on the wedding I was not as thrilled that it was in a way to set up the next issue and while I get that you're trying to get readers to stay on to the book, it just rubbed me a little of the wrong way but not enough to kill the whole thing. It's a minor nuisance but thankfully not fatal.
Is this book worth your time and money? For once a special anniversary comic from Marvel actually felt special. The key that the book works so well is that two things came together very well here. First Slott made the stories feel special and made sure that it didn't forget the history of the characters and the book. He hits the right mix of nostalgia, humor and current events into a very satisfying story. The other big win for this book is that they got some heavy hitters on the artwork side that was perfect. While Allred and Hughes are the heavy lifters I have to give Kuder that he stood up very well to these seasoned veterans. Slott wisely writes each story for each artist and that is the big reason that this book feels special because it doesn't feel forced as most anniversary books end up being. It's been quite a while since I felt that Marvel has pulled off an event comic but a tip of the hat to Slott, Allred, Hughes and Kuder have given a great reason to fall in love with the Fantastic Four all over again. HIGHLY RECOMMENDED!
Marvel Action: Avengers #1
IDW/Marvel Writer Matthew K. Manning, Artist Jon Sommariva, Colorist Protobunker, Letterer Christa Miesner
The second new all ages comics from IDW and Marvel Comics to get new readers both young and old to get comics without all of the continuity baggage of regular Marvel Comics and as with Spider-Man it does a nice job on the first issue. Now mind you that I and more seasoned comic book readers are not the intended audience for this book but for what it is it was a nice and good start for new readers. One thing that I really appreciated was that Manning wisely doesn't bog down the story with exposition but instead as new characters are introduced there is a baby synopsis under the panel that tells you a little about the characters. With a big cast to introduce here Manning does his best to set the story up and keeps it moving along nicely and balances action with drama as much as you can in this first chapter. The one thing that he does do is give you a decent reason to come back for the second issue with a nice cliffhanger at the end of this first issue. Another strong win for this book is Sommariva's artwork that is a nice mix of an animation look and a current "Marvel Style" that has a nice blend that is visually appealing to new readers. Keeping the artwork on a more simple style not only fits the story perfectly but is very inviting for younger readers that can find heavier styles not as appealing and Sommariva delivers on that spot on here.
Is this book worth your time and money? I may not be the target audience for this book but it does a lot right here on this first issue. Manning and Sommariva have made this book very inviting and wisely do not dumb it down to play to the younger audience that was a very smart choice here. They also make sure that the book is grounded in the comic book world because it would have been easy to mimic the movie look and feel but that is not what they are trying to do here. This book is meant to be a gateway book for fans of the Marvel films to read comics and on that level the book work quite well and is something you could give to both younger and adults and they could enjoy it as a fresh start.