It's going to be a short and sweet review this week. I have been super busy and just haven't had too much time to read to many books over the past few weeks. So two for this week and one from last week made the quick cut.
Protectors Inc. #1
Image Comics Writer J. Michael Straczynski,  Artist Gordon Purcell, Colorist Michael Atiyeh, Letterer Troy Peteri
Straczynski has been one of those writers that seems to write really good comics or really mediocre comics. Well lately with his new superhero books at Image have been a big bust. The plot synopsis from Image Comics is, Protectors, Inc.: Heroes in a world without super-powered bad guys. Heroes with corporate sponsors and far too polite rivalries and sporting franchises. Heroes without anything or anyone to fight…until one of them is murdered in ways that could only have been accomplished by someone with equal powers. Solving the mystery falls to Lieutenant Detective John Riley, an ordinary man whose investigation takes him into a strange and dangerous world light years beyond his abilities to understand and very likely far beyond his capacity to survive. The trail leads to a fifty-year-old secret that could threaten the very existence of Protectors, Inc., an impossible love affair, and a serial killer whose work is not yet finished. This books had a lot of the same problems that Sidekicks #1 had. I have read this story a million times and he really didn't bring anything new to the party. While the book is not terrible it was terribly boring. Hey let's have ordinary people get superpowers and then they will become celebrities. But let's have the first person who became a superhero mysteriously disappear. If I wanted to read ho-hum superhero books there are plenty of those from Marvel and DC every week. If you are going to do a superhero book outside the big two publishers then you really need to step up to the plate with something good. This is not the case. The artwork by Purcell is pretty stiff and suffers from being in a time warp. While the art is by no means bad it just feels as if I was seeing artwork from the late 1980's, not bad just really bland. There is an audio track that you can use your smart phone to download but I didn't bother because that would mean I would have to read the issue again and I really didn't want to go back and waste my time again.
Is this book worth your time and money? No! There are a ton of comics that come out every week and you really need to bring your A game to the table. I really don't know what Straczynski is trying to accomplish with these superhero books at Image. They are no better than average at best and you could spend your three bucks on a much better book on the stands. I doubt I will be joining Mr. Straczynski on anymore books soon. Once bitten, twice shy I say.
Alex + Ada #1
Image Comics Story and Art by Jonathan Luna, Story and Script by Sarah Vaughn
Well after Protector's #1 we have no where else to go but up. This book is the clear winner of the week. The plot synopsis from Image Comics is, From JONATHAN LUNA (GIRLS, THE SWORD, Spider-Woman, ULTRA) and SARAH VAUGHN (Sparkshooter) comes ALEX + ADA, a sci-fi drama set in the near future. The last thing in the world Alex wanted was an X5, the latest in realistic androids. But when Ada is dropped into his life, will Alex keep her? This book is simply fantastic. The story is what a first issue needs to be. Giving me just enough back story and characterization to get to know the main characters but leave me wanting more. And boy I can't wait for more. I almost don't know where to begin to how good this book is. It's a real slice of life type story but with just a dash of science fiction that really is intriguing. The thing I love is that we are all a little like Alex. We go through our daily lives and try to just go from day-to-day. And the interesting thing is what will he do with the change of having Ada in his life. His art fits the story like a glove. It's very simple yet very detailed at the same time. His layouts makes everything flow so well and the very nice use of subtle colors are really just fantastic. I am simply blown away buy this book.
Is this book worth your time and money? This could be my favorite new book of the whole year. Simple and sweet yet there is such a depth to the story that it just washes over you and then you are just caught up in it. This is what great storytelling in comics are. A great blend of the story and art. This is a book to watch. Highly Recommended! A true must read book of the year.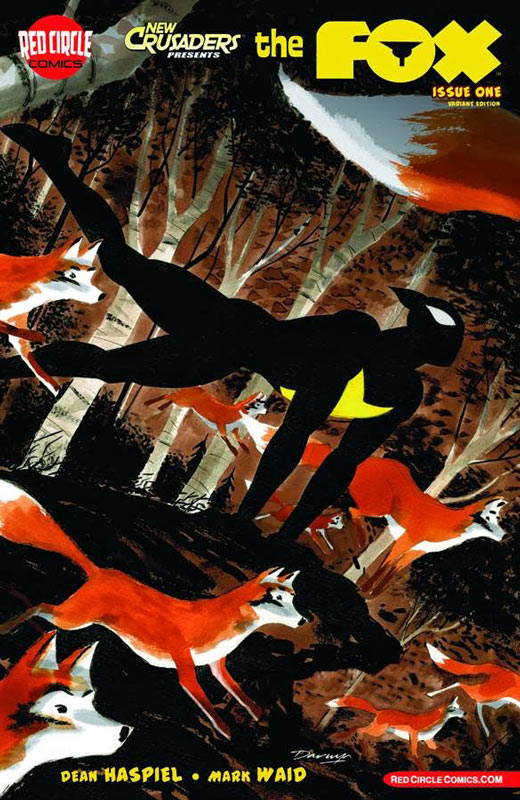 The Fox #1
Red Circle Comics (Archie Comics) Plot and Art by Dean Haspiel, Script Mark Waid, Colorist Allen Passalaqua, Letterer John Workman
Archie Comics is trying to revive its superhero characters agian. While I was not overwhelmed with their New Crusaders book, I was really looking forward to The Fox because I am a huge fan of Dean Haspiel's work. The plot synopsis from Red Circle Comics is, NEW RED CIRCLE SERIES! From the world of the New Crusaders, comes the FANTASTIC debut of the high-flying FOX! Emmy Award winning writer/artist Dean Haspiel (Billy Dogma, HBO's Bored to Death) and Eisner Award winning writer Mark Waid (Daredevil, Thrillbent) bring the legendary, pulp-style hero The Fox to life in "Freak Magnet, Part One: The True Face of MyFace"! When photojournalist Paul Patton, Jr. donned a super hero costume, he thought it would be a quick way to make some news—now the strange and unusual just can't help but be drawn to the freak-magnetism of the fabulous fighting FOX! While working on a puff-piece at the Red Circle Gazette, an evil truth about social media mogul Lucy Fur is discovered, bringing Paul face-to-face with a criminal kingpin! Get in on the ground floor with the hottest new fall series featuring art and story from the biggest names in comics today! Including variant cover art from Darwyn Cooke and Fiona Staples! Get freaky! While I am the first to admit that the story was simple and has been told before it was just such good fun. The irony is that while on the surface it shares a lot in common with Protectors Inc. the big difference is that Haspiel and Waid are having fun with the book. They are not trying to re invent the wheel here. I find that sometimes keeping a book simple and to the point is a lot better than trying to make an average idea into some epic/cosmic story that will fall flat on its face. Haspiel's art really captures a bygone era of good old fashion superhero fun. It's a nice throwback to artist like Alex Toth and C.C. Beck and a blend of Saturday morning animation that really makes the book shine. Haspiel and Waid have put the fun back in superheroes.
Is the books worth your time and money? There are so few books like this today that is great for all ages but not just made for kids. It's a great throwback to the gold/silver age of comics that is just fun. While this may not be everyone's cup of tea I really do recommend it. When is the last time you read a superhero book and had fun. It's sadly been too long but thankfully The Fox has come along to fix that problem.