This is one of the few weeks in recent history of these reviews that there were few #1 comics this week so it will allow for more reviews of current releases instead of just new books and that is a very welcomed sight. So let's get going shall we.
COMIC BOOK OF THE WEEK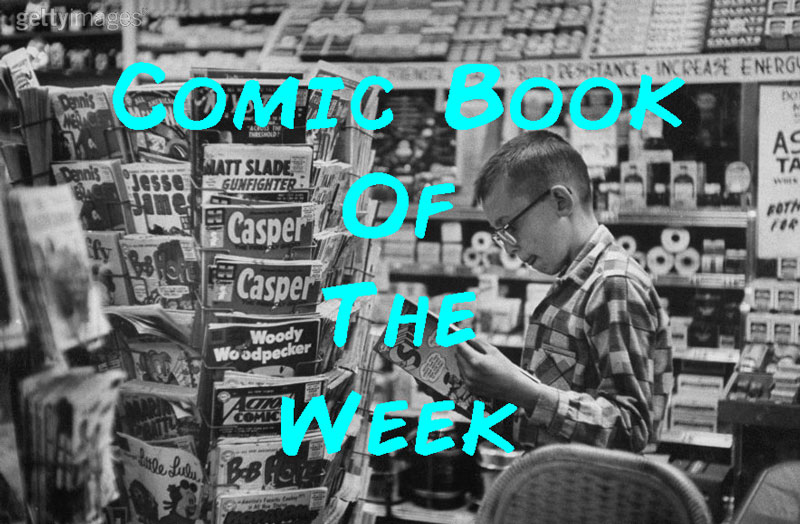 Swamp Thing #2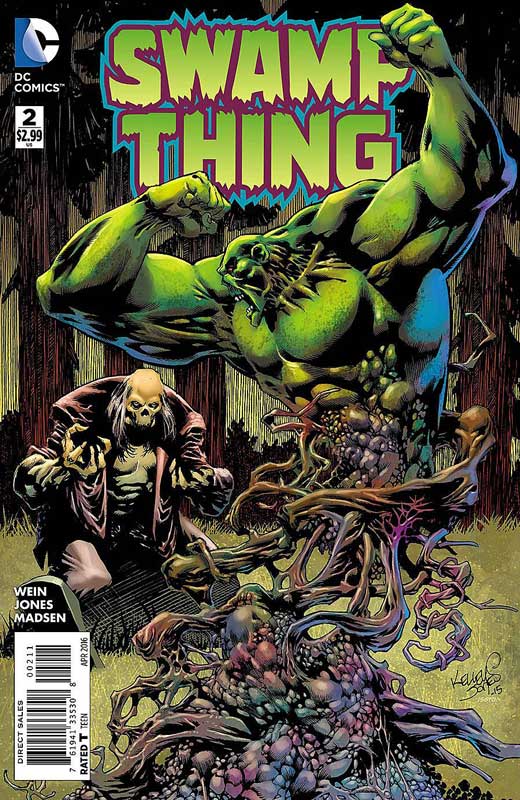 DC Comics Writer Len Wein, Artist Kelley Jones, Colorist Michelle Madsen, Letterer Rob Leigh
I can't think of another time where a single book has made the cut as the book of the week for the same title. Well leave it to the DC's revival of Swamp Thing by one of its original writer Wein and bring in artist extraordinaire Jones and have really captured lighting in a bottle here. Not only did the first issue leave readers with a great cliffhanger ending but they really kept the momentum going in this second issue. Wein literally has brought Swamp Thing back to its original 1970's roots with the script but brings it to the present audience without changing what made the characters so great in the first place. He wove horror, superhero, and mystery into a really great finish to the first story-line but adds some new great characters and elements to the stories going forward.  The one thing that I love about Wein's writing on the book is the great pacing of the story and the overall tone of the book. There are so many comics today that just don't get those elements in their scripts. This first story unfolds so naturally for the reader that it draws you into both the big and little elements to the story. He also ends the story before the final two pages to set up the next issue and that is such a lost element from comics today of leaving the reader wanting more yet not trying to totally shock them. What can I possibly say about Jones's artwork that I haven't gushed on about before, but I will try. First I must applaud him for his homage to original Swamp Thing artist Bernie Wrightson in the look of Swamp Thing but at the same time he makes it very much his own his own. Few artist understand how and when to do this and Jones has the talent to not only pull it off but put his own stamp of visual tone and mood to the book and make it all his own. The level of detail that he puts into the art is simply breathtaking. The opening splash page detail really gets the story off on the right foot from the cliffhanger and continues with it throughout the issue. So rarely today do you see artist that truly create mood in a book. Most just do the basics to get the job done but not Jones. Every panel is filled to the brim that not only brings Wein's script to life but make the reader take the time to not only read it but savor the visuals and leave you in awe after you are done. Is this book worth your time and money? DC has been getting a lot of flack lately and while not every book is a winner Swamp Thing puts nearly every other book at DC now to shame. The care and love that Wein and Jones along with colorist Madsen and letterer Leigh take the book to a level that most current comics only wish that they could achieve. Solid writing with amazing art make this a book to truly stand above the blandness and sameness of mainstream comics. They show what a great comic can and should be. I can not recommend this book enough for the sheer delight that I had in reading it and making it really difficult to wait a whole month for the next issue. It rarely gets better than this! HIGHEST RECOMMENDATION!
Spider-Man #1
Marvel Comics Writer Brian Michael Bendis, Artist Sara Pichelli, Inking Assist Gaetano Carlucci, Colorist Justin Ponsor, Letterer Cory Petit
I haven't read Spider-Man in a while and am unfamiliar with the Miles Morales version of him and after reading this I can't say that it's very different from the original Peter Parker version. Bendis script is pretty by the numbers here with a rehashing of basic Spider-Man tropes and not really adding anything new or interesting. While your reading the book that you have read this all before and quite frankly you have and I found it to be bland and boring. Even the big "shocking" cliffhanger wasn't that exciting and won't get me to come back for more. On the plus side Pichelli's art is nice but the lack of backgrounds at times was a bit frustrating. The job of the colorist is not to make backgrounds. I will give here that the facial expressions were quite good the majority of the time. Is this book worth your time and money? While there are going to be fans of this book I honestly wasn't impressed and as with most of the new and all different Marvel books that launched out of Secret Wars this is another misfire. Bendis has written better books than this and it feels like he phoned it in. Nice art but lacks some detail and backgrounds make this an average book at best. SKIP IT!
Mirror #1
Image Comics Written and Drawn by Emma Rose and Hwei Lim
I honestly don't know where to begin on this one. On the surface the book looked pretty good but the script is filled with such basic concepts of star-crossed lovers and basic fantasy tropes that is so haphazardly disjointed script that I have read recently. There is such little overall narrative to hold the "story" together that it's almost unreadable. It's like they had some story ideas and just threw them down without trying to connect any of it. I found reading this book difficult and frankly very boring. I could have cares less about any of the characters in the book and just hoping I could get to the end of the book without giving up. On the visual side of the book the art is pretty flat and the color work tries to overcome with garish color work that distracts from the overall look of the book. There is very little backgrounds (again, color is not a background) in the artwork and at times the art has some moments of bright spots but overall it's disappointing. Is this book worth your time and money? This was a real chore to get through and did not care for the book at all. The story was a mess and very disjointed the art was so-so and it just was a real train wreck. SKIP IT!
Batman Europa #4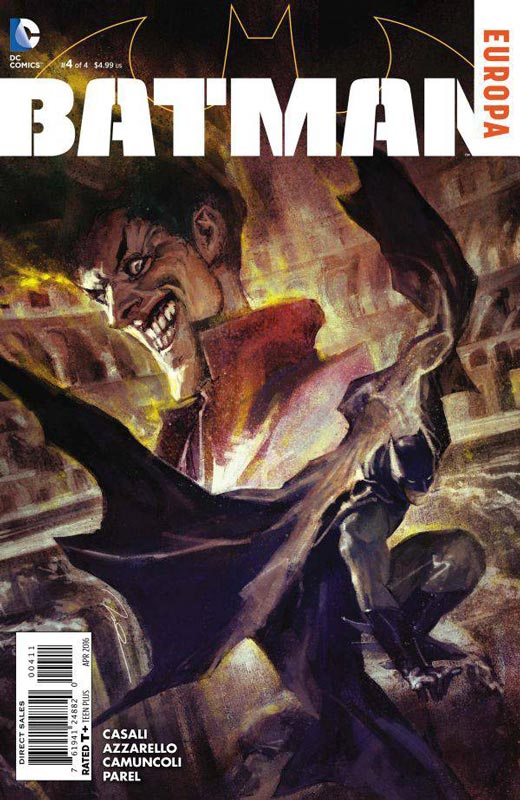 DC Comics Writers Matteo Casali and Brian Azzarello, Layouts Giuseppe Camuncoli, Artist Gerald Parel, Letterer Pat Brosseau
For a book that started off pretty well this mini series really ended in the very OK category. After reading this final issue it was like nice and all but pretty forgettable as a whole. When we finally find out who is behind the poisoning of Batman and the Joker it's pretty anti climactic and then just turns into a slug-fest with the villain. The whole story by Casali and Azzarello seemed to be really dragged out with these last two issues and the pacing was pretty dreadful overall with the story as a whole. It's a real shame that the book started off pretty strong and then just slowly fell off the rails by the end. The artwork by Parel is very good with a nice visual take on the Dark Knight. It's a very surreal looking book that he tries his best to make the story work on a visual level and he somewhat succeeds considering the weakness in the story. Is this book worth your time and money? The book took a sad and disappointing trajectory with the last two issues and while it wasn't the worst thing that I have read you would think with the long delay in the release of the book that it had been in better shape before the release but this was sadly not the case. Not one of the better batman stories. SKIP IT!
Paper Girls #5
Image Comics Writer Brian K. Vaughn, Artist Cliff Chiang, Colorist Matt Wilson, Letterer Jared K. Fletcher
This book has been quite the ride and the pieces of the puzzle are really starting to fall into place. Vaughn has crafted a well thought out story that as the series goes along the story is coming together quite nicely. The pacing of the story is quite nice and I am loving how all of the girls are starting to become a team and banding together with all of the strangeness going on in the town. Time travel stories can be a tricky proposition but Vaughn weaves it all together quite effortlessly and wisely doesn't use it as a crutch but as an important story element. Chiang's art continues to impress on the book. His style is perfectly suited for the story and brings a nice clean style that gives the book great visuals to go along with the great story. Is this book worth your time and money? The only gripe I have is that issue #6 is not coming out until June and there is a major cliffhanger at the end of this issue that is going to make the wait nearly unbearable. Strong story and great art make this a no-brianer book to buy. RECOMMENDED!
Klaus #3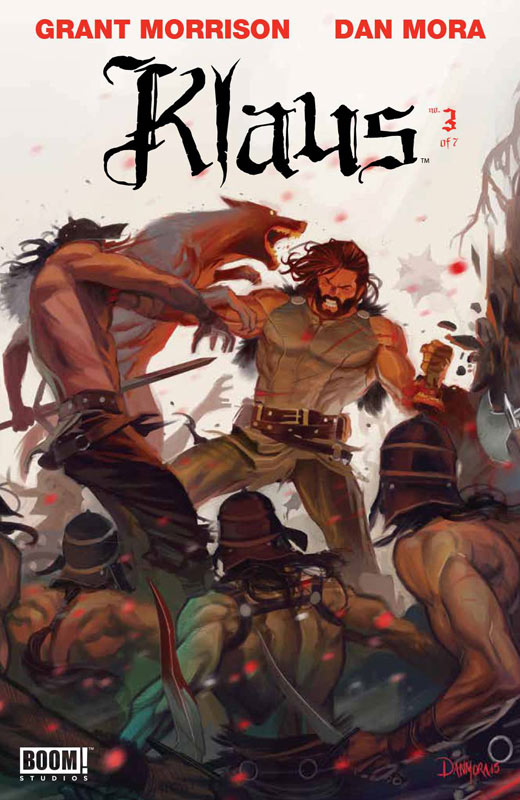 Boom! Studios Writer Grant Morrison, Artist Dan Mora, Letterer Ed Dukeshire
I am still loving this book but the third issue is a bit of a middle story that is not bad but doesn't excite as much as the previous two issues but works in the overall story just not a super exciting issue in some respects. Morrison does keep the story on track and there is still a lot to like here. This issues story adds more mystery to the book and there are more questions than answers in this issue. Morrison is a writer that is in it for the long haul and an overall story. That is why I'm not concerned with this issue by itself because it still moves the story forward nicely. Just not in the most overtly noticeable way. Mora's artwork continues to impress with his scope of the art is a real pleasure that makes the book a real joy to read. He really puts a lot of detail into the artwork and is giving the book a great feel and look that really complements Morrison's story. Is this book worth your time and money? While not the most exciting issue so far it does move the story forward and gives us more mystery to the series. Morrison and Mora are crafting a really interesting take on the Santa Clause mythology and I am still liking the book so far.
The Vision #4
Marvel Comics Writer Tom King, Artist Gabriel Hernandez Walta, Colorist Jordie Bellaire, Letterer Clayton Cowles
This book has really surprised me and is becoming the best new Marvel book in a long time. King has really came across a great concept for this book and each issue keeps building the momentum of the story and your never quite sure where he is going to go with the book and that is what I am loving about it. He really breaks the averageness that has really plagued the superhero genre lately and found a great angle to the genre. The best aspect of the book is how he the sentient  aspect of the Vision family is not going the way that The Vision had planned and yet he hasn't discovered the dark side of his wife and the kids. King does a great job at the morality aspects of the story that show the real gray area of human nature in a so-called perfect robot form that is supposed to be free of emotions and yet thing are not quite what they should be. These are very well thought out stories and King is really nailing the stories in this book. Walta is bringing a great style and look to this book and is really capturing the very subtle elements of King's script and bringing it all together. Is this book worth your time and money? With so many disappointing new Marvel books The Vision is a real standout of originality and shows what a superhero comic can be. King and Walta are creating a very exciting and bold book here that defies the conventional superhero genre and brings a fresh and exciting take on it. VERY RECOMMENDED!
Mystery Girl #3
Dark Horse Comics Writer Paul Tobin, Artist Alberto J. Alburquerque, Colorist Marissa Louise, Letterer Marshall Dillon
Mystery Girl has turn into a nice little series and Tobin and Alburquerque have a very interesting story going here. There is a lot of story elements that Tobin is juggling this issue and while I wish that some of the mystery was coming together a bit better by this issue, I am still intrigued by the concept and the story. I can see that he is going for an overall story and this issue is a transition issue that tends to be the case around the third and fourth issues of a series. I did like that while there are still the things that Trine can see but there are elements that she appears not to foresee and that brings up some interesting story elements. I really like Alburquerque's artwork and he does a nice job on the characters and their emotions. He is one of the reasons that the book is working so well. He puts a lot of detail into the art and it really pays off while your reading it. Is this book worth your time and money? I'm still liking the book but I do think that a lot is going to ride on the next issue. While I like the mystery the story is really going to need to start coming together soon. It's not a knock on the book but Tobin has to start giving the readers a solid direction to follow.
Batgirl #48
DC Comics Writers Cameron Stewart & Brenden Fletcher, Artist Babs Tarr, Colorists Serge Lapointe & Lee Loughridge, Letterer Steve Wands
Batgirl has been a pretty solid book and while I still enjoy it some of the freshness is starting to wear off a bit. Stewart and Fletcher's script is nice but it does seem like a lot of the stories are starting to blend together and become a bit to similar lately. It seems to have fallen into a rut that is starting to feel too similar in structure to and starting to become a little stale. I will give them that the team up with Black Canary does add a bit more excitement to this first part of the story. Having Barbra losing her memories is an interesting idea and hopefully could be a more long-term story and I am hoping that it's not just a quickie idea. While I think that the stories have been too similar this issues team up did help it feel more different. Tarr's artwork continues to grow and she is a much stronger and confident artists than when she started on the book. Her art is still refreshing and fun for a mainstream superhero book. I did really love her work on the luchadora scene in this issue it was a real visual treat. Is this book still worth your time and money? This issue is fun with the team up with Black Canary and while the book is still a fun read I hope that it does start to get out of a bit of a rut that it seems to have fallen in. Still better than most of DC regular superhero output now.