So this week there are four number 1 issues that hit your local comic book store. So lets see if any of them are worth keeping on your pull list for the future.
Unity #1
Valiant Comics Writer Matt Kindt, Artist Doug Braithwaite
Let me start off by saying that  have not read any of the Valiant titles from the new relaunch. Also a bit disturbing is that there are no creator credits beyond the names on the cover so I sadly have no way of crediting the colorist and the letterer for this book. The plot synopsis from Valiant is, UNITY #1 launches the most dangerous, most ruthless, most volatile team of heroes ever united against a foe unlike any other – X-O Manowar! To kill a king…he has created an army. The world's most dangerous man, Toyo Harada, has been struck by the one thing he never thought possible – fear. Halfway across the globe, a new power threatens to topple modern civilization and, to preempt the cataclysm that is to come, Harada will unite the most unforgiving team the world has ever known – UNITY. Their mission: defeat the threat responsible for the destruction of MI-6, the decimation of an alien world, and the occupation of Eastern Europe… Unseat the warrior king armed with the universe's most powerful weapon… Kill X-O Manowar! So I was hoping that this would be a good jumping on point for new readers because when a company does big events like this it hopefully will bring in new readers. Well sadly even with the inside front cover giving you a bit of the back story to help set it up, I still had no idea what the point of this story is. So I guess that X-O is a bad guy and Harada is going to get a group of heroes to stop him from invading other countries. Whoopee! The book suffers from a whole lot of who cares. Kindt's story is serviceable but really doesn't grab you. This is a lot of been there done that type of story. The only bright spot is Braithwaite's art that is really nice and helps what little story is there. The ultimate flaw is that it seems that you have had to read the previous Valiant Comics to get what is going on, and after reading this mess I think that I am glad that I haven't wasted my time in their books.
Is this book worth your time and money? If you are a regular Valiant reader this book could be the sliced bread of the universe for you. But for anyone who is picking up this book for the first time is going to be lost and very disappointed. I really was hoping that Valiant would try to get new readers onboard their books. This book is not going to convince anyone to pick any of their other books up. Skip this book.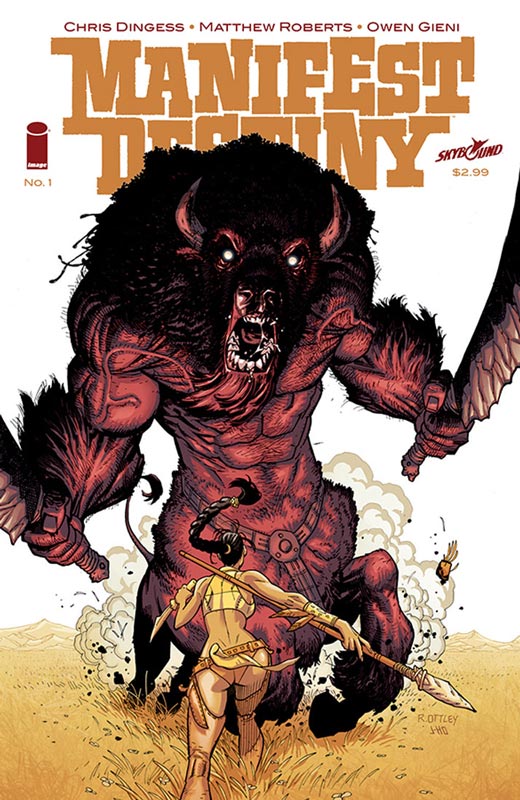 Manifest Destiny #1
Image Comics Writer Chris Dingess, Artist Matthew Roberts, Colorist Owen Gieni, Letterer Pat Brosseau
Who would have thought to take the Lewis and Clark story and take a dark spin with it. Well now we know. The plot synopsis from Image Comics is, In 1804, Captain Meriwether Lewis and Second Lieutenant William Clark set out on an expedition to explore the uncharted American frontier. This is the story of what they discovered lurking in the wilds… Skybound's newest original series unveils the monsters of the western frontier in the adventure of a lifetime by writer CHRIS DINGESS (Being Human) and up-and-coming artist MATTHEW ROBERTS. I really liked this book. It starts off with what appears to be a retelling of the familiar Lewis and Clark story but by the end of the issue you find out the true version of what their expedition is. Dingess sets up a really solid story in the first issue. He makes sure that not too much is given away but gives you a great taste of what is to come from the book. He nails the feel of the period and does a nice job of introducing the crew while moving the story along. Roberts artwork is just fantastic. The detail to the art is something that I haven't seen in a while. Great layouts and really nice backgrounds. He is able to capture the subtle facial expressions while also the vast scope of the expedition. The color work by Gieni really compliments the art and gives it really nice life.
Is this book worth your time and money? An exceptional first issue that really sets up a hopefully great journey. Solid story with stunning art makes this a really good read. The scope and mystery have me hook and can't wait for issue #2. Highly Recommended!
Umbral #1
Image Comics Writer Antony Johnston, Artist Christopher Mitten, Colorist John Rauch, Letterer Thomas Mauer
Umbral is a very unusual book now days. It's a throw back to fantasy books like Lord of the Rings and Elfquest that combine fantasy and large-scale epics with castles, magic, and monsters. The synopsis from Image Comics is, A NEW DARK FANTASY FROM THE CREATORS OF WASTELAND! The young thief called Rascal witnesses the horrific murder of the royal family — now the world's dark legends will be relived, and only Rascal even knows it's happening! Master worldbuilder ANTONY JOHNSTON (Dead Space, Daredevil) and his Wasteland co-creator CHRISTOPHER MITTEN (Batman, Criminal Macabre) bring you a new fantasy world rich in mythology, history, and blood! There is a lot to digest with Johnston's script in the first issue. While the first issue has a little focus issues, and what I mean by that is I felt sometimes the story got a bit ahead of itself. Not a knock on the book but there is a lot of set up in this first issue but your still not sure of what is going on. But you can also see that there is things in the story that will be revealed in later issues. Mitten's art really captures the mood of the story and is just wall to wall pack with detail. There were many times I almost had to step back because there is so much visual information to the art it can be overwhelming but in a very good way. Rauch's color work is really top-notch and adds a wonderful mood to the artwork.
Is this book worth your tim and money? While I was a little overwhelmed and underwhelmed at the same time by the first issue, I'm definitely looking forward to the second issue and see how the story will unfold. While the first issue was good I hope that they are able to pull the focus of the story a little tighter in future issues. A good start none the less.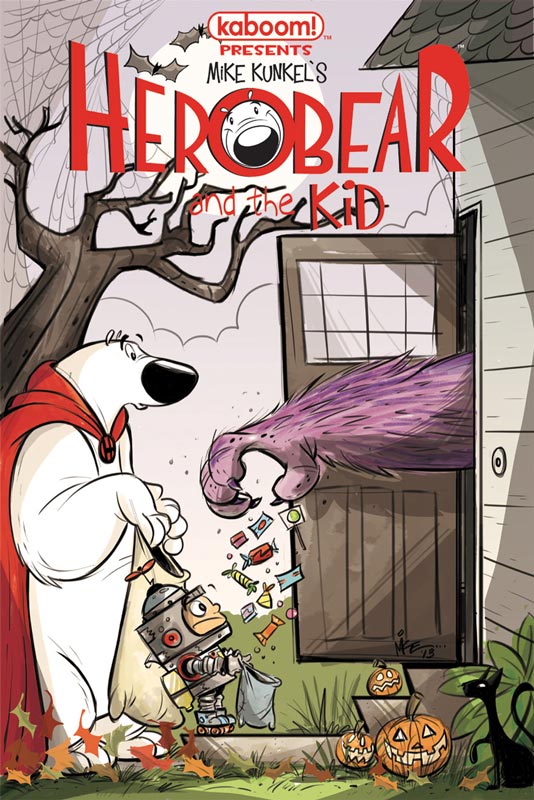 Herobear and the Kid 2013 Annual #1
Written and Illustrated by Mike Kunkel
This book was supposed to be out before Halloween but a printing error pushed the book to this week. And while we may have passed Halloween this book gets you right back in the spirit of the holiday. The plot synopsis from kaboom! is, It's Halloween…one of Tyler's favorite times of the year. Everyone loves to dress up, hang out with friends, and of course, the free candy. Tyler tries his best to do what all kids aim to do on Halloween and that's getting all the candy possible. Good thing he has Herobear to help him this year! I have loved this book for years and this is a brand new story. Reading this book really captures the joy of what it was like to be a kid at Halloween. Making a costume and going to strangers houses and asking for candy is becoming a thing of the past. Kunkel captures the feel of Halloween so well that it really just warms you up on the inside. There are even nods and winks to It's the Great Pumpkin Charlie Brown and Superman's Clark Kent. Using the Sweet Tooth monster in the story was pure genus to give the story a nice weight. Kunkel's artwork captures such a lost art of storytelling that is simple yet very detailed that is quite subtle at the same time. This book really put a smile on my face and one of the best all ages books out there. Simply put it will warm your heart while reading it.
Is this book worth your time and money? This is the book of the week for sure. It just captures so many feeling that you are just swept up in the whole thing. All ages books are a really tricky thing but Kunkel has truly mastered it. What price would you pay to relive your Halloween childhood? The cover price is $3.99 but for me it is truly priceless. My Highest Recommendation of the week.