X-Men Grand Design #1
Marvel Comics Writer and Artist Ed Piskor
I had never read Pisker's Hip-Hop Family Tree so I want into this book with an open mind and was really impressed by it. In simple terms it's a retelling of the origin of the X-men and mutants but Piskor adds so many new elements to the familiar story that makes is a very fresh take on the story. He adds so many new story elements that give the story a richer background than Lee and Kirby were unable to do in the original book. He builds on their foundation without trying to reinvent anything. The depth of detail that he infuses the story with is quite brilliant and gives the reader a very deep story that you never expected. One of the most impressive elements of the story is the emotions that he infuses the characters with and while we know them so well Piskor has found a way for the readers to see them in a very different light. While the story itself is amazing it's the artwork and the paper stock that really pull the whole book together. Piskor's art style has an underground look and feel to it that is very refreshing in a Marvel comic book today. In both his line work and his beautiful color styling gives this book a great gritty feel but a great visceral and emotional experience that simply blew me away with. This is masterful storytelling.
Is this book worth your time and money? I was not expecting this book and that made it that much more special. On the surface it may seem very simple but that is a big misnomer here. Piskor has written one of the best X-Men stories in years but at the same time its a great homage to Lee and Kirby's original stories. By giving the original stories a bigger and more personal scope it's like reading a story that you think you know but its nothing like you thought it would be. I love his artwork that gives it a great retro feel and look that is gorgeous and the paper stock on the book adds a great touch to the overall package. If you haven't read X-Men in years an are looking for some nostalgia then this is a must buy book and is HIGHLY RECOMMENDED!
Hellboy Krampusnacht #1
Dark Horse Comics Writer Mike Mignola, Artist Adam Hughes, Letterer Clem Robins
Who doesn't love Hellboy but some of my favorite stories are the one shots where Mignola teams up with different artists and this is the first time Hughes joins the party and it truly is a great Christmas treat for us. Not only is this a great done in one story but is perfectly timed to come out right before the holiday and is a beautiful and haunting Christmas story. As with any good Hellboy story there is a monster but this one plays on many Christmas legends and Mignola combines it with a great emotional heart at the same time. The one thing that I have always love about Hellboy and Mignola's writing is that he always keeps the emotional core of the story font and center and while this story is very bittersweet it does show that there is always hope within tragic stories. The other treat of this story is Hughes gorgeous artwork on the book and I dare say its some of his best work to date. While well-known for his good girl artwork, his work on this story shows that he is able to go to a much darker side that he rarely gets to explore and he really delivers the good on this story. The way that he is able to capture all of the varied emotions is wonderful and it's both horrifying and beautiful at the same time. His color work is very nice and gives the book some great tones that are at times lighter than an average Hellboy story and it works so well here.
Is this book worth your time and money? This is a great Christmas gift from Mignola and Hughes that delivers a short and sweet story that really gets you in the mode of the holidays in a very unique and very satisfying way. Great story with gorgeous artwork make this a bit winner this week and it HIGHLY RECOMMENDED!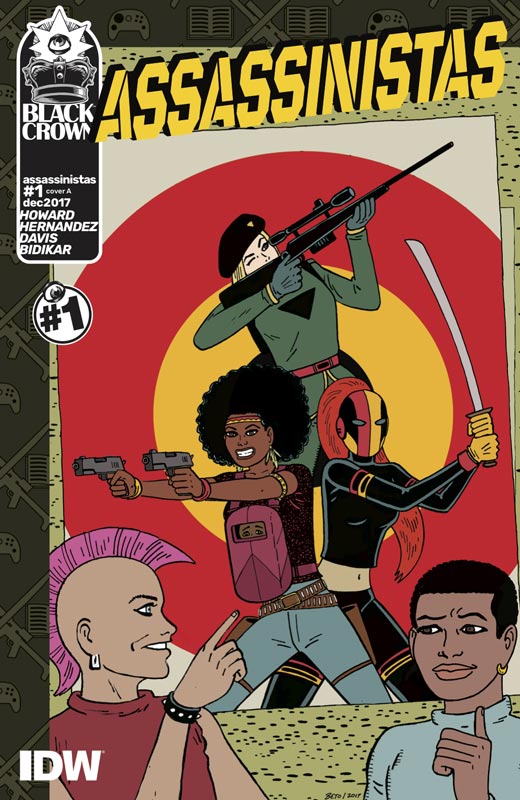 Assassinistas #1
Black Crown/IDW Writer Tini Howard, Artist Gilbert Hernandez, Colorist Rob Davis, Letterer Aditya Bidikar
At the Black Crown panel at SDCC this year one of the books that I was most looking forward to was Assassinistas because of course Gilbert Hernandez was drawing but the way that Howard described the book and her passion for the project was very evident and I'm glad to say that it did not disappoint. While this first issue is nearly all set up, Howard keeps things moving along at a very nice pace here and it never felt dragged down by the exposition. Howard does a very nice job here of mixing genres and balancing character development while making sure that there are lighter moments in the story that made for a very enjoyable read. The key to the book working is that she takes the time to let the readers get to know the characters so that by the end of this first issue you become emotionally invested and she gives you a great reason to come back for more. Getting Hernandez to draw this book is a dream for both Howard's script and readers alike. How do you praise one of the greatest artists of this generation. Hernandez defining Love and Rockets is seminal work and his gorgeous style is perfect for this book. His clean style perfectly captures the emotions of the characters and gives the story a fresh look and feel that I can't imagine any other artist being able to bring to this book. After reading this first issue, I can understand why he chose to draw this book and they are really the perfect team for it.
Is this book worth your time and money? I was very impressed with this first issue of Assassinistas and it shows a great deal of promise for the story. Howard introduces many good ideas here and gives you a good reason to come back for more. Having Hernandez's artwork make this book a must buy anyways but Howard rises to the challenge and delivers a story that is as good as his artwork. I really liked this book and cant wait to see where they take it. RECOMMENDED!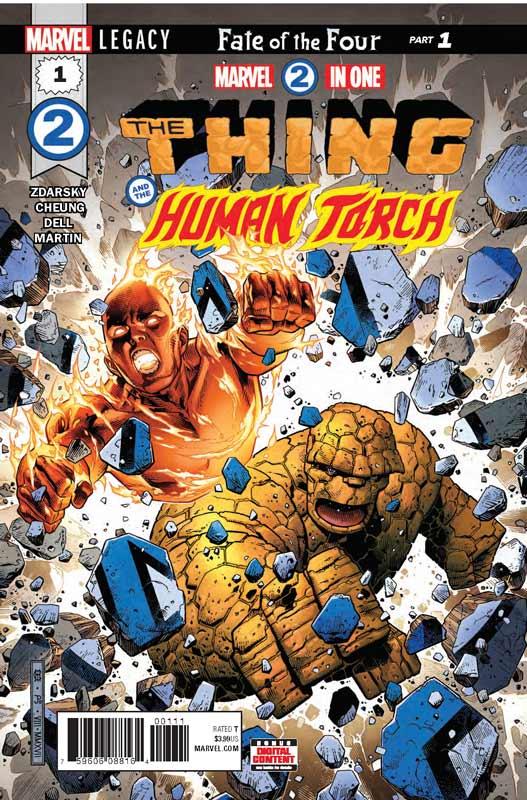 Marvel 2-In-One #1
Marvel Comics Writer Chip Zdarsky, Penciller Jim Cheung, Inkers John Dell with Walden Wong, Colorist Frank Martin, Letterer Joe Caramagna
I was a little hesitant on picking this up this week for two reasons. One Zdarsky's writing has been more miss than hit for me and honestly the Marvel Legacy has been pretty much a bust. One the flip side I was glad that at least two of the Fantastic Four were coming back after the editorial banishment of the characters. While the book didn't blow me away, I did however find it to be a pretty enjoyable read. I will give Zdarsky that he captures what we love about Ben and Johnny and gets to the book off on a good footing. He wisely gets new readers up to speed with what has happened to Sue and Reed and it will be interesting to see if they are actually really gone or not down the road. He also does a good job of capturing the emotions of both Ben and Johnny and where they go from here with just the two of them. On the flip side I will say that in some respects the story was a little by the numbers affairs at times and while this didn't kill the book I just hope that it doesn't fall into standard superhero fair in the long run. Cheung's artwork on the book adds greatly to the enjoyment of it because he puts a lot of detail into every panel of this book and it really pays off visually. This is one of the better looking books that Marvel has going now and made the book a real visual treat. One of the best things is that he is able to capture the little emotional elements of the story and delivers them perfectly.
Is this book worth your time and money? I did enjoy this first issue and while it shoes promise I just hope that Zdarsky will build upon the momentum of this first issue and not let it fall into standard superhero fare going forward. The big win for the book is Cheung's very well done artwork on the book that gave it a great visual punch. If you're a fan of the Fantastic Four then you should enjoy this book and hopefully they don't screw it up. So far this is off to a good start.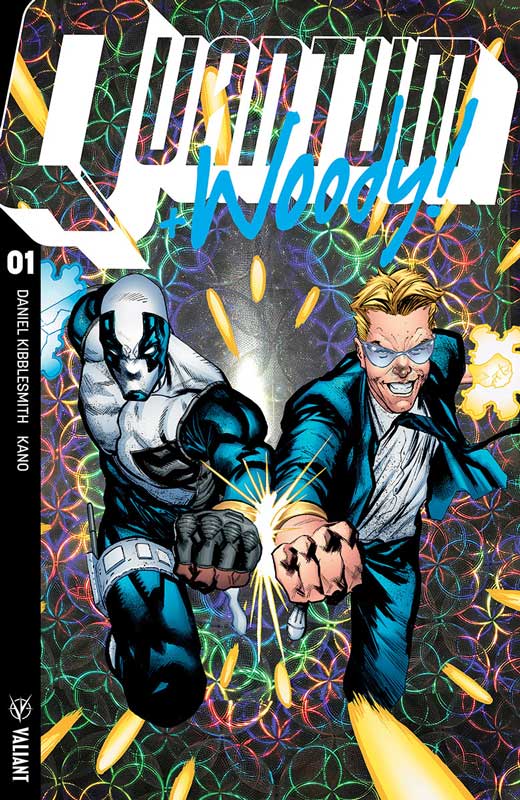 Quantum and Woody #1
Valiant Entertainment Writer Daniel Kibblesmith, Artist & Colorist Kano, Letterer Dave Sharpe
I've been a more casual reader of Valiant but I have to say that they are making great efforts to try to reach out to newer readers with their comics and not just to the converted. While Kibblesmith doesn't spend the first issue rehashing their origin, he does however give you just enough to get to know them and make this first issue fairly new reader friendly. He keeps this first issue pretty fast and loose with the story and captures the goofy humor of the characters quite well. The only complaint that I did have with the story was that there seemed to be a lot of back story that he uses for this story and there were times where I felt that I was missing out on elements of the story. I did like this first issue even with those minor issues and hopefully Kibblesmith will bring newer readers up to speed over the next few issues. Overall it was a breezy read that was a lot of fun. Having Kano as the artist was a huge plus for this book and he added a great visual style to the book with his bold layouts and attention to detail. There was a lot to take in with the script and Kano really helps the reader take it all in with his artwork and is a very nice looking book.
Is this book worth your time and money? I did enjoy this first issue and while there were a few times I did feel a tad lost with not knowing all of their back story, overall the book was a fun little read and shows some real promise. With really nice artwork make this a book worth checking out this week. It was goofy fun for sure.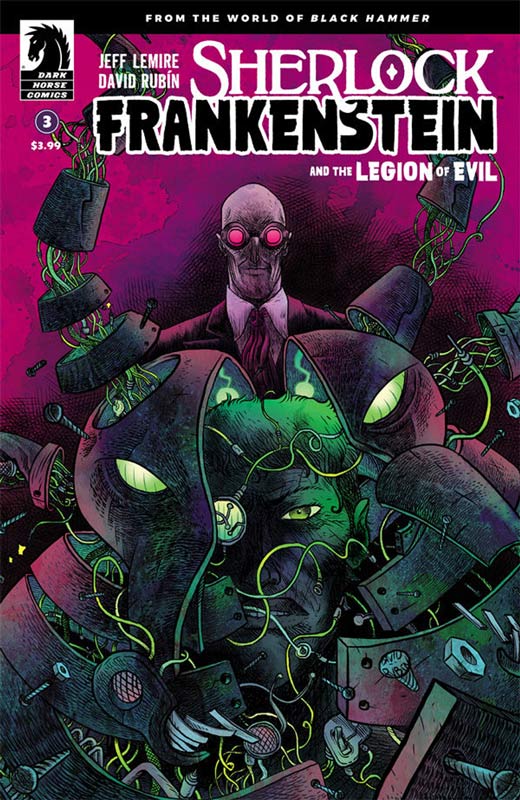 Sherlock Frankenstein and the Legion of Evil #3
Dark Horse Comics Writer Jeff Lemire, Artist/Colorist/Letterer David Rubin, Flats Kike J. Diaz
I have to give Lemire and Rubin that they continue to blow me away with this book. Each issue of this story keeps unfolding this great mystery with great twist and turns that both surprise and impress. I don't want to give anything away but when you find out the identity of The Metal Minotaur it will simply blow your mind! This is what I love about Lemire's stories for this and the regular Black Hammer series. It's not that he tries to shock you but the way that he comes up with surprises that impress is very hard in comics and he does it with this book on every single issue. It's the characters that drive this story so well and the emotions that really draw you into the story that makes this book such a page turner. We feel every emotion that Lucy feels in the story and you get so invested in the mystery because you want to solve it as much and she does. Lemire has a great knack for telling great superhero stories that are kind of not actually superhero stories and that is why they work so well. One of the other great pleasure of this mini series has been Rubin's artwork that simply dazzles the senses with every little detail that he squeezes into every nook and cranny in every panel. While the big epic scenes are great, it's the small dramatic moments fo the story that always impress me the most with his artwork. Not only is his line work impressive but his spot on eye with his color work is simply brilliant. He is not afraid to make bold color choices with his artwork and it works wonderfully well here.
Is this book worth your time and money? I can not praise this book enough. There are few superhero comics that give you so much more than the standard fare of 99% of them. Lemire and Rubin are simply firing on all cylinders with this book and simply keeps getting better and better each issue. Comics don't really get better than this one. HIGHEST RECOMMENDATION!
Batman #37
DC Comics Writer Tom King, Artist Clay Mann, Colorist Jordie Bellaire, Letterer Clayton Cowles
The story 78 years in the making and yes what we have all waited for a double date with Batman/Catwoman and Superman/Lois Lane at a superhero themed carnival. Yes King throws all the clichés and tropes he can into this story and yes it's as hokey as you think and that's why it's so perfect. I wont ruin any of the fun twists that he goes with the characters but I will say that I loved every moment of this story that was simply adorable as it was fun. I like that King is taking real chances with this book and doing these smaller stories has really turned this into a must read comic each issue. What makes this storyline so great is that he keeps it very simple and sweet and hits all of the fantasy fanboy elements spot on. The real win in the story is the Lois and Selena scenes that have such fun and rich dialog that was the real icing on the cake of this story. Mann has a real field day with the artwork with not only the carnival setting but with the superhero night theme allowed him to add some great nods and winks to the already brilliant script. This issue is a real testament to his artwork skills because it's mostly dialog scenes with not much action and he simply nails it perfectly. It doesn't get better than this.
Is this book worth your time and money? I haven't had this much fun with a Batman story in years. King make sure that it gets very close to the edge of being outrageous but never crosses it. He keeps it both simple and fun and that's why it works so well. Mann really delivers the goods with his spot on artwork that just brings this story to life perfectly. If you're not reading King's Batman then you're really missing out on this bold and fun story that is simply perfect in every way. HIGHLY RECOMMENDED