Justice League VS Suicide Squad #1
DC Comics Writer Joshua Williamson, Artist Jason Fabok, Colorist Alex Sinclair, Letterer Rob Leigh
The first crossover for the DC Rebirth line ends up being on the average side of things and seems to be aimed at the fans of the films instead of regular comic book readers. The biggest problem with the book is that the script by Williamson is a pretty by the numbers affair. It introduces all of the main players and gives them a thin plot point for them to be together and at the end of the issue they start to fight each other. The script is not terrible but it's not terribly good either. There are absolutely no surprises and with getting off to this marginal start doesn't bode well for the overall story for the next five issues (not counting the tie-in regular issues). Fabok turns in a nice job on the artwork for the book and does make the book very pleasant to look at but good art will only take a mediocre script so far.
Is this book worth your time and money? The problem with most "event crossovers" is that they tend to follow the same pattern and with a few rare exceptions are simple fan service affairs. While I never expected this book to be high art or anything, I had hoped that it would at least be above average. Sadly the book was a pretty bland and forgettable reading experience. If you're a fan of the movies and not a regular comic book reader then you will get more out of this than a regular comic reader that has read this story a million times before. For me there is no point in reading any further because of the by the numbers story. SKIP IT!
Dead Inside #1
Dark Horse Comics Writer John Arcudi, Artist Toni Fejzula, Colorist Andre May, Letterer Joe Sabino
It's been a while since Arcudi has written an original story (he has however been busy in the Hellboy universe) but the wait for his new series is well worth it. This is what a first issue of a series need to do and Arcudi gets it off to a great start. While there is a lot of exposition to this first issue, he keeps you not only interested in the story but sets up things that will want you to come back for the next issue. What really impressed me with this book is the pacing of the story. Even with all of the setting things up he gives the characters such a great set up but also make them work well within the story with great motivation. On the artwork side Fejzula's work on the book gives it a nice visual boost. While I couldn't quite shake the channeling of Kelly Jones and Bernie Wrightson along with EC horror in his artwork on the book and is a departure from his recent work on The Veil but he gives the story a great mood and tone that the story needed. While the style might be reminiscent of them he does have his own flavor within the art. I can see why Arcudi choose him for the book because he brings a perfect blend of inspiration but makes it all his own and it's a really nice looking comic.
Is this book worth your time and money? Great horror and mystery comics are a hard nut to crack but Arcudi and Fejzula have crafted a well thought out story that gives readers a solid first issue that will definitely bring you back for more. Strong characters and an intriguing premiss make this a must read book this week. VERY RECOMMENDED!
Slam! #2
Boom! Box Writer Pamela Ribon, Artist Veronica Fish, Colorist Brittany Peer, Letterer Jim Campbell
I was quite taken with the first issue of Slam and the second issue shows that it was no fluke. Ribon keeps the story moving along nicely and continues to develop both the story and the characters quite well. What I love about Ribon's story is how she delivers a great slice of life but also gives you a great sense of the roller derby world and those women who make it their second family. Ribon's makes sure that not everything works out the way you want them to but as long as you try your best things will fall into place either good or bad. It has a great point of inspiration for strong female characters that have been seriously lacking in the current comic book world. While the book is female centric it's very accessible to both genders and teen and up ages. I'm a big fan of Fish's artwork and her style really fits the story like a glove. She is able to capture all of the action and emotions with such ease that makes this book work so well. While there are a few times where I had wished there was a bit more in the backgrounds it thankfully never took me out of the story.
Is this book worth your time and money? I really enjoy this book and what I love about it is that Ribon and Fish keep it simple and sweet. They never try to oversell the story they simply keep directly on point and it's a real pleasure to read. With strong characters and solid story this is become a must read book and I'm excited to see where they take it. VERY RECOMMENDED!
Ether #2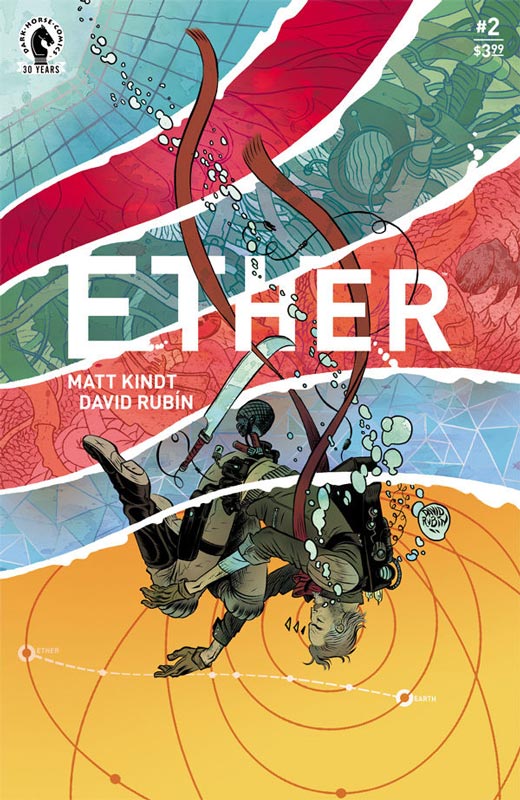 Dark Horse Comics Writer Matt Kindt, Artist and Letterer David Rubin
This book was quite the little surprise last month and this second issue keep the reader off-balance but that is a very good thing in this case. Kindt has built a lot of twist and turns in this book and while on the surface the story is a little slow that expected, you soon relies that there is a lot going on but you just have to let the story wash over you. There is a lot going on here and I like the slow burn approach to the book. There is a lot to take in and Kindt is revealing things in a different approach than most normal comics. He reveals a lot in the story with flashbacks that serve the story very nicely. By learning about the past he leads us down the path of figuring out the present. There are more questions than answers but that is the point of this book. Things are not always black and white and this book has a lot of grey area to it. Rubin really gives this book a great visual style that creates a feeling that you rarely see in comics today. It has a great European flavor to the artwork that sets it apart from the normal comic art. He gives the book a great sense of wonder and fascinating world.
Is this book worth your time and money? While the basic story here is not new Kindt and Rubin have taken some basic story tropes and given it a fresh look and feel. There is a lot to like here and they are unfolding an intriguing story that is well worth the journey for readers.
Cage! #3
Marvel Comics Writer and Penciller Genndy Tartakovsky, Inker Stephen DeStafano, Colorist Scott Willis, Letterer Clayton Cowles
This book is simply the greatest Marvel Comics movie ever made but in comic book form. What makes this book such a great pleasure to read is that it's fresh, bold and highly cinematic. Tartakovsky makes it all seem so effortlessly with both the story and the artwork that while each issue has been a short read it has such a richness that stays with you for a very long time. Quite honestly this is the best Marvel Comic in years. One of my favorite things about the book is that it's set in the 1970's and uses the era to create a world that is perfect for Cage and at the same time the story is very timeless. The bold animation style makes this book a real visual feast and the addition of the other cast Iron Fist, Ghost Rider, Brother Voodoo, Dazzler, Misty Knight, and Black Panther make this the ultimate trip back in time to the 1970's Marvel era.
Is this book worth your time and money? I had really high hope for this mini series and Tartakovsky has not only met those expectation but has far exceeded them with a book that is both of the 1970's but timeless. This comic book is a sheer delight. HIGHEST RECOMMENDATION!
Cave Carson Has A Cybernetic Eye #3
DC's Young Animal Writers Gerard Way & Jon Rivera, Artist Michael Avon Oeming, Colorist Nick Filardi, Letterer Clem Robins
While Way's Doom Patrol and Shade the Changing Girl has gotten the most press, I find that Cave Carson is the book to beat in the Young Animal line. While the other books try to recreate the Vertigo Comics heyday of the 1990's, Cave Carson is a throwback to the wonderful adventure DC Comics of the 1960's. It has that sense of science fiction/fact of the era along with monsters and mad scientists. While most current readers have never seen the comics of that era, Way and Rivera have created a book that pay homage to them but brings it into the modern era with a fun, smart and action filled comic that has been missing for far too long. The best part about the script is that it doesn't try to be more than it is. They keep the story very straight forward but have a lot of fun along the way. The other plus that the book has is the pacing of the story. It continues to unfold the story at a nice pace but keeping the mystery close to the vest without revealing things too soon. With Oeming's artwork this is also the best looking of the Young Animal books and that is no disrespect to the other three titles. He captures the feel of the 1960's science fiction with a sense of wonder and imagination that very few modern artist would be able to do. His line work and layouts for the book give it a unique and exciting look that is exciting and fresh and brings it all together.
Is this book worth your time and money? If you're not reading this wonderful book then your missing one of the most exciting comics currently out. What makes this book so great is that it's simply grounded and straight forward. It doesn't try to be more than it is that tends to sink a lot of books. Sometimes simpler is better and this book proves it. HIGHLY RECOMMENDED!
Animosity #4
Aftershock Comics Writer Marguerite Bennett, Artist Rafael De Latorre, Colorist Rob Schwager, Letterer Marshall Dillon
This book has been the big breakout title for Aftershock and this issue continues the story very nicely. While this issue is more of the middle part type of issue, meaning that it continues to move the story along but is not super exciting on its own. Bennett has crafted a great story idea here and this issue while not flashy it does keep the heart of the story going very well. This is a long-term book that will simply read even better in one volume but this issue you can see the subtle detail of the overall story momentum that has made this book so good to read. The only complaint that I have with the book is that each issue is all to short and leaves you wanting more and this issue is no exception. Latorre continues to impress with his artwork on the book. He continues to deliver the emotional impact of the story with both the human and animal characters that is an impressive feat. While his art may not be flashy it captures the impact of Bennett's script perfectly.
Is this book worth your time and money? This book continues to impress with its intriguing story and artwork. Bennett and Latorre are crafting an exciting book that does a great job of keeping the reader on their toes each issue.