A huge week of new comic books this week mostly due to Emerald City Comic Con that is taking place this weekend in Washington. Publishers tend to hold books back to coincide with big shows and we will see another big week at the end of this month for WonderCon in Anaheim. So let's get to it.
Royal City #1
Image Comics Writer/Artist Jeff Lemire, Letterer Steve Wands
Lemire has been quite the busy author and artist lately but he gets back to his sole creation roots with his new comic Royal City. I admit that bubbles up the o the I'm a huge fan of Lemire but more so on his own work than the books he does for the big two. At first glance you could say that Royal City is a slice of life book and while on the surface it is, there is a much deeper and profound story going on here. There is also a great mystery to Royal City that slowly bubbles up to the surface that gives the book it's great flavor. What Lemire always excels at it the fantastic characters and the world that he creates for them. He does such a great job of making the story entertaining with the huge amount of exposition that is crammed into this first issue and yet you never get bored with it. Lemire's script has such a grand and natural flow that makes it a surprising page turner that you would not normally expect in a book like this and by the end you are hooked. Again I am a fan of not only his storytelling but also his artwork. While on the surface it might seem simple and crude, it is really so much more. I find his artwork to be both personal and inviting. I love his line work that gives his books a real personal look that gets to the heart of the story and gives the readers a comic that you simply do not just read and look at the artwork. It's a book that really washes over you and leaves you wanting more.
Is this book worth your time and money. This is a rare comic book that not only is personal to Lemire, it invites you in to this world and makes you care and want to find out all of the big and little elements of the small town or Royal City. Sure a lot of mainstream comic readers are not going to "get" this book and that is where the problem of growth in the comic book industry. It's books like Royal City that should be selling to the masses because it's a book that delivers a compelling story while you are reading it but also sticks with you after you are finished. Not may comics today can deliver that. This is a must read comic and a book to watch this year. HIGHEST RECOMMENDATION!
America #1
Marvel Comics Writer Gabby Rivera, Penciller Joe Quinones, Inkers Joe Rivera & Paolo Rivera, Colorist Jose Villarrubia, Letterer Travis Lanham
I will give Marvel Comics props for trying to build on it's sucessful female staring comics such as Ms. Marvel, Unbeatable Squirrel Girl, and the new Hawkeye but as with most successes there are disappointments and America is sadly another misfire. This is a book that I really wanted to work because of it being a book starring and written by a woman and adding more diverse superhero characters to the shelves. Unfotuantly the book is simply not that good and quite boring. Rivera script it flat and disjointed and some of the dialog is pretty bad. The biggest problem with the script is that you really don't care about either America or for that fact anyone else in the story. I am all for more LGBTQ characters and voices in comics but the fact that America is gay seems really slapped on here and didn't really add much to the story. I get that DC hasn't really done much better lately with any LGBTQ characters either. The biggest problem with the script is that it's riddles with clichés and standard superhero tropes that is not going to impress non comic book readers to the fold. Quinones's artwork is a little to flat and basic here and there were far too many times where there were no backgrounds, and no color is not a background. Visually the book doesn't really inspire nor impress and doesn't add much to the lifeless script.
Is this book worth your time and money? The book is not a train wreck but it's not very good either. Rivera's script really sinks this book with both a lack of story and weak dialog. Quinones's artwork is basic and average here and he really seemed to phone the whole thing in. I'm all for more diversity in comics but books like this are not helping things at all. SKIP IT!
Brave Chef Brianna #1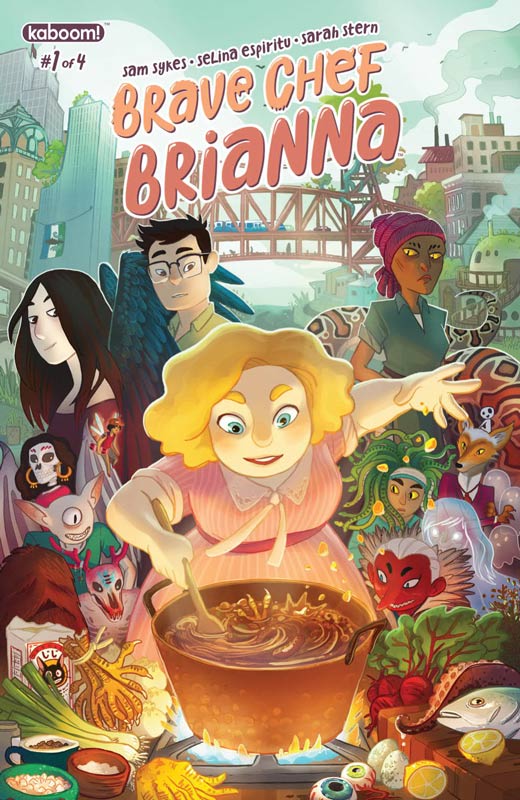 kaboom! Writer Sam Sykes, Artist Selina Espiritu, Colorist Sarah Stern, Letterer Jim Campbell
Brave Chef Brianna is one of those all ages books that shows a lot of promise but never really quite takes off as much as you would like it too. I will give Sykes script points for taking a fairly standard concept and at least giving it a nice spin. The first issue is a little on the heavy exposition and not a lot really happens but it's a pleasant read overall. I wish that Sykes had found a bit better hook in this first issue to give a more compelling characters a better first impression. Espiritu's art is pleasant and has a bit of a storybook quality to it that does complement the story well. I will say that she does a nice job on the facial emotions of the characters that really helped the book. The only real complaint that I had was that the cover art by Bridget Underwood is a little more spectacular than the book itself. I felt it to be like the amazing paperback pulp novels that had better covers than the actual inside story.
Is this book worth your time and money? This might be a book that is better suited for a little bit younger readers say 9-12 year range might get a bit more out of it than I did. It's by no means a bad book but for the more seasoned readers there is not much that will amaze you here. If you're looking for a decent all ages book that will appeal a bit more towards the younger female readers then you might want to give them this book. If you looking for an all ages book with a little more weight to it, your bound to be a bit disappointed.
Riverdale One-Shot
Archie Comics Writers Brian E. Paterson/Britta Lundin/James Dewille/Will Ewing, Artists Elliot Fernandez/Jim Towe/Thomas Pitilli/Alitha Martinez, Colorists Thomas Chu/Glenn Whitmore/Andre Szymanowicz/Szymanowicz with Chu, Letterers John Workman/Janice Chiang
The most important thing in buying this book is that you must have seen the CW Television series Riverdale to understand what this book is about. This one shot has four short stories about Archie, Betty, Veronica and Jughead that are prequels to the pilot episode of Riverdale. Each of the stories give a nice little back story to the story elements that are unfolding in the show. While it was nice to read each of the main characters back story that had been talked about in the show none of the individual stories were super amazing. The two best ones were the Veronica by Dewille & Pitilli the other was Jughead by Ewing and Martinez. They both did a bit better job of telling the back story while fleshing out the story elements that lead up to the pilot. The Jughead was the only story that filled in some of the missing story elements from the pilot. I'm a huge fan of the television series and the new versions of the Archie comics but this one shot book ends up being a so-so read. Both the stories and the art are good on all of the individual stories but, in the end there is not a lot of story that we didn't already know. On the artwork side all of the artist do a good job on their respective stories but there are no amazing standouts.
Is this book worth your time and money? The book is not horribly priced at $4.99 considering that it's 40 pages of story and art. That's at least better than the current Marvel comics at the same price but fewer pages and more advertisements. Fans of the series will probably get the most out of this book but for the new or regular reader of the other new Archie books could probably skip this prequel one shot and pick up the first issue of the series. Overall it's not a bad book but nothing super compelling either.
Extremity #1
Image Comics Writer and Artist Daniel Warren Johnson, Colorist Mike Spicer, Letterer Rus Wooton
There are a lot of new series that are coming out of Image Comics but finding one that sticks has been a bit more trickier. I was pleasantly surprised by this book. At first it seemed to get off to a bit of a slow start but by the time you get to the end of the first issue your totally sold on the book. I have to give it to Johnson on the way that he tells the story in this first issue. He was very smart in the way that he delivers the story in this first issue by throwing off the reader at the beginning of the book with the story set up but what work well is the pacing and delivery of the story in this first issue. Johnson wisely doesn't reveal all of the story elements quite yet, and in fact there are more questions than answers but that does work in the books favor. The big question is where is he going to take the story after this first issue. The simple revenge story is OK but I hope that there is a bit more character developement in the next issue. On the artwork side of the book there is a lot to like here He is not afraid to play with the layouts of the panels and that gives the book a great visceral look that gives the book a great flow. He also does a great job of being able to balance the huge battle scenes but also the subtle dramatic scenes very well. This is a very good-looking comic.
Is this book worth your time and money? The first issue is off to a strong start and while there is very little not to like, I do hope that the next issue goes deeper into the character elements of the story that are only on the surface of this first issue. I liked this book and hoping that it delivers again in the next issue. Worth checking out.
Animal Noir #1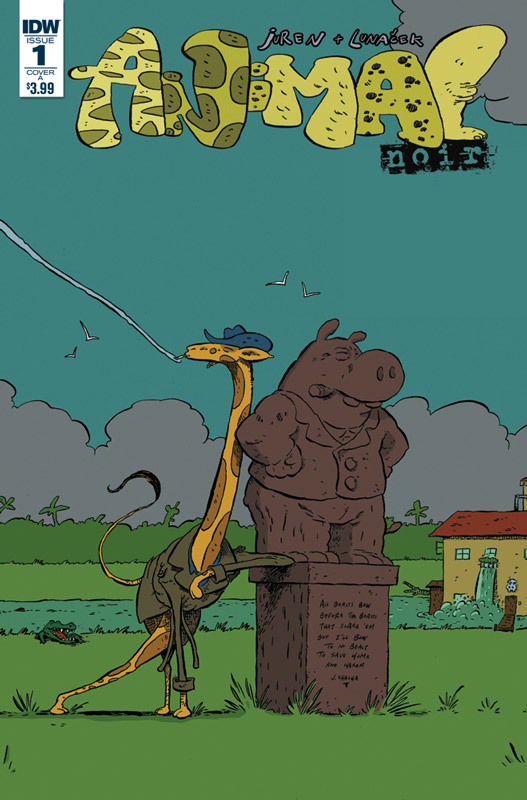 IDW Writers Izar Lunacek adn Nejc Juren, Artist Izar Lunacek
This is one of those comics that your either going to love or simply hate with no middle ground. The book is both weird and a straight forward detective story. A small flaw of the first issue is the prolog that is a little confusing at first but once you get past it, then it starts to make sense of what it was about. The story is a basic mystery story that adds the quirky element of animals to the mix, Think of a darker version of Zootopia. While the story is good Lunacke and Juren don' t really bring anything new to the mystery noir genre and that is where the book fails to impress. The first issue is a good read but without a new hook to the story there is no much reason to come back for more. On the plus side the artwork is really nice on the book. Even though it has a cartoony style it also has a great darker side to it. The best thing about the book is the artwork but without an original story the book never goes anywhere.
Is this book worth your time and money? It's a real shame about this book because I was really looking forward to it. It was not a bad read but there is simply nothing original about the story and is something that you have read a million times before. Even with the nice artwork on the book there is not much reason to pick this book up and was just OK.
Savage Things #1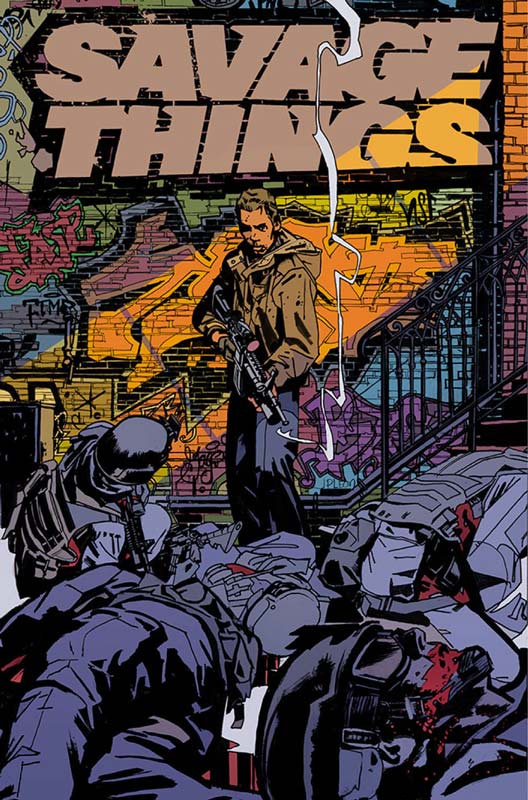 Vertigo Comics Writer Justin Jordan, Artist Ibrahim Moustafa, Colorist Jordan Boyd, Letterer Josh Reed
Lately it seems like Vertigo Comics seems to be a bit on the dormant side with a small handful of regular books but nothing has been a huge home run for the line in a while. Savage Things might just be the book to break out. Jordan does a solid job of setting the story up very well in this first issue. With mostly exposition to the script he finds a way to make it not drag along and in fact in one of the more intriguing first issues in a while. What makes the book work so well is that he takes a number of basic story tropes and gives them a fresh spin that really catches you off guard. Where the book really takes off is the wonderfully lush artwork by Moustafa that is very impressive and really makes this book stand out. The level of detail that he puts into the artwork really captures the subtle details of Jordan's script perfectly. Considering that most of the first issue is made up of dramatic elements it was  great when the action at the end of the first issue really showed how versatile he is with both.
Is this book worth your time and money? This is a book that really sneaks up on you but Jordan and Moustafa have delivered a very impressive first issue. There is a lot to take in here and with this amazing set up in this first issue, it looks to be a book to keep an eye on. A very solid and well worth picking up. RECOMMENDED!
The Flintstones #9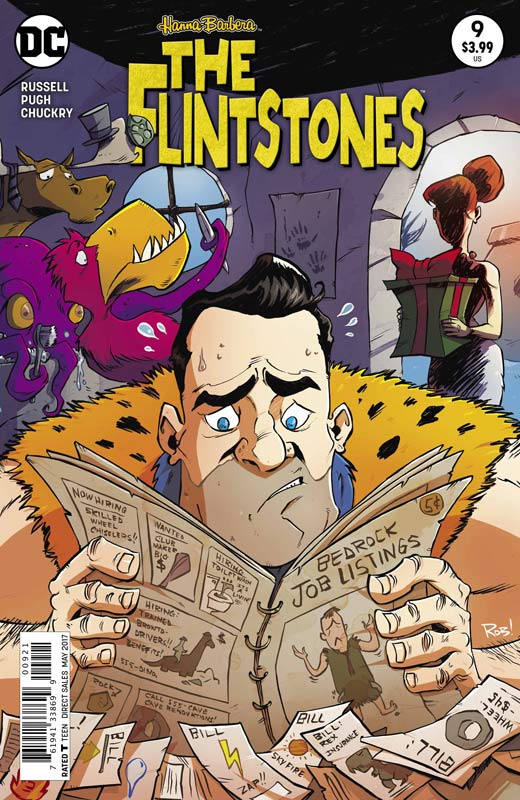 DC Comics Writer Mark Russell, Artist Steve Pugh, Colorist Christ Chuckry, Letterer Dave Sharpe
For nine issue I have been praising this book and each issue continues to surprise and impress and Russell and Pugh again have crafted a comic that is simply perfect. What gets me every issue is how Russell continues to deliver stories that are both entertaining and touching. While the main storyline this issue is great it was the secondary storyline with the animal appliances that is where the story really shines. The story delivers such a beautiful and touching element that flows perfectly with the main story line that while it could have been a whole issue by itself that is where the book soars. Russell is able to blend the best elements of both the A and B stories each issue in simple perfect harmony that when your done reading it, the emotional impact of it really stays with you. This issue nearly brought me to tears with its very touching story. While it's easy to praise Russell with his wonderful scripts, the reason that the book works as well as it does is because of the artwork of Pugh. What has raise this book to a whole new level is how Pugh takes these great scripts and gives it his all to bring this wonderful world to life. He is the reason that the heart of the story is brought to life and touches the reader. Few artist could capture all of the big and subtle moments of this story but thankfully Pugh delivers some of the best artwork in comics today.
Is this book worth your time and money? I still find it hard to believe that people are not flocking to this book in droves. Russell and Pugh have taken The Flintstones beyond its sitcom roots to a level that is rarely seen in comics. It has everything a reader could ask for in a comic and more. Few comics blow me away but The Flintstones not only do that but has done it for nine consecutive issues. This book is a must read and if you're not reading it then you are missing the best book to hit comics in a very long time. HIGHEST RECOMMENDATION!