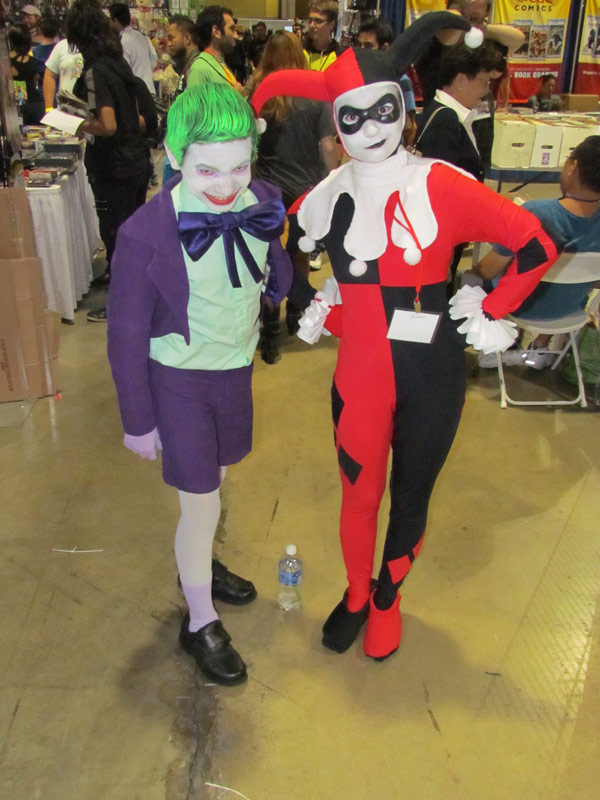 Long Beach Comic Con was back in the southland over the weekend and I was able to attend both Saturday and Sunday and this years show was a big improvement over last falls so-so showing. They have some really top line names this year including Mike and Laura Allred, Amanda Conner, Jimmy Palmioti, Marc Silvestri, Richard Starkings, Gerry Conway, Bob Layton, Len Wein, James O'Barr, and Mike Mignola to name a few. The big change this year was the best panels that the show has ever had. Some of the highlights were Adapting Comics For Media, Young Justice Reunion, Batman 75, Gargoyles 20th Anniversary, Nocturnals, Robot Chicken, Ladies First: The Impact of Women in Comics, Disney Afternoon, Hellboy in Hell, Man of Action Panel, Batman '66 Comics, The Crow 20th Anniversary, Afterlife With Archie, and many others. It really was a diverse set of panels that the show has ever had. There was also a room dedicated to making comics that had panels both days to help creators make and distribute their comics.
The exhibitors floor once again the majority of the floor is Artist Alley that had both new and old artists, writers, and various creators showing off their comics, books, and artwork. There were a fair amount of merchants that has comics, toys, jewelry, and many other things for sale. There were some publishers that were on hand like Aspen Comics, Archie, Valiant, and Skybound that was down from previous years that had IDW and Boom among others. While the Artist Alley is really well represented the promoters need to get more publishers and dealers on the exhibit floor. The convention is in its 6th year and while there were great improvements over last years stagnate show they do have some areas that need a little improvement. They need to bring some more top draw talent to the show and this years did have some better draws. One thing that would also help is get smaller publishers to be at the show. They need to ditch the laser tag area in the back that make the show a little tacky.
Of course one of the big draws to the show is Artist Alley and this year was a good mix of established and new comers alike.
Paige Halsey Warren debuted her successful Kickstarter book AHTspace Chapter 1 to the show (I will review it very soon) and is super nice and a great new talent to watch out for.
Babs Tarr is drawing the new Batgirl comic that comes out this month and I must confess that I missed her completely on Saturday and finally caught up with her on Sunday and was able to squeak in her doing a Batgirl sketch. I was so happy to meet her that I forgot to take her picture and the one below was from her twitter feed. Batgirl looks to be a huge hit and she is going to be a superstar really soon.
Mike Mignola was on had to talk about what is going on in the Hellboy universe. He has been doing Hellboy for over 20 years and is still going strong.
Todd Nauck and his lovely wife Dawn are the nicest people who you could ever meet. Todd is doing a bang up job on the Nightcrawler series at Marvel now. He is one of the few artist that can pretty much sketch any character from memory most of the time. As always his list filled up very quickly.
Mike and Laura Allred were special guest at the show and had not been to Southern California in quite a while. The lines to get them to sign their books was really long both days. They are super nice and love to talk to their fans and tell great stories. They were super generous with their time to make sure that everyone had a chance to see them.
This was the first time I had met Mike Collins and he had just done this amazing Iron Giant print for an art show. He is an animator at Dreamworks and a really good artist. He has a great all ages book out The ABC's of Halloween.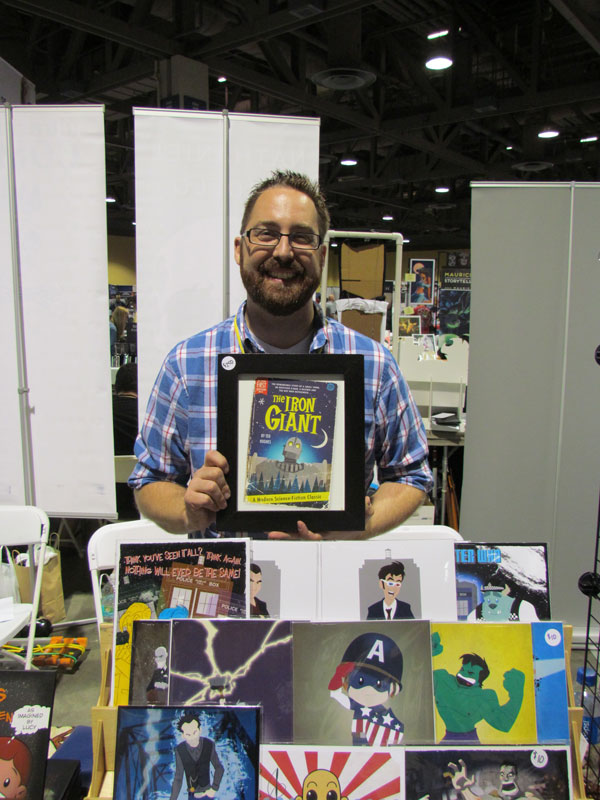 Mike Kunkel does the most amazing book Herobear and the Kid and has been doing great story and art books over on Kickstarter. Make sure that if you go to a show that he is at make sure that you adopt your own stuffed Herobear plush.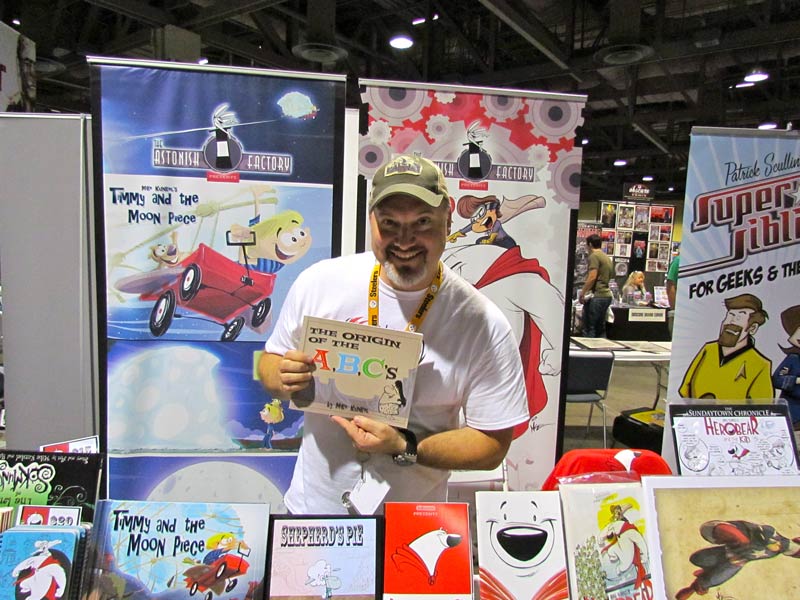 Joshua Hale Fialkov is writing one of the best books being published right now The Bunker from Oni Press. He also wrote the sadly ended before it's time I Vampire at DC for the New 52 launch and was one of the best books that they had.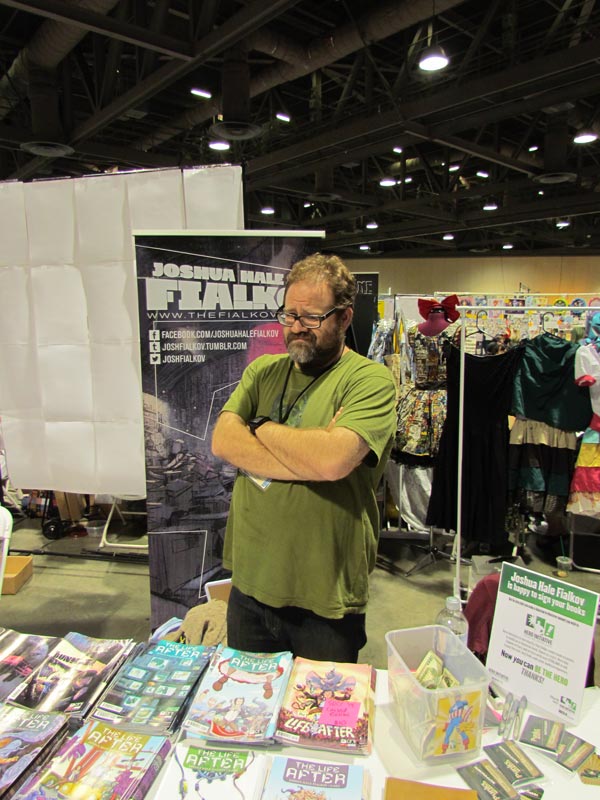 Dr. Hogan-Berry Extraordinary Emporium of Genre Jewelry was back again with lots of new stuff to show off. If Debbie doesn't have it then she can make it for you.
Around the floor there was a lot to see.
The CW brought S.T.A.R. Laboratory from the new show The Flash to see if any of the attendees has special abilities.
Cosplay was well represented this year and while there were some really outside the box thinking there was a fair amount of repeats from last fall and the spring expo show.
Overall it was a very good show with some real improvements in some of the areas that were lacking in previous shows. If they can get some top draw talent and get some more publishers and dealers they would really keep the momentum of the show that they had this year.