Week 3 on DC Comics Convergence is upon us and thankfully somewhat makes up for last week train wreck of released. While so far the whole Convergence/DC move west has been mostly a bust there have been a few of the books that have easily stood out from the  crowd. Like last week there are so many Convergence titles that those reviews will be much more brief than usual.
Convergence: The Flash #1
Writer Dan Abnett, Artist Federico Dallocchio, Colorist Veronica Gandini, Letterer Tom Napolitano
The television Flash has renewed interest in the regular Flash title but sadly the Convergence. Abnett story fails because he spends way too much time having Barry just being a normal person with no powers. While that would be interesting for a regular storyline but with only 2 issues for the story spending 16 of the 22 pages of this for me was overkill and quite boring. While the story was not terrible it doesn't excel at anything either. Dallocchio's artwork is good and has some nice detail work in it. Sadly he doesn't get to draw much besides conversations in this first issue. Overall an average story kills the book. SKIP IT!
Convergence: Batman and the Outsiders #1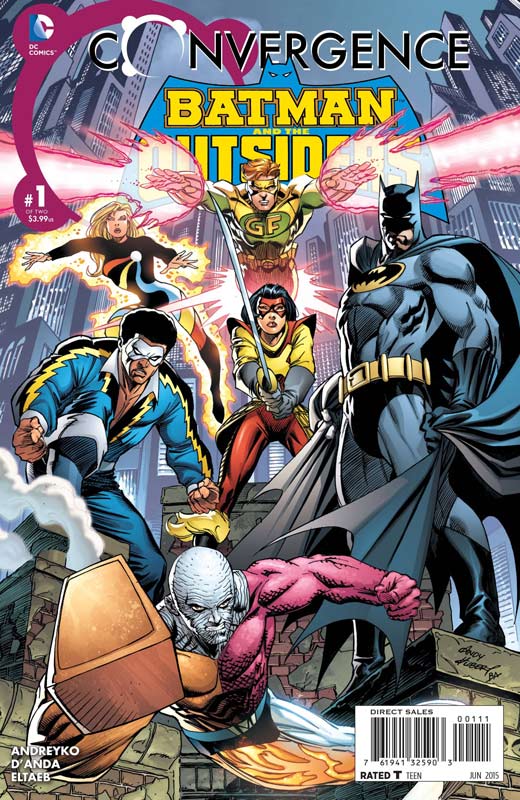 Writer Mark Andreyko, Artist Carlos D'Anda, Colorist Gabe El Taeb, Letterer Steve Wnads
I am a huge fan of the original run of Batman and the Outsiders comic back in the 1980's with art by Jim Aparo and later Alan Davis so this book had a very high mark to live up to. While it may not be quite up there with the original book, Andreyko did a very good job of bringing the gang back to life. While other Convergence books have spent a little too much time on time under the dome, Andreyko at least uses the first issue to give story elements to the characters leading everyday lives without superpowers. He handles this very well. Having them fight OMAC was the icing on the cake for this book. D'Anda's artwork is nice and works well for the story. No one will ever top Aparo's artwork D'Anda make the book his own and was impressed with that. Wrap the book in a great Andy Kubert cover and this is one of the better books in the Convergence events so far. RECOMMENDED!
Convergence: The New Teen Titans #1
Writer Marv Wolfman, Penciller Nicola Scott, Inker Marc Deering, Colorist Jeromy Cox, Letterer Carlos M. Mangual
This is one of two Convergence books this week that is actually written by the original writer of the series (the other being Swamp Thing). Obviously Wolfman knows these characters and it shows. Honestly this in one of the better Teen Titan stories that I have read in years. Wolfman story brings most of the team back from his original run and it's as if the series is continuing from its original 1980's run and these are lost stories. Wolfman thankfully bucks the trend of the big problem with the Convergence books in that he doesn't waste time on life under the dome for the characters. We get it and so does he with 3 pages in and he get to the "reason" for Convergence the battle to save the city. That is why this book works a lot better than most of them. Scott and Deering while not imitating Perez's artwork they keep the general style of the original 80's run but make it their own. The art has a great deal of detail and a wonderful job with the emotions of the story. If you love the real Teen Titans this is the book we have all been waiting on for a long time. RECOMMENDED!
Convergence: Wonder Woman #1
Writer Larry Hamma, Artist and Colorist Joshua Middleton, Letterer Sal Cipriano
Wonder Woman is one of the more interesting Convergence books this week. There are a lot of things that I liked about Hamma's story but its a little slow in getting off the ground at first but it does hit its stride in the end. One of the nice homages in the book is the white pantsuit that was so hated back in the 1960's and was fun to see it back in the book along with the retro logo. The one thing that the story really does well is the mood of the book. At first I wasn't sure where Hamma was taking the story but when the dome comes down it becomes very clear that the book is heading to the dark side of things. Middleton's artwork fits the mood of the story but there were a few times where the backgrounds were sparse in areas. He does a very nice job on the dark elements of the story. Overall the book didn't knock my socks off I did like the overall story and will probably go for the second issue. Not great but one of the better Convergence books.
Convergence: Superboy and the Legion of Super-Heroes #1
Writer Stuart Moore, Penciller Gus Storms, Inker Mark Farmer, Colorist John Rauch, Letterer Pat Brosseau
I have always had a soft spot for the Legion of Super-Heroes but sadly this book is not one that will impress you. Moore's plods along with the characters going through the motions but in the end there is nothing compelling about the story. He falls into the trap that most of the writers have had problems with is spending too much time with the characters finding out about the dome and whats going on. The big problem with this book is the artwork it's simply not that good. It feels unfocused and I know that Farmer is an excellent inker so the blame lies squarely on Storms. Mediocre story and bad art make this the loser of the week. SKIP IT!
Convergence: The Adventures of Superman #1
Writer Marv Wolfman, Penciller Roberto Viacava, Inker Andy Owens, Colorist Sotocolor, Letterer Rob Leigh
Wolfman's other Convergence book this week is an odd book. I am not sure what to make of the story. The one problem that Wolfman can sometimes have is too much dialog in the story and that is pretty evident here. While the story is not bad it just so exhausting after you are done reading it. I will give him props for ditching the dome formula that has really killed a lot of the Convergence books. Here Wolfman has Superman and Supergirl go to the Phantom Zone to try to escape the dome is an interesting idea but fell a bit flat for me. Viacava and Owens art seems to be a nod to the great Superman artist Curt Swan and was a nice touch. They really put a lot of nice detail into the artwork and the book looks really good. This one is a tough call on if you are going to like it or not. If you like Supergirl it might be your cup of tea but I thought it was just OK.
Convergence: Justice League of America #1
Writer Fabian Nicieza, Artist Chriscross, Colorist Snakebite, Letterer Rob Leigh
I found this book to be a very oddball choice for the roster of the JLA. It brings back the loathed Justice League Detroit era of te book from the 1980's that was quite honestly pretty bad with a lot of tween characters that even to this day are pretty laughable. I will give Nicieza props for nailing the feel of the characters from that period and I'm not sure if that is good or bad. He gets out of the dome fairly quickly and gets on with the story. This is pretty straight forward superhero team type book that ends up being an OK read but nothing special. The art by Crisscross makes this one of the better looking Convergence books and made reading this book a lot more pleasant in the end. Unless you have a real fondness for JL Detroit I doubt that most will. SKIP IT!
Convergence: Hawkman #1
Writer Jeff Parker, Penciller Tim Truman, Inker Enrique Alcatena, Colorist John Kalisz, Letterer Dave Sharpe
The big draw for me on this book was getting to see Tim Truman's artwork that has long been gone from the comics scene way too long. Unfortunately Parker's story falls short in the story department. The big problem with the story is that it just takes to long for things to get going considering that there are only two issues. This is becoming a huge problem with most of the Convergence titles that spend too much time under the dome. Truman's artwork is a bit hampered by Alcatena's inks that are not as good as when Truman handles the full artwork but is far and above most of the art in the Convergence titles. I hope that the next issue is better than this but Truman's artwork was worth the $3.99 for me.
Convergence: Swamp Thing #1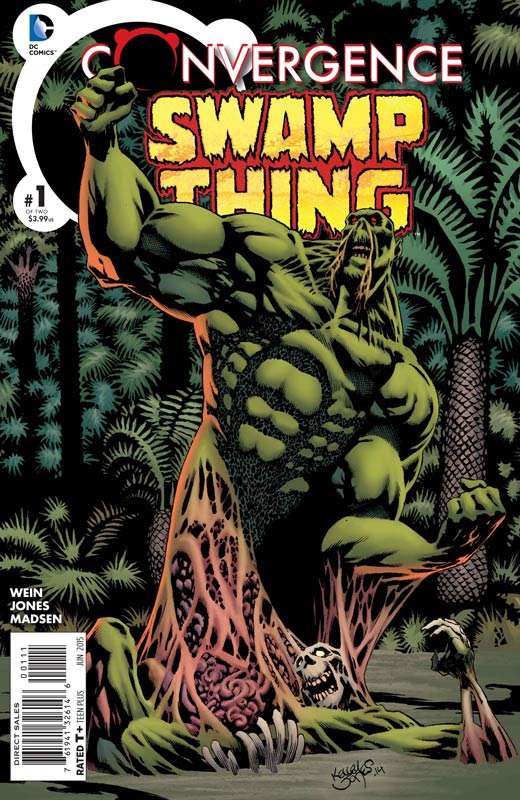 Writer Len Wein, Artist Kelley Jones, Colorist Michelle Madsen, Letterer Rob Leigh
I have saved the best for last. Simply this is the best Convergence book to date. While some would say that is not a big bar to hop over this is probably one of the best books that DC has published in years. The ORIGINAL writer Wein who co-created Swamp Thing does a great job of mixing his original take on the character and mixing it with Alan Moore's re-imagining of him and telling a very satisfying story that put all of the other Convergence books to shame. While the story takes place under the dome he wisely doesn't dwell on it that has tripped up so many of the other writers. He also does a fantastic job of filling in new readers to Swamp Thing and getting them up to speed with the character without boring longtime readers. Having a great story is only part of why this book works so well the other is two words Kelley Jones. The only other artist that could have possibly topped this was getting Bernie Wrightson back but that is no disrespect to Jones who masterfully handles the artwork and elevates the story to a whole nother level. When it comes to mood and horror there is simply no better artist working today. On of the really impressive things is that Jones captures the different looks of Swamp Thing through the years each time he is reborn. This is a wonderful touch and a nice nod to the history of the character. I would be hard pressed to believe that there will be a better Convergence title during these two months that will top this book. HIGHEST RECOMMENDATION!
Uncle Scrooge #1 (#405)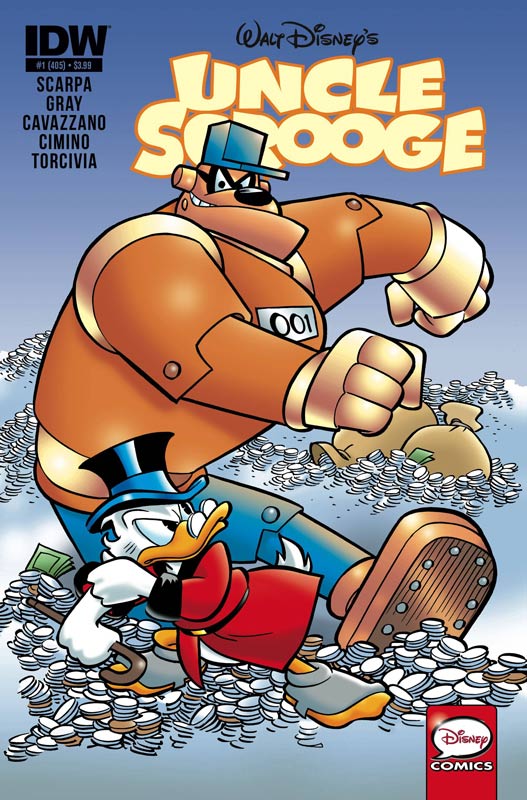 IDW Writers Rodolfo Cimino/Alberto Savini/Romano Scarpa & Luca Boschi, Artists Romano Scarpa & Giorgio Cavazzano/Andrea Freccero, Colorists Digikore Studios/Disney Italia with David Gerstein, Letterer Tom B. Long
After a too long absence Disney Comics are back thanks to IDW is continuing many of the beloved series and continuing there numbering along with the new. This issue contains three complete stories "Gigabeagle: King of the Robot Robbers", "Pure Viewing Satisfaction", and "Stinker, Tailor, Scrooge and Sly" these are reprints from Disney Italian comics that are appearing for the first time in the US. This book is also one of the best deals in todays comics with 44 pages of story for $3.99 that will make your wallet feel good. My favorite story was Gigabeagle that has a classic Beagle Boys who are always trying to get Scrooge's money and nearly get away with it this time. I loved Scarpa's visual take on the story and was a lot of fun. Stinker was a more throwback story to the post Barks period in both story and art and while it was good it did drag a bit but overall was fun.
Is this book worth  your time and money? If you are either a Disney fan or a fan of Uncle Scrooge this is a great and long overdue comic that has been sorely needed for both young and old readers. While no where nearly as good as Carl Barks or Don Rosa stories they are a lot of fun and a nice change of pace to most comics published to date. RECOMMENDED!
The Unbeatable Squirrel Girl #4
Marvel Comics Writer Ryan North, Artist Erica Henderson, Colorist Rico Renzi, Letterer Clayton Cowles
This is simply one of the most enjoyable comics that Marvel is publishing and makes me smile every month. North pulls a fast one with starting the story with the last page of the book making you think that the book was printed wrong. He even got me on that one. While the book is goofy fun that fact remains that it's an incredibly well written book that simply tells really good stories. The key to it working is that it's silly to think that Squirrel Girl could ever defeat Galactus but North make the whole thing work and not cop-out with the story. The other thing is that he never treats Doreen Green like she is stupid because she just see's the world in the way that I wish I could see it. Henderson continues to breathe life visually into the book and her style is perfectly suited for North's stories. I doubt that anyone else could pull the artwork off as well as she does.
Is this book worth your time and money? I hope that people don't write this book off because of the type of book that it is. Sure it's silly, fun and cartoony but the stories that North and Henderson are telling have a wonderful emotional impact that is rarely done this well in mainstream comics today. This is a book that I really look forward to each month because I know that after reading it I will have a smile on my face. HIGHEST RECOMMENDATION!
Empire Uprising #1
IDW Writer Mark Waid, Artist Barry Kitson, Colorist Chris Sotomayor, Letterer Troy Peteri
The long-awaited sequel to the original Empire mini series from 15 years ago. This follow-up series was originally available digitally but this is the first time in print. The book gets off to a great start but I wish that Waid has maybe done a prelude to cover the plot from the original series because the first issue is probably going to be somewhat confusing to new readers. For readers of the original series this new book hits the ground running and pulls no punches in it brutality. Waid story focuses on action in this first issue he wisely plants nice little seeds as to where the story is going to go and there are some very revealing revelations. Kitson as always delivers great artwork and this new series is no exception. The detail to the blood bath is just stunning and captures the flow  that the story needs visually.
Is this book worth your time and money? If you have never read Empire I highly recommend picking up the recent trade of the original series. For readers of the digital version I recommend the new print version because there is new and revised artwork and is much more fulfilling than the digital counterpart. This is a good start to the new series and excited to see where Waid and Kitson take the story. RECOMMENDED!
Kaptara #1
Image Comics Writer Chip Zdarsky, Artist Kagan McLeod with Color Assist Becka Kinzie
I have not been overwhelmed with Zdarsky's Howard the Duck over at Marvel so there was some trepidation about picking up Kaptara this week. Zdarsky starts the story off with a so-so start that is about a predictable as opening a bag of potato chips. The story has all of the familiar tropes that you need to have an average science fiction story. The characters are pretty two-dimensional and bland. It's pretty forgettable and bland event. While I will give him brownie points for the last panel that is very interesting the fact that the rest of the story is so lackluster that it's pretty doubtful that I will give this book a second spin. McLeod's artwork is visually interesting but with the story being the way it is he didn't punch the book up that might have helped.
Is this book worth your time and money? The biggest problem with the book is that you have read this story a thousand times and Zdarsky doesn't bring anything new or exciting to it. You have only one chance to grab a reader with your first issue to make a strong impression. This book sadly leaves no impression. SKIP IT!
Thrilling Adventure Hour Presents: Beyond Belief #1
Image Comics Writers Ben Acker & Ben Blacker, Penciller Phil Hester, Inker Eric Gapstur with Ande Parks, Colorist Mauricio Wallace, Letterer Marshall Dillon
There are times where some things from one medium don't always translate well to another. In this case Beyond Belief probably worked a lot better as a "radio show" from the Thrilling Adventure Hour than the current translation to comic book form. There are things that comics can do better than other mediums like the unlimited budget visual aspect that they can bring to a project but quick snappy dialog is not a thing that is better suited for comics. Trying to read Acker and Blacker's script is simply exhausting and probably should have been taken down a notch. The banter between Frank and Sadie is as thick as molasses. There is so much dialog that it even overwhelms Hester's artwork. The one thing that the comic does very well is the artwork by Hester, Gapstur and Parks. This is where the book shines and nearly works but whenever Frank and Sadie's banter fly's left and right you get lost with both the dialog and the visuals. THe artwork looks fantastic and they really have fun with bringing the ghost to life so to speak.
Is this book worth your time and money? This one is a tough call. The overall concept of the book is quite good and there is a lot of potential here. Unfortunately the dialog drags the book down and it's a real chore to read. Acker and Blacker should have developed the translation better for the comic form instead of just translating great banter that works well with good actors but not here.
The Infinite Loop #1
IDW Writer and Letterer Pierrick Colinet, Artist and Colorist Elsa Charretier
Time travel is a very tricky story device that if done well can be fantastic but, it can also trip on itself and fall flat on its face. Infinite Loop falls in the middle on this. Colinet story concept has a lot of potential but the story in this first issue doesn't quite gel fully. The problem with time travel is when you start jumping around you sometimes loose or don't have a grounding element to the story and this is where I think the problem with this first issue has. Even with this slight misstep I think that the book does have a lot going for it and the potential for future issues has a lot of potential. I was impressed with Charretier's artwork on the book and evokes a great art deco style that has a few rough spots but gives the book the visual push that the story needed.
Is this book worth your time and money? This book has some very good ideas and has the possibility of being a very special book. While the first issue has some issues I will give the second issue a chance to see if the story pulls together a bit better. Not a bad book by any means just a little rough around the edges that can be corrected. Worth giving the book a shot if the concept appeals to you.