As we head into the holiday weekend you might want to stop by your local comic book store on your travels to check out this weeks new comics. There are some really solid releases this week so lets see what made the list.
Monster & Madmen #3
IDW Writer Steve Niles, Artists Damien Worm
Niles and Worm deliver the final issue in this great mini series. The plot from IDW is, The Madman's plan become clear as woman after woman is found slaughtered in Whitechapel. Unaware of the Madman's actions, the Frankenstein Monster prepares for the day when he will finally meet his mate. Both horrific journeys intersect in this concluding issue! I admit to being a big fan of Niles books for a long time but this story was really one of his best. The key to the story was the heart that he put into the Frankenstein's Monster and once that was there the story falls beautifully into place around that. Without giving the ending of the story away I really loved that Niles did a nice twist on the playing god aspect of the story with Jack the Ripper and while you may be able to bring things back to life there are consequences to it. We really discover who is the real monster is. Worm's art has captured both the beauty and the horror of the story perfectly. His coloring work is really stunning and shows how important that it creates with tone and feeling that really brought Niles wonderful script to life (pun intended).
Is this book worth your time and money? Niles proves again that he is a master horror storyteller and his love of the genre really shines in this story. He has taken two very well-known characters and made a story that you would have never expected. Mix in Worm's great artwork and you get a really great book. If you have missed any of the issues I am sure that they will collect the story into a trade and you must get it now or when that becomes available. HIGHLY RECOMMENDED!
The Shadow: Midnight in Moscow #1
Dynamite Entertainment Writer and Artist Howard Chaykin, Colorist Jesus Aburto, Letter Ken Bruzenak
Howard Chaykin is back and with his return to a character that he is very well know for. The plot from Dynamite is, New Year's, 1950–the end of a tumultuous decade…and LAMONT CRANSTON, the man the world and the underworld know all too well as THE SHADOW, has had enough. It's time for the Mysterious Nemesis of Crime to hang up his cloak, his slouch hat, and his twin .45s, and retire from public life. But despite this momentous decision, MARGO LAINE and the rest of the Shadow's AGENTS fear that mankind, teetering on the brink of nuclear Armageddon, may not be quite ready to be bereft of the Dark Avenger. Chaykin's is one of those writers that really delivers a lot of story in only 20 pages. There is a lot of exposition going on in this first issue. The only problem that I can see is that if you are not familiar with The Shadow it might be a little tough to understand the characters and some of the history in the story . Chaykin's art is always a very welcome sight in comics and his style is perfect for The Shadow. He is a master draftsmen and captures the 1949 period very well. It great to see the wonderful letter of Bruzenak that has worked on almost all Chaykin's books for years and delivers and outstanding job once again.
Is this book worth your time and money? If you are a new reader you might be a little lost with the characters but the story is very good. It's definitely a first issue in that it's setting up the story arc and lots of details to get across. Some would see it as a little dry but it's only the first part of the story. The book is worth buying for Chaykin's artwork alone. If you are a fan of The Shadow then this book is for you. I can't wait to see where he is going to take it.
Ordinary #1
Titan Comics Writer Rob Williams, Artist D'Israeli
Titan Comics is really putting out some great comics lately and with The Ordinary they have another winner on their hands. The plot from Titan is, When a strange plague gives every human being on the planet special powers, it's seen as the next step in human evolution. But hope quickly turns to terror, as every war, terrorist attack, every crime, every simple street argument escalates a truly horrific point. The world is tearing itself apart – every trouble spot becomes a monstrous war zone and nuclear Armageddon looms. The plague MUST be cured if humankind is to survive.The key lies in the blood of the only human being who DIDN'T get powers when the plague hit. A downtrodden, recently divorced New York plumber named Michael Fisher. The most ordinary man alive has suddenly become the most extraordinary person on Planet Earth. Giant baseball players, grannies aging in reverse, a talking Grizzly bear. That's nothing out of the Ordinary!  Williams is also writing the really wonderful Royals: Masters of War over at Vertigo now (Very Recommended) and now delivers one of the strangest yet compelling story with Ordinary. The key to the story is Michael and how relatable that he is because you the reader are guided by him through the bizarre events that are taking place. By doing this Williams is able to ground the story and yet let it go crazy at the same time. The book is almost like reading a dream that you can't wake up from and that is why it works so well. Besides any story that has a talking bear in it is worth reading in my book. D'Israeli's artwork brings the dream alive so to speak. He goes from the ordinary day-to-day life of Michael to the insanity of a talking bear and makes it all work perfectly.
Is this book worth your time and money? I really fell in love with this book. It's such a great concept and while it seems to go really far out there, it really just works in spades. Williams and D'Israeli deliver a wild ride in this first issue and leaves you waiting for the next issue. I can't wait to see where journey of this book will go but it looks to be a great ride. Recommended
MPH #1
Image Comics Writer Mark Millar, Artist Duncan Fegredo, Colorist and Letterer Peter Doherty
Mark Millar continues his universe of titles with his newest MPH. The plot from Image is, The all-new Millarworld Universe kicks into high gear with the launch of Millar and Fegredo's fast and furious miniseries. When a group of hard-luck teens in Motor City stumble upon a street drug called MPH, they gain the power of super speed. Will they use it to save the world? Hell no! Not when there's dolla, dolla bills to be had, y'all. A high-octane urban adventure, MPH brings you super speed like you've never seen before! Millar's story is off to a decent start but while the story is OK it does feel a bit to similar too much of the time. Instead of the "hero" getting his powers naturally they come from the MPH pills. The story is pretty by the numbers set up and could be any number of superhero origin instead. Fegredo's art does not disappoint on this book. In fact I think he actually makes it a bit better than it kind of is. Most of the story is dialog and he is able to make it much more interesting visually a lot of the time.
Is this book worth your time and money? While the book is OK it never really elevated itself to be better than an average superhero origin story that you have read so many time before. Fegredo's art is wonderful it's just a shame that it's kind of wasted on a so-so story. Overall it's OK but to be honest it's going to be a tough sell to pick up the second issue.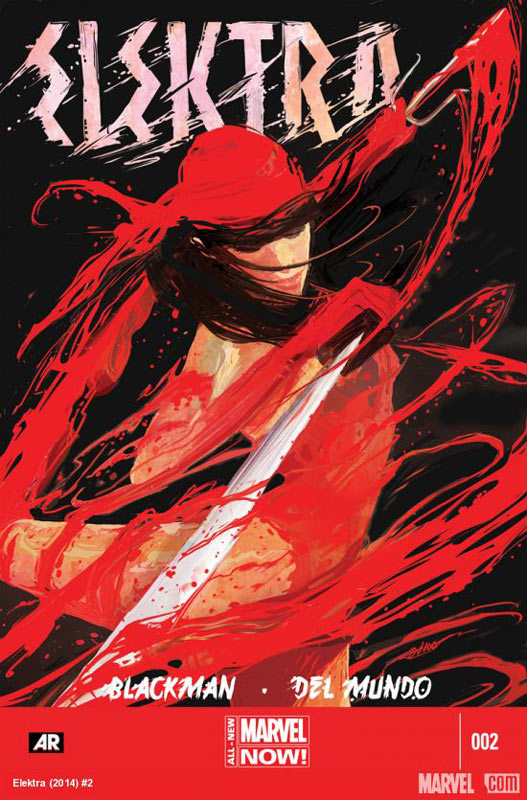 Elektra #2 
Marvel Comics, Writer W. Haden Blackman, Artist Michael Del Mundo, Colorists Del Mundo with Marco D'Alfonso, Letterer Clayton Cowles
I was really caught off guard with the first issue of this book and was looking forward to where the story was going to go. The plot from Marvel is,Elektra braves the dangers of Monster Island and a rival assassin in her search for the elusive assassin known as Cape Crow! The psychotic killer Bloody Lips closes in on Marvel's deadliest femme fatale! Haden Blackman and Mike Del Mundo bring you a hauntingly beautiful tale about honor and redemption. Blackman story keep moving along nicely with the second issue. I like the way that he balances the character development and action in the story and is keeping it really fresh. While he is still setting up the story arc in this issue and the flow of the story is keeping a very nice pace to it. The only thing that I am worrying about is that Cape Crow is becoming very powerful and hopefully not too outrageous of a super villain in the process. Del Mundo's artwork continues to make this book really good. He really uses the layouts to bring a different feel to the typical superhero book. He is really making this book stand out from the crowd.
Is this book worth your time and money? While this is a pretty straight forward mainstream superhero type book, with that said it's a really good read with stunning artwork. Blackman and Del Mundo are delivering a solid story here and I am looking forward to see where they go with this first story arc. Good stuff here.
The Bunker #4
Oni Press Writer Joshua Hale Fialkov, Artist, Colorist and Letterer Joe Infurnari
I have saved the best for last this week. The Bunker continues its reign as one of the best books being published now and the fourth issue does not disappoint. The plot from Oni is,Billy confronts the others with what he's found in the Bunker; he's figured out exactly what and where this is all leading, and seen the bigger picture. But, an assassin from the future is going to make sure things go as planned. Fialkov is really starting to get to the meat of the story in this issue and what makes it great is that it's all character driven story. This is the type of story that washes over you when you read it. There is so much going on below the surface of the story that you really have to not rush reading it. The story is just so original and fresh and that is such a rarity in comics today. It's a great morality tale and shows how people react to knowing what their future is and how they decide how to handle it. Infurnari delivers another issue with great artwork that brings to life Fialkov's script. On a book like this you need an artist that can capture emotion of the characters and Infurnari does it with such ease that it draws you into every subtle moment in the story.
Is this book worth your time and money? Simply put this is a must buy book every month. The story that Fialkov and Infuranri are telling is proof of the power that only comics can deliver. The story and the art blend perfectly to tell a story that has you guessing at every turn to find out what will happen. This is the book that should be on everyone's pull list. HIGHEST RECOMMENDATION!