One of the things that I love most about WonderCon in Anaheim is the fantastic artist alley that they have. This is the third year that WonderCon has been in Anaheim and each year it seems that there are more talent that the show draws. Having the show in the Southern California area draws a lot of local artists to the show that are in the animation, film, comics and television industry. A lot of them have regular art gigs during the day but on the side they get to create artwork that they want to do. With hundreds of tables to look at the show it's really hard to take the time to see all of the great artwork that these talented folks work on. Here is a small sampling of so of the artists that I found at the show and really impressed me. Just click on their name for a link to their website.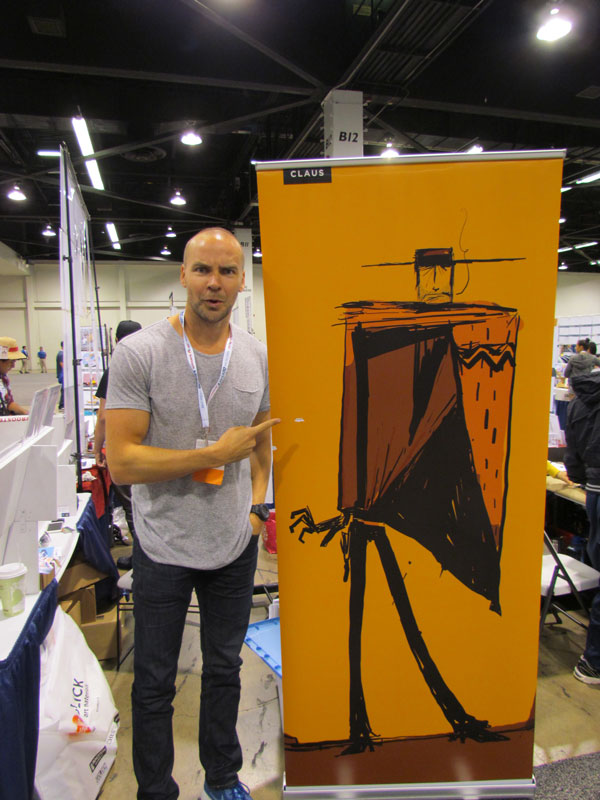 Justin is the founder of Claus Studios and did the end credits for last years best animated feature The Book Of Life.
Justin has worked in both the commercial and entertainment industry for over 10 years. His personal artwork is some of the most amazing work I have ever seen. His style and use of color is simply breathtaking. I nearly missed his table at the show but thankfully my friend Dave noticed his Man With No Name banner and once I saw the prints that he had for sale I was hooked. He has a great art deco style that is bold and yet very subtle at the same time and his eye for color is simply stunning. I was lucky enough to get the last print of Manolo from The Book of Life and a stunning Wonder Woman one also. If you missed him at the show or was unable to attend you are in luck because Justin sells his prints on-line HERE. Below is some of his beautiful work.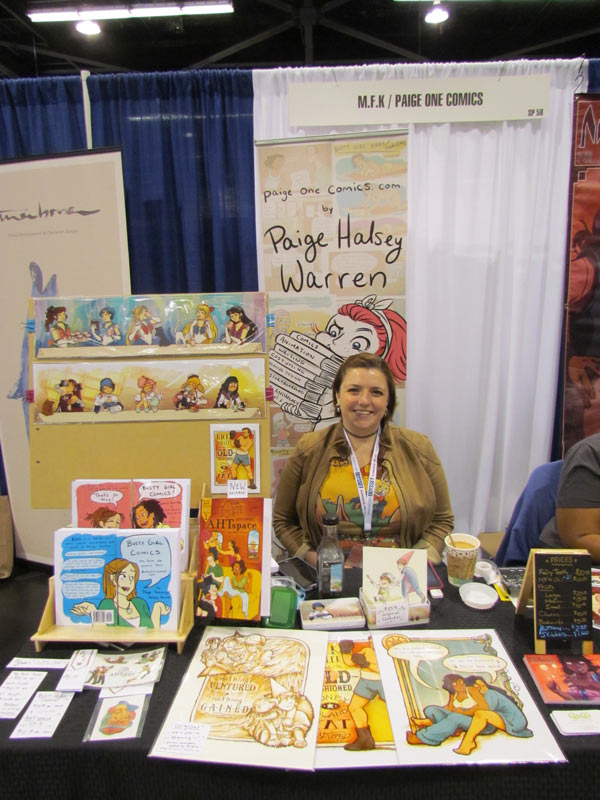 I had first met Paige at the Long Beach Comic Con and fell in love with her most current project AHTspace. She is probably best known for her Busty Girl Comics that is both online and in print form that was featured on Buzzfeed and The Today Show. While I didn't always relate to the Busty Girl Comics because being a guy and no first hand knowledge but still enjoyed the books because of the great humor that she has. But it was her new book AHTspace that really impressed me.
She is currently working on new chapters for the ongoing AHTspace series but is taking a break now on the book. Paige is a really talented storyteller and if you see her at a convention she is a wonderful person and a great conversationist. She shared the booth with Nilah Magruder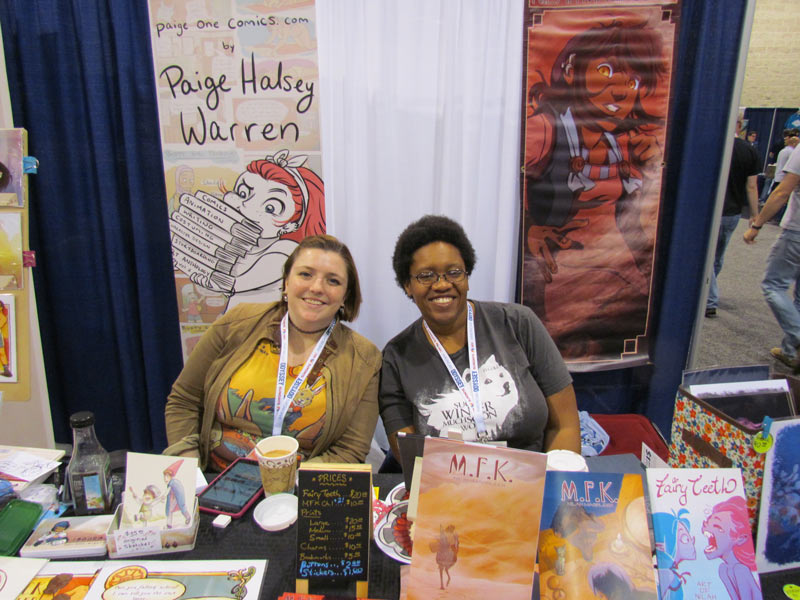 Nilah was the winner of the first Dwayne McDuffie Award at the last Long Beach Comic Con Expo in February for her book M.F.K. that is online and had limited edition print copies at show. The story is really impressive and her artwork is very refreshing along with her beautiful color work on the book. I can see why her book was the winner of the award and plan to review the first two chapters soon.
Mike is an animator at Dreamworks on a top-secret television series about a not so smart boy and a super smart dog that might be based on a recent Dreamworks feature from last year. Mike has a great all ages book The ABC's of Halloween along with many limited edition prints and buttons. One of my favorites is his Iron Giant homage print that is simply fantastic.
Mike has also done a number of Buffy prints that always sell out at shows.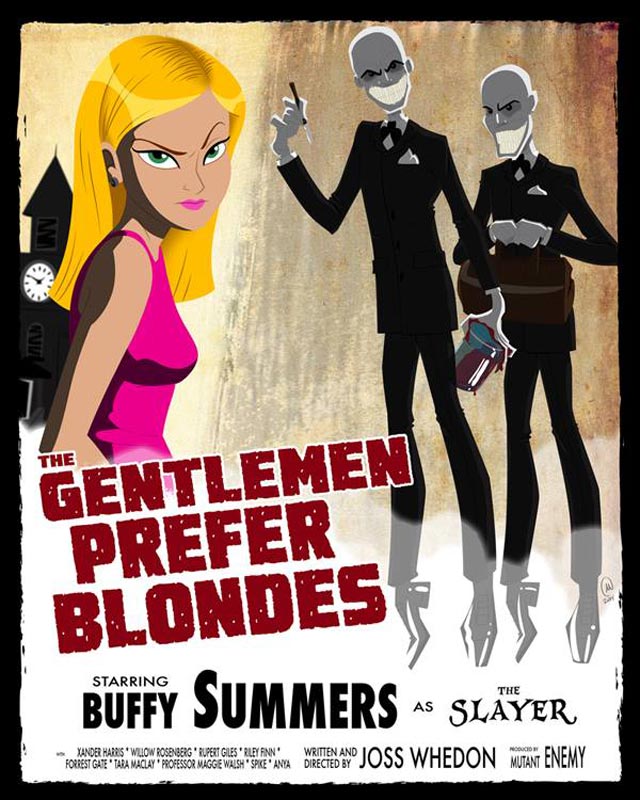 He also has the most adorable kids Sam and daughter Lil Tiki.
Sam was at the booth on Sunday doing drawings for his fans and sold over 40 drawing at a mere one buck price point. He did very well making about $45 for the day. MIke is a super nice guy and usually does the Long Beach Comic Con if you missed him at WonderCon.
Tony is a great artist that does something that you don't see much at conventions. Greeting cards that are not only great works of art but they are a lot funnier than the ones from Hallmark. They also carter to the Geek culture that is another big plus. He also does these really great mini prints that are only available at his convention booth. The good news is that you can order his greeting cards online if you missed him at the show. They are a lot of fun and much more original than a store-bought card. Make sure to hit his booth early in a show because he always sells out of a lot of the mini prints very quickly.
Richard is the creator of Hip Flask and Elephantmen and Comicraft design and lettering studio. Elephantmen synopsis is They were genetically engineered to be suprahuman weapons of mass destruction, but now they must walk amongst the people they were created to destroy. The Afro-Sino war long since over, now 15,000 Elephantmen have been rehabilitated by the United Nations and scattered throughout the globe to live peacefully among humans. It sounds crazy and is but while it gets pretty crazy the story is really deep and exceptionally well done. The book has had some of the best artist in the industry working on it like Axel Medellin, Moritat and Chris Bachalo along with many others. Richard is one of the nicest guys in the business, not only is he super talented he offers great deals on the collections of Elephantmen at his booth. If you buy the books from him he always does a character sketch in the book for you when he signs it. He also has great prints of the characters by such talents as Brian Bolland and Frank Quitely.