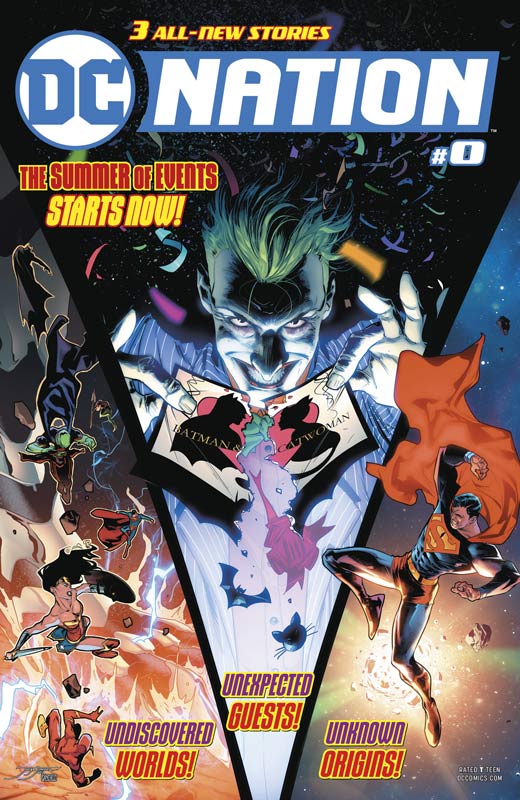 DC Nation #0
DC Comics Writers Tom King, Brian Michael Bendis, Scott Snyder, James Tynion IV, & Joshua Williamson, Artists Clay Mann, Jose Luis Garcia-Lopez (penciller), Dexter Vines (inker), Jorge Jimenez, Colorists Jordie Bellaire, Alex Sinclair, Alejandro Sanchez, Letterers Clayton Cowles, Josh Reed, Andworld Design
Just in time for Free Comic Book Day DC brings their big summer guns together with three new stories that lead into DC's big events in their main books. King and Mann kicks things off with a great Joker story that leads into the Batman wedding storyline and it's a great side story that is rather creepy and shows The Joker at his finest or most freighting depending on how you look at it. This story is a great taste of the fine writing that King has been delivering on Batman and is a good primer for new readers to see why all of the praise for the book. Mann delivers wonderful artwork that has to really underplays the tension of the story with the art and he certainly delivers the goods and makes the story work so well. 
Next up is the second peek at Bendis's take on Superman with a story that leads directly into the Man of Steel mini series that comes out at the end of this month. He lays the seeds for the missing Lois Lane and does a nice job of bringing back the Daily Planet to the mythos. It's pretty much a day in the life story that wont blow you away but does work well in setting things up and putting the characters on the right track for a fresh start that gets them back to basics. The big win for this story and the book is the gorgeous artwork by Garcia-Lopez that is pure classic Superman. His style is second to none and is a great bridge of old school master artists passing the baton of Superman to a new generation. There are few artist in the industry that bring this level of craftsmanship to comics and when he comes out of semiretirement is always a treat. 
The final story is a set up for the Justice League books and explains the reason that the teams are being split up and adding new members to them. The flaw of this story is that there really isn't much of a story here as much as a forward to tell you what is going on. Even with three writers there is very little meat on the bone here and is kind of disappointing. I did like the most of the different team lineups but it's very hard to see what each on is really going to be like from this story. On the plus side Jimenez's artwork helps this one out greatly because at the very least it's really nice to look at but there is only so much he had to work with. 
Is this book worth your time and money? At a quarter cover price there is little to go wrong here (editors note: the digital version of this book is free for a limited time). Basically this is a Free Comic Book Day release but cost .25¢ and is well worth it even with the Justice League disappointing turn at the end. A lot of comic shops will be giving this one away for free this Saturday but if you have to buy it its a hell of a deal. VERY RECOMMENDED!
Avengers #1
Marvel Comics Writer Jason Aaron, Penciller Ed McGuinness, Inker Mark Morales, Colorist David Curiel, Letterer Cory Petit
You may have seen a little film that came out last weekend staring this group of heroes and Marvel is trying to get new and old readers to come back to the title but, I'm not sure that this is going to impress anyone at least this first issue. Aaron spends most of the issue on exposition and quite frankly not much really happens in this first issue. He does a decent job of introducing both old and new members and for new readers that's a big plus. The problem is the there is simply not much story here and doesn't really add up to much. It's not to say that this first issue is bad by any means but doesn't get me very excited to come back for more. I'm a fan of McGunness's artwork but he really seems to be phoning it in on this book. There are times where he does shine but the mediocre outweighs the good overall. It's almost like he did the book for a paycheck and has no vested interest in the book. Again not bad but in McGunness's case it's extremely disappointing.
Is this book worth your time and money? I found this book to be pretty boring and flat for a first issue that should get readers excited for a new title. I was hoping that Aaron and McGuiness would bring a fresh and new take to Earths Mightiest Heroes but instead we get mediocre story and artwork that is not going to impress most readers. SKIP IT!
Coda #1
Boom Studios Writer Simon Spurrier, Artist Matias Bergara, Color Assists Michael Doig, Letterer Colin Bell
There were a lot of good ideas in this book but I really struggled with the first half of the book that really dragged and nearly sunk the whole thing. The mistake that Spurrier makes with this first outing is that it starts off too dense and disjointed that makes reading the book a real slog for about the first 15 or so pages until it starts to come together and start to make sense. Once it gets to the last act of this first issue it gets really good and has some decent reasons to come back for a second issue. But it's hard to give the book a pass because it starts off so rough at the beginning. I get that he is trying to set things up but confusing the readers is not going to help anyone. The one thing that did save the book was the gorgeous artwork by Bergara with a lush European style that gave the story a grand mythical feel and look that brought this world to life. The other big plus is the color work by both Bergara and Doig who are not afraid to make wild and bold color choices with this book an it really pays off. 
Is this book worth your time and money? This first issue is a real mixed bag with a story that starts off on the wrong foot and nearly losses the reader with an incoherent story but Spurrier does right the ship so to speak and gets the story back on track in the back half with some good ideas. The art by Bergara helps the book out immensely but the jury is still out on recommending this book. If you like fantasy stories then you might want to look into this book and give it a shot but be forewarned that it's a tough haul at first. 
Death or Glory #1
Image Comics Writer Rick Remender, Artist Bengal, Letterer Russ Wooton
I'l be really honest here and the main reason that I bought this comic was because of Bengal's artwork and he does not disappoint here. The question was always going to be if Remender could come up with a story that could stand up to Bengal's artwork and I'm glad to say that it does. Remender's script has a nice flow to it and he sets things up well but keeps the exposition to the background and lets the story breath really well. What I liked was that he let the readers get to know the characters and their situations and that really pays off when Glory gets into a tough situation later in the story. He also keeps the story simple and straight to the point that gives it a nice flow while your reading it and that made a very enjoyable read. Bengal really pulls out the stops on this one and while the action scenes are amazing, it's the smaller more intimate scenes where I find that his artwork really shines on this comic. The scene with Chase in the bathtub is a great example of how strong his artwork is and why this book works so well because of it. 
Is this book worth your time and money? I really enjoyed this first issue and gives you a solid reason to come back for more. While the story is not wholly original, Remender finds a way to make it feel fresh by not trying to make it bigger that it needs to be. He keeps it focused and on point without any extraneous story elements to bog it down. This might just be some of Benjal's best work to date. I love that his characters have a bit of a cartoony style that gives them great expressions throughout the story and captures their emotions perfectly. Remender and Bengal are a well oiled team on this book and cant wait to see where they take it from here. VERY RECOMMENDED!
Doctor Star and the Kingdom of Lost Tomorrows #3
Dark Horse Comics Writer Jeff Lemire, Artist Max Fiumara, Colorist Dave Stewart, Letterer Nate Piekos
Lemire keep digging deeper into this Black Hammer side story that shows the price and the more "reality" side of being a superhero. What I'm loving about this book is that Jimmy is dealing with the consequences of his leaving his family to go off on an adventure but only thought of himself. What has made this story so relatable is that Jimmy is an everyman and while being a superhero sounds fun and all, there are real world ramifications to the choices that you make. This issue also deals with the other story of aliens and how Jimmy affected their future that we have yet to fully see what that will become. He does give a nod and wink to the Green Lantern Corps that was a nice touch to this story and his desire to save his son from the ultimate villain death. Fiumara continues to impress with his artwork and it's the dramatic scenes where he really shines. The raw emotions that he brings to the characters is one of the big reasons that this book is working so well. 
Is this book worth your time and money? Lemire and Fiumara continue to fire on all cylinders on this book and this issues story is very pivotal to the story arc and one of the best so far. I love that Lemire keeps the fine line between reality and superheroes that has given this story so much depth and heart. It's rare that you see that in superhero comic much and even harder to get right. I honesty cant wait to see how they tie it all up and how it fits into the overall Black Hammer Universe. HIGHLY RECOMMENDED!
Captain America #701
Marvel Comics Writer Mark Waid, Artists Leonardo Romero, Adam Hughes, & J.G. Jones, Colorist Matthew Wilson, Adam Hughes & Paul Mounts, Letterer Joe Caramagna
While it's sad to not have Samnee on this final Waid story arc, a trio of artist come in and give this story a great first chapter. Waid weaves three different timelines together (hence the three artists) and connects them seamlessly into one great story. Where Waid knows how to tell a story so well is that he is taking Cap back to what makes him a great hero in the first place. He keeps it both simple and epic at the same time. While some might find the story filled with clichés and familiar story tropes and I wont necessarily disagree but that's what I love about Waid's writing is that he just tells old school type stories and I'm OK with that. The story is not about being big and different, it's about fun and what Captain America means to the readers. I loved the artists that worked on this book and Romero handles the main story and glad to see him on this story after his wonderful run on Hawkeye. Hughes 1944 story is perfectly suited for his style just as 1968 is tailor made for Jones. Even with the three distinctive art styles Waid's script makes it fall perfectly into place. It's a real visual feast.
Is this book worth your time and money? Is this the greatest Captain America story, no but I certainly had a great time reading it. Waid is not trying to reinvent the wheel here and it's simply a classic simple superhero story that Cap and us need now. Waid instills hope and heart into these stories and that is what makes them both fun and great. RECOMMENDED!
Xerxes: The Fall of the House of Darius and the Rise of Alexander #2
Writer and Artist Frank Miller, Colorist Alex Sinclair
The first issue of this new series got off to a decent start but this second issue I felt worked a bit better but can see that the overall story is going to read better in one sitting than as a monthly comic. Miller has always written his stories for their entirety and Xerxes is no exception. It's like reading only one chapter at a time in a novel that you come back to a month later. While the book is very satisfying it's hard to just get these small bites of an overall story. With that being said I was really impressed with this second outing of the story that was in some ways stronger than the first chapter but worked because of it's set up to this one. We now get to see where Miller is going with the story and setting the stage for how Xerxes comes into the mythology of the story. This story was also a nice balance of the other side of war that involves strategy instead of brute force to win a war. Miller's art on this book is very nice and he continues to show why he is a master visual storyteller. His use of shadows, scope and visual dialog is what makes a book like this such a visual feast. His collaboration with Sinclair with the color work really makes his art work even than better. He always brings such striking visuals to his stories and this is one of his best. 
Is this book worth your time and money? I found that this issue really sealed the deal on this book because the first issue didn't seem as fresh when I read it but this second outing gave the book a different feeling than the first and was much more intimate and powerful story that was much more low-key than the first. It also shows where he is going with the story and that has me more excited. It's still going to read better in one sitting but well worth getting now as well.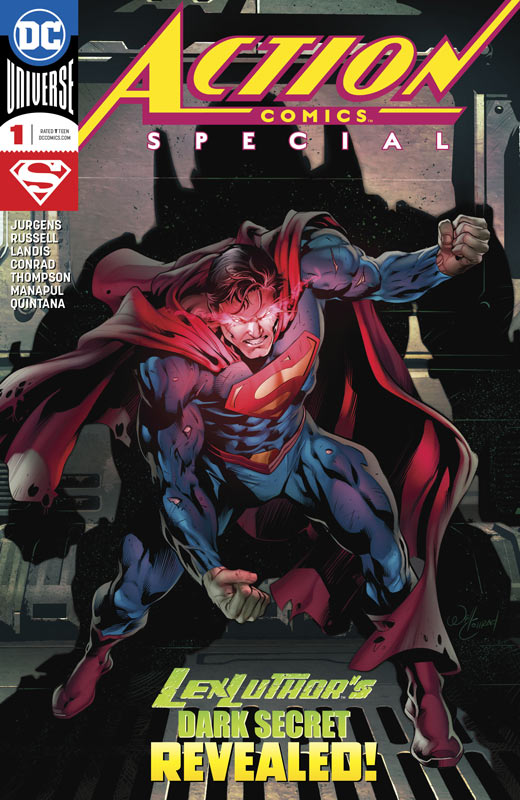 Action Comics Special #1
DC Comics Writers Dan Jergens, Mark Russell, Max Landis, Artist Will Conrad, Jill Thompson, Francis Manapul (& color), Colorist Wil Quintana, Romulo Fajardo Jr., Letterers Rob Leigh, Steve Wands
This special seems to serve two purposes, one to have Jurgens wrap up his run on Superman with one final outing and the other is to keep the momentum of Action Comics #1000 going. The first works out a little better than the latter. The first story is not a final chapter to Jergens run per say but more of a final goodbye before Bendis takes over the Superman universe. It was a pleasant read but as with most of Jurgens stories lately just OK stories from the 1990's that seem dated today. It's not to say that his run recently has been bad but it just seems stuck in a time warp. In a way it's nostalgic in some of the wrong ways. It's pleasant but fairly forgettable after you read it. I did like Conrad's artwork on the story that did give it a nice lift and made it a bit better than it actually was. Overall an average Superman story. The second story by Russell and Thompson was a big improvement and a nice take with the celebrity roast story. Russell keeps it light and fun and that is why it works well. It ends up being a simple gag story that he fits into the Luthor President storyline perfectly and leaves you impressed in the end. Thompson's art on the story is good but there were a few panels that were a little weak but not fatal. She did capture the facial expressions and the jokes very well. The last story was the jettisoned Landis Manapul Superman story from the Christmas special from December after the surfacing of Landis sexual harassment claims. It was a timing issue with the new and had nothing to do with the content of the story. As with most short Christmas tales this is a short and sweet story that anyone with an old car that they love hates to see it finally die but as with any good Christmas tale there is a happy ending. The story greatly improved due to the wonderful artwork by Manapul that makes it all work perfect visually. It's both charming and sweet.
Is this book worth your time and money? If you're a Superman fan then your going to get this anyways but for new or more discriminating readers the reason to get this book would be for the two short stories but it's hard to recommend for the $5 cover price. It's not terrible by any means but with the main story being just OK I was a bit disappointed in the book. But not a total loss thanks to Russell and Landis is where the book does shine.