Wonder Woman  75th Anniversary Special #1
DC Comics Writers Rafael Scavone, Rafael Albuquerque, Brenden Fletcher, Karl Kerschl, Mairghread Scott, Greg Rucka, Fabio Moon, Renae De Liz, Jill Thompson, Hope Larson, Gail Simone Artist Rafael Albuquerque, Karl Kerschl, Brain Bolland, Riley Rossmo, Liam Sharp, Fabio Moon, Renae De Liz (penciler), Ray Dillon (inker/colorist/letterer), Jill Thompson, Ramon Bachs, Colleen Doran,  Colorist Dave McCaig, Michelle Assarasakorn, Ivan Plascencia, Romulo Fajardo Jr., Mat Lopes, Hi-Fi, Letterers Steve Wands, Josh Reed, Deron Bennett, Jodi Wynne, Cory Breen, Dave Sharpe
It's Wonder Woman's 75th Anniversary and DC Comics continues to celebrate with this wonderful special featuring all-star creative teams that bring their unique talents to each of the short stories in the book. While the $7.99 cover price might scare some, it is by far the best bang for the buck comic that I have read in quite a while. With a whopping 10 stories 8 pin-ups and 3 unpublished Bolland covers gives you a lot to get through on this book. While there are thankfully no clunkers the only slight disappointment is that the Thompson story is just a 6 page preview from the recent original graphic novel The True Amazon that if you have already read it then you can skip that one. There are two that really were fun and different "The Age of Wonder" by Moon and "Democratic Design" were simply great fun to read and a lighter side of Wonder Woman. The greatest thing about the book is that each creative team bring the one key ingredient that makes Wonder Woman so great and endearing, HOPE. There has always been great stories over the years about her but this special really encapsulates the many facets that make you understand why she has lasted for 75 years.
Is this book worth your time and money. With a true treasure trove of story and art this is one of the times where the title special truly lives up to it. After you are done reading the book you take away a sense of joy that you rarely feel in most mainstream comics. Each of the creators have truly brought there A game to this book and delivered some of the best Wonder Woman stories in her history. This is a book for both long time and new readers to Wonder Woman and I can't think of a more fitting book to celebrate her 75th birthday. HIGHEST RECOMMENDATION!
Skybourne #2
Boom! Studios Writer and Artist Frank Cho, Colorist Marcio Menyz, Letterer Ed Dukeshire
Skybourne is one of those comics that is neither good nor bad, but just kind of there. Cho as in the first issue delivers the goods when it comes to the artwork on the book with no surprise there but, his writing is a bit flat. The first issue had the advantage because of the action that moved the story along quickly but in this second issue the story just plods along and just seems to drag out a story that was a been there and done that read. Cho's story is basic and not very original and while that is true for a lot of comic stories the problem here is that he doesn't give it a new spin and that is where the book lost me.
Is this book worth your time and money? Unfortunately as great as Cho's artwork goes it can only do so much here with the mediocre script that never quite takes off. I had hope after reading the first issue that the book might be worth getting but with this second issue it's simply time to bail on it. SKIP IT.
Frostbite #2
Vertigo Comics Writer Joshua Williamson, Artist Jason Shawn Alexander, Colorist Luis NCT, Letterer Steve Wands
I was quite taken with the first issue of the book and after this second outing I have to say that it just keeps getting better. Williamson laid some great groundwork in the first issue and does a very nice job of building with this second issue. He moves the story forward but still keeps some things hidden that made for a very intriguing read. He also build tension quite well with the story that is not only delivering but gets you excited to see where is going to take the story. Williamson builds the characters development but perfectly blends it with the ongoing story that is Alexander's artwork continues to impress really have to give him props for using white as a background here. hate when artist use color instead of drawing a background but here Alexander wisely uses white to give you a better feeling of the extreme temperatures in the story. A lot of artist would have missed this but he thankfully has not.
Is this book worth your time and money? I was very impressed with both the solid story and great artwork on the book that continues to impress. The story is building very nicely and I can't wait to see where Williamson and Alexander take it. RECOMMENDED!
Ms. Marvel #12
Marvel Comics Writer G. Willow Wilson, Artist Mirka Andolfo, Colorist Ian Herring, Letterer Joe Caramagna
Marvel keeps rebooting their line and it seems as if there is a new #1 every six months. While this is actually issue #12 there is a big #1 NOW on the cover. While I'm a big fan of this book sadly Marvel has ruined it for a couple of reasons. First let me say that the creative team have alway delivered top-notch work on the book. By slapping a fake #1 on the cover it may appear to new readers that this is the start of a new story. While the story is good, it's far from new reader friendly in the sense that it's continuing story lines from the previous story arc. While there is a recap at the beginning there is so much that has gone on in the book that new readers will not really grasp the details of this issues story. The bigger issue is that the cover price is $4.99 and your only getting 20 pages of story here. While there is a 10 page Black Widow story that is not why I'm buying this book. If Marvel wants to include a free preview of a book I have no problem but when they are charging for a mediocre story that I didn't ask for or want to pay for then they have a really serious problem. I'm very sad to say that the Ms. Marvel story was another good solid outing from Wilson that continues to write this well crafted book. Andolfo's artwork was nice but there noticeable lack of backgrounds and there is a bit of inconsistent artwork in the issue.
Is this book worth your time and money? It's sad that Marvel has simply decided to become greedy and ruin Ms. Marvel. While this issues story is quite good and one of the best of this recent run I simply can't recommend buying the book for the cover price and a back-up story that is not very good and doesn't fit into this book at all. At this point I will wait for the trades that actually have Ms. Marvel in it and worth the price compared to this overpriced single issue.
Vigilante Southland #1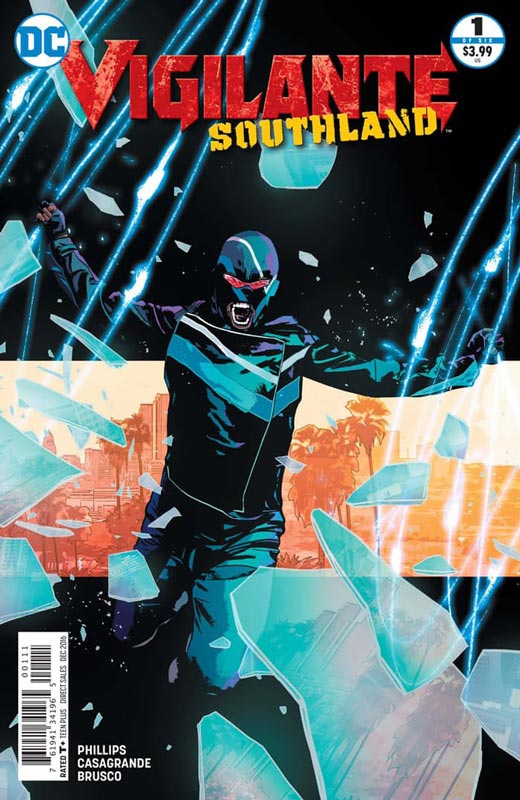 DC Comics Writer Cary Phillips, Artist Elena Casagrande, Colorist Giulia Brusco, Letterer Todd Klein
I was a big fan of the original Vigilante series back in the 1980's so I was intrigued that DC was bringing back the character but giving it a different spin. Phillips has some good ideas here but I was a bit disappointed by the structure and pacing of this first issue. The problem is that the story never quite gelled until the end of the issue and while it ended on a good note the road to get there was a bit too bumpy. The one problem is the overall pacing of the first issue, that was somewhat all over the place. There are some good story elements that Phillips delivers but sadly get lost in the shuffle. I did however like Casafrande's art on the book that has a nice gritty style that suits the feel and location of the story. She really did her best to help the story along and while she succeeded most of the time the pacing of the script kept it from working.
Is this book worth your time and money? The shame is that I can see where Phillips is trying to go with this incarnation of Vigilante and there are some good ideas that are hidden in there, but the problem is that the pacing and structure of this first issue is a mess. While there is hope for the story in the long run I doubt that most readers will be willing to stick around for more. I really wanted to like this book but just can't really recommend it 100%
Jughead #10
Archie Comics Writer Ryan North, Artist Derek Charm, Colorist Victor Gorelick, Letterer Jack Morelli
In just a few issues North has nicely settled into the Jughead universe and is delivering a really great story here. This is simply a Jughead story that I thought I would ever see and boy is it a doozy. North could have taken the simple route of just having Jughead on a date with a regular Riverdale character but the fact that he went with Sabrina is a stroke of genius. He really captures what a nightmare every first date pretty much turns into but adds in witchcraft into the mix and that is where the fun begins. One of the best things that North does is with the pacing of the story from start to finish hits all of the right beats dead on. He also keeps the readers on their toes with some very unexpected plot twist that made for some nice surprises. I am really enjoying Charm's artwork on the book and his simple yet detailed artwork really brings North's script to life and captures the goofy fun of the story.
Is this book worth your time and money? North and Charm are really nailing this book and keeping it both fresh and high quality. I love that the book can go in so many directions that are allowing North and Charm to push the envelope of where the book can go, but always making sure that the characters are grounded in a solid story foundation. VERY RECOMMENDED!