A strong finish for the DC/Looney Tunes crossover books with another big winner of the comic book of the week award. Also some misses this week but a strong finish to the Wonder Woman Rebirth Greg Rucka run. So let's get started.
COMIC BOOK OF THE WEEK!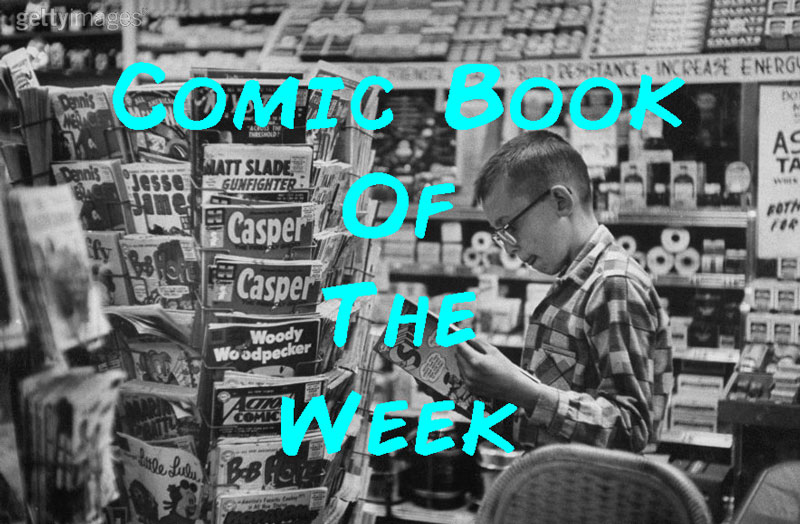 Batman/Elmer Fudd #1
DC Comics Writer Tom King, Artist Lee Weeks, Colorist Lovern Kindzierski, Letterer Deron Bennett, Back-Up Story Writer Tom King, Artist Byron Vaughns, Colorist Carrie Strachan, Letterer Deron Bennett
The final two DC/Looney Tunes crossovers hit the shelf this week and it really ends on a great high note. While I still give the Lobo/Road Runner comic from last week still edges out as my favorite but Batman/Elmer Fudd is just as good. I have to give major props to King for coming up with a great angle to tell the story in a noir setting that gave the story a perfect match. The other thing that made the story that much more charming is that when Fudd speaks King included his lisp in the dialog that was simply perfect. The story mixes the two so well that you never once feel that they shouldn't be together. King does make the Looney Tunes human but makes sure that they come though in the dialog with all of their personalities. He kept the story simple but gives it great depth that you rarely see in a crossover like this and in fact Batman isn't in the story that much but makes sense in the story. The flow of the story is simply perfect and this is where Weeks comes in. It's one thing to have a great story but you need to have an artist that can bring every subtle element of the script to life and Weeks simply nails it. His art style perfectly captures the noir aspect of the story and he is able to transform all of the Looney Tunes characters into human but still captures not only their essence but visually he makes them look just like them that simply blew me away. The mood that he brought to the story is one of the reasons why the story works so well. This is a comic where the writer an artist are perfectly in sync and have crafted a simply brilliant comic. The back-up story by King and Vaughns is simply an homage to the duck season/rabbit season that has Batman playing Daffy and has some good chuckles in it and works very well. Vaughns artwork is a big win for the story and has a classic Mad Magazine style that is super charming and fun.
Is this book worth your time and money? King and Weeks have really hit a home run with this book and the details and layers that they both deliver are simply breathtaking and the book was a sheer pleasure to read and look at. With a fun back up story this one is one of the best Batman stories in quite a while and you actually want to go back and read it again and again. This is a must buy comic and gets my HIGHEST RECOMMENDATION! and a rare back to back COMIC BOOK OF THE WEEK!
Jonah Hex/Yosemite Sam #1
DC Comics Writer Jimmy Palmiott, Artist Mark Texeira, Colorist Paul Mounts, Letterer Saida Temfonte, Back-Up Story Writer Bill Matheny, Artist Dave Alvarez, Letterer Saida Temfonte
The last Looney Tunes/DC crossover gives Palmiott a grand reason to go back to the wild west and Jonah Hex and there was no better choice to write this story than him. As with the Batman/Elmer Fudd book he uses the "human" approach to the Looney Tunes characters but wisely lets Foghorn Leghorn be more of a hybrid that works quite well for the story. He keeps the story simple but gives it great pacing and a lot of fun. While it was a no brainer to have him back on Hex he does a great job of capturing Yosemite Sam essence with lots of nods and winks. Simply put Palmiotti delivers a classic western comic that hits all of the right beats. Getting Texeira to draw this book is a real dream. He really captures the classic western artwork style of old school comic book westerns that very few current artist would be able to pull off. What is most impressive is his attention to every detail both big and small that gives the book a great lavish look that complements the script perfectly. He draws a great looking Jonah Hex with great mood and style that makes it all come together so well. Matheny and Alvarez deliver little back up story that has a great DC Animated look that is a short and very sweet story that looks amazing.
Is this book worth your time and money? This is a really solid book and if you're a fan of western comics and or Jonah Hex then this is a real treat for you. Great story with gorgeous artwork and a very fun back up story that makes this another winner for the Looney Tunes/DC crossovers. VERY RECOMMENDED!
Bankshot #1
Dark Horse Comics Writer & Letterer Alex De Campi, Artist Crisscross, Colorist Snakebite Cortez
I think somewhere in Bankshot there is a really good comic, but unfortunately the first issue never quite takes off or grabs you. De Campi throws out some good ideas in the script but it never quite comes together and has a real focus problem with the script. You never really relate to any of the characters that becomes a problem and the story ends up being a bit on the confusing side. I will give him that he pulls off the action in the story quite well and there are some really intense scenes but without strong character development it ends up being a mess by the end of the issue. On the plus side the artwork by Crisscross is really strong and does help the script out well many times. He really gives the story a strong visual footing but with the script issue there is only so much that he is able to do with it.
Is this book worth your time and money? I don't think that the book is terrible by any means but it really struggles with the focus of the story that is where I had real issues with it. I will say there is some promise by the end of the issue but I can't really recommend the book. It's a real shame because Crisscross's artwork is really great on the book and I really wanted to like the story but it just didn't happen in the end.
Beautiful Canvas #1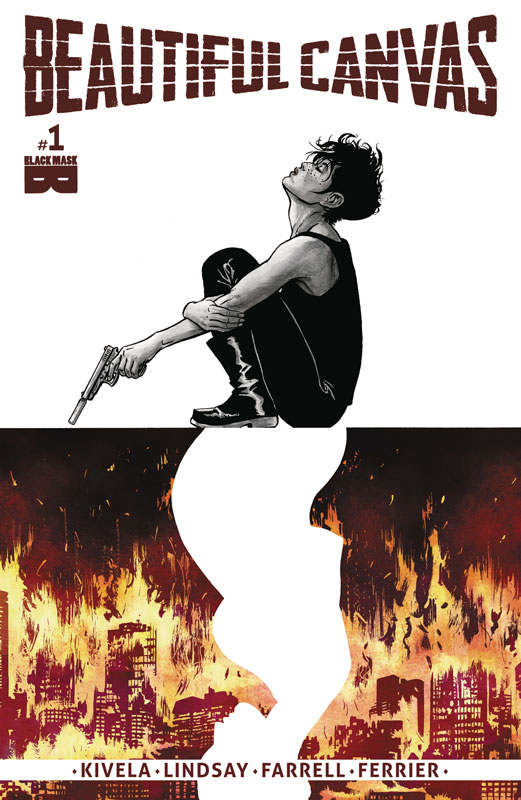 Black Mask Comics Writer Ryan K Lindsay, Artist Sami Kivela, Colorist Triona Farrell, Letteer Ryan Ferrier
Beautiful Canvas is one of those stories that you're not quite sure what to make of it as it starts off but by the time it gets to the end of the first issue your quite intrigued with the story and it sets up a lot of questions that your interested to see where they take them. Lindsay's script has a lot going on in it and there are many times where you're not sure where he is going to take things but while your left in the dark with the mysteries but your interested in Lon and what and why she does being a hitman but what is haunting her. The first issue does is mostly building the exposition of the story and there are way more questions than answers but there are some really solid ideas in Lindsay's script. Kivela does a nice job on the artwork for the book and give the comic a nice solid artwork foundation that complements the story nicely. He gave the book the dramatic visual elements that drive the story and keeps the pacing moving along nicely.
Is this book worth your time and money? I like what I read and saw here and there is a lot of promise to the book. The set up is good and there is some good reasons to come back for the second issue. I'm intrigued where Lindsay and Kivela are going to take the book. This is a book that is worth a try.
Secret Weapons #1
Valiant Comics Writer Eric Heisserer, Artists Raul Allen & Patricia Martin, Letterer Patrica Martin
I have had mixed results with trying to get into Valiant books because there have been some that are tied to previous continuity that is tough for new readers to follow and get into. I have to give Heisserer props for crafting a story that is very new reader friendly and gets the book off to a great start. What really helps the first issue is that he does a great job on not only laying out the premises but does a nice job of developing characters that you care about that make the story not only worth reading but a reason to care. Many writers forget to give the reason to care about the characters that will invest you into the story and Heisserer has done it very well here in this first issue. While he still keeps elements of the story close to the vest and not revealing not all of the mysteries, but gives you a solid story with a great reason to come back for the next issue. Allen and Martin really do an excellent job with the artwork on the book. They give is a great outside the box visuals from most Valiant titles and it really makes this book stand out in all of the right ways. It really sets it apart from the standard superhero fair and that really helped Heisserer's script to work so well. This book is off to a great start.
Is this book worth your time and money? I was very impressed with this first issue and really fell in love with the characters. Heisserer has set up the story quite well and with Allen and Martin really delivering some great artwork really make this book a solid read and well worth RECOMMENDING!
Wonder Woman #25
DC Comics Writer Greg Rucka, Artist Liam Sharp and Bilquis Evely, Colorist Romulo Fajardo Jr., Letterer, Jodi Wynne
As they say all good things must come to an end but the last issue in Rucka's stunning Rebirth run of Wonder Woman is going to be a tough act to follow for sure. In just one year he has bought back Diana to her rightful place in the DC Holy Trinity and honestly has surpassed the current Superman and Batman titles easily. This final story serves as both an epilogue to both storylines and re-establishes her in the DC Universe. He also restores her faith in the gods after her trails and tribulations in the year-long stories. He also does a nice job of wrapping the supporting cast storylines and giving future contributors a solid foundation for years to come. What I loved about this final story was the heart and soul that Rucka has always strived for with the stories and gives you a conclusion that is thoroughly satisfying and bittersweet. Sharp has been there from day one with his gorgeous artwork that had graced the book along with Scott and Evely and it was nice to see his and Evely's artwork blend together nicely on this final outing. While their styles are different I was glad to see that they weaved each artist into the story and it flowed together effortlessly. It was Sharp's final page in the book that really brought a tear to my eye and yet filled my heart with warmth that brought the stories to a great close.
Is this book worth your time and money? I have been with this book from day one and have loved and cherished each issue. Rucka has delivered both epic and heartfelt stories that have made this last year with Wonder Woman a true high point in her long history. Along with Sharp, Scott and Evely who have visually brought there best to the book each and every issue that captures the stories beautifully and with detail that has risen above standard superhero comics. While I am sad to see the them leave the book, it's better to go out in style than to overstay you're welcome and for that I am thankful that they delivered their best and we are the ones who are grateful for their love of Wonder Woman. To this I say thank you to all of the creative team who have made this last year simply great! HIGHLY RECOMMENDED!
Eleanor & The Egret #3
Aftershock Comics Writer & Letterer John Layman, Artist Sam Keith, Colorist Ronda Pattison
This is one of those comics that is not super flashy but each issue has a great sweetness and charm that makes it a pleasure to read each month. I like that Layman is taking the slow burn approach to the story and letting it unfold very naturally with each issue. While some readers might struggle with this, I actually prefer it because it makes for a stronger overall story. Layman finds a great balance between the mystery of the story and the characters and the humor. This issues story added a nice darker side element to the story and made for a very shocking ending. This plays very well into the hands of Kieth who continues to deliver the perfect artistic touch to the book. The story is tailor-made for his style of art that is bringing this unique world to life. He captures the exaggerated world that Layman's script needs to work to bring it all together and Keith delivers that perfectly.
Is this book worth your time and money? I'm still loving the book and this issue is a real game changer with both the tone and direction that Layman is taking the story. As always Keith delivers the perfect artwork for the story and this book is a solid read.
Supergirl: Being Super #4
DC Comics Writer Mariko Tamaki, Artist Joelle Jones, Colorist Kelley Fitzpatrick, Letterer Saida Temofonte
This issue concludes this mini series and while I did enjoy the book overall, I do feel that it started off a bit stronger than the finish. It's not that Tamaki's story was not good but I felt that the last act of the story was a typical superhero ending that was simply too easy and has been told a million times before. The script seems to simply gone through the motions here and simply fell a bit flat in the end. This is such a shame because the first two issue had really smart scripts and were very story driven. The good news is that Jones's wonderful artwork make the stock ending much more palatable to read and where she really shines is in the more dramatic subtle moments of the story. That is not to say that the action scenes are any less good in fact she brings some great visual layouts and does her best to try to at least make the story more exciting.
Is this book worth your time and money? I still enjoyed the story overall, but I had just wished that Tamaki had stuck with a more unique and dramatic story instead of a stock ending that nearly sinks the book in the end. Jones's art is strong and really tries it's best to make the ending feel and look differently and she nearly succeeded. The book is still worth reading but needed a stronger and more original ending.