A lot of books came out this week including three all ages books that made the list this week. There is a slight change in where the book for review are now purchased from. I have switched to Pulp Fiction in Long Beach (that is also known on the web at Cheap Graphic Novels) and this change will have no effect on the reviews. If you are in the Long Beach area I very much recommend the store. If you are looking for great deals on Hardcovers and Trade Paperbacks then check out the online store.
Now on to this weeks reviews.
Vampirella #1
Dynamite Writer Nancy A. Collins, Penciller Patrick Berkenkotter, Inker Dennis Crisostomo, Colorist Jorge Sutil, Letterer Rob Steen
Dynamite is trying again to revive the classic Warren black and white magazine from the late 1960's. The plot from Dynamite is, In FEAST OF SHADOWS, the first in the six-part OUR LADY OF SHADOWS story arc. Vampirella is sent by the Vatican to investigate the kidnapping of a little girl by Ethan Shroud and the Chaos cultists, only to become the centerpiece of a ritual invoking Lady Umbra, the sister-bride of Chaos, that leaves her marked as a living sacrifice to the dark goddess who rules the shadows. Acclaimed novelist Collins who also did a run on Vertigo Comics Swamp Thing in the early 1990's has been tasked with the newest revival of the character. The first issue is a set up story for the first arc and it's a fairly decent set up. Collins does a nice job of doing Vampirella's origin in the issue which is a good thing considering most modern readers are not going to know who she is. The story is good but not great but it is a first issue. The thing is that the whole cult trying to get the evil spirit to take over the world is a story that has been told a million times before and Collins really didn't bring much new to the idea in the first issue. It's a by the numbers affair that's not terrible but does not get you super excited to read the second issue. Berkenkotter and Crisostomo do a nice job on the artwork and is a nice step up from the usual average art on a Dynamite book. It's not going to blow you away or anything but they do a nice job on the characters and the layout of the story.
Is this book worth your time and money? The first issue is OK but it does set up a fairly interesting story by the end of the issue that at least has me intrigued on where Collins is going to take the story. This is one of those middling first issues. It's overall neither great nor is it really bad. If you like the character then you might give it a try. If you are on a budget and are not sure I would say there are better books this week to spend your hard-earned money on.
Moon Knight #4
Marvel Comics Writer Warren Ellis, Artist Declan Shalvey, Colorist Jordie Bellaire, Letterer Chris Eliopoulos
It has just been announced that Ellis and Shalvey are only doing the first six issues of the book and then writer Brian Wood is taking over. The plot from Marvel is, Moon Knight goes somewhere even more messed up than his own mind. Something is happening to the subjects of a sleep experiment that's driving them all insane. Go with Moon Knight to the Mushroom graveyard planet for the most troubling and disturbing issue yet! It seems as if this book is always going to be a single issue format type book so in a way it keeps it fresh every issue. It doesn't however allow the book to explore deeper ongoing themes of multi part stories can do for a book. Ellis does deliver a really trippy story this issue and the payoff at the end of the story is really quite brilliant. The single issue format is allowing Ellis to take each issue to explore really out there concepts that would be very difficult to do with a more traditional comic book monthly approach. Shalvey really delivers some of his best work on the book with this issue. He really does an amazing job of capturing the dream world that the story tells. His layouts for this story are really mind-blowing and visually really bring it all together.
Is this book worth your time and money? I am still enjoying this book and the way that Ellis and Shalvey are taking with the single issue story is really putting a different spin on the character. Ellis is not afraid to take the book to really far out there but still keep the core of Moon Knight character. This is a really wild book for a mainstream publisher like Marvel and that is why it's a really great read each month.
Batman '66 Meets The Green Hornet #1
DC Comics/Dynamite Written by Kevin Smith and Ralph Garman, Artist Ty Templeton, Colorist Tony Avina, Letterer Wes Abbott
DC has had great success with the Batman '66 regular series and now they have teamed up with Dynamite to revive the most infamous crossover in television history with a new story. The plot from DC is, In 1967, television history was made when two masked crime fighters met in a historic crossover. Now, superstar filmmaker Kevin Smith and actor/comedian Ralph Garman join forces with artist Ty Templeton (BATMAN '66) to bring these two iconic characters and their famous partners together again. Set in the continuity of that earlier team-up, Batman, The Green Hornet, Robin and Kato must go up against a very different General (formerly Colonel) Gumm. What crime could be so deadly as to force these rivals to put aside their differences and join forces again? And what surprise does Gumm have up his sticky sleeve? I have been a big fan of the regular monthly Batman '66 book and thankfully Smith and Garman have also captured the spirit of the original television show and continue the adventures of the Green Hornet crossover. They perfectly capture the tone of the story but give the story a bigger "budget" than the original show was capable of doing. The scope of the story is really what makes this book so much fun and then adding The Green Hornet and Kato is just icing on the cake. I also liked that they brought back the original villain from the original episode Colonel Gumm for those who remember the original episodes. I really loved that they did the research and did the book as more of a sequel to the original show. It will be interesting to see if they use any other villains from the show in the future issues. I am a big fan of Ty Templeton's artwork and glad to see him do more Batman '66 work. Templeton is the perfect artist for this story. He not only captures the original actors really well he also does the television shows camera angles that were a staple of the series. He really brings the wonderful script to life with his art. I must also mention the great Alex Ross main cover and below is the Mike Allred alternate cover that is also great.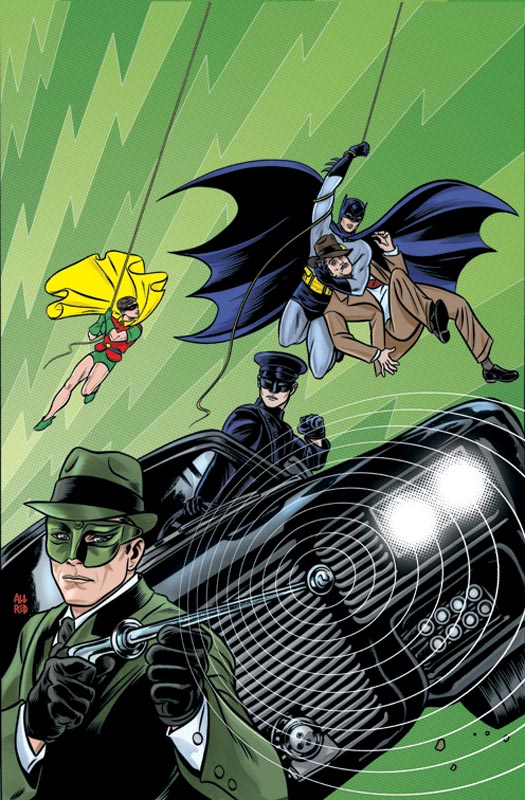 Is this book worth your time and money? The Batman '66 books have been really great for the fans of the television show. This mini series is a really great addition to the continuing stories and does something that was not possible to do in the original show. Have another team up story. Smith and Garman script is pitch perfect in capturing the magic that the original team up had and have expanded out wonderfully. Add the Templeton magic art ingredient and you have one of the best books to hit the shelf this week. This is a great book for fans of the original show and new readers alike. This is my TOP PICK OF THE LITTER this week! HIGHLY RECOMMENDED!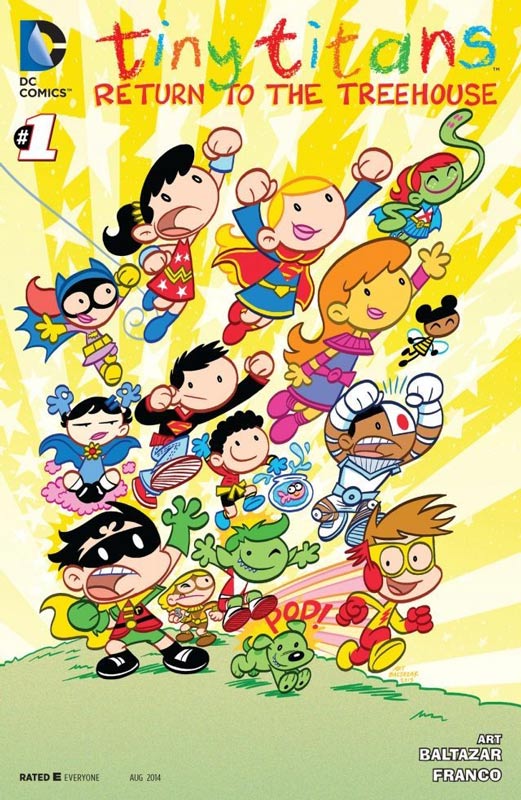 tiny titans Return to the Treehouse #1
DC Comics Writers Art Baltazar & Franco, Artist Art Baltazar
Fans of the original Tiny Titans can rejoice this week because they are back on the rack for more adventures. The plot from DC is, The Eisner Award-winning series is back for an all-new six-issue miniseries! Superboy and Supergirl return to the treehouse to discover…IT'S MISSING! Or is it just…really small? Who could have done such a thing?! Find out as all your favorite Tiny Titans search for answers! Baltazar and Franco do some of the best all ages books these days and having free rein in the DC Universe allows them to have just about anybody show up to join the fun. They have packed the first issue with a ton of guests like Bat-Hound, Krypto, Swamp Thing, Metamorpho and many others. While this is a wonderful kids book they definitely know that they have a lot of older fans of the book and add little nods and winks to the story for the big kids. The story is a nice little romp that is a nice book to read to balance out the more heavy and dark books out there. Baltazar style is perfect for the book and has a great child like drawing look that is the real joy of the book.
Is this book worth your time and money? If you are looking for a nice short and sweet all ages book this one is perfect. It's one of those books that while is made for all ages is a real fun read for adults too. The thing that I love about the book is the quality of the story and the art for an all ages book. If you have never read a tiny titans book well now is your chance.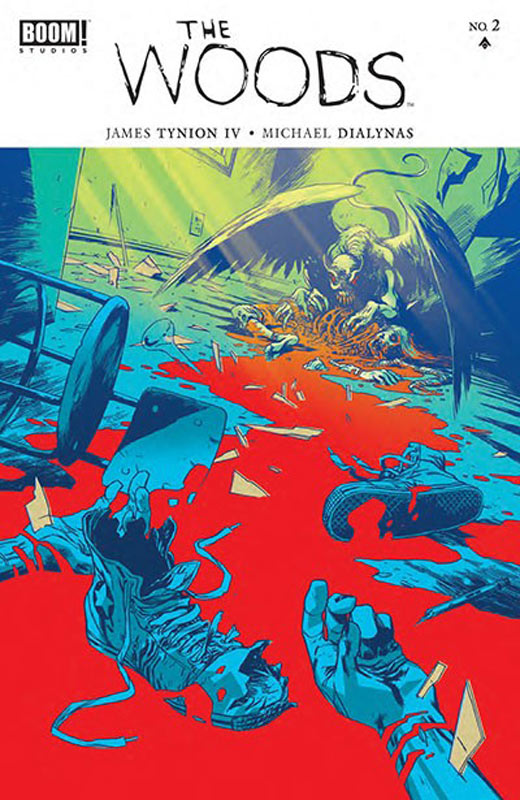 The Woods #2
Boom! Studios Writer James Tynion IV, Artist Michael Dialynas, Colorist Josan Gonzalez, Letterer Ed Dukeshire
I like the first issue of The Woods but the key was going to be where it was going to go in future issues. Issue #2 is out and lets see where we stand. The plot from Boom! is, While the crew of students led by Adrian and Karen come face to face with the unseen terrors of the alien woods, tensions boil over back at the school as power-hungry players seize the opportunity to take control. Tynion is doing a nice job of setting up the new world for the kids to explore but while the second issue was good, I still had the slight feeling of been there and done that. It's very difficult to tell an original story now days but the one thing that Tynion is doing very well is the characterization of the cast. You are getting to know the group of kids well and developing them out. Dialynas continues to do a really nice job on the art for the book. His style fits the story very nicely and does a really fantastic job with providing really great backgrounds that some many artist barely bother with in most comics today.
Is this book worth your time and money? The story is moving along nicely but I do hope that Tynion does bring some twist to the story very soon. The book is not bad but it still a bit stuck in too familiar territory now. The concept is good it just needs to find its own voice. It's worth sticking with for the next few issues but it needs to break out of the familiar mold soon.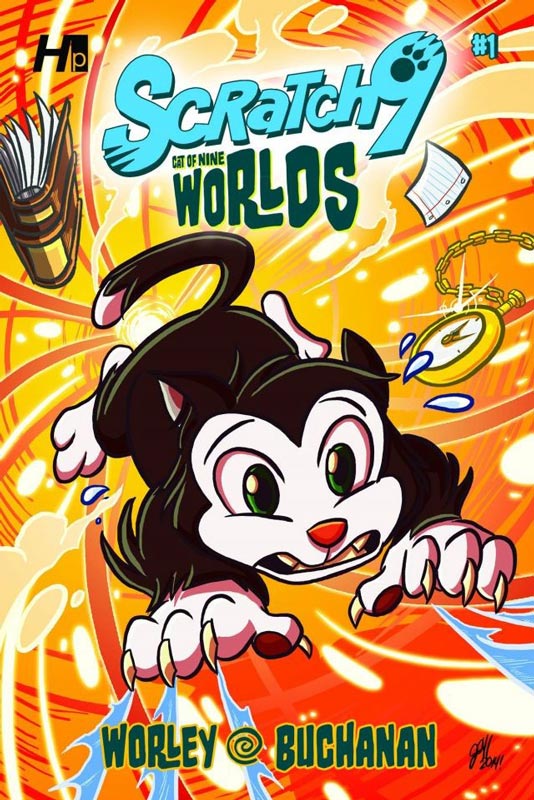 Scratch 9: Cat of Nine Worlds #1
Hermes Press Writer Rob M. Worley, Artist Joshua Buchanan, Colorist Digikore Studios, Letterer Rob M. Worley
Worley has been doing his labor of love all ages book for a while now and has a new mini series that starts this week. The plot from Hermes Press is, Continuing directly from the Free Comic Book Day issue comes the all new, feature-length Scratch 9 adventure. The evil Dr. Schrodinger is back and he's out to even the score with the world's most lovable cat hero. This time the mad scientist has help from Strick, a cat-like Scratch who has power over his nine lives. Fans who read the FCBD edition are sure to be clamoring for this breath-stealing feline battle-royale for all ages! First issue of a monthly eight-issue story arc! This is a bit more simple all ages book compared to some but it's still a nice little read. Worley is starting a bigger storyline with this issue and I enjoyed how it starts off. Throwing Scratch back into the Ice Age is allowing a bigger scope to the adventure. It's a nice way to expand the story but still keeping it pretty simple for the younger readers of the book. Buchanan's artwork is a nice clean and simple style that works very well for the story. He does a nice job on both the animal and human characters.
Is this book worth your time and money? This is a really good all ages book but, with that being said it's definitely a more simplified story and art that you have to be a fan of if you are and older reader. The story while good is pretty basic overall. I am a fan of the book but then I a fan of good all ages books. For me it balances out the flood of superhero books every month. If you are an all ages fan then you might want to check out this book.
Nailbiter #2
Image Comics Writer Joshua Williamson, Artist Mike Henderson, Colorist Adam Guzowski, Letterer John J. Hill
The first issue of this book really knocked my socks off so I was really looking forward to the second issue. The plot from Image is, Officer Nicolas Finch doesn't care about Buckaroo, Oregon's serial killers or its secrets—he just wants to find his missing friend. With time running out he turns to the one man who has all the answers…the infamous Nailbiter! Williamson continues to develop a really well thought out storyline that seems to keep getting better with each issue. Even though the mystery of Buckaroo continues we are starting to learn that there is a bigger story than we imagined. All fingers (pun intended) seems to point to Edward but I have a feeling that it's not going to be that simple with the way that Williamson is unfolding the story. There is a lot going on with the story yet Williamson keeps the focus of it just where he wants it and in a lesser writers hands I don't think it would work as well as it does. Henderson is art continues to impress me. The thing that I love about his art is the way he captures the characters expressions. There is a lot of dialog scenes and you need an artist that can convey the emotions needed in the story. Henderson captures them flawlessly. Guzowski does another fine job with the color work on this issue again.
Is this book worth your time and money? This issue shows that the book is no one hit wonder. Williamson and Henderson are crafting a really compelling story that is in it for the long run. The pacing of the story is really wonderful and I am really excited to see where they are going to take us with it. This book does a great balancing act with all of the elements and rolls them into a really great read each month. HIGHLY RECOMMENDED!
Captain Action Cat #2
Dynamite Writers Art Baltazar, Franco, and Chris Smits, Artist Art Baltazar
Three all ages books in one week is a rare treat. The plot from Dynamite is, The journey through the TIMESTREAM continues as Captain Action Cat, Khem, Golden Age Action Cat, and Dr. Evil Cat spin wildly out of control! Their discombobulated trip takes them to unsuspected lands, unfamiliar places, and the dimension of the fantastic phantom apparition known as The Ghost! Who is she? What's her deal? Is she a Cat person? We sure hope so! Who is trying to possess the ultimate evil anyway? Just when our heroes make sense of things they come face to face with the mysterious man known as X! All this and a sample of jungle fury from the cheetah called the Savage Beauty! Be careful not to crush on her…or she will crush you! While this is another great all ages book from Baltazar, Franco and Smits joining in this time. This is a bit more old school story for the older fans of Captain Action and the Dark Horse Heroes characters. It's not to say that the little ones will not enjoy it because they certainly will. This one has a bit deeper story than their usual books with the whole time travel adventures. This is a great story with characters from three different companies (including Baltazar and Franco's creator owned book AW YEAH Comics) that adds nice mix to the story. This second issue helps explain the different time streams and showing where all of the characters are from and the chaos that tearing it apart. Baltazar artwork is perfect for all of the characters that he gets to draw for the book. I really enjoyed his take on X from Dark Horse mixing the dark and gritty character with a bunch of cats was priceless.
Is this book worth your time and money? This is another great all ages book from Baltazar, Franco and Smits that has a bit more bite than there regular all ages books. It definitely has a stronger adult storyline to it. But they still keep it the story working well from a younger readers perspective. This is another fun book from the team and if you are a Captain Action or Dark Horse Heroes fan then you really need to pick this book up. It's a really fun and good read.
Big Trouble in Little China #1
Boom! Studios Story by John Carpenter & Eric Powell, Writer Eric Powell, Artist Brian Churilla, Colorist Michael Garland, Letterer Ed Dukeshire
The sequel to the 1986 cult classic that fans have been waiting for 28 years to happen. The plot from Boom! is, Jack Burton, a macho, truck-driving adventurer, finds a stowaway hiding on his rig, The Pork Chop Express, but that soon becomes the least of his troubles. He helped his best friend Wang save his fiancée from the clutches of a demon, but now the wedding has been invaded by more evil forces with one thing on their minds—revenge against Jack Burton! If you have never seen Big Trouble in Little China then you are going to be totally lost when you read this book. Powell working from a story with Carpenter really hit the ground running with the story and I really loved what he did with the creature on the back of the truck. I didn't see that one coming. I also enjoyed the glimpses of back story to Burton. He is always telling stories so it makes sense that we get to actually find some of them out now. Of course the fun of the book is Jack putting his foot in his mouth again and going off on another adventure. I really enjoyed Churilla's artwork on the book. Some people might be turned off by the cartoony style but I really think that it fits the book quite well. Let's face it Big Trouble in Little China is silly to begin with and it's pretty much a live action cartoon to begin with. So why not have the artwork reflect the same tone. I think that it adds a really nice tone to the book. Churilla does a really good job of capturing the original cast likeness while still keeping his art style. I doubt that anyone else could draw Pete as well as he did.
Is this book worth your time and money? If you are a big fan of the movie (and who isn't) then you will be thrilled to know that this is the real deal this time. This is the first time that Carpenter has worked on a comic of one of his films and the match up of him and Powell is perfect fit for the book. The story gets the feel of the movie yet strikes out on its own at the same time. Churilla's artwork is really good and leaps and bounds over other movie spinoff comics. This is one of the few times where the comic lives up to expectations of the movie. I'm really glad Jack Burton is back because he has truly been missed. VERY RECOMMENDED!