A light week with it being a fifth week in the shipping schedule but there are still some solid reads with a light week and so there is still a lot to get to so on with the reviews.
The Joker/Daffy Duck #1
DC Comics Writer Scott Lobdell, Penciller Brett Booth, Inker Norm Rapmund, Colorist Andrew Dalhouse, Letterer Wes Abbott, Back-Up Story Writer Joey Cavalieri, Artist & Colorist Luciano Vecchio, Letterer Saida Temofonte
The DC and Looney Tunes crossovers are back with four brand new books and we will start with the Joker and Daffy. First and foremost these books are pretty basic stories that are simply meant for fun and not very deep reading experiences. Lobdell comes up with a pretty neat way to get them together and having Daffy become part of his gang is a lot of fun and he makes sure that Daffy is not willing to just be one of the bad guys. He also wisely doesn't change Daffy all that much to fit into the DC Universe. In a way its a Batman type story that just focuses on the bad guys side of the story. Lobdell nicely sneaks in some great homages to the Looney Tunes cartoons with dialog in the script that was a nice touch to the dialog. On the artwork side of the book by Booth and Raymond does a nice job of bringing the two worlds together and while Daffy has a realistic look to him they do keep a lot of cartoon looks and gags into the visuals that gives it a nice look. The Back up story by Cavalieri and Vecchio is in the Looney Tunes style and they have a lot of fun and cram a lot into this little 8 page story that is short and sweet and a great visual treat. 
Is this book worth your time and money? Overall this is a fun crossover and delivers on both the story and artwork on both the main and back up story. While it may not be the best of the four but if you like Daffy Duck then I think that you will be pleased with the results. It was a fun read for me and worth the price of admission.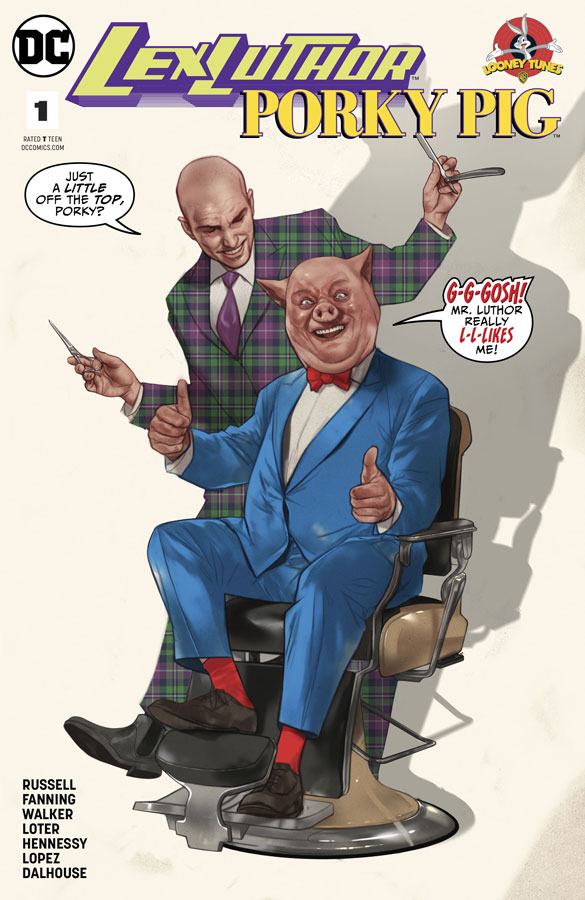 Lex Luthor/ Porky Pig #1
DC Comics Writer Mark Russell, Penciller Brad Walker, Inker Andrew Hennessy, Colorist Andrew Dalhouse, Letterer Alw's Troy 'N' Dave, Back-Up Story Writer Jim Fanning, Penciler John Later, Inker Paul J. Lopez, Colorist Wes Abbott, 
At this point in the game any book that Russell seems to get a hold of simply turns to gold when he is allowed a wide latitude to push the boundaries and this one is another big winner for him. One thing that he does so well is stories that have great social commentary but still entertain and don't get overwhelmed by the social part. This story is as timely as it is fun to read and is one of the wildest crossovers that I have read. How do you make cooperate greed fun and entertaining you say well leave it Russell to find a way to throw that and Porky Pig and Lex Luthor into a blender and have it all work perfectly in way that you wouldn't think that it would. Not only does it take on corporate greed Russell also adds in what the other side of it is with workers who are just cogs in a wheel of the corporate machine where someone taking your lunch is a very big deal. He also mixes in classic Looney Tunes tropes into the dialog and story that gives it a wonderful charm. Walker and Hennessy deliver some very nice artwork to the story and captures all of the subtle and big moments perfectly. Their Porky Pig is spot on in the "real world" The Back-Up Story by Fanning and Later is a great little gag story with some wonderful little cameos in the artwork by Later was a great touch to the story and was quite funny.
Is this book worth your time and money? This is the best of the bunch with spot on social commentary that is incredibly timely as it is entertaining. Russell perfectly blends the two worlds together perfectly and with charm and wit. Nice artwork and wonderful little back-up story make this an easy recommendation. VERY RECOMMENDED!
Catwoman/Tweety & Sylvester #1
DC Comics Writer Gail Simone, Artist Inaki Miranda, Colorist Eva De La Cruz, Letterer Taylor Esposito, Back-Up Story Shea Fontana, Penciller Walter Carson, Inker Horacio Ottolini, Colorist Silvana Brys, Letterer Wes Abbott
This crossover was one that has me a bit on the fence because I liked the concept that Simone has for the story but in a way it didn't gel as well as I would have liked. This is not to say that the book is not worth reading but I found that the idea was good but the execution seemed a bit dragged out. She tells a birds vs cat story with Witch Hazel and the other witches making a simple bet to see if cats or birds will win with Catwoman and Sylvester or Black Canary and Tweety. It's somewhere in the middle that the story just drags a bit and becomes a bit of a one note idea that never really ends. On the plus side I will give it that using every feline or bird related characters from the DC Universe was pretty damn funny and made me giggle. The artwork by Miranda was a bit inconsistent at times but overall delivers a pleasing job that brings the script to life. The color work by De La Cruz misses the mark many times and is sadly doesn't complement Miranda's line work a number of times and was very disappointing. On the plus side for the book is the wonderful little back up story by Fontana and Carson that brings Granny into the mix for a light-hearted romp that was very pleasing and delivers a classic Looney Tunes gag perfectly.
Is this book worth your time and money? I was disappointed with this one because it never quite came together as well as I would have like it to. It's not a total train wreck by any means but it never quite gets going and tends to drag the whole thing out. The art was decent but the coloring really kills it and the only win for the book is the fun back up story but it's hard to recommend the book for just an eight page story.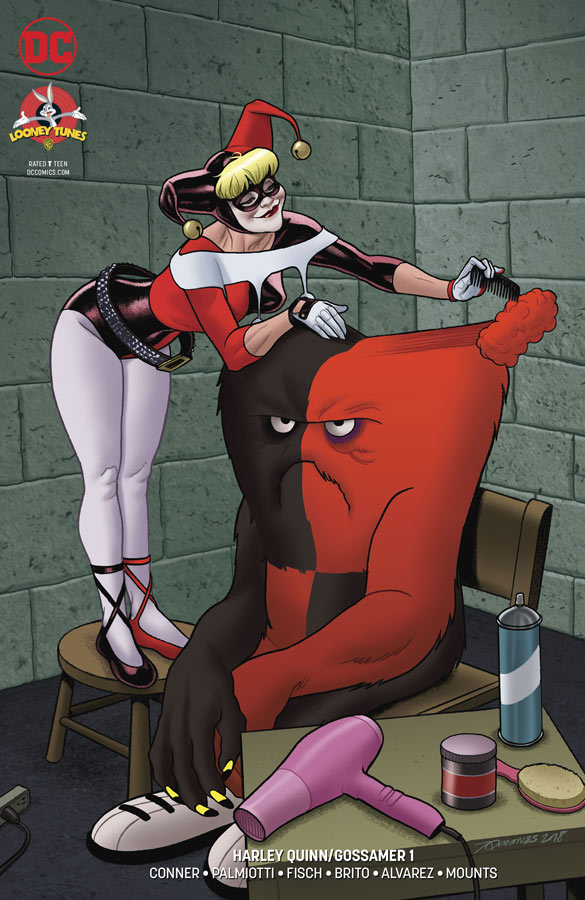 Harley Quinn/Gossamer #1
DC Comics Writers Amanda Conner and Jimmy Palmiotti, Artist Pier Brito, Colorist Paul Mounts, Letterer Dave Sharpe, Back-Up Story Sholly Fisch, Artist Dave Alvarez, Letterer Saida Temofonte
This crossover was certainly one of the biggest surprises of them all. I would have thought that Conner and Palmiotti had run out of Harley stories but they literally pull a rabbit out of their hat with this story. One of the best assets that it has going for it was that Gossamer doesn't speak just like in the Looney Tunes short but they certainly used it to their advantage perfectly here. There is also no grey area here that they did their homework by incorporating a lot of the dialog from Hair-Raising Hare short that was a very nice touch. They also use a lot of innuendo that was a trademark of their Harley run and turn it up to 11 here with some spot on moments that are priceless. The one element that this book really wins with is the pacing of the story that just keeps it moving along perfectly that made it a very enjoyable read. I have to give Brito has really grown as an artist from his work on Palmiotti's Jetson mini series and really nails it here. The most impressive thing is that he really brings Gossamer to life with his spot on facial expressions that are exceptional and make the story work so well. This is a really good-looking book. The back up by Fisch and Alvarez is a real hoot and is a total gag fest that fits the Looney Tunes style and feel perfectly. This one is a real charmer and top-notch from the creators.
Is this book worth your time and money? There is no grey area that this is Conner and Palmiotti Harley story that you would think hit the fatigue level as the last few issues of their regular run did but they really bring the fun to this story and while it's a lot of the same, I found that it had a certain charm to it with Gossamer thrown into the mix. Sure it's simple and a bit stupid at times but for me certainly delivers a fun ride with truly adorable Gossamer courtesy of Brito that delivers the visual goods to make this one a keeper. RECOMMENDED!
House Amok #1
Black Crown/IDW Writer Christopher Sebela, Artist Shawn McManus, Colorist Lee Loughridge, Letterer Aditya Bidikar
This comic is one wild ride and while this first issue can be a bit confusing in the sense that Sebela is setting things up and not revealing too much too soon but there is a lot to like with this first issue. Sebela does a lot of world building here and does a nice job of introducing the cast of characters. While we may not totally be sure of what it all means so far, it did make for a pretty creepy read in this first outing. The one thing that works well is the family dynamics of the story and how they all play a part in the story was impressive, but it's the two girls Ollie and Dylan that steal the show and it's going to be very interesting to see how they fit into the story. One of the best things about this book is the spot on dialog by Sebela that keeps the story moving at a nice pace even with the heavy exposition that is going in this first issue. The biggest win for this book is McManus's artwork that has been too long out of the comic book world. He is a true draftsman that really delivers here and I like that he went with a semi cartoony style that really works here on many levels. One of the books best assets is that on the surface it doesn't look like a horror book and that's why it works so well. The other thing that is a big win for this book is Loughridge's color work that really complements McManus's line work perfectly and captures the mood that gets under your skin on the book. This one is off to a very fine start.
Is this book worth your time and money? I really enjoyed this book and while I'm not totally sure of where it's going I like what Sebela and McManus has set things up here with the book first outing. It will be interesting to see where it goes but if this first issue is any indication then its going to be a very wild ride indeed. RECOMMENDED!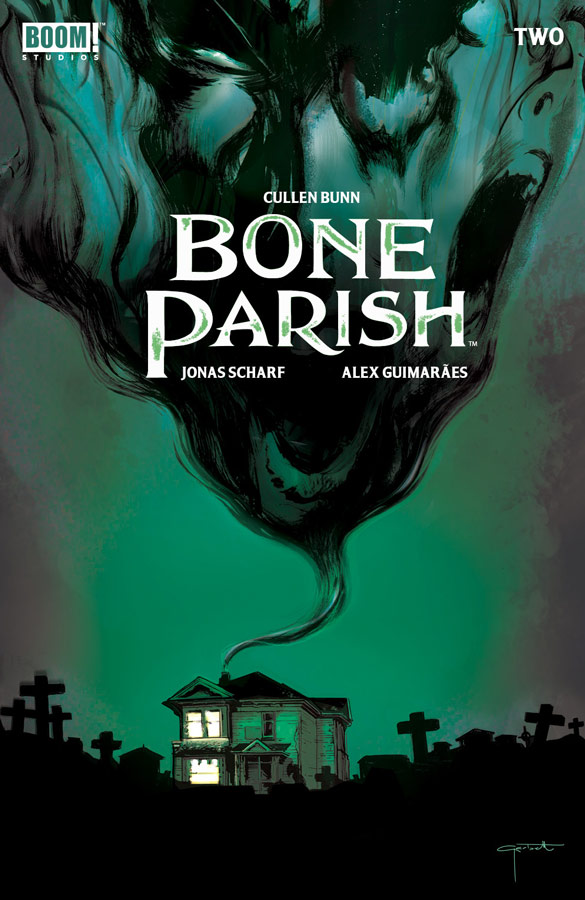 Bone Parish #2
Boom! Studios Writer Cullen Bunn, Artist Jonas Scharf, Colorist Alex Guimaraes, Letterer Ed Dukeshire
This book got off to a solid start with the first issue and Bunn has done a very good job of following up on the story with this solid second outing. Starting with a great premise he dives deeper into the past to flesh out the story and how it leads into the present and how the family came to discover the ash and its secrets. What is making this story so interesting is the characters and how they deal with things as a family that can be both good and bad depending on how you look at it. Sure there are familiar story tropes that Bunn is using here and that's OK because he is bringing a new way of telling it and as you will see in this issue there is so much more to come. Scharf continues to deliver some very nice artwork for the story and brings the emotions and the mood that gives this book a nice edge that is dark and creepy. 
Is this book worth your time and money? Bunn and Scharf are delivering a very interesting story here and I liked that they went deeper into the past to reveal more about the family and how this whole thing came about. Bunn is building the characters out well in this story and I like where they are taking it. They are giving you good reasons to come back for more and is still worth buying.
Scarlet #1
Jinxworld/DC Comics Writer Brian Michael Bendis, Artist Alex Maleev, Letterer Joshua Reed
The second Jinxworld title to hit the stands is an interesting story but for new readers its a little confusing because your coming into a story that has already started and this is the second act. I did find the story very interesting and had some good ideas but having not read the previous story I felt that it didn't connect as well as I would have liked. On the plus side it does want me to seek out the first story and then come back to this one after reading it. While the premise of the story has been told before I had hoped that Bendis would bring a bit more to it than I read here and there is not a lot that really happens in this first issue so it's bit hard to see where the book is going. Maleev's artwork does impress here and he does his best to make great visual sense of scenes with very little dialog that is a testament to his art skills. It's good looking book that I just wish had been more inviting.
Is this book worth your time and money? If you haven't read Scarlet before this is not the best place to start for sure but I liked a lot of the ideas in this first issue but without knowing what the heck is going on it's pretty hard to recommend this book for new readers for sure.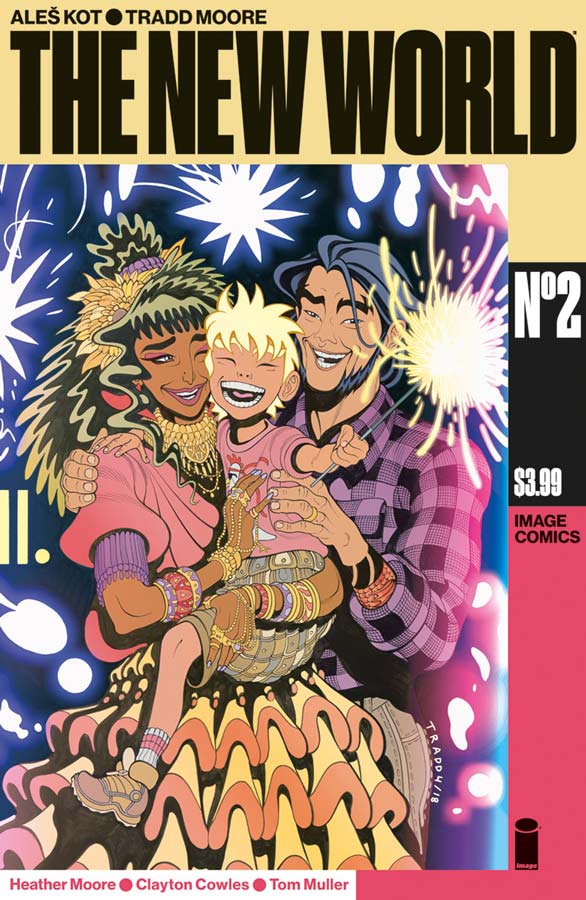 The New World #2
Image Comics Writer Ales Kot, Artist Tradd Moore, Colorist Heather Moore, Letterer Clayton Cowles
The New World was an exciting read with the first issue and the good news is that Not and Moore follow things up nicely with this second issue. The New World is one of those Kinetic comics that is the perfect blend of story and art where they sometimes lead each other around in a way that is an experience that kind of makes your brain pop with excitement. In a way there is lot that happens to the overall story in this second outing but at the same time it's just a very short period of time in the story arc. Kot reveals a lot of secrets in the story but still keeps a lot of things hidden to unfold later and its giving the story a very nice pace and feel. There is no doubt that The New World is a visual experience in more ways than being driven by traditional story telling and that is where Kot and Moore really click together they know how to trade-off with each other and you see a lot of that in this issues story. There is a lot of visual storytelling going on here and that gives this book a nice edge to it.
Is this book worth your time and money? I like where this book is going and the story may have some familiar story tropes, Kot and Moore are giving it a wild spin that is making for a hell of a ride. The one thing that they do well is ground the book with strong characters that allows them to go wild with the story and yet still keep it grounded. I'm still digging this book and it will be interesting to see where the story goes from here and still worth buying.