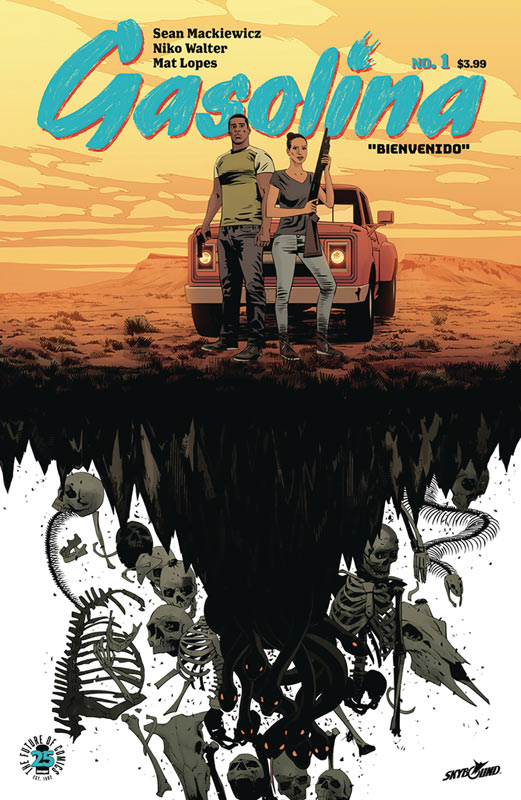 Gasolina #1
Image Comics Writer Sean Mackiewicz, Artist Niko Walter, Colorist Mat Lopes, Letterer Rus Wooton
Gasolina is a comic that seems to be one thing but turns out to be that but with a great twists thrown into it. Mackiewicz does a really good job here of setting up the series with a solid and well paced first issue that does a great job of not letting the exposition slow things down in the story. The script throws a lot of things at the reader and keeps you guessing as to what is going on but Mackiewicz strength is that he is able to blend fiction and reality into a moody story that unfolds nicely with setting up the characters. The story may not be one that blows you away immediately but it definitely gets under your skin as to what is really going on with all of the story elements that are set up here. Sure its a bit of a slow burn with this first issue but there are enough interesting story elements that will give you enough to want to read the second issue. The artwork by Walter has a great sense of mood to it that really helps sell the story. While it was a bit thin on the backgrounds he does use a lot of black to fill the mood quite well in a number of the panels that works well in the stories favor. He also does a great job on the characters facial expressions that add nicely to the drama of story. Is this book worth your time and money? This is one of those books that's not going to blow you away with its first issue but there is some good ground work here that sets up so really good ideas that make it a solid first outing. Mackiewicz and Walter are off to a good start with the book and give you a reason to come back for the second issue. I found the book to be a good read and well worth checking out.
Angelic #1
Image Comics Writer Simon Spurrier, Artist Caspar Wijngaard, Letterer Jim Campbell
There are few books that I have read that were not necessarily terrible but simply bored me to death and this is one of them. There are so many problems with this script that it's hard to believe that this comic made it this far. Rarely does a comic down right fall in to the confusing category with its story but Spurrier finds a way to do it here. The script is so disjointed that I quite honestly have no idea what he is trying to get across here. The story jumps around and throws things in that further confuse the already messy story. One of the biggest problems is that there is little reason to care about anything or anyone in the story because Spurrier gives so little characterization to the story that you simply could care less about anyone in the story. This is where a lot of Image book struggle with the lack of editors on a book. I will give Spurrier that there are at least a few interesting ideas that he throws in the book but with no one to actually guide or help refine the story it simply fails to go anywhere. On the plus side if there is one is Wijngaard's really nice looking artwork here. It's the main reason that I picked up the book this week because it looked so good. Sadly that is the best thing that this book has going for it and even he can only do so much with a story that makes no sense what so ever.  Is this book worth your time and money? I don't want to say that this book is terrible but Spurrier really failed to take a few ideas and deliver a script that was readable. Not only was it incomprehensible but gave little reason to care about anything or anyone in the story. The nice artwork by Wijngaard is simply wasted here and sad that his talents could be on a better comic. This book was a complete waste of time and money and saying that you should SKIP IT is an understatement. I would say you really need to AVOID THIS COMIC!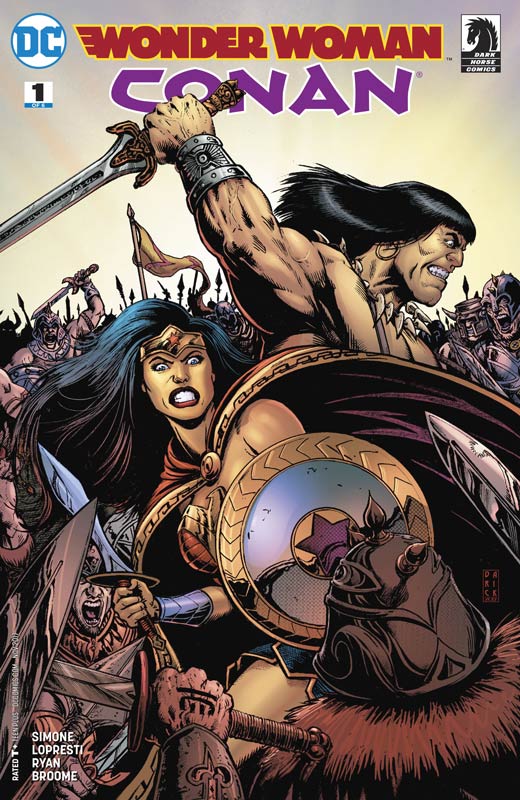 Wonder Woman/Conan #1
DC Comics/Dark Horse Comics Writer Gail Simone, Penciler Aaron Lopresti, Inker Matt Ryan, Colorist Wendy Broome, Letterer Saida Temofonte
Company crossover books are usually a mixed bag in the quality department and while they can be fun they can also be terrible. Where the key to them working well is that the two universes have to blend together well and make sense that they could end up together. Simone has solved those problems here by getting things off to a good start in this first issue. What makes this crossover even more interesting is the way that Simone has figured out how to have these two characters together because they are from way to different time periods. Without giving too much away she has Wonder Woman as a possibly different timeline origin. While there are a few minor pacing issues with this first outing overall the book gets off to a good start and she definitely captures the spirit of both of the characters in the story. The big win for this book is Lopresti's artwork that really makes this book shine. A lot of times crossover books usually don't have the strongest artwork but thankfully this is a great exception. He really captures both Wonder Woman and Conan perfectly and gives the book a strong visual scope and feel that really makes this book shine. The most impressive thing about his art is that he does an amazing job of capturing the emotions and the drama of the characters in their facial expressions that delivers perfectly from Simone's script. Is this book worth your time and money? While this book is not going to blow you away, it will however give you a solid and fun story with gorgeous artwork that blend these two characters together quite well. Simone and Lopresti have delivered in both the story and artwork that gives you more than enough reason to come back for a second helping and is RECOMMENDED.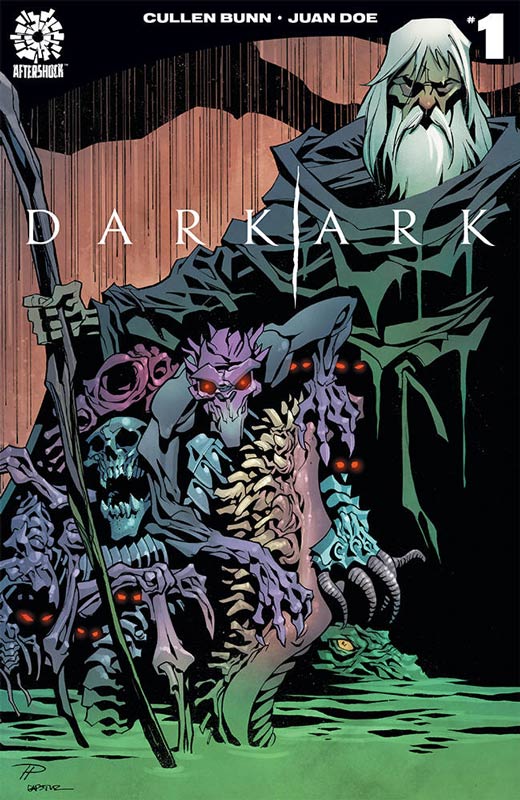 Dark Ark #1
Aftershock Comics Writer Cullen Bunn, Artist Juan Doe, Letterer Ryane Hill
Playing on biblical mythology is a very tricky and risky proposition. While there are some who would not read this because of the religious references but that should not deter you. While for me Bunn writing can be hit or miss but thankfully for this first outing its a hit with some really interesting ideas. The idea of another ark is interesting but when you throw in that this ark is filled with monsters and mythical creatures gives this concept a very strong footing. While the first issue is mostly exposition the flow of the story is good for a first outing. Bunn does a good job of setting things up here and gives a good set up for the second issue. While the story wont blow you away it does however keep things moving along nicely here. Doe's artwork adds a great flavor to the book and does a nice job of capturing the creatures and giving them a fresh spin visually. He also captures the human characters quite nicely as well. He really brings Bunn's script perfectly to life and give the story the scope that makes is work so well. Is this book worth your time and money? I was really quite taken with this first issue and nearly missed picking it up this week but very much glad I did. Bunn has come up with a great take on the Noah's Ark story and gives it a unique and fresh spin here and throw in Doe's spot on great looking artwork makes this book a solid read. It's a really good set up and they give you a good reason to come back for more and is an easy RECOMMENDATION.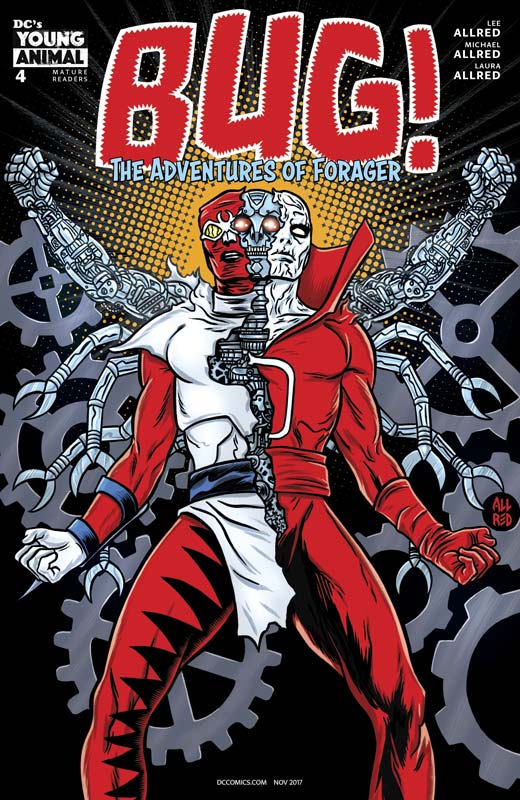 Bug! The Adventures of Forager #4
DC's Young Animal Writers Lee and Michael Allred, Artist Michael Allred, Colorist Laura Allred, Letterer Nate Piekos
Team Allred's adventures through the Kirbyverse continues to be a wild ride and this issue he adds Deadman to the mix and deliver another weird and fun outing. What I am loving about this book is that Lee and Michael are not afraid to take the book in different directions. In this issue they tell a simple and fun superhero story that has Bug teaming up with Deadman to help him get his "body"back. While the story is pretty classic superhero tropes, Team Allred takes that concept and gives it a whole new spin. What they do best is not only pay homage to these classic DC characters but update them without losing what make them great in the first place. Lee and Michael's script keeps it loose and fun here and while the issue are stand alone but there are threads that are comprising an overall story arc with the series. While the story has a lot of wacky elements they always make sure that the characters never lose their footing in the story and keep them grounded. It's the multi level story that I really love about this book. As always there are only so many ways to praise Michael's gorgeous artwork that is always top-notch. I love his interpretations of Deadman that is a nice mix of Kirby and Infantino but very much Allred's style. He has a lot of fun in this issue with the action scenes that really pop in this story. And lest we forget about Laura's always spot on color work in the book that not only complements Michael's line work but gives the book a classic comic book look that few colorist are able to capture. Is this book worth your time and money? This book is a wild ride and each issue just keeps getting better and better. It has a quirky charm that Team Allred that they always deliver and this one is not only fun but a grand tribute to both Jack Kirby but also a love letter to classic DC Comics. I can't wait to see what they have up their collective sleeves next. VERY RECOMMENDED!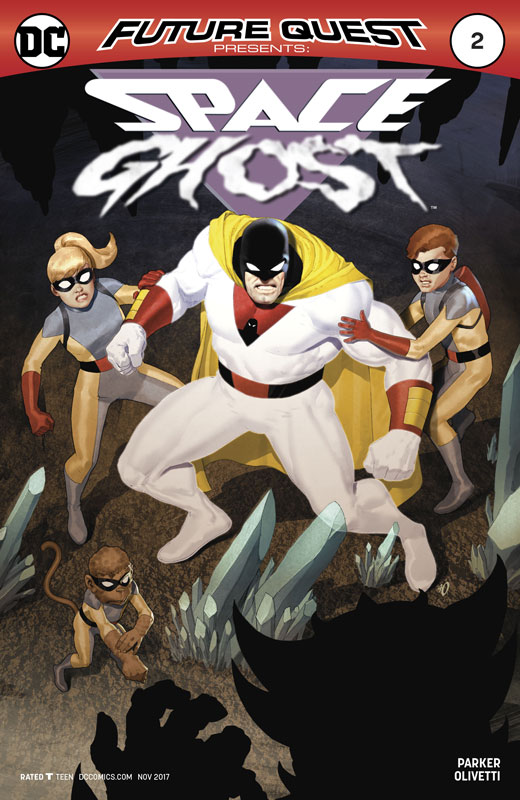 Future Quest Presents: Space Ghost #2
DC Comics Writer Jeff Parker, Artist Ariel Olivetti, Letter David Lanphear
With a very strong first issue Parker and Olivetti have delivered a second issue that really hits the ground running and digs deeper into the story. What I love about Parkers writing on this and the previous Future Quest maxi series is that he not only tells great stories but gives these classic Hanna-Barbera charters great back stories that were never told in the original animated series. This issue we learn the back story of Jan and Jace that give the reader a greater understanding of them but their relationship with Space Ghost. It's the depth that Parker infuses into the story that is not only making it a fun read but really expanding the worlds and characters that we grew up with and loved. This story is really expanding the scope and mythology of the Space Force and delivers a grand adventure at the same time. After reading this issue I simply can not imagine that any writer besides Parker could write these characters this well. He brings so much drama and depth to the characters that not only satisfies my nostalgia but crafts a compelling and fresh new adventures for a whole new generation. Olivetti's artwork is simply stunning and gives this book so much visually that you have to take your time to savor every panel because there is so much detail in every inch of the artwork. He perfectly captures the look and feel of the original animation and gives it a lush and fresh look that the original shows could never attain. He truly makes this comic epic and beautiful. Is this book worth your time and money? Parker and Olivetti are not only paying great homage to Hanna-Barbera but crafting a truly brilliant story that is not only a fun read but really sticks with you after your done. If you're not reading this book then you are missing a book that shows what comic adaption can and should be. It doesn't get better than this. HIGHEST RECOMMENDATION!