Another busy week of comics at your local comic shop. I try to point out books that you might have otherwise missed on your weekly visit. On a side note I usually take the description of the book directly from the publishers site. This is how they are describing the book to you so that allows me to cut to the chase with my review. So if the synopsis seems familiar that is why. A really good week for books and I have six new books to review so let's get started.
IT CAME! #1 (Titan Comics)
Well this little gem was not on my pull list but boy am I glad that I flipped through it at my local shop. The first thing that grabbed me was the fantastic artwork. The first issue starts off when an enormous alien robot lays waste to the English countryside, annihilating bunting, villages and diagonally sliced sandwiches alike! Only the pipe-chomping space scientist Dr. Boy Brett and his assistant Doris Night (a lady) stand a chance of stopping it from marching all the way to London – but can they possibly escape the grasp of GRURK and get the might of the British Army on their side?! Keep your upper lips stiff, your ties immaculately knotted, and your notions of gender equality dialled back sixty years – for the sake of the planet! The book is created, written and illustrated by Dan Boultwood and is very british indeed. There are a lot of british terms and sayings that may be a little odd for a U.S. audience but nothing that will lose you. The story is a send up of 1950's science fiction B-Movies and of course the tongue is planted firmly in Boultwood's cheek. The script is snappy and fun and there are even intermissions in the story with fake ads that add a really nice touch to the overall book. The art is really very good. I really was drawn to the grey wash of the black and white artwork. It has a cartoony look to it but fits the story very nicely. The only gripe I had was that I wish that Titan Comics would have done the same thing that Dark Horse Comics does with its black and white books is to have the ads in black and white also. The center spread of the book is a poster that is in color along with the ads that take you out of the story when you hit it. A minor gripe with an otherwise great starting point. Is this book worth your time and money? I found it to be a real treat. If you are a fan of 50's B-Movies you're in for a real treat. I can't wait for the second issue. This was money well spent.
Buck Rogers #1 (Hermes Press)
Hermes Press has been reprinting the original Buck Rogers newspaper strips and has now decided to take another stab at bringing old Buck back to regular comics. Howard Chaykin has returned the character and his universe back to basics: Buck Rogers, former World War I ace is accidentally suspended in time only to awaken to new and different earth, 500 years in the future, fragmented by war and ruled by an omnipotent force -— the Chinese. Now, Buck along with Colonel Wilma Deering, begins a new fight, to free the United States! Well the first issue starts off with mixed results. Clocking in at 18 pages of story and art, for me it felt like I had read two issues of 32 page books. Chaykin writing is god but yet I felt overwhelmed with the story. It's really dense storytelling and much of it is the story of how Buck came to the future and somewhat explains what is going on. While there is action in the issue I just didn't seem to care because there was just so much story. Now don't get me wrong I love a good deep story in comics but this left me a bit cold. Chaykin's art is per usual top-notch and the color work by Jesus Aburto is really nice. Is this book worth your time and money? Not suer yet. I am a big fan of Howard Chaykin so I will stick around for a couple of more issues. I felt as if I had slept for centuries during the first issue.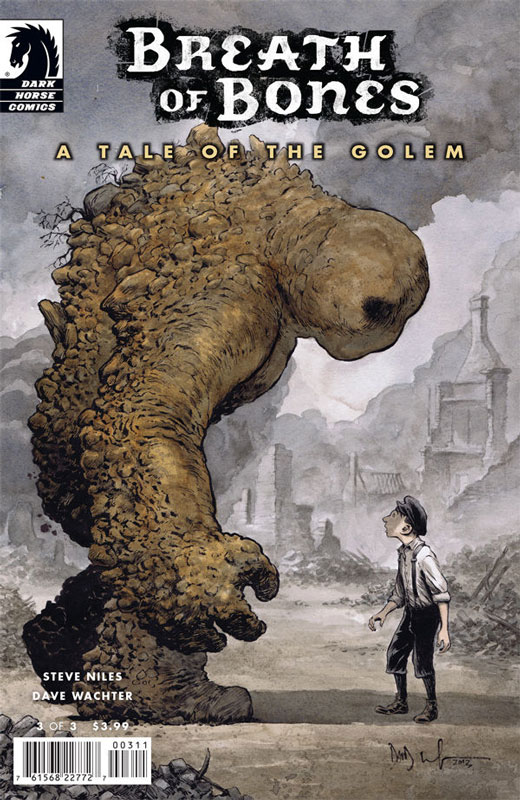 Breath of Bones #3 (Dark Horse Comics)
I reviewed the first issue of this mini series here so we are now at the end of Steven Niles and Dave Wachter's story and how do I feel about it now. It's one of the best stories I have read in a while. While a town flees from advancing Germans, one young boy stays behind to protect their homes. With the help of a golem brought to life by the boy's grandfather's faith—and death—the battle begins for their freedom and future. A lot of the book is very visual but considering it was originally a proposed film script it makes a lot of sense. I can not praise enough Wachter's stunning black and white artwork in this book. There is so much story going on in each panel yet many do not have a word in them. In the end the story is about heart and that is the most special thing I loved about this story. Niles will hopefully create more stories with the Golem in the future. The great thing about this book is that this story is over but the character of the Golem could be in other people's stories. Is this book worth your time and money? YES! and if you missed any issues I'm guessing that Dark Horse will release a trade of the three issues. So if you can't find the individual issues pick up the trade when it comes out. You won't be disappointed.
Batman Li'l Gotham #5 (DC Comics)
While lately there has been numerous changes in the New 52 from DC Comics Batman Li'l Gotham keep bucking the trend with solid stories and art that put most of the regular monthly book at DC to shame. As with the past issues there are two stories per issue. This issue contains April showers bring…Mr. Freeze? When Victor is granted his freedom from Arkham Asylum, he is welcomed back into Gotham City. But that will quickly turn into a cold reception if Batman can't stop his latest scheme. And then, it's Cinco de Madness as Damian and friends take their battle to the seedy underworld of street racing, cage wrestling and back alley taco-eating competitions! Will Batman arrive before the horchata overflows on our Gotham City boys and girls? While most people may blow this book off as a kids book the solid story and art make this a must buy each month. Dustin Nguyen and Derek Fridolfs bring very simple but very effective stories to the Batman universe. While it looks like a kids book they do not treat it like a kids book. The characters are treated as adult but still retain that childhood wonder that really make the book so special. Is it worth your time and money? I think you get more for this $2.99 than almost all of the current New 52. If you are not buying this book then shame on you!
Herobear and the Kid #1 (kaboom!)
While this is a reprint of the original comic that Mike Kunkel did back in 2000 and is being reprinted via kaboom! comics. For most people this will be all new to them and I myself haven't read the original story in quite a while it felt like I was reading it again for the first time. The story starts after his grandfather passes away, 10-year-old Tyler inherits an old stuffed toy bear and a broken pocket watch. If dealing with bullies wasn't enough, he soon learns that things aren't always what they seem… and that you shouldn't judge a bear by its cover. Join Tyler as he goes on his amazing childhood adventure and learns the truth about his family. The greatest thing about Herobear is how timeless the book will always be. Even though it has been over ten years the story and art is as fresh as the day it was when it first came out. Anyone can relate to Tyler's character because we have all went through the things that he goes through as a child. But the magic that Kunkel has created make you wish that you had a stuffed bear too.(well lucky for you they are available for purchase from Mike Kunkel HERE) There is a new two page epilogue and a brand new cover. Is it worth your time and money? Whole heartily yes. There are very few all ages books that are this good. This is real cream of the crop stuff. If you do own the original books or the original trade there is just the two new pages just so you know.
Wolverine #8 (Marvel Comics)
Well thankfully Alan Davis has come back after being M.I.A. for four issues. So sense I only pick up the issue drawn by him it is nice to have the previous in Wolverine on the first page to get me up to speed. Part one of KILLABLE! Wolverine thinks a cure has been found but it's in Wakanda, where he's not exactly a welcome guest! Meanwhile, Nick Fury and S.H.I.E.L.D. are working on even bigger problems that Wolverine might have caused. Guest-starring Storm and Black Panther! So has the book changed sense the first story arc? Not too much. It's still pretty standard superhero fare but at least this storyline starts off a bit better than the first one. The plot of a sentient virus that is trying to take over mankind is a novel idea. It allows the story of Wolverine loss of immortality to have a way for him to try to get it back. I'm guessing the overall story is going to be a simple CSI type story that will nicely wrap up with out too many surprises along the way. The pacing of the first part has a nice balance of story and not too much of feeling lost like the first issue suffered from and has a nice cliffhanger at the end of the issue. Is it worth your time and money? Look if you are a Wolverine fan your going to buy this book no matter what I say but for those of you who are looking for a decent read you could do far worse than this. A book like this you buy because of Alan Davis and hope that the story doesn't suck. While not high concept at least it doesn't suck.