With this years San Diego Comic Fest just a few days aways and I had the pleasure of talking to Matt Dunford the Chairman of SDCF to find out what the show is all about.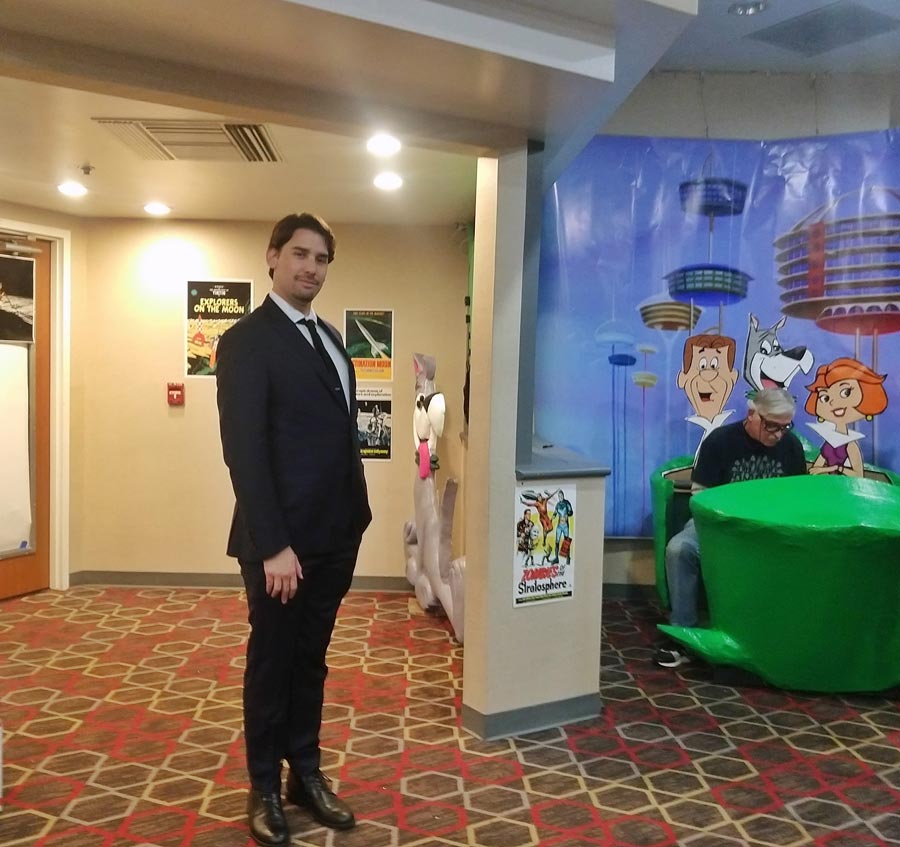 Pop Culture Maven:
First I want to thank you for not only making my first San Diego Comic Fest a great first experience but it was one heck of a show. Now that I have been to the show tell the folks out there what SDCF is all about and why should they come?
Matt Dunford:
San Diego Comic Fest is a small intimate convention started by the founding fathers of the original San Diego Comic-Con. It brings the convention experience back to its roots by providing a smaller environment where fans and legendary creators can interact and have a great time. We feature nearly 150 pieces of programming, a thriving dealers hall, an artist alley, a small press area, Digital Arts workshops and gaming.
PCM:
This is you're 9th year and it seems to get bigger each year and yet there is still the great intimacy of the show. How do you strike a balance between growing and keeping the intimacy of it?
MD:
Now that we've moved into the 8th year of San Diego Comic Fest it does have a difficulty maintaining the balance. Sometimes you want to take the steps to make you into a bigger convention but you have to remember that there are limits. I think the venue is the thing that keeps us contained as a small convention just having things within a resort environment. It allows people to have everything they need and a place to stay during the course of the weekend and they just don't ever want to leave because it is so much fun.
PCM:
Each year you have a theme for the show this year you are celebrating Ray Bradbury and Ray Harryhausen what were the deciding factors that made you choose these legends of the industry?
MD:
The theme each year is selected by our President Mike Towry. He has a very good eye for selecting great historical themes that allow us to create a focal point to revolve San Diego Comic Fest around. In years past we've done the Centennial of Jack Kirby, the bicentennial of Mary Shelley's Frankenstein, and 50 years of the moon landing. But this year it's hard to argue with celebrating 100 Years of Ray Bradbury and One Hundred Years of Ray Harryhausen.
Bradbury and Harryhausen we're so vital to the creative makeup of Storytelling and film. They influenced countless creators and paved the way for so many. It's hard to find craters in this day and age were not influenced by their works.
PCM:
One of the things that impressed me the most about the show was the guest that you get and this year you have some really big names such as Bill Sienkiewicz, Liam Sharp and Wendy and Richard Pini to name a few. But you also get some guests that are not as well known how do you find a balance to the guest.
MD:
Some of the special guests we have it this year San Diego Comic Fest are certainly Heavy Hitters of the comics world. When it comes to selecting special guests it does become a balance who is a draw and who can be entertaining to a crowd. I like to make sure that the guests that we do bring in are always great entertainers and have stories to tell and informative with their experience. I want the fans to become friendly with these people and to learn their stories and see how important they are to the world of comics and science fiction.
But mainly When selecting guests I like to have fresh and unique people on board each year. I do have some fan favorites that are always welcome at San Diego Comic Fest that I bring back year after year. However I find that some conventions tend to use the same guest list over and over and that tends to be a turn-off for attendees. So I always make sure to shake things up each year.
PCM:
The one thing that the show really gets right is the panels, and last year had some of the best panels that I have been to over the years and that is saying a lot because I have been going to conventions since 1983 and I have see a lot over the years. How do you guys come up with this amazing programming?
MD:
It's easy you just look at the guest list and look at what they've done in the past and match it up with another special guest. Give it good topics on history and subjects that people really want to know more about. Any one of these people can talk your head off and so it becomes even better where they bounce their experience off each other on a panel.
PCM:
So for people that have never been to the show what would you say that would convince them that they should come to the show this year?
MD:
I would highly recommend coming to San Diego Comic Fest because it creates an experience that you won't find at many other conventions. The chance to interact with legendary creators of comics, animation and science fiction in a relaxed environment.
PCM:
Last year I asked you what was you're favorite comic and everyone knows that you are a huge Spider-Man fan, but this year I want to know what new comic have you tried that was outside your normal comfort zone that you pick up that impressed you?
MD:
Within the past year I have fallen in love with so many new titles. I am really enjoying Berserker Unbound by Jeff Lemire and Mike Deodato. I absolutely love Olympia. Basket full of heads by Joe Hill has been keeping me highly entertained. Each new volume of Headlopper keeps me on my toes. I also like farmhand by Rob Guillory, Superman smashes the Klan is probably the best DC book in the past decade. I really enjoyed Silver Surfer Black, and also Venom by Donny Cates. My list could go on and on but I have to admit I don't make as much time for reading as I used to.
PCM:
Finally what sets SDCF apart from being just another convention to go to?
MD:
What's that San Diego Comic Fest apart from other conventions is that you can definitely tell that it's a labor of love. We don't try to make it inauthentic or Quick Cash grab this is an experience put together by comic fans to help cultivate our community.
The comic Community is an ecosystem comprised of fans, dealers, creators and publishers. Creating a comic convention to keep everything in balance is rewarding experience and everyone has a great time at San Diego Comic Fest.
I want to thank Matt Dunford for taking the time out of his very busy schedule to help spread the word about this wonderful convention that is happening this weekend starting Thursday and running through Sunday. For tickets follow this LINK and for general information about the show, parking and how to get there then go HERE.
I will be at the show Friday through Sunday so if you catch me stop and say Hi and make sure that you go to this great little convention that has a heck of a lot to offer.
Here are some photos from last years show.