Over the weekend at the LA Convention Center the Stan Lee LA Comic Con (formally Comikaze) was in town and it was my first time in going to the show. I must preface that I had heard mixed reviews of the show from both attendees and dealers about past shows. I was only able to go on Sunday and here are my thoughts about the show.
I had friends that were at the show on Saturday and they both said that the lines to get in were both long and unorganized. It took over an hour to get in for those who had pre-purchased badges. They both  said that the hall was very crowded but they said that they had a good time.
I headed downtown that is always a challenge on a good day and got lucky coming off the 110 freeway onto Pico right behind the LA Convention Center. We soon discovered that we made a great choice because there was a 5K marathon going on downtown at the same time. Many streets were blocked off and many people had problems getting in. So $20 bucks later we parked and headed to the hall and thanks to my comic shop Pulp Fiction/Cheap Graphic Novels who gave us free badges for the day the start of a long day began.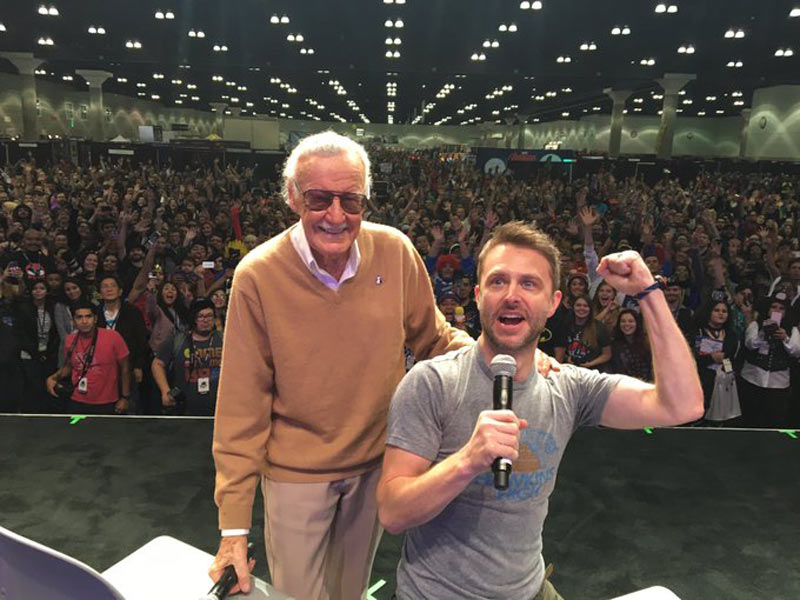 We wanted to see the Gerard Way panel at 11:00 so we looked around the dealer's room for some friends and then headed over to the Hot Topic Stage that was a madhouse because Stan Lee was on stage so we went out front to get a program then got back and the large crowd had dissipated. While the Hot Topic stage was nice there were two major issues first it took a large amount of the show floor that made the dealer's room difficult to navigate (more on that later) and it was just a giant mosh pit with no seating. I have been going to comic conventions for years and have never seen a mess like this before. On the marginal plus side the screen and sound system was good enough that you could see and hear the panel but the screen had a noticeable delay between the audio and video so that was pretty distracting.
Once the DC's Young Animal creator Gerard Way panel started and was interviewed by Matt Kennedy from Pod Sequentialism and did a decent job of interviewing Way. Way's enthusiasm for the Young Animal books was quite evident and he is really committed to putting out the best books possible. The one thing that really impressed me was that he was very adamant about all of the creative teams on the books by mentioning all of the creators including the colorist and the letterers on the books that are so often rarely mentioned. He also gave his thanks for Shelly Bond who helped Way developed and put together the creative teams on the books. He also said that there were only going to be 4 books in the line because he doesn't have enough time beyond the four books (Doom Patrol, Cave Carson, Shade and Mother Panic). He also was glad that he could get a very diverse creative teams on the books. Kennedy questions were fairly run of the mill with little spontaneity, but Way really injected a lot into elements that were above the questions. Sadly there was not a Q&A for the panel and it was only about 30 minutes long and that was about all I could do with standing because there was no place to sit.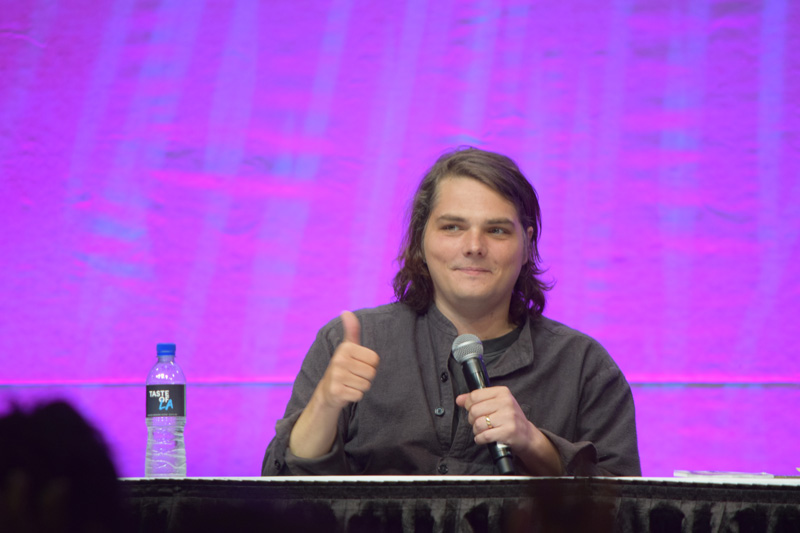 After that panel we walked the entire dealers area and they layout of the show had some issues. First most of the isles were too narrow to navigate and while it was busy it was hard to say if there were just too many people or the narrow isles were the primary issue. This became a real problem with cosplayers with large or wide costumes where you were always getting run into with swords and other costumes that stuck out.
The dealer's was an odd mix and we noticed a number of empty tables. It's always a troubling sign when you have venders like beef jerky or a doctor that is hawking vitamins at a comic convention. There was a noticeable lack of comics and an overabundance of Funko Pops. There were no major publishers at the show that made for some disappointment. Two of the saddest things that I saw at the show were the pet wigs that simply the dumbest thing ever. Then there was a vender that has simply ruined four classic pinball tables to make some sort of table display that was truly cringe worthy for any gamer.
One of the big draws of this show are the Nerd-lebrities as I like to call them. This can be a challenge for shows because there are many fans that spend big bucks for autographs and pictures and that might leave them with little money for the venders. While the show was busy the venders that I talked to seemed to have mixed feelings on the show. Some did well while others were less enthusiastic.
While there was a lot to see from the venders there was little that stood out as unique items to buy. There were a ton of Funko Pops that seemed to be overflowing. The Artist Alley was pretty good size and talent but after being spoiled by WonderCon the past few years and even lagged behind Long Beach Comic Con. There were some interesting art but nothing jumped out at me.
My final thoughts on the show are mixed. I love that the Los Angeles area is having more conventions the Stan Lee's LA Comic Con was simply OK. As we learned from this years WonderCon temporary move to the LA Convention Center a friend of mine summed it up best. It's like driving to Guantanamo Bay and then being in Guantanamo Bay. Nobody like going to downtown LA because the parking sucks and cost and arm and a leg, and there is limited food options in the area beyond pricier restaurants. Navigating the area if you're not familiar with it can be a real nightmare.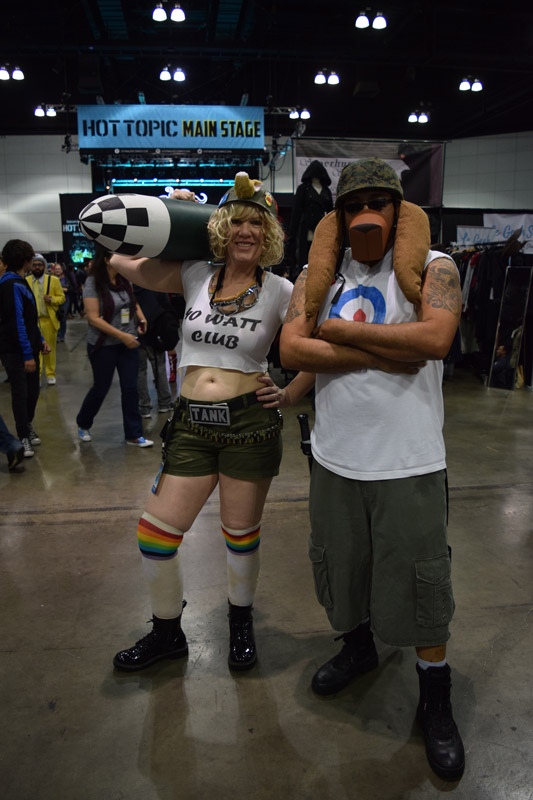 The show itself desperately wants to be WonderCon but from my visit that is never going to happen. While it has a large draw it simply pales in comparison to WonderCon and while there are things that it did a bit better than Long Beach Comic Con it didn't have the laid back vibe that really makes Long Beach such a good show. They had a stronger vendor base than Long Beach but no where as good as WonderCon. The one thing that it do pretty well is Cosplay but that can be both a blessing and a curse depending on your point of view. I know that a lot of people love this show and while it does have a pretty big draw of crowds the overall feeling for me was pretty middling. If I would have had to pay to get into this show I would have certainly been disappointed. The biggest disappointment was the panels that between the mosh pit area and the lack of signs to the other rooms with panels.
Would I go back to the show? I can't see spending money to go to this show unless you're looking for to meet and greet Nerd-lebrities or to see Stan Lee or Grumpy Cat. There were no major publishers so the whole comic book aspect of the show was pretty weak. I will say that Long Beach suffers from the same issue but has a better artist alley. I might try again next year and go on Saturday to see what that is like. It's certainly not a terrible show but in the end it's definitely more hype than substance.